2014 NFL Draft: Arizona Preview
Junior running back Ka'Deem Carey gives head coach Rich Rodriguez one bankable superstar, but it could be difficult for the nation's leading rusher from a year ago to duplicate his success in 2013 given the team's inexperience at the other skill positions.
by Rob Rang
The Sports Xchange/CBSSports.com

• 5 min read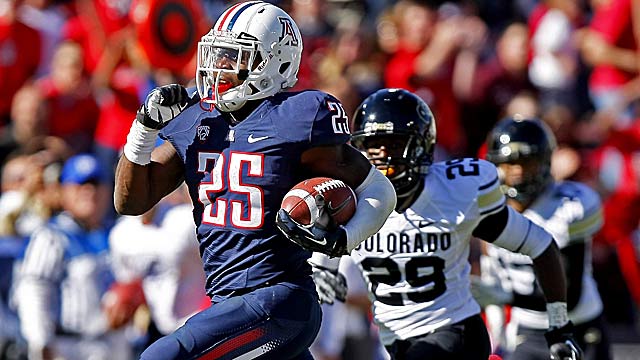 In preparation for the 2014 NFL Draft, NFLDraftScout.com will profile the top draft-eligible prospects from FBS-level programs. This summer series will run until the start of the college football season.
ARIZONA WILDCATS
NFL Draft picks the last five years: 11
2013 NFL Draft picks: None
The first year in Tuscon for Rich Rodriguez resulted in an 8-5 season which culminated with a thrilling 49-48 victory over Nevada in the New Mexico Bowl.
Much of Arizona's success came via sensational running back Ka'Deem Carey, who led the nation in rushing (148.4 yards per game average) and in total yards (1,929) in 2012. Expectations are high that he'll follow up his breakthrough sophomore season with another dazzling campaign. But to do so, the Wildcats will need to find a quarterback to fill the rather large shoes left by their previous two starters, Nick Foles and Matt Scott.
Complicating matters is the fact that Arizona lost its best pass-catcher when redshirt junior Austin Hill tore his ACL during spring ball.
Carey gives the 'Cats one exciting NFL prospect to build around. If Rodriguez is going to build off a largely-successful inaugural season at Arizona, however, he'll need to start producing more NFL talent. For the first time since 2005, no Wildcats were drafted a year ago.
Top Arizona prospects for the 2014 NFL Draft
* Indicates underclassman
1. RB Ka'Deem Carey (5-10, 198, 4.53)*
Given the success that Rodriguez had enjoyed with athletic runners at Michigan and West Virginia, perhaps it was predictable that Carey (and Scott) would succeed in his offense. The highly regarded prep prospect finished second on the team with 425 yards as a true freshman in 2011 and led the Wildcats with six scores, but few forecasted his shattering the school's single-season rushing record in a breakout sophomore campaign. Carey slashed and sped his way through Pac-12 defenses to the tune of 1,929 yards - the fifth highest total in conference history and 323 more yards than former St. Louis Rams first-round pick Trung Candidate ran for in 1999, the previous high at Arizona. Carey, however, is far from just a product of scheme. Despite possessing a slimmer build than scouts would prefer in a bell-cow back, Carey is surprisingly powerful and a nightmare to tackle in the open field due to his lateral agility, vision and burst. He possesses reliable hands out of the backfield and led the Wildcats with 549 yards off kick returns in 2011, proving his versatility. Though charges were ultimately dropped, NFL decision-makers will want to investigate an alleged domestic violence incident in December involving Carey and the mother of his child. If clubs are satisfied with his maturity and Carey enjoys another big season, it isn't difficult to imagine him making the pro jump a year early. Carey could earn a similar second-round grade as the back whom scouts have mentioned as an early comparisons for the All-American -- Philadelphia Eagles star LeSean McCoy, the No. 53 overall pick in 2009.
2. OLB Marquis Flowers (6-2, 230, 4.52)
Flowers started nine and played in 11 games at safety for the Wildcats in 2011 but moved down to strongside linebacker as a junior and emerged as Arizona's most dangerous defender. He registered 100 tackles last year, including a team-high 13 for loss. Flowers also bloomed when it came to turnovers, leading the Wildcats with seven (three interceptions, three forced fumbles, one fumble recovery), including a dominant performance against Southern Cal (seven tackles, three turnovers) that earned him Pac-12 Defensive Player of the Week honors in a 39-35 victory. Quick off the snap and possessing the long arms and lateral agility to avoid pass blockers, he led an otherwise woeful Wildcats pass rush (16 sacks in 13 games) with 5.5 sacks in 2012. Despite his production, Flowers does not possess the explosiveness or technique to consistently win off the edge against NFL competition. He is a classic run-and-chase outside linebacker prospect whose best assets are his speed and experience in coverage. With improved physicality at the point of attack in his second season at the position, however, Flowers could grow into a draftable commodity.
3. CB Shaquille Richardson (6-1, 184, 4.54)
Tall, long-armed cornerbacks are suddenly all the rage in the NFL, and Richardson possesses the size and speed to get an extended look from scouts despite less-than-stellar overall play. His inconsistencies in coverage and as an open-field tackler, in fact, led to his losing his starting position for two games midway through the 2012 season. Richardson shows a strong initial jam when playing press as well as the fluidity to turn and run with receivers down the field. Unfortunately, missed tackles on the perimeter against quick-hitting bubble screens were a problem all year long. Often asked to play off wideouts in this scheme, Richardson would react late to the quick passes and too frequently lunge and miss his target, capping confidence that he'd be able to transition to safety, if necessary. Richardson led the 'Cats with 15 passes defended as a junior but turned only one of these opportunities into an interception. He'd previously stood out in this area, leading Arizona with four picks as a sophomore. Richardson also comes with some off-field baggage. He wound up with the Wildcats after originally signing with UCLA out of high school and was kicked off the team in 2009. Richardson and two other Bruins were charged with theft. He was also one of 10 Wildcats and Bruins suspended following an ugly on-field brawl between the two teams in 2011.
Other Arizona prospects worth watching:
SS Tra'Mayne Bondurant (5-10, 190, 4.54)
Bondurant plays a hybrid linebacker/safety role in Arizona's 3-3-5 scheme, which takes advantage of his instincts and physicality. He's undersized and has struggled with injury at times but is a playmaker who registered 11.5 tackles for loss among his 74 stops last season.
ILB Jake Fischer (5-11, 222, 4.67)
Fischer is a standout at the collegiate level whose lack of measureables make him a long shot in the NFL. He earned honorable all-conference honors a year ago after leading the Wildcats with 119 tackles. His instincts and toughness could earn him late-round or free-agent considerations with another big season.
OT Mickey Baucus (6-7, 305, 5.33)*
Scott's mobility and Rodriguez's quick-strike offense certainly helped, but Baucus and the rest of the Arizona offensive line finished behind only Southern Cal a season ago in pass protection, allowing just 1.38 sacks a game (18 in 13 games). Baucus started the past two seasons at left tackle and boasts an intriguing combination of initial quickness and long arms, but he bends at the waist and needs to get stronger to sustain blocks in the running game.
QB Jesse Scroggins (6-2, 212, 4.79)
As the primary backup to Scott a season ago, senior B.J. Denker appears to be the front-runner to replace him. He possesses the dual-threat capabilities to succeed in Rodriguez's up-tempo offense. Scroggins, who signed with Arizona out of El Camino Junior College after spending two seasons with USC, however, possesses the bigger arm and higher upside.
Show Comments
Hide Comments
Not every draft pick can be a winner. Here are the 32 guys who could cause the most regret

Our list of late-round gems includes plenty of lesser-known backs and quality linemen

A running back going No. 2 overall? When you're being compared to Hall of Fame runner, yes
Pass rushers and explosive offensive players highlight the best Day 1 contributors

Here's every draft pick heading to the NFC West, including 21 by the Seahawks and 49ers co...

Here's every draft pick heading to the NFC South, home of the NFC's last two Super Bowl te...