2014 NFL Draft: Auburn Preview
Can the return of Gus Malzahn invigorate a program that only two seasons ago was coming off of a BCS title? An early favorable schedule and a return to health from his best two players could give the Tigers some of their roar back in 2013.
by Rob Rang
The Sports Xchange/CBSSports.com

• 7 min read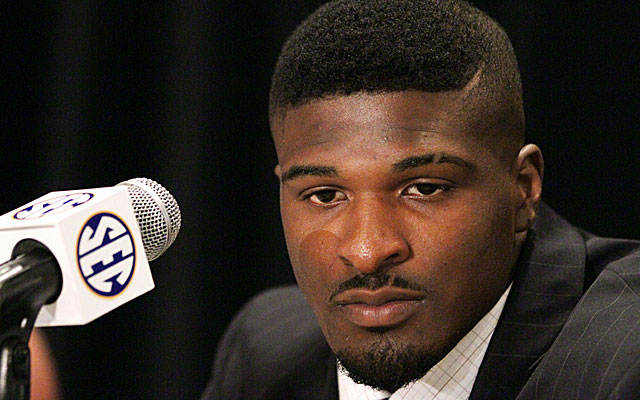 In preparation for the 2014 NFL Draft, NFLDraftScout.com will profile the top draft-eligible prospects from FBS-level programs. This summer series will run until the start of the college football season.

AUBURN TIGERS
The dramatic fall from 2011 BCS champions to last place in the SEC West last year cost Gene Chizik his job and sparked the return of innovative offensive mind Gus Malzahn to the Auburn Tigers.
Malzahn, of course, served as offensive coordinator under Chizik during the championship run. His success led to his being hired last year at Arkansas State, where he guided the Red Wolves to a 9-3 record and Sun Belt Conference championship in his first (and thus far only) season as head coach.
Familiarity can breed success and it is with this philosophy in mind that Auburn offered Malzahn the job. Auburn has produced just two combined NFL draft selections since their championship run and, frankly, may not offer considerably more to scouts this year, either. 
The Tigers' 2013 schedule starts out interestingly enough with fellow innovator Mike Leach and the Washington State Cougars traveling to Auburn on Aug. 31 and the Red Wolves coming to town a week later to play against their old coach.
  
NFL Draft picks the last five years: 11

2013 NFL Draft picks: One - OLB/DE Corey Lemonier (San Francisco 49ers, third round)

Top Auburn prospects for the 2014 NFL Draft

* Indicates underclassman

1. OLB Dee Ford (6-2, 238, 4.72)
Like Lemonier before him, Ford is an undersized pass-rusher who primarily lines up at defensive end for Auburn but will be asked to transition to outside linebacker in the NFL. With Lemonier now a member of the 49ers, all eyes are on Ford, who led the team with six sacks, to pick up the slack. Unfortunately for Auburn, Ford went down with an undisclosed injury during practice this week that puts his availability for the opener in question.
Assuming he is healthy (Malzahn said he "hopes" Ford will be ready for the Aug. 31 opener vs. WSU), Ford possesses the burst, lateral agility and surprising strength at the point of attack to enjoy a breakout senior campaign. He seems to think he's on track to do precisely that, opting to change jersey numbers in 2013.  He will be wearing No. 30 this year (as he did in high school) after sporting No. 95 earlier in his career at Auburn.
As his size suggests, Ford relies on his burst off the snap to gain the corner against offensive tackles. He accelerates smoothly and is flexible enough to bend around the corner as a pure speed rusher. Besides speed, however, Ford possesses long arms and broad shoulders. These give him better pop at the point of attack than his opponents expect. While he's not going to be able to hold up against a powerful run-blocking right tackle all day long, Ford shows some toughness in setting the edge and does a nice job of jumping outside to keep contain. Best of all, while most of his snaps due come from the three-point stance, he is occasionally asked to drop back into coverage, giving scouts evidence that he'll be able to handle coverage duties. Ford shows balance and efficient change-of-direction skills when operating in reverse, making him one to watch as a linebacker convert. 
2. RB Tre Mason (5-09, 196, 4.50)*
By rushing for 1,002 yards and eight touchdowns, Mason served as one of the few bright spots in an otherwise dismal 2012 season at Auburn. There is plenty of reason to suggest that he'll do even more in 2013 and not just because he averaged 5.9 yards per carry a season ago.
Mason's success last season came despite the fact that he only started six games. Furthermore, he was rarely used as a receiver out of the backfield in 2012, catching just seven passes (for 86 yards) on the season despite showing reliable hands previously in his career as an all-conference kick returner. He's also fortunate to be running behind one of the better lead-blocking fullbacks in the country in senior Jay Prosch, a legitimate NFL prospect in his own right.
Mason is shorter than ideal but possesses a high-cut frame and a powerful lower-body. Unlike many "smallish" backs, Mason doesn't waste a lot of time dancing behind the line of scrimmage. He's a decisive, one-cut runner who attacks the hole, whether it comes as a running back or as a returner. He shows vision in setting up blocks while on the move rather than attempting to make defenders miss with agility. He has enough juice to go the distance but is a one-speed runner who lacks an elite second gear to pull away.
If Malzahn shows more confidence in Mason's receiving abilities than the previous coaching staff, the junior could rank among the more productive all-purpose backs in the SEC this fall. Mason missed two weeks of spring practices with a sprained ankle, however, giving two other juniors, Cameron Artis-Payne and Corey Grant, opportunities to earn more playing time of their own in 2012.
3. DT Jeffrey Whitaker (6-3, 307, 5.32)
If Auburn is going to surprise in 2013 they are going to need some breakout performances. Blessed with good size, a quick first step off the snap and plenty of experience (18 career starts), Whitaker is a logical candidate to supply one.
Whitaker signed with Auburn as a highly regarded prep prospect out of Georgia. He appeared in 14 games during Auburns' BCS title run (seven tackles on the year) and emerged as a full-time starter as a sophomore, logging 25 tackles, including two for loss. His numbers tailed off last season (12 tackles, one for loss) after he suffered an undisclosed injury which sidelined him for three games.
Whitaker looks the part of an NFL defensive lineman. He possesses a stout frame and shows both lateral agility and balance to avoid blockers to put himself in position to make plays. Whitaker appears hesitant to commit when he has ball-carriers in his sights, however, and isn't a particularly physical player, overall. At this time Whitaker simply doesn't make enough plays to warrant a draft selection, though he certainly could change that with the breakout campaign Auburn fans have been expecting since he arrived on campus.
4. FB Jay Prosch (6-0, 247, 4.67)
Prosch ranks as one of the country's most lethal lead blockers but could be a bit of a round peg in a square hole for Auburn this year as the team's transitions from the pro-style attack featured last year to Malzahn's high-octane spread. Prosch, a Mobile, Ala. native, originally signed with Illinois out of high school, starting 12 games in two seasons with the Illini but was granted a waiver from the NCAA to transfer closer to home to be with his ailing mother. Sadly, she passed away after a bout with brain cancer the day after her son's debut (Clemson) at Auburn.
Prosch is strong (his weight room prowess led to his being listed among Bruce Feldman's Freak Athletes) and uses his power as a human sledgehammer to create holes in the running game, as well as make tackles on special teams. He does not, however, possess the speed or agility to earn many rushing attempts (48 yards and two touchdowns over his career) or opportunities to catch passes (six receptions for 20 yards), significantly limiting his value to most teams in today's pass-happy NFL.

Other Auburn prospects worth watching: 
P Steven Clark (6-4, 232, 5.18)
Clark started his career off with a bang, becoming the first Auburn punter to ever earn the distinction of being a finalist for the Ray Guy Award in 2011, his first season as the Tigers' starter. He averaged 40.8 yards per punt and showed an NFL-caliber combination of leg strength (13 punts of 50+ yards) and touch (33 inside the 20-yard line). Clark carried over his success into 2012, once again earning Ray Guy consideration (one of 10 semi-finalists) after allowing just five returns off of his 70 towering punts. Clark enters his senior campaign as NFLDraftScout.com's No. 4-rated punter. With another strong season, he'll earn at least a camp invite from NFL teams, if he isn't drafted outright.
CB Chris Davis (5-10, 198, 4.54)
Davis was part of a secondary of a secondary that was scorched by big plays in 2012 and failed to record a single interception. He's missed multiple games over the past two seasons with injury (shoulder in 2011, concussion in 2012) but possesses the combination of size and athleticism to intrigue scouts. With some help from his pass rush, Davis could surprise in 2013.
SS Justin Garrett (6-1, 215, 4.66)*
A former reserve at linebacker, Garrett is expected to take over at the "Star" position in defensive coordinator Ellis Johnson's 4-2-5 scheme. The role should put Garrett in position to make some eye-popping plays in 2013, though he enters the season with just two starts and 21 tackles to his credit. Optimism is high, however, after Garrett was named the Defensive MVP following Auburn's spring game.
Show Comments
Hide Comments
Not every draft pick can be a winner. Here are the 32 guys who could cause the most regret

Our list of late-round gems includes plenty of lesser-known backs and quality linemen

A running back going No. 2 overall? When you're being compared to Hall of Fame runner, yes
Pass rushers and explosive offensive players highlight the best Day 1 contributors

Here's every draft pick heading to the NFC West, including 21 by the Seahawks and 49ers co...

Here's every draft pick heading to the NFC South, home of the NFC's last two Super Bowl te...