2014 NFL Draft: Baylor RB Lache Seastrunk joining NFL party
Baylor's Lache Seastrunk, the No. 4-rated running back eligible this year, announced he will enter the 2014 NFL Draft.
by Derek Harper
The Sports Xchange/CBSSports.com

• 2 min read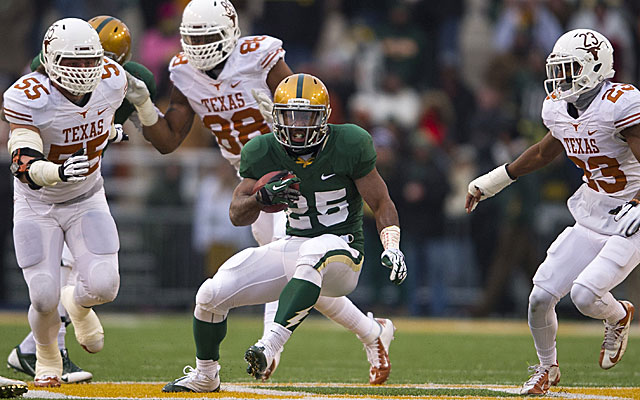 Baylor's undersized but explosive mighty-might junior Lache Seastrunk is the latest running back to announce he will enter the 2014 NFL Draft.
Seastrunk, 5-feet-9 and 210 pounds, is the No. 4-rated running back and No. 62 prospect overall for this year's draft, according to NFLDraftScout.com ratings. He rushed for 1,177 yards and 11 touchdowns for the Bears this season.
NFLDraftScout.com Analyst Dane Brugler sees Seastrunk as a low-to-the-ground runner with "terrific balance and sharp start/stop action." While his athleticism is obvious, so, too, are Seastrunk's limitations due to his size. He also lacks ideal vision and often struggled against Baylor's top competition.
"Playing in the NFL has been a lifelong dream of mine, and I'm fully prepared to the next step toward realizing that goal, Seastrunk said in a statement to Yahoo! Sports. "I'm excited for the opportunity to compete in the NFL draft process. I look forward to giving teams every ounce of energy I've got and proving to them that I'm a good person, a relentless competitor, and a great player too."
This year's running back class doesn't include any slam dunk first-round prospects, with Arizona junior Ka'Deem Carey (No. 42 overall) currently the top-rated prospect at the position, followed by juniors Tre Mason of Auburn (No. 48), Washington's Bishop Sankey (No. 53) and Seastrunk. Mason has yet to announce his decision.
However, three prospects with late-round grades have thrown their hats into the ring. UCF's Storm Johnson announced on Monday he will skip his senior season, a day after Oregon's undersized but explosive De'Anthony Thomas said he will also enter the 2014 draft.
UAB's Darrin Reaves also will forego his senior season despite being the No. 47-rated running back for 2015 and a fringe draft prospect this year. He leaves third in school history with 2,337 career rushing yards and 30 touchdowns.
"I feel like I am ready to take the next step in my life," Reaves said. "This is something I've been thinking about for a long time. I went to church and the pastor said, 'to start new adventures and be strong and courageous and to follow God's plan.'
"I feel like playing in the NFL is part of God's plan. I talked to my family a lot about this and came to my decision to put my name in for the draft.
"I want to thank all the coaches I have had over my three years at UAB, and also want to thank (Athletic Director) Brian Mackin, for allowing me the chance to play at a great university. It has been a blessing and a great experience to play for my hometown team in Birmingham, but now I feel like it's time to take another step in my career."
Show Comments
Hide Comments
Not every draft pick can be a winner. Here are the 32 guys who could cause the most regret

Our list of late-round gems includes plenty of lesser-known backs and quality linemen

A running back going No. 2 overall? When you're being compared to Hall of Fame runner, yes
Pass rushers and explosive offensive players highlight the best Day 1 contributors

Here's every draft pick heading to the NFC West, including 21 by the Seahawks and 49ers co...

Here's every draft pick heading to the NFC South, home of the NFC's last two Super Bowl te...