2014 NFL Draft: Bortles makes jump official; Hundley, Mannion staying
UCF QB Blake Bortles and RB Storm Johnson are entering the 2014 NFL Draft, while UCLA QB Brett Hundley and Oregon State QB Sean Minnion will stay in school.
by Derek Harper
The Sports Xchange/CBSSports.com

• 3 min read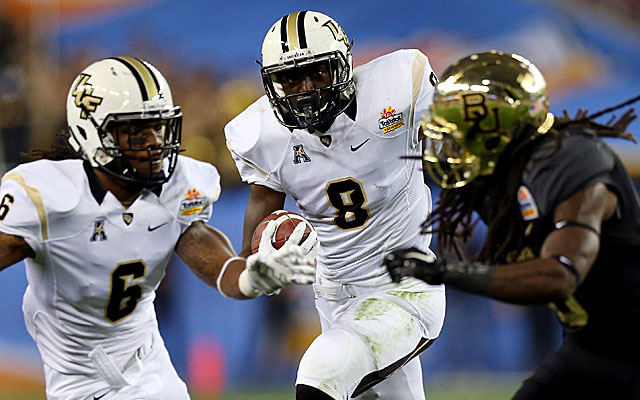 Quarterback Blake Bortles and running back Storm Johnson were two of the driving forces behind Central Florida's surprise 12-1 season and Fiesta Bowl victory, and both juniors are now bolting the Knights for the NFL.
Meanwhile, quarterbacks Brett Hundley from UCLA and Oregon State's Sean Mannion confirmed they will return to school for another year -- Hundley for his junior season and Mannion for his senior year. Also returning to the Pac-12 fray will be Oregon cornerback Ifo Ekpre-Olomu, who is currently No. 15 on Rob Rang's Big Board.
Bortles confirmed on Monday he will forego his senior season -- which was reported by CBSSports.com's eremy Fowler on Sunday -- and he immediately vaulted to the top of NFLDraftScout.com analyst Dane Brugler's Mock Draft. Bortles is the No. 12 overall prospect and third-rated quarterback behind Louisville junior Teddy Bridgewater (No. 3 overall) and Texas A&M redshirt sophomore Johnny Manziel (No. 8).
"After a lot of deliberations and talking with my parents, I've decided to try and pursue my goal to playing the NFL and capture my lifelong dream," Bortles said. "I just couldn't be more proud to say I played football at UCF and it was the best four years of my life."
Johnson's leap to the NFL was a bit more surprising, as he is considered a sixth-round prospect and the No. 17-rated running back potentially available in May. However, he may have seen this as the best time to get out of town with Bortles not returning to lead the offense in 2014.
Johnson began his college career with the Miami Hurricanes, but transferred to UCF following his freshman season in 2010 and went on to rush for 1,139 yards and 14 touchdowns as a junior.
"This was a tough journey for me and I'm just super proud to have the support of coach (George) O'Leary and the coaching staff," Johnson said. "It was a hard decision, but I had to make the best decision for me."
The news of Ekpre-Olomu returning to Eugene was a welcome -- and somewhat surprising -- development for the Ducks, who have had several underclassmen already declare they will enter this year's draft, including running back De'Anthony Thomas.
Ekpre-Olomu has been the second-rated cornerback potentially eligible this season and considered a solid first-round prospect, but he sees an opportunity to improve his stock by returning to the Ducks and leading a secondary in which he is projected to be the only returning starter.
"The two main factors related to my decision to return were my continued progression as a person and a player, and I felt Oregon was my best option to achieve those goals and improve my situation for next year," Ekpre-Olomu said in a statement. "I should be able to finish my degree by next fall, possibly by the end of the summer. Football is only one phase of who I am; my degree will be forever. Secondly was my ability to make an impact and become a top (draft) pick, and I felt staying one more year would only help me."
Ekpre-Olomu will have an opportunity to wage more battles against some of the nation's top quarterbacks next season. He will face teammate Marcus Mariota in practice on a daily basis, while Hundley, Mariota and Stanford's Kevin Hogan are all potential future first-round draft picks in 2015.
"All the stars are really aligned to put together something really special at UCLA," Hundley said Monday, indicating a return to school could also allow him to earn his degree before the 2015 draft. "And not just something that you'll forget about, but something where you'll be remembered for something along the line. When you get old, you can look back and say, 'I was part of that team and that program, and helped bring them back to where they needed to be.'"
Mannion's decision to return for his senior season was expected following an underwhelming 2013 season in which he struggled during a five-game losing streak to end the regular season. While Mannion threw for 4,662 yards and 37 touchdowns in a pass-heavy offense, he is also currently rated as the No.-41 quarterback prospect for 2015.
"I'm excited to return for my senior year," Mannion said. "I weighed the pros and cons of making myself eligible for the Draft with my family and current coaching staff, and came to the conclusion that I have decided to continue my career with my teammates at Oregon State."
Show Comments
Hide Comments
Our Latest Stories
Michigan, California and BYU held pro days on Friday, with Davis Webb fighting a 'torrential...

Plus, prospects at Utah, Missouri and San Diego State look to make their mark on a busy Th...

Plus, two USC prospects tackle agility drills and two small-schoolers look to make their m...
In a class loaded with defensive studs, no position group is better than the corners and s...

Mitchell Trubisky is 'solid,' Takk McKinley sits and Marlon Mack 'sizzles' during Tuesday pro...

John Lynch is among the 75 NFL scouts at UNC's pro day, while the Browns are noticeably ab...