2014 NFL Draft: Chicago Bears Spotlight
This is the 20th of a team-by-team series, analyzing five prospects that each team should consider in the 2014 NFL Draft
This is the 20th of a team-by-team series, analyzing five prospects that each team should consider in the 2014 NFL Draft.
For years under Lovie Smith, the defense was the main reason Chicago contended for the playoffs while the offense was asked to do just enough to get the win. In year one of the Marc Trestman era last season, it was the opposite as the offense propelled the team into the playoff picture, but a porous defense (and several injuries) kept the Bears out of postseason play.
Entering the 2014 NFL Draft, Trestman and general manager Phil Emery will be on a mission to improve a defense that ranked last in the NFL in rushing yards allowed. With the No. 14 pick in the first round, anything but defense would be a shock, but which position will Chicago address first? Defensive tackle like Aaron Donald or Timmy Jernigan? Cornerback like Darqueze Dennard or Justin Gilbert? Or safety like Calvin Pryor or Ha Ha Clinton Dix?
Donald is probably the favorite, but with the Pitt interior rusher likely gone at that pick, safety becomes a very real possibility. Incumbent free safety Chris Conte isn't an ideal starter, but he can hold up for now. Chicago needs a physical presence next to him at the strong safety spot -- a player who can hit, but also play some coverage. So if Louisville's Calvin Pryor is still on the board, he makes a ton of sense for Chicago in the first round.
Chicago Bears' 2014 draft picks: 14, 51, 82, 117, 156, 183, 191
Primary needs: DT, SS, CB, WR, OLB
General manager: Phil Emery, 3rd season
Head coach: Marc Trestman, 2nd season
Five draft picks that clicked:
- OG Kyle Long, 20th overall, 2013
- OT Jordan Mills, 163rd overall, 2013
- WR Alshon Jeffery, 45th overall, 2012
- RB Matt Forte, 44th overall, 2008
- LB Lance Briggs, 68th overall, 2003
Five players who should be on Chicago's draft radar:
(overall rating, position rating)
SS Calvin Pryor, Louisville (21, 2): The defensive line is often mentioned as Chicago's top need, but the safety situation is a dire one and it wouldn't be a surprise if they address the back end of the defense first on draft weekend. At pick No. 14 in the first round, the Bears are in a great spot to secure one of the top safeties in this class like Pryor, who could step in as the starting strong safety as a rookie next to Conte. Pryor has a strong understanding of everything going on around him and can play in the box or drop in zone with his above average football speed, instincts and eye discipline. He has "wow" physicality and an aggressive, fearless mentality to take on blocks, strike through his target and hit with a killer instinct to lay out the ballcarrier. Pryor doesn't play hesitant and has the versatile skill set to line up at either free or strong safety, giving Chicago long-term options.
CB Bashaud Breeland, Clemson (78, 10): Starting cornerbacks Charles Tillman and Tim Jennings are back for 2014, but both are also on the wrong side of 30, making cornerback a likely draft target for Chicago. In the second round, Breeland might be a candidate with his combination of size and athleticism, using his length and aggressive nature well in coverage to blanket and get his hands on the ball. Breeland played mostly off-man in college with good anticipation and eye use to break on the ball, but he lacks elite speed or quick-twitch movements and found himself in trouble when biting on fakes or hesitating for a moment. He is a willing run defender, but needs to be more reliable in this area and do a better job finishing tackles. Breeland needs technique work and time to develop, but his raw cover skills and size project him as an eventual starter.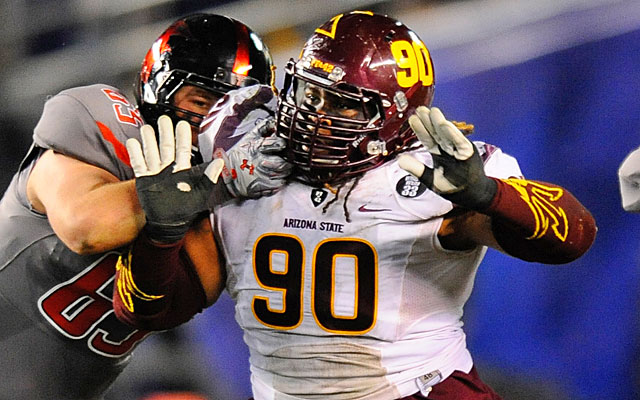 DT Will Sutton, Arizona State (63, 7): For the teams that don't land Donald in the first round, Sutton is one of the "plan B" options for 4-3 defenses looking for a penetrating three-technique later on. He had his best season in 2012 as a junior with 23½ tackles for loss and 13 sacks, earning numerous All-American honors and Pac-12 Defensive Player of the Year. Sutton's production dipped as a senior and he appeared to struggle with his added weight, leading to weight fluctuation questions -- he needs to keep his pounds under control and find a consistent playing weight in the 295-305 range. He has a sudden first step to attack gaps and catch blockers off balance with the motor and hand use making him a pesky interior presence, but he will push himself too hard and take some plays off. A disappointing senior season hurts his value, making him a bargain in the third round.
WR Brandon Coleman, Rutgers (186, 26): Chicago has arguably the best wide receiver duo in the league with Brandon Marshall and Alshon Jeffery, but depth behind them could be addressed. Coleman led the Rutgers in receiving as a sophomore in 2012 with 718 yards and 10 touchdowns, earning Second Team All-Big East honors. He returned for his junior season with hype as a possible high draft pick, but he was slowed due to offseason knee surgery and his production dropped across the board. Coleman is in the same mold as Marshall and Jeffery with his size and long-striding speed, but he is still raw and doesn't consistently play up to his size. While still developing in several areas, he has the power forward size and promise as a pass catcher to be stashed on the Bears roster and develop into Marshall's eventual replacement.
OLB Kevin Pierre-Louis, Boston College (190, 17): Chicago wants to add speed, speed and more speed on defense and Pierre-Louis might be the fastest linebacker in the draft. At the NFL combine, he produced head-turning numbers in the 40-yard dash (4.51), 10-yard split (1.56), vertical jump (39 inches), 3-cone drill (6.92) and even the bench press (28 reps). And Pierre-Louis' production and tape on the field are impressive too. He has some linebacker/safety tweener traits with his slender frame, but moves very well with the athleticism to cover a large area. Pierre-Louis has trouble disengaging and needs to stay healthy at the pro level, but he is a sound tackler with NFL smarts, projecting him as a rangy run-and-chase WILL linebacker and possible down-the-road starter for Chicago.
Show Comments
Hide Comments
Our Latest Stories
Meanwhile, if you're looking for a safe bet in this class, start with a deep crop of DBs

Will Brinson's first mock draft has the Browns taking Mitch Trubisky No. 1 overall

A new rule in 2017 prevents players with past criminal issues to attend the combine
How tall is Mitch Trubisky? How slim is Deshaun Watson? Scouts are about to find out

Hooker looks like top-10 pick, but his injury and rehab schedule could lead to a slight fall...

The Jets are the first team to take a quarterback at No. 6