2014 NFL Draft: Defensive back crop bigger, badder
With a hat tip to the Legion of Boom, the appropriately timed arrival of the 2014 defensive back class is bigger and badder (that's a good thing) than so-so classes in recent years.
More NFL offseason: Mock Drafts | Prospect Rankings | Pro Days | Top free agents
Bigger, better, badder.
In direct response to pro football's prolific passing antics, and to the dismay of old school English teachers, that describes the talented class of defensive backs in the 2014 NFL Draft
According to projections by NFLDraftscout.com, seven defensive backs -- including two safeties -- are first-round prospects in the NFL Draft that begins May 8 and as many as 16 could be grabbed in the first two rounds.
The cornerbacks are led by Oklahoma State's Justin Gilbert and Michigan State's Darqueze Dennard. An unusually strong group of safeties is topped by Alabama's Ha Ha Clinton-Dix and Louisville's Calvin Pryor. All four could be among the first 20 players selected.
In homage to the tone set by the Super Bowl champion Seattle Seahawks, led by cornerback Richard Sherman's rough-housing style, this draft group is larger and more physical than most previous draft classes, with six of the top 11 corners at least six feet tall and the top five safeties all between 5-foot-11 and 6-1.
Not only are these defensive backs set to test those wide-open offenses, but despite league desires to the contrary, there is nothing safe about the brutal hitting ability of the top safeties in this class.
Here is a closer look at the defensive backs projected to be selected among the top 100 as rated by NFLDrafScout.com (Free and strong safety prospects are differentiated as FS and SS).

Pos. Rank/Overall Rank/Player/Position/School/Height/Weight/40 time/Proj. Round

CORNERBACKS

1/11. Justin Gilbert, Oklahoma State, 6-0, 202, 4.37, 1.
Texas prep sensation as quarterback, defensive back, returner, track star, basketball player, Gilbert's overall athleticism continues to be his best asset. However, he must show he is willing to maintain high level of play after admittedly becoming complacent in 2012 after a great 2011 season. He stood out again in 2013 with six interceptions, including two for touchdowns, and a 100-yard kickoff return. Although his announced 40-yard time of 4.37 seconds was the fastest among a curiously slow group of defensive backs at the combine, his best clocking at Indy was actually 4.31 seconds.
Frankly: Gilbert is no shut-down, in-your-face corner, but he will serve well in zones or off-man coverage where he can keep everything in front of him, then maximize his athleticism.

2/16. Darqueze Dennard, Michigan State, 5-11, 199, 4.51, 1
After injury-marred 2012 season, Dennard exploded in 2013 to demoralize several offenses and win numerous awards, including the Jim Thorpe, Tatum-Woodson, and first-team All-America. Tough, plays with pain, but history of injuries dating back to 2010 could concern teams (sports hernia required two surgeries, shoulder, ankle, knee). Prepares hard, plays harder and excels at press-and-run. Although his announced 40-yard time at combine was 4.51 seconds, he had four clockings there between 4.41 and 4.42, which is a bit more comforting to scouts who dwell on such things.
Frankly: Dennard has the talent, attitude and short memory needed to survive in NFL, but may need to be more sly when man-handling receivers.

3/27. Kyle Fuller, Virginia Tech, 6-0, 190, 4.49, 1-2
Fuller plays like a natural who has the athleticism to cover and the aggressiveness to play the run. Had sports hernia surgery in November, missed final six games and Senior Bowl. Quiet team leader, brother of former Tennessee Titan Vincent Fuller and younger brother Kendall is a sophomore to watch with Hokies this year.
Frankly: A solid player against pass and in run support, Fuller has efficient, functional speed (bests of 4.40 and 4.42 seconds at combine), excellent leaping ability (38.5-inch vertical) and a knack at finding the ball.

4/29. Jason Verrett, TCU, 5-10, 189, 4.38, 1-2
Fluid, natural athlete with smooth transition on flip and aggressive approach mentally, physically. Has that rare ability to blanket even the quickest receiver. Selected first-team All-America on several lists, second team by Associated Press. Allowed LSU's nifty Odell Beckham Jr. (projected as first-round pick by NFLDraftScout.com) only one catch.
Frankly: Verrett's startling physical ability and apparent toughness belies the fact he is still maturing and learning skills to cope both on and off the field.

5/31. *Bradley Roby, Ohio State, 5-11, 194, 4.39, 1-2
After redshirting the 2010 season as a true freshman, Roby started all 13 games at cornerback in 2011 and quickly flashed his world class speed while leading team with three interceptions. He sat out 2013 opener (suspension after arrest for battery in bar fight) and shook off a so-so start to register a good season. Had more than his share of bothersome injuries the last two years.
Frankly: Roby is gifted when it comes to doing the hard things, like mirroring receivers, but a lack of discipline and focus get him into trouble against inferior players.

6/51. Lamarcus Joyner, Florida State, 5-08, 184, 4.55, 2
Small and not really blazing fast, but Joyner is a football junkie with an innate feel for the game. High school phenom at prep powerhouse St. Thomas Acquinas, where he was USA Today's National Defensive Player of the Year as a senior. Joyner played safety and corner in a college career that included 15 pass deflections, eight interceptions and an average of 24.23 yards on kickoffs.
Frankly: Joyner plays much bigger than he measures, hits like the linebacker he was in high school, and his shocking zero-to-gone acceleration will help as a returner.

7/56. Phillip Gaines, Rice, 6-0, 193, 4.38, 2
Two-time, All-CUSA selection set a school career record by breaking up 38 passes, 27 in last two years. Played in 52 career games, started 40, including the final 35 consecutive. In 2013, targeted 40 times, allowed 13 catches and stole four passes. Missed best chance to show skills when suspended for season opener vs. Texas A&M's Johnny Manziel-to-Mike Evans tandem. Added eight pounds to get to 193 at combine and probably could handle -- and use -- more of the same.
Frankly: Gaines has the skills, speed (Indy best of 4.31 seconds in 40 yards) and discipline to be an NFL starter, but his most intriguing trait is getting to the ball on so many plays.

8/63. *Marcus Roberson, Florida, 6-0, 191, 4.61, 2
Physical in coverage, aggressive in pursuit and plays with attitude. Like Florida State's Lamarcus Joyner (sixth-rated CB by NFLDraftScout.com), Roberson is a product of prep powerhouse St. Thomas Aquinas (15-0 his senior year). Injuries a concern (fractured C6 vertebrae in 2011; hurt knee in 2013) and he could use more bulk on lanky frame.
Frankly: Roberson can play in the NFL if he learns to work in space without losing track of the action and he must also refine his hands-on work downfield to avoid penalties.

9/74. Keith McGill, Utah, 6-3, 211, 4.51, 2-3
Former JUCO All-America safety at Cerritos, McGill lasted only five games there with the Utes before a shoulder injury dictated a move to cornerback. McGill shows field awareness of a safety and even baits quarterbacks to throw underneath routes where he excels at closing on the ball. Uses height and long arms well, but lacks unbridled enthusiasm on run support.
Frankly: Curiously reminiscent of Nnamdi Asomugha (Cal, Raiders, Eagles, 49ers), who maximized his height and ball skills as a boundary-style cornerback to make All-Pro. Like Asomugha, McGill seems more suited for safety except for that bad shoulder, which may explain why neither of them will be remembered as a big hitter.

10/78. *Bashaud Breeland, Clemson, 5-11, 197, 4.62, 2-3
Breeland may not be ready to step in as a starter, but he has above-average skills across the board while lacking blinding speed. After being hampered by a groin injury in 2012, Breeland was impressive as a junior last season with 17 passes defensed, four interceptions and 74 tackles, including five for a loss. Lack of elite speed should limit his use to off-man and zone coverage and even then he needs work on technique.
Frankly: Breeland is aggressive and willing, but maybe not able to handle the speed at the next level. His exceptional ball skills may not be a factor if he is a full step behind in a game of inches.

11/86. Stanley Jean-Baptiste, Nebraska, 6-3, 218, 4.61, 2-3
Jean-Baptiste is a big athlete in search of a position. Well-traveled, former wide receiver (at Miami Central High, North Carolina Tech Prep and Fort Scott Community College), Jean-Baptiste saw no action while listed as a receiver at Nebraska in 2010 and had only one catch in 2011 before transitioning to corner for nine games. His previous experience as defensive back was at safety at Miami Central. Made a lot of plays in college just on pure athletic ability, which was abundantly evident at combine workouts that included best vertical jump of 41.5 inches.
Frankly: In that inevitable search for the NFL's next Richard Sherman, Jean-Baptiste fits the role as if from central casting, complete with switch from wide receiver. But he lacks Sherman's physicality and instincts and his best shot may be as a safety.

12/93. Pierre Desir, Lindenwood, 6-1, 198, 4.59, 3
Haitian-born, Desir moved to U. S. when he was four and spent youth playing soccer, the sport in which his father, Wilfrid, starred. But while playing football at two Mid-American Intercollegiate Athletic Association (MIAA) colleges -- Washburn and Lindenwood -- Desir showed natural ability and collected 25 career interceptions. Fluid, flexible mature athlete with wife and two children who dominated low level competition.
Frankly: Best MIAA prospect since? Of course you said Pittsburg State's DE Troy Wilson (21 sacks in 1991 to help win DII National Championship; 46 career sacks from 89-92; drafted in seventh round by San Francisco in 1993, in time to win a Super Bowl ring after 1994 season).

13/95. Jaylen Watkins, Florida, 6-0, 194, 4.41, 3
Older half brother of Clemson wide receiver and top-10 draft prospect Sammy Watkins, Jaylen showed family's elite athletic genetics since he was a versatile football star at Cape Coral, Fla., High as dual threat quarterback, wide receiver and, oh yes, cornerback. Showed ability last season to play both corner and safety. At combine he clocked 40 yards in 4.41 seconds; 10 yards in 1.50 second and benched 225 pounds 22 times -- all better marks than his highly-rated little brother.
Frankly: Watkins does not seem like a gamble as a natural football player with the chance of playing either cornerback or safety. Hey, how about emergency quarterback?

14/100. Rashaad Reynolds, Oregon State, 5-10, 189, 4.51, 3-4
This former star quarterback at San Fernando High School (Pacoima, Calif.) had to beg to play cornerback and they are thankful at Oregon State, where he played 50 games, starting his final 38 at right corner. Tough, three-time city prep wrestling champ with excellent coverage techniques and great character as leader on the field and in community. Last year he overcame a knee injury to collect 61 tackles, six interceptions and two fumbles returned for a score in one game.
Frankly: Forget his height, or lack thereof, just put him on the field and watch him give a clinic in how this position is supposed to be played.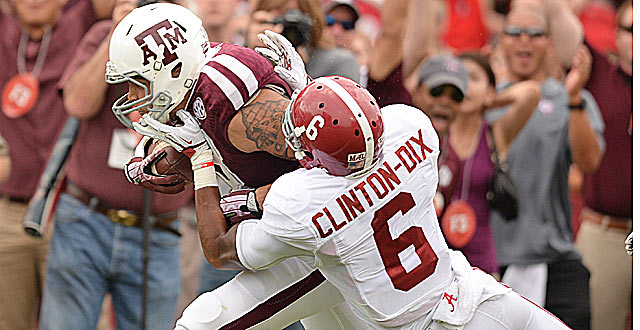 SAFETIES

1 Free Safety/17 overall. *Ha Ha Clinton-Dix, Alabama, 6-1, 208, 4.58, 1
Clinton-Dix's instincts and ability to diagnose seem better than his athletic ability, which is considerable. His rare combination of size, speed, aggression and ball skills mark him as a potential future NFL star. He was suspended for two games last year -- vs. Georgia State and Kentucky -- for taking an improper loan from an assistant strength coach. But if he plays up to his potential, Clinton-Dix won't need to borrow money for a while.
Frankly: Birth name is Ha'Sean. Grandmother gave him the unusual name he goes by, but that talent is nothing to laugh at.

2 Free Safety/20. *Calvin Pryor, Louisville, 5-11, 207, 4.58, 1
Pryor was a hard-hitting junior who compiled 69 tackles, 5.5 for a loss, three interceptions and two forced fumbles. In conference play, Pryor ranked 16th in tackles for all positions with 50, or 7.1 per game. He teamed with Hakeem Smith to create perhaps the best safety tandem in the country for 2013.
Frankly: If you want a hitter, Pryor is your man. What he lacks in instinct, he makes up for in raw, relentless aggression.

1 Strong Safety/41. Jimmie Ward, Northern Illinois, 5-11, 193, 4.48, 2
Ward has football smarts and puts himself in position to succeed, using his speed and range to cover the deep half of the field. He came off a 95-tackle, seven interception senior season at NIU and then further impressed scouts at the Senior Bowl. NFLDdraftScout.com's Rob Rang said Ward was the Senior Bowl's most impressive pass defender. He set school-record with three punt blocks as a freshman in 2010
Frankly: In an NFL deep in destructive tight ends, Ward would be a first round pick if he were a bit taller, and that is saying a lot for a strong safety.

3FS/71. Terrence Brooks, Florida State, 5-11, 198, 4.42, 2-3
Swiss Army knife on the back seven. Former cornerback who can match up well with those pesky slot receivers and yet is an enforcer who can hit like a linebacker. Brooks is a serious-minded, weight-room fanatic who will light up opponents on special teams.
Frankly: Want to toughen up your defense? Brooks will be happy to set the tone regardless of where you line him up.

2SS/82. Deone Bucannon, Washington State, 6-1, 211, 4.49, 2-3
Bucannon may have set an unofficial record for noisy collisions during a truly impactful four years in which he played in every game. Last year was named first-team All-American after 78 solo tackles, three forced fumbles and six interceptions.
Frankly: Nevermind his lack of agility, so-so reaction time in coverage and occasional missed tackle. Put him on the field and listen for the wind being knocked out of runners and receivers as if hit by a Mike Tyson body punch.

--Frank Cooney, founder and publisher of The Sports Xchange and NFLDraftScout.com, covered the NFL and the draft since the 1960s and is a selector for the Pro Football Hall of Fame.



Show Comments
Hide Comments
Not every draft pick can be a winner. Here are the 32 guys who could cause the most regret

Our list of late-round gems includes plenty of lesser-known backs and quality linemen

A running back going No. 2 overall? When you're being compared to Hall of Fame runner, yes
Pass rushers and explosive offensive players highlight the best Day 1 contributors

Here's every draft pick heading to the NFC West, including 21 by the Seahawks and 49ers co...

Here's every draft pick heading to the NFC South, home of the NFC's last two Super Bowl te...