2014 NFL Draft: Deion Sanders cites 'ghetto tendencies' of Manziel
Deion Sanders said he believes Johnny Manziel should be the top pick and go to the Houston Texans in the 2014 draft. He had more to say.
The Sports Xchange/CBSSports.com

• 1 min read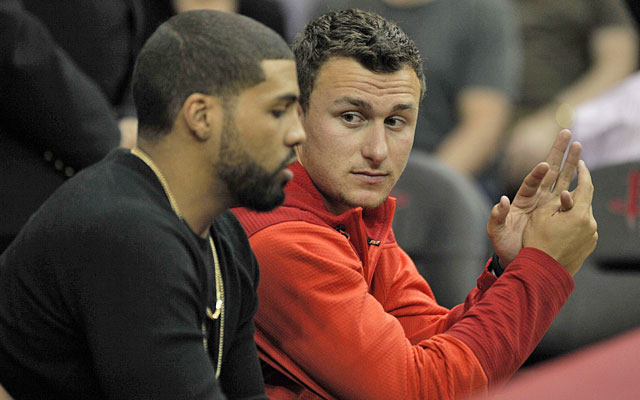 NFL Network analyst Deion Sanders said he believes the Houston Texans should use the first overall pick in the 2014 draft on Texas A&M quarterback Johnny Manziel.
Appearing on the Tom Joyner Show with Roland Martin, Sanders was asked about the hype surrounding Manziel, the 2012 Heisman Trophy winner projected as a top-10 draft pick.
"Oh, please. I love Johnny Football," Sanders said. "See, the reason people won't accept Johnny Football is because Johnny Football has ghetto tendencies. I love Johnny Football."
That prompted this exchange:
Martin: He's got ghetto tendencies? What are ghetto tendencies, Prime Time?
Sanders: Because he was successful, he made it, and he let you all know he made it, and he was cocky, he was flamboyant, and he let you know.
Martin: So he was a white Prime Time coming out of college.
Sanders: Thank you. And I love him. I love him. They had the music playing when he came in. Put his whole equipment up, who goes out there and do your pro day with all your equipment on? That's some hula stuff, I love Johnny Football.
Manziel in February dared the Texans to pass on him. The local product worked out for 30 NFL teams in College Station on March 27, including Texans head coach Bill O'Brien and other representatives from Houston. He will visit the team facility, along with several other top prospects, before the May 8 draft.
Show Comments
Hide Comments
Receivers surprise in the top 10, Alabama goes MIA in the top 15 and more 2017 NFL Draft t...

Florida State RB Dalvin Cook will kick off Day 2 of the draft

Here are the 50 best prospects still on the board as the 2017 NFL Draft heads into Day 2
A report Thursday afternoon indicates that Myles Garrett will be the first overall pick in...

Four defensive backs are picked in the final five spots of the first round in Rob Rang's final...

Character has become such a concern for draft prospects that scouts spend a majority of their...