2014 NFL Draft: Detroit Lions Spotlight
This is the 24th of a team-by-team series, analyzing five prospects that each team should consider in the 2014 NFL Draft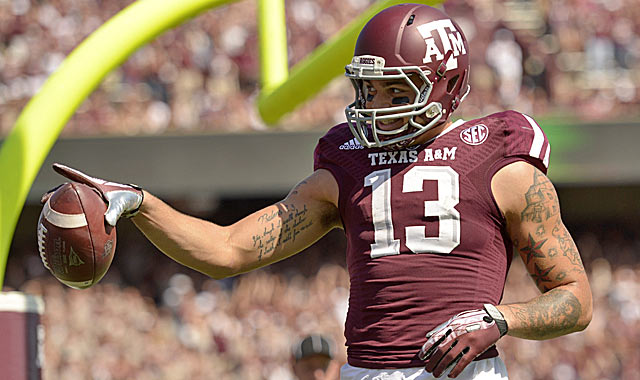 This is the 24th of a team-by-team series, analyzing five prospects that each team should consider in the 2014 NFL Draft.
Detroit begins a new era in 2014 with Jim Caldwell as the head coach and the hope that his disciplined approach to the locker room will carry over to the field. The Lions have superstar-caliber players sprinkled throughout the roster, but Detroit has been unable to capitalize on that talent with only one playoff appearance since 2000 and zero postseason victories over the past 23 years.
Despite all the starpower on the depth chart like Matthew Stafford, Calvin Johnson and Ndamukong Suh, Detroit's roster has several areas that could be upgraded through the draft. And with the No. 10 pick, the Lions have a chance to draft an impact player, giving Detroit another playmaker on the field and securing a long-term need. Pittsburgh DT Aaron Donald would be a great fit with former DT Nick Fairley set to hit free agency next off-season or Oklahoma State CB Justin Gilbert as Detroit continues to upgrade the secondary. But the intriguing name to keep an eye on is Texas A&M WR Mike Evans. The combination of Johnson and Evans would be a dangerous duo for any defense to cover and immediately rival Chicago's Brandon Marshall and Alshon Jeffery as the top WR pair in the division.
Whichever direction they go on draft weekend, the Lions are built to win now and this draft class along with the new coaching staff could help them get over the hump.
Detroit Lions' 2014 draft picks: 10, 45, 76, 111, 133, 136, 189, 227
Primary Needs: DT, WR, CB, S, DE
General Manager: Martin Mayhew, 6th season
Head Coach: Jim Caldwell, 1st season

Five draft picks that clicked:
• OG Larry Warford, 65th overall, 2013
• DT Ndamukong Suh, 2nd overall, 2010
• QB Matthew Stafford, 1st overall, 2009
• LB DeAndre Levy, 76th overall, 2009
• WR Calvin Johnson, 2nd overall, 2007
Five players who should be on Detroit's draft radar:
(overall rating, position rating)
WR Mike Evans, Texas A&M (9, 2): The Lions already have the best wide receiver in football on the roster, would they really draft another pass-catcher in the top-10? If Mike Evans is still on the board, it's a very real possibility. After all, the goal of the NFL Draft is to improve the roster and make the team better and Detroit has struggled to find a consistent No. 2 option next to Johnson. A former basketball star, Evans plays the game like a power forward, using his body and strength to box out defenders and high point the football with authority. He is still raw as a route runner and needs time to develop, but his long strides eat up grass in a hurry with the quick feet to explode after the catch and be a threat with the ball in his hands. With Golden Tate signing as a free agent, Evans wouldn't have to be the No. 2 right away, but should be able to develop into that role at some point during his rookie year.

DE Scott Crichton, Oregon State (46, 5): The Lions defensive ends have been poached in free agency the last two seasons, which is a big reason Detroit drafted Ziggy Ansah fifth overall a yea ago. But a team can never have enough pass rushers and with Willie Young moving on, the Lions could target a defensive end in the second round, especially if Crichton is still on the board. He lacks ideal fluidity and NFL measureables, but his powerful first step and relentless motor allows him to be disruptive and force the issue, whether on the outside or kicking inside on some passing downs. Crichton wins with his initial momentum to attack double-teams and bully blockers backwards, never giving up on plays. He flashes first round ability with his hustle and unyielding effort to get to the pocket.

DT Caraun Reid, Princeton (94, 11): With Nick Fairley set to hit free agency, the Lions can stay one step ahead by drafting interior depth in this class, similar to what they did a year ago at defensive end. And in the third round, Reid is a player who will be attractive to odd and even defensive fronts with his ability to play inside and outside. He was a no-name 250-pound recruit out of the Bronx five years ago, but picked up football and developed each year at Princeton. Reid is a filled-out, nimble athlete with impressive feet and get-off quickness for an interior player, staying energetic and motivated on and off the field. He is a well-rounded individual and dedicates himself in the film room, taking pride in his craft and the desire to improve. Reid is likely a top-100 player and in the third round, might be the top defensive tackle option on the board for the Lions.

CB Kendall James, Maine (171, 24): The Lions feel strongly about the young cornerback depth on the roster and might choose to pass on the position in the early rounds, but there is still a good chance we'll see them address the position at some point on draft weekend. And in the middle rounds, an excellent developmental option is James, who doesn't look like much at 5-10 and 180 pounds, but he is a tough, scrappy and athletic and should be able to develop into a solid NFL contributor, likely as a nickel player. He has impressive natural speed, light feet and a fluid body type, but his lack of bulk and muscle are big question marks for his NFL growth and his consistency as a tackler. James is very smart on and off the field and has developing instincts to go with his natural athletic traits and he should be a steady contributor by year two.

DE/TE Larry Webster, Bloomsburg (210, 11): Two defensive ends in the same draft class? Not quite. While Webster lined up as a pass rusher in college, several around the league including myself believe his best NFL position will be on offense at tight end. He was a four-year starting center at Bloomsburg on the basketball squad and finished as the school's all-time leader in blocks (175) before the football coaches talked him into returning to the gridiron. Webster put up consistent production the past two seasons as an edge rusher and also caught a pair of touchdown passes at tight end, but he will require some patience, needing to develop his football strength and technique and adjust to the higher level of competition, something that might take a year or two. Whether teams look to keep him on defense or move him to offense, Webster is worth a third day selection to stash on the roster and groom.
Show Comments
Hide Comments
Not every draft pick can be a winner. Here are the 32 guys who could cause the most regret

Our list of late-round gems includes plenty of lesser-known backs and quality linemen

A running back going No. 2 overall? When you're being compared to Hall of Fame runner, yes
Pass rushers and explosive offensive players highlight the best Day 1 contributors

Here's every draft pick heading to the NFC West, including 21 by the Seahawks and 49ers co...

Here's every draft pick heading to the NFC South, home of the NFC's last two Super Bowl te...