2014 NFL Draft: Draft Board 3.0
With the 2014 NFL Draft under a month away, the top-100 draft board is becoming much more clear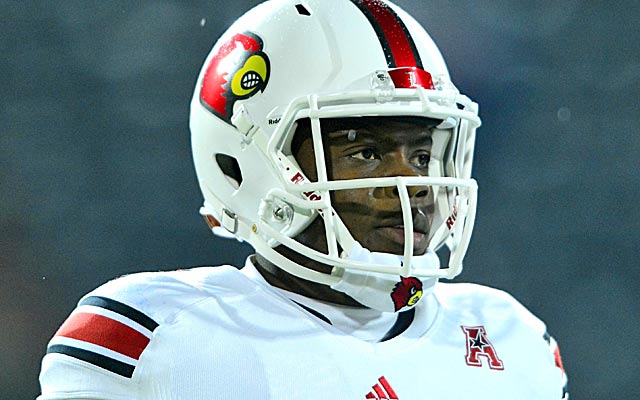 More NFL offseason: Mock Drafts | Prospect Rankings | Pro days | Top free agents
Each draft season, I do four draft boards: one after the Senior Bowl, one post-Combine, one after most pro days and then a final one in the days leading up to the draft in May. The first two draft boards were both top-50, but the final two will expand to my top-100 prospects in this class.
Now under a month to go until the 2014 NFL Draft, the draft board expands to my top-100 prospects in this year's group. There isn't much movement among the top-25 (the order of my top seven prospects hasn't changed since December), but a few prospects have slowly worked their way up the board like Northern Illinois DB Jimmie Ward (No. 20) and Boise State DE Demarcus Lawrence (No. 24), two of my favorites in this year's class.
Top-100 Draft Board 3.0
1. Teddy Bridgewater QB, Louisville (6-2, 214, 4.67, JR)
Although his pro day was "average" according to those in attendance, Bridgewater remains at No. 1 on my draft board. His natural passing talent and ability to digest and process information above the neck are the reasons he is still my top prospect in this draft class.
2. Jadeveon Clowney DE, South Carolina (6-5, 266, 4.53, JR)
With a 4.53 40-yard dash and 37.5" vertical, Clowney confirmed what we already knew – he's a freak athlete. But the football character concerns are still there and while he has immense potential, does he have the motivation to reach his NFL ceiling?
3. Gregory Robinson OT, Auburn (6-5, 332, 4.92, rSO)
While we expected good numbers from the athletic marvel, Robinson impressed us all with a 4.92 40-yard dash, showing off his strength as well with 32 reps on the bench press. Yes, he's still developing in pass protection, but his athletic upside is awesome.
4. Khalil Mack OLB, Buffalo (6-3, 251, 4.65, rSR)
A versatile, relentless pass rusher, Mack was extremely productive in college and holds several career NCAA records, including forced fumbles (16) and tackles for loss (75). He is always around the ball with his combination of speed, power and awareness.
5. Jake Matthews OT, Texas A&M (6-5, 308, 5.07, SR)
Probably the "safest" prospect in this class, Matthews started three seasons at right tackle before moving to the left side in 2013. He had a solid performance at the Combine, which confirmed his athleticism, fundamentally-sound technique and high football character.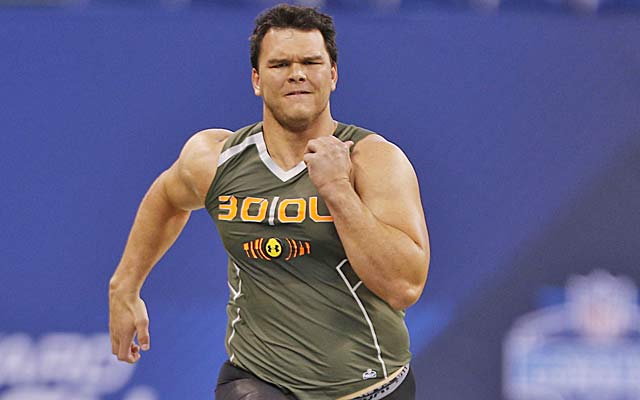 6. Anthony Barr OLB, UCLA (6-5, 255, 4.66, 4SR)
A former running back, Barr moved pass rusher last season and excelled at backer for the Bruins, totaling 41.5 tackles for loss the past two seasons. He needs to refine some technical aspects of his game, but his speed/strength off the edge is exciting.
7. Sammy Watkins WR, Clemson (6-1, 211, 4.43, JR)
With a 4.43 40-yard dash, Watkins showed off his athleticism at the Combine and backed up what his tape tells us as well. He needs some polish in a few areas, but he has above average vision and acceleration and projects as a borderline WR1/WR2 in the NFL.
8. Mike Evans WR, Texas A&M (6-5, 231, 4.53, rSO)
A physical, imposing target, Evans was Johnny Football's No. 1 target and safety valve in College Station the past two seasons. He isn't the fastest or most fluid athlete, but he boxes out defenders and has a large catching radius to dominate at the catch point.
9. Blake Bortles QB, UCF (6-5, 232, 4.93, rJR)
With the other top quarterbacks choosing not to throw, Bortles took advantage of the big stage in Indianapolis and performed well, tossing strikes and looking comfortable doing so. He is the top quarterback in this draft according to many around the league.
10. Eric Ebron TE, North Carolina (6-4, 250, 4.60, JR)
A wide receiver in a tight end's body, Ebron is a freakish athlete with the ability to make highlight-reel catches look easy. He is a work-in-progress as a blocker and will drop some easy ones, but his fluid athleticism and playmaking ability at the position are near elite.
11. Taylor Lewan OT, Michigan (6-7, 309, 4.87, rSR)
While he shows his light feet on tape, Lewan backed it up at the Combine with excellent numbers in the agility and positional drills. He needs to keep his emotions under control on the football field and play with more consistency, but he has all the tools to start at left tackle in the NFL.
12. Louis Nix DT, Notre Dame (6-2, 331, 5.42, rJR)
An athletic nose tackle, Nix has monster ability, consistently making plays behind, up and down the line of scrimmage. A knee injury contributed to an up-and-down 2013 season, but he is very active for his size and a double-team magnet – impact doesn't always show in the box score.
13. Calvin Pryor FS, Louisville (5-11, 207, 4.58, JR)
A heat-seeking missile in the secondary, Pryor has physical take-on strength and wraps and drives through his target with violence. He will freelance too much at times, but he displays the athleticism and fluid change of motion to hold up in the deep half of the field.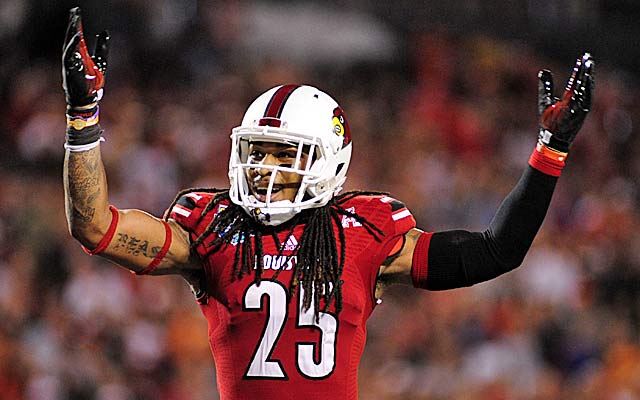 14. CJ Mosley OLB/ILB, Alabama (6-2, 234, 4.65, SR)
Mosley is a smart, assignment sound player who was the leader of the Alabama defense. He doesn't play a sexy position, but has an accurate first step with a consistently disciplined approach to the game, playing at the same speed and temperament on each snap.
15. Zack Martin OG, Notre Dame (6-4, 308, 5.22, rSR)
The top prospect in Mobile this year, Martin manned the left tackle spot the last four years at Notre Dame, but he projects best inside where he could be a future Pro Bowler. Martin keeps his frame square and low with the foot quickness to mirror and strong hands to punch.
16. Aaron Donald DT, Pittsburgh (6-1, 285, 4.68, SR)
While Clowney received most of the publicity, Donald had the best Combine performance among the defensive linemen with a 4.68 40-yard dash, 32" vertical jump and 35 reps on the bench press. He lacks ideal size, but uses his natural leverage to his advantage.
17. Brandin Cooks WR, Oregon State (5-10, 189, 4.33, JR)
A receiver with joystick athleticism, Cooks has lightning-fast feet and jitterbug quickness to create separation and do something after the catch. He'll have some drops with his smaller hands, but Cooks seems to be moving at a different speed than everyone else on the field.
18. Darqueze Dennard CB, Michigan State (5-11, 199, 4.52, SR)
The 2013 winner of the Thorpe Award, Dennard has average speed and size for the position, but he is smart, competitive and confident. If he can cut down on the downfield contact, Dennard has a chance to be a very good cover man in the NFL for a long time.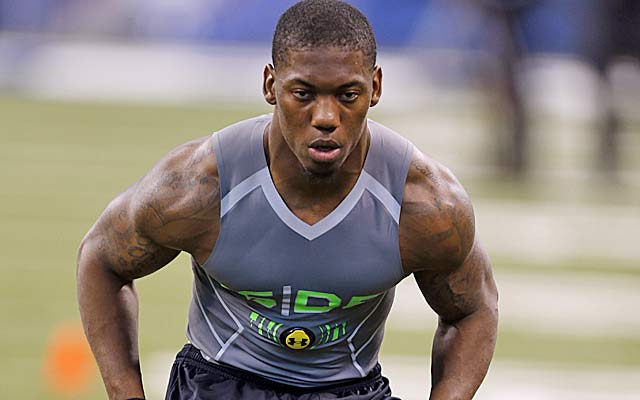 19. Kyle Fuller CB, Virginia Tech (6-0, 190, 4.49, SR)
A versatile defensive back, Fuller is aggressive and smart and the game appears to come natural to him. He is an inconsistent tackler and needs to stay healthy, but he has the smooth hips, transition skills and ballskills to be a NFL starter at cornerback.
20. Jimmie Ward SS, Northern Illinois (5-11, 193, 4.59, SR)
The top senior safety on the board, Ward is a versatile defensive back with cornerback movement skills and the physical mentality of a safety. He takes aggressive, confident angles in zone, but also shows the feet and athleticism to play tight in man coverage.
21. Jason Verrett CB, TCU (5-9, 189, 4.38, SR)
Although undersized with only good, not great, speed (plays more like 4.5, not 4.3), Verrett is a feisty and physical player with ballhawking read/react quickness. He is ideally suited to be an inside corner with his swivel hips and physical nature to cover the slot and be reliable vs. the run.
22. Ha Ha Clinton-Dix FS, Alabama (6-1, 208, 4.58, JR)
A rangy, fluid athlete, Clinton-Dix covers a lot of ground against both the pass and the run and projects to either free or strong safety. He has the aggressive nature to attack ballcarriers and shows the read/react quickness to diagnose and take accurate angles in coverage.
23. Xavier Su'a-Filo OG, UCLA (6-4, 307, 5.04, JR)
Su'a-Filo lined up at left guard and left tackle this past season for the Bruins and played consistently well for the Bruins productive offense. He gets himself in trouble when he overextends himself, but he is an easy bender with a strong base to engage at the point of attack.
24. Demarcus Lawrence DE, Boise State (6-3, 251, 4.80, JR)
An athletic, fierce pass rusher, Lawrence has the get-off burst and smooth acceleration to get past blocks and finish in the backfield. He is still raw in several areas, but pass rushers with his ability are hot commodities on draft weekend.
25. Ryan Shazier OLB, Ohio State (6-1, 2367 4.58, JR)
One of the few bright spots on an inconsistent Ohio State defense, Shazier finished his 2013 season with 143 total tackles and 22.5 tackles for loss. He lacks ideal bulk and has some discipline issues, but his blend of explosive quickness and initial strength is awesome.
26. Jace Amaro TE, Texas Tech (6-5, 265, 4.74, JR)
Amaro played more of a slot receiver position in college and projects as a joker tight end at the next level. He has room to get stronger and mature both physically and emotionally, but his speed and toughness project well to the next level.
27. Scott Crichton DE, Oregon State (6-3, 273, 4.84, rJR)
Crichton has a powerful first step with impressive initial momentum to attack blockers and bully them backwards like a battering ram. He lacks ideal fluidity, but has some lower body explosion with a nonstop relentless motor to finish plays with hustle and motivation.
28. Carl Bradford OLB, Arizona State (6-1, 250, 4.76, rJR)
The top defender from an underrated Sun Devil defense, Bradford is an intense and energetic rusher who finds a way to get to the quarterback. He has some tweener traits and won't fit every defense, but he has the initial quickness and power to be effective as a stand-up rusher.
29. Kony Ealy DE, Missouri (6-4, 273, 4.92, rJR)
A good-sized athlete with plus length, Ealy displays smooth acceleration off the edge and bends the arc very well. He is still a tad raw with ball awareness, but he is a forceful striker with the NFL tools to line up inside or outside at the next level.
30. Marqise Lee WR, USC (6-0, 192, 4.52, JR)
Lee set several program records for the Trojans over his career and is a fun player to watch with the ball. He does have some medical concerns with his knee and will have his share of drops, but Lee has cat-like quickness to get open and create as a ballcarrier.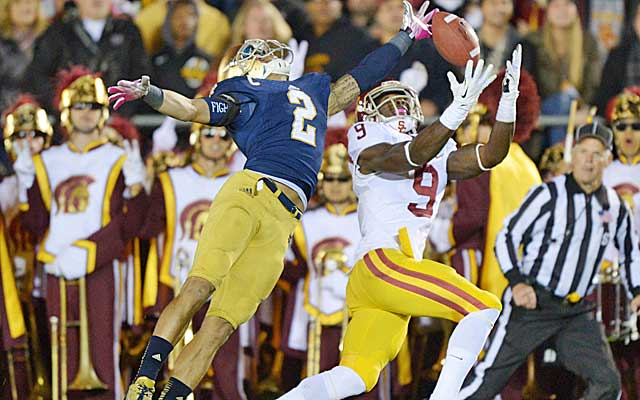 31. Marcus Roberson CB, Florida (6-0, 191, 4.61, JR)
A fearless, confident cover corner, Roberson battled through several injuries in 2013, most notably a left knee issue. But when healthy, he has the footwork, movement skills and competitive nature to blanket receivers along with the instincts to make plays on the ball.
32. Derek Carr QB, Fresno State (6-2, 214, 4.69, rSR)
David Carr's little brother, Carr has top-shelf arm strength with the ability to make every NFL throw needed. His issues with pressure and footwork are easy to see, but he is ultracompetitive with enough size and mobility to start at the NFL level.
33. Johnny Manziel QB, Texas A&M (6-0, 207, 4.68, rSO)
A magician at the quarterback position, Manziel has the arm strength, competitive spirit and natural instincts that make him an exciting football player. But his decision-making and durability are strong questions marks, making his transition to the NFL difficult to predict.
34. Cyrus Kouandijio OT, Alabama (6-5, 322, 5.59, JR)
With some lingering durability concerns regarding his knees, Kouandjio's draft stock is in flux right now as teams figure out the truth behind his past injuries. But if he's healthy, Kouandjio has the athletic and natural upside to start at the next level.
35. Kyle Van Noy OLB, BYU (6-3, 243, 4.71, SR)
The type of player who scratches and crawls his way to the ballcarrier, Van Noy is twitchy off the snap with smooth hips and footwork in space. He needs to get stronger and continue to develop his pass rush moves, but he can do a lot of things, not just rush the pocket.
36. Jeremiah Attaochu OLB, Georgia Tech (6-3, 252, 4.68, SR)
A productive collegiate player, Attaochu has seen time at defensive end and linebacker at Georgia Tech, but projects best as a stand up rusher in a 3-4 defense. He has the athleticism and determination to make an instant impact.
37. Billy Turner OG, North Dakota State (6-5, 315, 5.16, rSR)
The starting left tackle for three-time FCS Champions, Turner has quick feet and natural body control to hold his own in space and combo blocks. If he can learn to sink his hips and not bend so much at the waist, he has Pro Bowls in his future, probably best inside at guard.
38. Dee Ford DE, Auburn (6-2, 252, 4.67, SR)
An athletic edge rusher, Ford has explosive quickness with natural bend, acceleration and flexibility to get around blockers with natural speed. He didn't participate at the Combine due to a few injury concerns, but is expected to be healthy for Auburn's pro day.
39. Jimmy Garoppolo QB, Eastern Illinois (6-2, 226, 4.97, SR)
Although he struggles with pressure, Garoppolo has the quick process needed to get the ball out in a hurry with a snap release and strong understanding of the offense. He wins with his intelligence to retain and digest information with ease and execute on the field.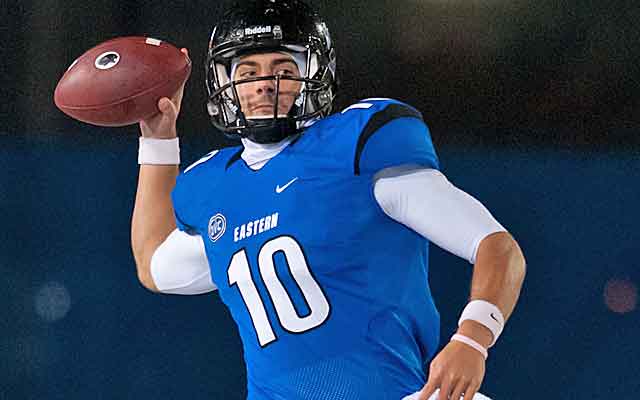 40. Justin Gilbert CB, Oklahoma State (6-0, 202, 4.37, SR)
Gilbert had an excellent Combine, highlighted by a 4.37 40-yard dash, which will likely move him up draft boards, possibly into the top-10. However, he still has questions with his footwork and technique to be a consistent cover man up and down the field.
41. Allen Robinson WR, Penn State (6-2, 220, 4.60, JR)
A fluid, flexible athlete for his larger frame, Robinson was extremely productive the past two seasons and leaves Penn State with several school receiving records. He needs to eliminate the drops, but he is physical with deceiving acceleration to be a dangerous catch-and-go target.
42. Jarvis Landry WR, LSU (5-11, 205, 4.77, JR)
A pair of the strongest hands in the draft, Landry has big mitts to secure grabs and make the tough catches look easy. He's not an elite size/speed athlete, which was evident at the Combine, but he is a disciplined route runner with above average body control, ballskills and competitiveness.
43. Dominique Easley DT, Florida (6-2, 288, 4.93, SR)
Easley has battled several injuries over his career, most recently an ACL that sidelined him for most of 2013. But when healthy, he has a sudden first step to attack gaps before blockers can set up with the natural athleticism to track and finish at the ballcarrier.
44. Odell Beckham WR, LSU (5-11, 198, 4.43, JR)
An impact return man on special teams, Beckham is a speedy, smooth athlete who has improved his hands and route running since he arrived in Baton Rouge. He shows very good shake-and-burst out of his cuts with a large catching radius to elevate and attack the ball.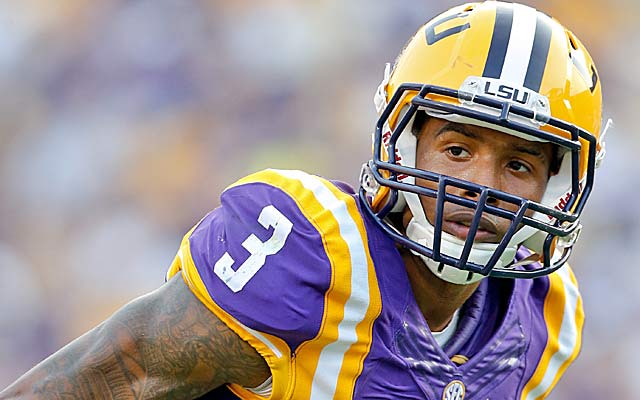 45. Troy Niklas TE, Notre Dame (6-6, 270, 4.84, JR)
The best blocking tight end in this class, Niklas is a former defensive lineman who is still developing on offense. He is a long, lumbering athlete in the Kyle Rudolph mold, but still has room to develop as a receiver with his route running and ballskills.
46. Bradley Roby CB, Ohio State (5-11, 194, 4.39, rJR)
Despite a forgettable 2013 season, Roby has the impressive speed and swivel hips that can't be taught. But his lack of height and length along with streaky technique and awareness makes him a work in progress and a player in need of hard-nosed defensive coaching.
47. Antonio Richardson OT, Tennessee (6-6, 336, 5.30, JR)
A heavy waist bender who gets lazy at times, Richardson has exciting potential because of his wide base, stout frame and vines for arms. His inconsistent technique makes it tough for him to sustain, but if he irons out the wrinkles, Richardson has a high NFL ceiling.
48. Cody Latimer WR, Indiana (6-3, 215, 4.45, JR)
A former basketball stand-out, Latimer has transitioned very well to the football field and his athleticism makes his NFL ceiling a hot topic in NFL circles. He is still unpolished, but the potential will land him on the draft's second day.
49. Timmy Jernigan DT, Florida State (6-2, 299, 5.06, JR)
Jernigan is a flexible, bendy athlete for an interior lineman who is a tough guy to slow down when he wins off the snap. He needs to improve his hand use to shed and combat blockers, but when all the cylinders are firing, Jernigan can be tough to handle.
50. LaMarcus Joyner FS, Florida State (5-8, 184, 4.55, SR)
Despite his short stature, Joyner is the type of player who is impossible to ignore because of the way he jumps off the tape. His lack of size will show up in man coverage and run support, but he plays fast and decisive with violent attitude, projecting him to a nickel role.

51. Morgan Moses OT, Virginia (6-6, 314, 5.35, SR)
52. Gabe Jackson OG, Mississippi State (6-3, 336, 5.51, SR)
53. Davante Adams WR, Fresno State (6-1, 212, 4.56, rSO)
54. Carlos Hyde RB, Ohio State (6-0, 230, 4.66, SR)
55. Dakota Dozier OG, Furman (6-4, 313, 5.42, rSR)
56. Terrence Brooks S, Florida State (5-11, 198, 4.42, SR)
57. Marcus Smith OLB, Louisville (6-3, 251, 4.68, SR)
58. Jaylen Watkins CB, Florida (6-0, 194, 4.41, SR)
59. Donte Moncrief WR, Mississippi (6-2, 221, 4.40, JR)
60. Kelvin Benjamin WR, Florida State (6-5, 240, 4.61, rSO)

61. Phillip Gaines CB, Rice (6-0, 193, 4.38, rSR)
62. Marcus Martin C, USC (6-3, 320, 5.28, JR)
63. Kelcy Quarles DT, South Carolina (6-4, 297, 5.03, JR)
64. Bashaud Breeland CB, Clemson (5-11, 197, 4.62, rJR)
65. Bruce Ellington WR, South Carolina (5-9, 197, 4.45, rJR)
66. Ego Ferguson DT, LSU (6-3, 315, 4.98, rJR)
67. Jordan Matthews WR, Vanderbilt (6-3, 212, 4.46, SR)
68. Stephon Tuitt DL, Notre Dame (6-6, 304, 4.92, JR)
69. Joel Bitonio OG, Nevada (6-4, 302, 4.97, rSR)
70. DaQuan Jones DT, Penn State ((6-4, 322, 5.35, SR)

71. Pierre Desir CB, Lindenwood (6-1, 198, 4.59, rSR)
72. Tre Mason RB, Auburn (5-9, 207, 4.50, JR)
73. Jack Mewhort OT, Ohio State (6-6, 309, 5.37, rSR)
74. Taylor Hart DL, Oregon (6-6, 281, 4.86, rSR)
75. Ra'Shede Hageman DT, Minnesota (6-6, 310, 5.02, rSR)
76. Brett Smith QB, Wyoming (6-2, 206, 4.83, JR)
77. Jeremy Hill RB, LSU (6-1, 233, 4.66, rSO)
78. Weston Richburg C, Colorado State (6-3, 298, 5.10, SR)
79. Kareem Martin DE, North Carolina (6-6, 272, 4.72, SR)
80. Rashaad Reynolds CB, Oregon State (5-10, 189, 4.51, rSR)

81. Aaron Murray QB, Georgia (6-1, 207, 4.84, rSR)
82. Martavis Bryant WR, Clemson 6-4, 211, 4.42, JR)
83. Austin Seferian-Jenkins TE, Washington (6-6, 262, 4.75, JR)
84. Telvin Smith OLB, Florida State (6-3, 218, 4.52, SR)
85. Jared Abbrederis WR, Wisconsin (6-1, 195, 4.50, rSR)
86. Will Clarke DE, West Virginia (6-6, 271, 4.77, rSR)
87. Dion Bailey S, USC (6-0, 201, 4.66, rJR)
88. Ja'Wuan James OT, Tennessee (6-6, 311, 5.34, SR)
89. Jemea Thomas S, Georgia Tech (5-9, 192, 4.55, rSR)
90. Terrance West RB, Towson (5-9, 225, 4.54, JR)

91. Devonta Freeman RB, Florida State (5-8, 206, 4.58, JR)
92. Robert Herron WR, Wyoming (5-9, 193, 4.48, SR)
93. C.J. Fiedorowicz TE, Iowa (6-6, 265, 4.76, SR)
94. Charles Leno OT, Boise State (6-4, 303, 5.28, rSR)
95. Aaron Lynch OLB, South Florida (6-5, 249, 4.69, JR)
96. Chris Smith DE, Arkansas (6-1, 266, 4.71, SR)
97. Will Sutton DT, Arizona State (6-1, 303, 5.36, rSR)
98. Caraun Reid DT, Princeton (6-2, 302, 4.91, rSR)
99. Chris Borland MLB, Wisconsin (6-0, 248, 4.83, rSR)
100. Antone Exum CB, Virginia Tech (6-0, 213, 4.59, rSR)
Show Comments
Hide Comments
Not every draft pick can be a winner. Here are the 32 guys who could cause the most regret

Our list of late-round gems includes plenty of lesser-known backs and quality linemen

A running back going No. 2 overall? When you're being compared to Hall of Fame runner, yes
Pass rushers and explosive offensive players highlight the best Day 1 contributors

Here's every draft pick heading to the NFC West, including 21 by the Seahawks and 49ers co...

Here's every draft pick heading to the NFC South, home of the NFC's last two Super Bowl te...