2014 NFL Draft: Grading each team within its division
Instant NFL Draft analysis is an inexact science, but we're giving it a shot, checking how each team stacks up within its division.
by Rob Rang
The Sports Xchange/CBSSports.com

• 26 min read
Draft coverage: Picks and grades | Prospect Rankings | Sam goes No. 249 | News
Grading an NFL Draft immediately after it occurs is akin to giving your compliments to the chef based on the menu rather than actually waiting to taste the food. It will take at least three years before we can truly assess how the 32 NFL teams fared over the weekend. But waiting is no fun. As such, let's take a take at which teams appear to have done the best job of filling needs and building for the future via the seven rounds of the 2014 draft.
AFC East
Buffalo Bills: Wideout Sammy Watkins may very well be the difference-maker that Buffalo is looking for to help take the pressure off of 2013 surprise first round quarterback EJ Manuel but the Bills gave up two first round picks to get him, which I believe will prove too much. I do like the focus on blockers with second rounder Cyrus Kouandjio, fifth rounder Cyril Richardson and the late gamble on the talented but troubled Seantrel Henderson. Defensive back Ross Cockrell could surprise and I like Preston Brown's physicality in the middle. Grade: C
Miami Dolphins: The Dolphins checked off most of their areas of concern with a very logical draft but I don't know the club received great value at any of their selections, starting with Jawuan James at No. 19 overall. WR Jarvis Landry and TE Arthur Lynch are solid, pro-ready players but neither has the athleticism to ever likely more than complementary players in the NFL. Frankly, I'm more intrigued by the upside of the relative "small-schoolers" in Billy Turner, Walt Aikens and Jordan Tripp. James will start right away and Turner will develop into a starter relatively soon, as well, filling huge gaps in Miami's offensive line but are the Dolphins closer to overtaking the Patriots with this draft? Grade: C+
New England Patriots: The Patriots' draft will be panned by some but I like the mix of gambling and safety. Certainly if Dominique Easley is fully healthy - and his trainer Tony Villani - told us on CBSSports.com's Draft Grades Live that he is - than he offers the type of disruptive ability in the middle the Packers have been missing for years. I'm also a big fan of the Jimmy Garoppolo selection because his sharp mind and lightning release make him a nice fit in New England's offense. Center Bryan Stork is a technician who also fits well and Cameron Fleming and Jon Halapio add toughness to New England's front. Watch out for diminutive playmakers James White, Jemea Thomas and Jeremy Gallon to also carve out niches.
Grade: B
New York Jets: Calvin Pryor was my top-rated safety and I have no doubt that he's going to be Broadway hit for the Jets. He plays with the instincts and physicality to star in Rex Ryan's aggressive scheme. I not as high on the physicality factor of the Jets' skill-position additions of TE Jace Amaro and WRs Jalen Saunders and Shaq Evans but they each offer speed and are mismatches that Geno Smith (or Michael Vick) can exploit. I like the upside of Day Three picks Brandon Dixon (CB) and Quincy Enunwa (WR) and feel that OLB Trevor Reilly is going to prove a steal. Reilly is an older prospect (turns 26), which is why he dropped to the 7th round, but he'll make this squad. Grade: B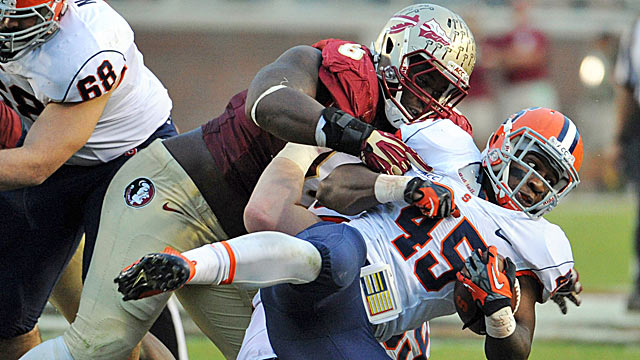 AFC North
Baltimore Ravens: Ozzie Newsome rarely has flashy drafts but when your roster is stacked that's going to happen. His 2014 class is another example of solid additions that re-stock the shelves at important positions. CJ Mosley offers the instincts, athleticism and physicality and instantly upgrades the defense. Defensive linemen Timmy Jernigan and Brent Urban are tough run-stuffers with upside and safety Terrence Brooks could be the centerfielder to complement last year's first round in-the-box hitter Matt Elam. I also like the upside of TE Crockett Gillmore and RB Lorenzo Taliaferro. Don't be surprised if WR Michael Campanaro makes this club as a slot receiver.  Grade: B+
Cincinnati Bengals: It seems years ago that Cincinnati was jokingly referred to as the "Bungles" as the team has evolved into one of the better drafting teams in the league, consistently filling gaps in the roster via cheaper college prospects, rather than over-paying veterans. Darqueze Dennard may lack the flashy athleticism to get scouts excited but he's a pro-ready corner who plays with toughness and poise against the pass and run. Jeremy Hill is a tough, downhill runner who will complement last year's pickup of air-back Gio Bernard quite well and defensive end Will Clarke offers the length and blue-collar work ethic to do the same with last year's gamble on Margus Hunt.  AJ McCarron will get the press but interior lineman Russell Bodine is the one who could make an impact in Cincinnati as he has the grit and strength to push for time at center or guard. Grade: B
Cleveland Browns: My buddy Will Brinson characterized general manager Ray Farmer's first draft as Cleveland's general manager well - in a vacuum, this was a nice class. Though I have some concerns about Johnny Manziel's ability to throw from the pocket consistently (especially on a gusty field), he will be protected by the same caliber of left tackle play in Pro Bowler Joe Thomas as he received with Luke Joeckel and Jake Matthews while at Texas A&M. Unfortunately, Manziel won't have a dynamic pass-catcher in Cleveland like Mike Evans to bail him out as the reported suspension of wideout Josh Gordon was met with an inexplicable ignoring of the position throughout the draft by the Browns. The trade down from No. 4 to No. 9 netted Cleveland what could very well wind up being a high first round pick a year from now and I do like the talent added in playmaking cornerbacks Justin Gilbert and Pierre Desir, versatile and tough offensive lineman Joel Bitonio and underrated athletes Christian Kirksey and Terrance West but five games into the 2014 season, long-suffering Browns fans may be wondering what if the Browns had just selected Sammy Watkins (or Mike Evans) at No. 4 overall and rather than trading back. Grade: C
Pittsburgh Steelers: Given that head coach Mike Tomlin and general manager Kevin Colbert traveled the country touring Pro Day workouts during the off-season, it was clear that Pittsburgh realized that this was a critical draft for the rejuvenation of an aging franchise. I believe their dedication paid off with one of the year's better draft classes - at least on paper. Linebacker Ryan Shazier, versatile weapon Dri Archer and wideout Martavis Bryant offer pure explosiveness. Defensive linemen Stephon Tuitt and Daniel McCullers have first round traits, as well. Linebacker Jordan Zumwalt was born to play for the Pittsburgh Steelers, bringing a physical nature that will endear him to coaches and fans, alike. There is a lot to like about the Steelers' selections but with a few of these players struggling to play up to expectations throughout their career, there is some boom or bust factor here that must be acknowledged, as well.  Grade: B+
AFC South
Houston Texans: Bill O'Brien would have loved an Andrew Luck-caliber quarterback to be sitting on the board for him at No. 1 overall but a dominant pass rusher like Jadeveon Clowney was the next best scenario. Clowney will quiet any critics when he earns the Defensive Rookie of the Years with at least 10 sacks and the combination of he, J.J. Watt, Brian Cushing and Louis Nix could help Houston enjoy quite the bounce-back campaign in 2014. That is, of course, if O'Brien can work his magic at the quarterback position, where the Texans added only Tom Savage to a position group currently headlined by journeyman Ryan Fitzpatrick. Versatile offensive lineman Xavier Su'a-Filo was a first round talent that the Texans were fortunate to have slip to No. 33 and tight end C.J. Fiedorowicz will also be solid. Sixth rounders Jeoffrey Pagan and Alfred Blue could also surprise. Grade: B
Indianapolis Colts: The Colts traded away the rights to their first round pick for running back Trent Richardson and while I expect that he'll be significantly improved with a full off-season to master their playbook, at this time the deals looks pretty one-sided on Cleveland's behalf. Helping Richardson's chances at improving in 2014 was the selection of tough-guy offensive lineman Jack Mewhort in the second round and an exciting vertical threat in Donte Moncrief. Of their Day Three selections, former Western Kentucky run-stuffer Andrew Jackson looks like he could provide the most immediate impact. Grade: C
Jacksonville Jaguars: Some are going to knock Jacksonville for selecting Blake Bortles at No. 3 but not me. He's not a sure-fire superstar but I love the tools and the fact that Jacksonville already has in place a heady veteran in Chad Henne to aid in the young quarterback's development. The other thing I love is that Jacksonville has talent on the offensive line already in place (and added two solid interior options this weekend) and added to their receiving corps with Marqise Lee and Allen Robinson with their second round picks. Jacksonville's Day Three picks also are going to turn heads as they are each athletes who are very good schematic fits in Gus Bradley's defense, especially injured (but intriguing) cover corner Aaron Colvin, speedy outside linebacker Telvin Smith and classic LEO defensive end Chris Smith.  Rather than spend a high pick on a non-premium position, the Jags got former UCF (and Miami) running back Storm Johnson in for cheap as a 7th round pick and he, too, could make this roster. Ultimately, this draft will hinge on Bortles' development but I see this class as potentially a big win for an up and coming franchise. Grade: A
Tennessee Titans: Given the Pro Bowl caliber play of left tackle Michael Roos and the addition of right tackle Michael Oher in free agency, the Titans' selection of Taylor Lewan in the first round surprised me. There is no denying his talent and toughness, however, and I don't quibble with the idea of adding offensive linemen - especially when a club has a gifted quarterback like Jake Locker whose biggest struggle to this point remains durability. I love the selection of running back Bishop Sankey in the second round. He is a tough, grounded kid with a terrific blend of instincts, burst and hands. Fantasy enthusiasts should take note of him. Of Tennessee's Day Three picks, I'm especially high on Penn State's DaQuan Jones, who is a wide-bodied run-stuffing presence whose size complements the smaller, quicker interior rushers already on the roster. Adding Zach Mettenberger in the seventh round is a low-risk gamble that could pay off big as his arm is a nice fit in Ken Whisenhunt's offense and gives the Titans a quarterback to develop should Locker not earn an extension with his play next season. Grade: B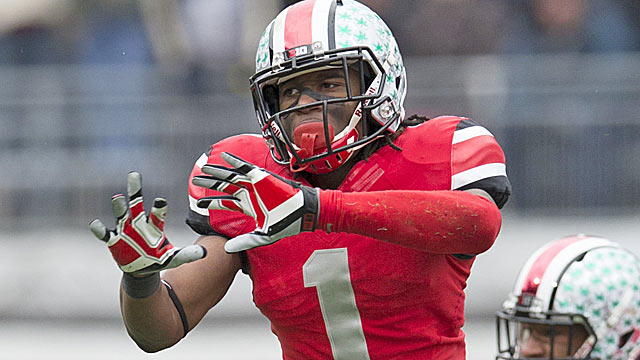 AFC West
Denver Broncos: The weaker teams have the advantage on draft day because not only do they generally get the earlier picks, they have plenty of holes for which rookies to show their stuff. As such, when a Super Bowl team like Denver fills holes like they did in Rounds 1-3, it deserves special mentioning. I really like the addition of the tough and talented corner Bradley Roby at No. 31. He needs to play with greater consistency but the talent is undeniable. Wideout Cody Latimer adds to the length, speed and toughness of a unit that frankly failed to match Seattle's physicality in the Super Bowl - with the notable exception of star Demaryius Thomas, of course. Michael Schofield and Matt Paradis are no-nonsense blockers who also fill a need for depth along the offensive line and I like the athletic upside of linebackers Lamin Barrow and Corey Nelson. This wasn't a breath-taking draft for the Broncos but few clubs did more with less (six) picks. Grade: B
Kansas City Chiefs: Given the success of the Chiefs' defense - in large part due to pass rushers Justin Houston and Tamba Hali - the addition of Dee Ford in the first round was surprising. Adding impact edge rushers is never a bad idea, though, especially in a division featuring relatively immobile pocket passers like Peyton Manning and Philip Rivers. Given that the Chiefs' starting quarterback, Alex Smith, is not of this caliber, I anticipated that the team would add some pass-catchers to help him so the additions of running back De'Anthony Thomas and quarterback Aaron Murray as the club's only offensive skill-position prospects is interesting, to say the least. Some will blast the Chiefs for not adding receivers but Andy Reid's offense is said to be especially difficult so expecting any rookie to make an immediate impact would have been a stretch. Still, I would have liked to see more playmakers added to help Smith. Phillip Gaines and Zach Fulton could carve out niches as a rookie and I love the upside of Laurent Duvarney-Tardif. A solid class but not one that I believe will keep the Chiefs from taking a step back in the AFC West next season. Grade: B-

Oakland Raiders: The results are going to have to be seen on the field, of course, but there is reason for optimism in Oakland with a very intriguing class that demonstrated a great deal of patience from general manager Reggie McKenzie and his staff. Pass rusher Khalil Mack was a no-brainer at No. 5 overall and I would argue that quarterback Derek Carr was, as well. While true that he struggled with pressure in his face at Fresno State, it should be noted that he also never had much of an offensive line there either, as only one blocker during his time with the Bulldogs was drafted (and he, OG Andrew Jackson, was in the seventh round three years ago). The Raiders nabbed two shockingly athletic wide-bodied interior linemen with guard Gabe Jackson in the third and defensive tackle Justin Ellis in the fourth. I also like the length of the three defensive backs Oakland nabbed in this draft, especially given the size of the top receivers in this division. Grade: B
San Diego Chargers: Like Denver, San Diego did a very nice job of filling some holes with a limited number of picks. What Jason Verrett lacks in size, he makes up for with quickness, instincts and tenacity. One of the long-time NFL scouts I trust most graded Verrett as the top senior prospect in the country, regardless of position. I love the schematic fits and value that the Chargers found with outside linebacker Jeremiah Attaochu in the second round, guard Chris Watt in the third and nose guard Ryan Carrethers in the fifth. Former ASU running back Marion Grice offers a very specific skill-set as one of the elite pass-catchers at the position as does big play wideout Tevin Reese - whose speed is better described with his propensity for long touchdowns rather than just his 40-yard dash time. Reese was clocked at 4.41 seconds. More impressively, 22 of his 25 career touchdowns at Baylor traveled at least 40 yards. That's no misprint. San Diego is gambling on some specialists here to be sure but they are intriguing fits that could help the Chargers take another step in the divisional race. Grade: A-
NFC East
Dallas Cowboys: It looked for a few minutes there like Jerry Jones might throw caution to the wind and nab Johnny Manziel but he exercised restraint and the smarter football choice, nabbing the ultra-safe Zach Martin in the first round. A day later, the gambler in Jones returned with an aggressive move to go get Demarcus Lawrence, a gifted pass rusher who fills a glaring hole with Demarcus Ware now with the Denver Broncos. With only Day Three picks left, the Cowboys are likely to only get special teams contributions from the rest of their class. I'm highest on the first three of them in linebacker Anthony Hitchens, wideout Devin Street and versatile defensive lineman Ben Gardner as quality developmental prospects. Grade: B
Philadelphia Eagles: Chip Kelly received (and earned) a great deal of respect as a coach during his time at Oregon but I don't believe he gained enough as an evaluator of talent. Perhaps after this draft, he and general manager Howie Roseman will get some. Now, let's be clear. I did not expect Marcus Smith to get drafted in the first round. I do, however, like the pick. The former quarterback was one of my favorite players in this draft because of his athleticism, instincts and hustle and he's a good schematic fit for the Eagles. Though neither offers the elusiveness of Desean Jackson, I also like the additions of Jordan Matthews and former Oregon Duck Josh Huff as pro-ready receivers well equipped to be effective in Chip Kelly's offense. Jaylen Watkins flashed talent throughout his career at Florida and was highly impressive at the Senior Bowl. He and former Stanford safety Ed Nelson could fill significant needs. I also like the additions of Taylor Hart and Beau Allen on Day Three, a couple of players who are more athletic than they look and also could surprise. Grade: B+
New York Giants: The Giants started off their 2014 class with a surprise in playmaker Odell Beckham and the year's top center in Weston Richburg, each of whom should be able to help Eli Manning return to form. Three of their next four picks were spent on instinctive, passionate defenders with underrated athleticism in defensive tackle Jay Bromley, safety Nat Berhe and pass-rusher Devon Kennard. Running back Andre Williams is a no non-sense grinder who could give Tom Coughlin the featured back that David Williams has failed thus far to become. Each of the four comes with question marks, however, as Bromley and Berhe lack ideal size, Williams has only average top-end speed (despite a solid 40-yard dash time) and Kennard has struggled with durability. Other than Beckham, this wasn't a flashy draft for the Giants with some luck it could be very effective in restoring Big Blue pride. Grade: B-
Washington Redskins: As if there was any question that Washington was operating with different principles in mind with Jay Gruden rather than Mike Shanahan at head coach it was obvious with the selections of big, broad, physical linemen to start off their draft. Versatile edge rusher Trent Murphy starred out of the two and three-point stance at Stanford and gives the team some flexibility behind established rushers Brian Orakpo and Ryan Kerrigan, each of are nearing the end of their contracts. Morgan Moses didn't always play up to his talent while at Virginia but he boasts first round traits and is an upgrade over incumbent right tackle Tyler Polumbus. Spencer Long also adds toughness and size (6-5, 310) up front. Cornerback Bashaud Breeland and running back Lache Seastrunk offer exciting athleticism. Inconsistency and durability issues pushed them down the board a bit. Wideout Ryan Grant isn't as explosive but he's a reliable route-runner and pass-catcher. Grade: C+
NFC North
Chicago Bears: For a team that once prided itself for its defense, the Bears were toothless in 2013. General manager Phil Emery did a nice job of patching holes throughout the draft, however, adding a pro-ready corner in Kyle Fuller at No. 14 overall, a talented 1-2 punch at defensive tackle in run-stuffer Ego Ferguson and one of the top penetrators in Will Sutton and one of the more intriguing safeties in the class in Brock Vereen in the fourth. The Bears added insurance behind star Matt Forte with Ka'Deem Carey, who plays faster than he timed and is a strong, determined runner. Watch out for Day Three developmental prospects in quarterback David Fales and offensive lineman Charles Leno, each of whom could surprise in Marc Trestman's scheme. Fuller and Ferguson come with some medical nicks and Sutton allowed himself to get out of shape in 2013. On paper, though, this ranks as one of the year's best groups. Grade: A-
Detroit Lions: Playmaking tight end Eric Ebron was a surprise selection at No. 10 overall given the Lions' already explosive offense but it is hard to fault the team for adding playmakers given the point-scoring capabilities of NFC North opponents. Ebron has the athleticism to take the top off the defense but will drop an occasional pass. Most of the rest of Detroit's selections were rightly spent on the defensive side of the ball with underrated linebacker Kyle Van Noy coming in to supplement last year's project Ziggy Ansah (also from BYU) and high-effort defensive tackle Caraun Reid, whose motor could help push Ndamukong Suh and Nick Fairley to reach their awesome potential. The surprise of the draft could very well wind up being cornerback Nevin Lawson, a highly athletic and competitive cover corner who could push for playing time immediately. Grade: B+
Green Bay Packers: It is tougher to find players who will stick on a roster as talented as the Packers' but GM Ted Thompson may have pulled it off with yet another very solid crop. Ha Ha Clinton-Dix certainly made sense as the rangy centerfielder to help Green Bay's lack of ideal speed and fluidity in the deep patrol. The Packers also added high motor front seven defenders in defensive tackle Khyri Thornton and Carl Bradford. The addition of wideout Davante Adams and tight end Richard Rodgers give the Packers potential replacements for James Jones and Jermichael Finley and Thompson didn't stop there, adding arguably the draft's best route-runner in Jared Abbrederis in the fifth and developmental prospect Jeff Janis in the seventh to protect against another injury-shortened season from either Jordy Nelson or Randall Cobb. The Packers added athleticism, physicality and intensity each day of the draft, making it one of the NFL's clear winners in this year's draft. Grade: A
Minnesota Vikings: Despite all of the knocks on his slight frame and poor Pro Day workout, Teddy Bridgewater remained my top-rated quarterback. He doesn't possess the ideal accuracy on the deep ball to be a perfect match in Norv Turner's offense but given the presence of Adrian Peterson, steady route-runners Greg Jennings and Kyle Murphy and burgeoning playmaker Cordarrelle Patterson, he enters a nice situation and will eventually overtake Matt Cassel. As a quarterback, Bridgewater will, of course, earn most of the attention from this class but the Vikings led things off with pass rusher Anthony Barr, whose speed off the edge will be utilized well by defensive-minded head coach Mike Zimmer. Blue-collar defensive end Scott Crichton also is a quality addition. Watch out for middle round selections Jerick McKinnon (a phenomenal athlete who could play any number of roles), David Yankey and Antone Exum to also make this roster. This was an especially strong draft for the Vikings considering that it is general manager Rick Spielman and Zimmer's first year working together.  Grade: A
NFC South
Atlanta Falcons:The Falcons' primary goal in the off-season was to get bigger and tougher at the line of scrimmage and despite focusing on that during free agency, it was again the play throughout the draft, beginning with the safest player in the 2014 class, OT Jake Matthews. Defensive tackle Ra'Shede Hageman lacks Matthews' polish or consistency but he offers extraordinary athleticism for a 6-6, 310 pounder. The Falcons addressed two other significant areas of concern with free safety Dezmen Southward and one of the top backs in the draft in Devonta Freeman, a Ray Rice-clone who could spell (or eventually replace) Steven Jackson. Day Three linebackers Yawin Smallwood and Tyler Starr are interesting prospects who could find a niche in defensive coordinator Mike Nolan's hybrid scheme. Grade: B
Carolina Panthers: I projected the Panthers to select wideout Kelvin Benjamin (in the second round) so I understand the fit. At 6-5, 240 pounds, he offers incredible size, including a ridiculous catch-radius. He isn't particularly quick or a polished route-runner and therefore I believe he was a reach at No. 28 overall. Defensive lineman Kony Ealy offers intriguing athleticism, but like Benjamin, flashed rather than dominated at the collegiate level. I like the rest of Carolina's picks. Guard Trai Turner is a physical, athletic interior lineman with future starting ability and safety Tre Boston is a big hitter. Bene Benewikere is instinctive and quick to the ball but may not be a future starter in the NFL and cornerback was a concern. Given the talent already on the roster, running back shouldn't be, though the Panthers nabbed Tyler Gaffney in the sixth. I like the talent of the players made but this looked like a draft class in which GM Dave Gettleman took the Best-Player-Available strategy. I, too, believe in the principle but for a club seemingly on the verge of a big jump, I would have liked more attention spent at receiver, offensive tackle and corner. Grade C-
New Orleans Saints: The surprising decision to trade Darren Sproles meant that the Saints needed to find playmakers and the club aggressively did just that in moving up to secure Brandin Cooks, a dynamic athlete with elusiveness and acceleration. Cooks is talented enough on his own but given his fit in this offense (and the fact that he has Drew Brees throwing him the ball), Cooks could be an immediate impact performer worthy of Offensive Rookie of the Year consideration. Not surprisingly, the Saints focused on the defensive side of the ball throughout most of the rest of the draft, gambling on the long, athletic athletes for defensive coordinator Rob Ryan to mold with cornerback Stanley Jean-Baptiste and linebackers Khairi Fortt and Ronald Powell. Each boasts the length, agility and speed to out-play their selections but were highly inconsistent throughout their college careers. Grade: C+
Tampa Bay Buccaneers: Lovie Smith may not have been the Chicago Bears head coach when the combination of Brandon Marshall and Alshon Jeffrey truly took off a season ago but it was clear that his preference for huge receivers carried with him in his relocation to Tampa, nabbing 6-5, 231-pound wide receiver Mike Evans in the first round and 6-6, 258 pound tight end Austin Seferian-Jenkins in the second to complement incumbent star Vincent Jackson (6-5, 230). The strategy of landing similar players to the ones Smith coached in Chicago was even more clear a round later when he and new GM Jason Licht landed Charles Sims, an elite pass-catcher at running back very much in the mold of Matt Forte. Smith's struggles in Chicago didn't come so much in developing skill-position talent as they did with offensive lineman and so Bucs' fans may be holding their breath to see how quickly talented but raw blockers Kadeem Edwards and Kevin Pamphile handle the jump to the pros. Speedy slot receiver Robert Herron, on the other hand, could surprise as a sixth round pick. Grade: B-
NFC West
Arizona Cardinals:Perhaps due to the fact that he rarely played on a national stage, Deone Bucannon didn't generate as much pre-draft hype as some of the other safeties in this class but the 6-1, 211 pounder is well-named as he closes on ball-carriers as if he's shot out of a cannon and left Washington State with 15 career interceptions. In a secondary already boasting playmakers Patrick Peterson and Tyrann Mathieu, he'll fit right in. Fitting in won't be a problem for Troy Niklas or big play wideout John Brown either, as each is a terrific fit in Bruce Arians' offense, which asks the tight end to block often and could put the former Pittsburgh State in a similar position to streak downfield as T.Y. Hilton has for the Indianapolis Colts. The Cardinals took calculated risks with defensive lineman Kareem Martin and Ed Stinson, as well as quarterback Logan Thomas but at palatable points in the draft. Thomas is a particularly intriguing project for Arians as he boasts the size (6-6, 248) and big arm to fit the offense and could develop better accuracy with some refining of his technique. Grade: B+

San Francisco 49ers:In qualifying for three consecutive NFC Championship games, the 49ers clearly boast one of the league's most talented rosters and entered the draft with 11 selections (tied for second most in the NFL), so you couldn't blame GM Trent Baalke if he gambled a bit in the draft. Early on, however, he filled clear areas of need, adding a versatile defensive back in Jimmie Ward who has the range to handle safety as well the coverage ability to drop down and play nickel corner. The 49ers also drafted the most intriguing center in the draft in Marcus Martin and added a dynamic athlete in slot receiver Bruce Ellington. Just as the club did a year ago with injured stars Tank Carradine and Marcus Lattimore, San Francisco invested a relatively early picks in players likely to need a "redshirt" season, nabbing former Clemson tackle Brandon Thomas (projects to guard in this scheme) and cornerback Keith Reiser. Add to this, San Francisco added the most bullish runner in the draft with Carlos Hyde, a potential steal in pass rusher Aaron Lynch and quite possibly the most instinctive defender at any position in the draft in linebacker Chris Borland, among others. San Francisco's selections were not without risk as Lynch has under-achieved to this point in his career and Borland's short arms make him a better fit in a 4-3 than a 3-4. Otherwise, however, it was another quality haul for a team that was just one tipped pass away from competing in their second consecutive Super Bowl. Grade A

Seattle Seahawks: While basking in the glory of the first championship in team history, Seattle watched several key contributors get signed away in free agency. Though still boasting one of the league's deepest rosters, re-stocking the shelves with speed on the flanks and toughness, length and athleticism along the offensive and defensive lines was clearly the focus. Wideout Paul Richardson offers a pure vertical speed element that could keep opponents from crowding the box to slow down Seattle's run-heavy attack. Kevin Norwood doesn't possess Richardson's rare acceleration but is pro-ready with the build and body control to also make the roster. Tackle Justin Britt was a surprise in the second round but his length, functional strength and tenacity could help him vie for playing time as a rookie. Combative edge rusher Cassius Marsh and Jimmy Staten provide depth at the LEO and five-technique positions, respectively. Super Bowl MVP Malcolm Smith had better not rest on his laurels as Kevin Pierre-Louis is a similarly gifted athlete with eye-popping production. No team has enjoyed more recent success on Day Three of the draft than the Seahawks and of their late selections, athletic offensive lineman Garrett Scott and hulking safety Eric Pinkins look especially promising.  Grade: B

St. Louis Rams: With two of the first 13 picks, the Rams were in an ideal position to boost their roster. GM Les Snead and head coach Jeff Fisher took full advantage, adding mauling run blocker Greg Robinson to significantly upgrade their physicality on the offensive line and making a very good defensive line the league's best with the addition of defensive tackle Aaron Donald to complement star Robert Quinn, rising talent Michael Brockers and steady veteran Chris Long. Snead filled arguably the team's biggest need with their next selection, nabbing a Honey Badger-like weapon in versatile defensive back Lamarcus Joyner in the second round. The addition of Tre Mason - a back some graded as the best in the class - in the third round gives the team better big play possibilities than incumbent starter Zac Stacy, a quality back in his own right. The Rams added several intriguing prospects to their secondary on Day Three of the draft, as well as Michael Sam, the co-SEC Defensive Player of the Year and the first openly gay player to get drafted into the NFL. Sam (the 249th player selected overall) is no guarantee to make the roster but given the talent on this defensive line, he'll get one-on-one opportunities off the edge and possesses the burst, strength and motor to endear him to coaches and fans, alike. Grade: A     
Show Comments
Hide Comments
Ross looks like the perfect replacement for Brandin Cooks in the Big Easy

The top three-technique prospect in the draft could see his name not called at all

A diluted drug test continues recent alarming off-field concerns for talented Alabama pros...
Here are players from Air Force to Wyoming who might not be drafted but could make an NFL...

Who should the Rams take with their first pick? We break down all their options

Who should the Seahawks take with their first pick? We break down all their options