2014 NFL Draft: Greg Robinson atop class rich in offensive line talent
As many as seven offensive linemen could be drafted in the first round of the 2014 NFL Draft, where Auburn OT Greg Robinson and Texas A&M's Jake Matthews are the coveted prizes.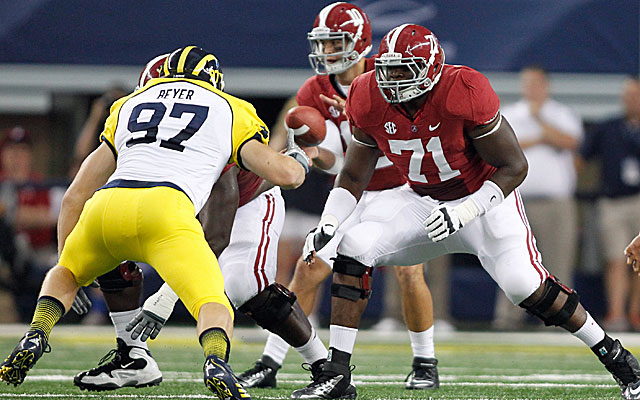 More NFL offseason: Mock Drafts | Prospect Rankings | Pro Days | Top free agents
For any team seeking to rebuild its offensive front to better protect that precious franchise quarterback or to sustain silently successful drives, this year's NFL Draft is the place to shop.
According to projections by NFLDraftScout.com, there could be as many as seven offensive linemen taken in the first round on May 8, beginning with three massive offensive tackles who could all go in the top 10 -- Auburn's uber-talented Greg Robinson, Texas A&M's Jake Matthews and Michigan mean guy Taylor Lewan.
Quarterbacks around the league may be privately conflicted to know that all of these rookies, and more, are expected to step right into starting NFL jobs next year.
At guard there are at least two more prospective starters (and first-round candidates) in Notre Dame's Zack Martin and UCLA's Xavier Su'a-Filo.
Here is a closer look at the offensive linemen projected to be selected among the top 100 as rated by NFLDrafScout.com.
Pos. Rank/Overall Rank/Player/Position/School/Height/Weight/40 time/Proj. Round
Tackles
1/2. *Greg Robinson, Auburn, 6-5, 332, 4.92, 1
Robinson is already an incredible force as a run blocker, but was not challenged to learn pro-type techniques in a simplified Auburn offense. Still, raw ability was obvious in this quiet, respected team leader. He's far from a finished product, but Robinson has the physical, mental and emotional ability to be one of the NFL's best. Pass protection may not be NFL-ready, so maybe he plays somewhere other than left tackle at first. Overcame a rough, financially challenged upbringing in a family disrupted by Hurricane Katrina. His father died in 2012, and his grandmother remains a dominant figure.
Frankly: This kid has the OMG factor. He is just learning, but already can humiliate talented defenders with his raw ability. His humble, hard-working approach should lead to huge success.
2/5. Jake Matthews, Texas A&M, 6-6, 308, 5.07, 1
Matthews doesn't have the quick-footed agility of former teammate Luke Joeckel, the No. 2 overall pick last year (Jacksonville), and is more of an enforcer who can consume defenders. He moved from right to left tackle last season to protect QB Johnny Manziel's blind side and proved he is NFL ready. The latest NFL prospect from the famous Matthews gene pool, Jake is the son of 19-year veteran Hall of Famer Bruce (Houston, Tennessee) and looks it.
Frankly: Matthews is ready to step in and be reliable at any offensive line position, but left tackles are a premium, so let's start there.

3/8. Taylor Lewan, Michigan, 6-7, 309, 4.87, 1
Lewan is a tough, tenacious run blocker who is still learning about being a pass blocker. A defensive lineman until his senior year in high school, Lewan played 50 games at left tackle (48 as starter) for Michigan, but is just beginning to blossom. He admits he had too many drive-killing personal fouls and needs to clean up off-field act that led to arrest, but no charge, when a fan claimed to be assaulted outside an Ann Arbor restaurant last November.
Frankly: Good enough to step in at left tackle, but Lewan will learn that everybody is tough in the NFL and to be good he will need more technique.
4/34. *Cyrus Kouandjio, Alabama, 6-7, 322, 5.59, 1-2
It is unclear if Kouandjio's durability is more of a concern than his ability, but it became a topic at the combine after several teams mentioned he was not given a clean bill of health due to a residual, arthritic condition in his knee. He underwent surgery after a season-ending injury in 2011. The player and his coach, Nick Saban, dismissed such concerns, saying he played well in all 27 games through the last two seasons. Furthermore, Alabama coaches believe he can be better than former linemate D. J. Fluker (No. 11 overall in 2013, San Diego Chargers).
Frankly: There are no guarantees on anybody and Kouandjio showed plenty of raw ability after his 2011 surgery. Still, don't let that discussion obfuscate the fact that Kouandjio still has more promise than polish and although he has NFL strength, those tree trunk legs may not be quick enough for left tackle.
5/37. Morgan Moses, Virginia, 6-6, 314, 5.35, 1-2
Pass rushers need to reset their GPS to account for the long trip around those 35 3/8-inch arms of Moses. He is a naturally large man -- sometimes too much so. He enrolled at 350 pounds, began last year at 323, then impressively shed weight for combine. Moses looked adept playing either side, starting 43 games, including his final 12 at left tackle. Plays with awareness and earned a tough-guy reputation.
Frankly: Based on hard work since season's end, Moses appears ready to take strength and conditioning seriously, which may be his most important challenge because he appears to have all the natural tools to get the job done at the next level.
6/46. JaWuan James, Tennessee, 6-6, 311, 5.34, 2
James' get-it-done attitude is reflected by a career that began as a starter when he arrived in 2010. Forty-nine games, 49 starts and one bachelor's degree later (December 2013), he is ready to take his study on the arts and sciences to the NFL. But it will be his size, strength and lateral quickness that serve him well at the next level. Seems to make pre-snap reads well but sometimes misses stunts.
Frankly: James has the mentality and physicality to step in and perform immediately in the NFL. He was impressive at Senior Bowl before spraining knee, but was fine at his April Pro Day.
7/53. *Cameron Fleming, Stanford, 6-5, 323, 5.28, 2
There is something to be said for starting in an excellent, pro-style offense against Pac-12 competition for 38 games. And what Fleming said is that's enough, especially since he already earned a degree in aeronautics and astronautics. Might as well get paid to play more football, right? Despite his experience and smarts, Fleming may not fit right into the faster NFL game as a tackle asked to pass protect all the time and he will need to show more raw strength and agility to play guard.
Frankly: He's big, strong, smart, experienced and certainly could improve some team's front wall, as long as he is not the key to protecting a franchise quarterback on an open side.
8/68. Billy Turner, North Dakota State, 6-5, 315, 5.16, 2-3
While Turner's college experience may be devalued due to the level of play, his performance was first class. Turner played 57 games and started his final 56, including 44 straight when ND State won back-to-back-to-back FCS national championships. Although he needs to step up to prove himself, Turner has NFL lineage with a father (Maurice) who was a running back for Minnesota, Green Bay and the New York Jets and a brother, Brian Kehl, drafted in the fourth round (2008) by the New York Giants.
Frankly: Not one FBS scholarship offer? Seriously? His size, athleticism and strong hands are a good start, but Turner certainly will be a project in the NFL.
9/91. Jack Mewhort, Ohio State, 6-6, 309, 5.37, 3
Mewhort utilizes every inch of his tall, stout frame and large wingspan (80 1/4 inches) to engulf and control rushers. He's a versatile offensive line prospect who played at every spot except center and projects as a right tackle. Mewhort looked strong during drills at the Senior Bowl. Lack of elite athleticism may dictate use at right guard.
Frankly: Hard to go wrong with a guy who played four offensive line positions, started his final 39 consecutive games, was voted captain by his teammates and was hailed for his leadership by coach Urban Meyer. OK, Meyer's remark should be expected. PTI.
Guards
1/16. Zack Martin, Notre Dame, 6-4, 308, 5.22, 1
Although all 39 of his college starts were at tackle, teams are looking at Martin mostly as a guard. He is short for a left tackle and perhaps not powerful enough for a right tackle. Regardless, he is a team leader who made a case for himself at tackle with a good showing in the Senior Bowl workouts.
Frankly: Picking a position for him to play is somewhat semantic, to stretch a meaning. This smart, aware, two-time team captain with the most career games in Notre Dame history (52) can certainly play somewhere.
2/36. *Xavier Su'a-Filo, UCLA, 6-4, 307, 5.04, 1-2
As a veteran of 40 career starts, Su'a is the most pro-ready player on UCLA's talented offensive line. He is powerfully built to handle bull rushes but has lateral agility and balance as a pass blocker. His mad work ethic was obvious early in life when he became an Eagle Scout and he has already completed his two-year Mormon missionary work.
Frankly: Let's see what you want in an offensive lineman. Size? Check. Athleticism? Check. Reliable character? Double check. Draft him, suit him, play him. Take credit for making an easy decision.
3/42. Joel Bitonio, Nevada, 6-4, 302, 4.97, 2
Bitonio proved his versatility while playing in 51 games at Nevada, starting his last 38, including 26 at right tackle and 12 at left tackle. According to one scouting service, since the beginning of the 2012 season, he gave up only one quarterback pressure and two sacks and was penalized only five times through a span of 2,054 snaps. Often overworks to needlessly bury a defender. From left tackle last season, Bitonio manhandled UCLA's top ten prospect, OLB Anthony Barr.
Frankly: An undersized college tackle, Bitonio can capitalize on his beastly mannerism as a guard who has a full array of tricks to get the job done.
4/73. Gabe Jackson, Mississippi State, 6-3, 336, 5.51, 2-3
Three-year starter and the son of a high school coach has more than enough size, strength and ability to be a top notch player. The concern is that he doesn't consistently perform at that high level. Has tantalizing balance of overall power, agility and great feet, but sometimes misses things he should pick up, which could be dangerous for NFL QBs.
Frankly: Jackson is an interesting combination of physical ingredients, but sometimes seems to lose focus or his technique gets sloppy. Tell him his dad is watching the game tapes and see if that gets his attention.
5/83. Dakota Dozier, Furman, 6-4, 313, 5.42, 2-3
After spending four college years as a left tackle, Dozier's abilities still appear based in his high school success as a tough-guy wrestler. Although he has quick feet and athleticism, he seems to be too aggressive to be an outside pass blocker, but could be a gem as a guard.
Frankly: Dozier has a compelling combination of nimble athleticism and nasty disposition that should serve him well at any level of football if he works at the tricks of the trade.
Centers
1/59. Weston Richburg, Colorado State, 6-3, 298, 5.10, 2
Richburg couldn't have done much more so far. He started all 50 games of his college career (45 at center, three at guard, two at tackle), made the line calls, and blew up defenders while blocking in an offense that asked him to pull outside on screens and sweeps. His deeds were devalued by his level of competition until he showed scouts at the Senior Bowl he could hold his own against bull rushers from bigger schools. That's when he became the No. 1 center prospect on many lists for this draft.
Frankly: Richburg may not be the wide body behemoth some teams want at center, but he is a monster in terms of being game-ready mentally, physically and emotionally. He will absorb the front line assignments and keep everybody alert.
2/76. *Marcus Martin, Southern Cal, 6-3, 320, 5.28, 2-3
Thick plugger who has plenty of strength but doesn't seem to be the brute you expect. Does not necessarily fire out and consume defenders, but uses his girth to effectively wall them off or barge through to create a wide running lane. Tweaked his knee in November, didn't run at the combine, then ran 40 yards at pro day with a disappointing best of 5.52 seconds.
Frankly: Until he punches up the urgency and physicality of his game, versatility may be the calling card that Martin leverages into the beginning of an NFL career.

-- Frank Cooney, founder and publisher of The Sports Xchange and NFLDraftScout.com, has covered the NFL and the draft since the 1960s and is a selector for the Pro Football Hall of Fame.
Show Comments
Hide Comments
Ross looks like the perfect replacement for Brandin Cooks in the Big Easy

The top three-technique prospect in the draft could see his name not called at all

A diluted drug test continues recent alarming off-field concerns for talented Alabama pros...
Here are players from Air Force to Wyoming who might not be drafted but could make an NFL...

Who should the Rams take with their first pick? We break down all their options

Who should the Seahawks take with their first pick? We break down all their options