2014 NFL Draft: Jacksonville Jaguars Spotlight
This is the 31st of a team-by-team series, analyzing five prospects that each team should consider in the 2014 NFL Draft.
by Rob Rang
The Sports Xchange/CBSSports.com

• 4 min read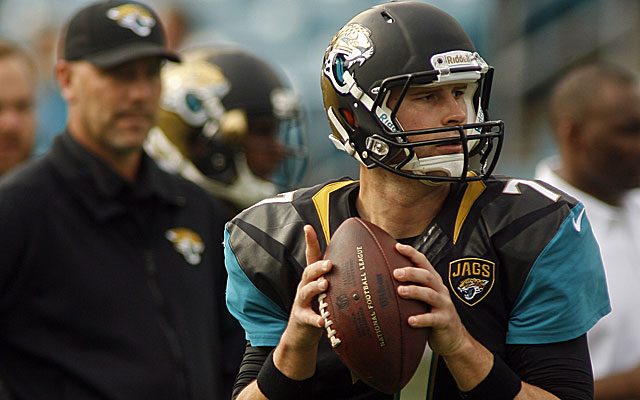 2014 NFL Draft: Jacksonville Jaguars Spotlight
This is the 31st of a team-by-team series, analyzing five prospects that each team should consider in the 2014 NFL Draft.
After the first eight games under Gus Bradley the Jacksonville Jaguars were 0-8 and looking like the favorites to land the No. 1 overall selection in the 2014 draft.
The team kept competing, however, and stunned the Tennessee Titans in Week 9 after the club's bye, sparking a 4-4 record over the second half of the season. Playing. 500 ball isn't the goal, of course, but it was a significant jump for a Jaguars squad that fighting through distractions like injuries to No. 2 overall pick Luke Joeckel and star running back Maurice Jones-Drew and the suspension of top wideout Justin Blackmon and the trade of dependable tackle Eugene Monroe to the Baltimore Ravens.
The Jaguars kept up the momentum in the offseason, landing a number of proven schematic fits along the line of scrimmage and gaining valuable insight into this year's draft class by coaching the South team at the Senior Bowl. Expect Jacksonville to lean heavily on this experience with 11 draft picks, including three selections within a 15-pick span in the fourth and fifth rounds.
At some point Bradley and general manager David Caldwell are going to draft a quarterback but it appears the team is ready to give veteran Chad Henne a crack at retaining his job. So-called "second-tier" options like Jimmy Garopollo, Aaron Murray and David Fales (each of whom attended the Senior Bowl) are intriguing fits. That would allow Jacksonville to focus on other positions of concern early, including adding a young pass rusher and giving the Jaguars' tooth-less receiving corps some bite.
Jacksonville Jaguars' 2014 draft picks: 3, 39, 70, 105, 114, 144, 150, 159, 179, 205, 222
Primary needs: WR, OC, QB, DE, RB

General Manager: David Caldwell, second year
Five draft picks that clicked:
• S John Cyprien, 33rd overall, 2013
• WR Ace Sanders, 101st overall, 2013
• WR Cecil Shorts, 114th overall, 2011
• DT Terrance Knighton, 72nd overall, 2009
• RB Maurice Jones-Drew, 60th overall, 2006
Five players who should be on the Jacksonville Jaguars' draft radar:
Player, school (overall rating, position rating)
DE/OLB Khalil Mack, Buffalo (2, 1): The Jaguars went the safe route a year ago with Joeckel and will be looking for more of a playmaker with the No. 3 overall pick. A quarterback is a possibility as is Clemson wideout Sammy Watkins but the Jags may have a hard time passing up Mack, the draft's safest defender, who at 6-foot-3, 251-pounds has the size to play the LEO defensive end role in Bradley's hybrid scheme. Grizzled veterans Chris Clemons (32) and Jason Babin (33) currently are sit atop the depth chart and Mack is a proven playmaker with 28.5 sacks, 75 tackles for loss and 16 forced fumbles over his career, the latter two of which are FBS records. Mack is a terrific pass rusher, showing the blend of explosiveness, agility and power to beat tackles in a variety of ways. He's instinctive, passionate and durable (48 career) starts and while quality of competition questions are legitimate, he played well in big games.
WR Cody Latimer, Indiana (40, 7): The value of pass rushers could lead the Jaguars to taking Mack over Watkins at No. 3 but receiver is arguably the team's biggest need. It wasn't supposed to be that way as the Jaguars invested the No. 5 overall pick on Justin Blackmon just two years but after repeated off-field issues led to suspension and Caldwell told reporters recently that the club is "not counting on" having its most talented pass-catcher in 2014. Latimer, like Blackmon is a well-built, physical and competitive split end who would complement Cecil Shorts and young playmaker Ace Sanders. The Hoosiers aren't well known for producing NFL talent but there is no denying Latimer's ability, who was named the team's MVP despite ranking third in catches. At 6-foot-3, 215 pounds, Latimer shows impressive agility as a route-runner as well and wowed at his Pro Day with his straight-line speed (4.44) and explosive leaping ability (39 inches). There isn't a hotter name among receivers as the draft approaches and the Jags, frankly, would be lucky to have him still on the board.
OC Weston Richburg, Colorado State (67, 2): Center was a position of strength for the Jaguars throughout Brad Meester's career but his retirement put a glaring hole in the middle that Jacksonville attempted to fill in free agency by reaching a deal with Alex Mack. With the Browns matching the deal, the Jaguars are left to look in-house (where Mike Brewster appears to be the best available) or find help via the draft. Richburg, a four-year starter, offers the athleticism and grit to play immediately and stood out in Mobile.
QB Aaron Murray, Georgia (140, 9): Due to his time in Seattle, Bradley may be more willing than most to gamble on a short quarterback like Murray. Other than size, Murray possesses many of the attributes necessary for success in the NFL. He completed 62.3 percent of his passes over his career for 13,166 yards and nearly three times as many touchdowns (121) as interceptions (41) in a pro-style offense against elite competition. He showed incredible commitment by working his way back from an ACL tear to throw at Georgia's Pro Day and impressed in attending the Senior Bowl despite being unable to play. Further, Murray's accuracy and underrated blend of velocity and mobility would make him an attractive fit in offensive coordinator Jedd Fisch's scheme.
OT Laurent Duvernay-Tardif, McGill (142, 12): With 11 picks the Jaguars can afford to gamble on athletic upside and the potential Canadian import certainly boasts that. He signed with McGill as a 250-pound defensive lineman and only made the transition to the other side of the line of scrimmage two years ago. The 6-foot-5, 298-pounder is light on his feet (reportedly ran a 4.98 at his Pro Day) and is a balanced and coordinated athlete. He is also an aggressive, physical run blocker.  With a year or so to acclimate, Duvernay-Tardif could develop into a legitimate starting right tackle. 
Show Comments
Hide Comments
Plus Seahawks eschew needs on the line and Rams seek help for Goff as we hand out NFC West...

Plus Saints and Falcons load up on defense as NFC South gets a massive boost in talent

Lions draft for now, Packers run down their checklist and Vikings find a runner in our NFC...
Plus Giants do a lot with a little and Eagles and Redskins face durability concerns in our...

Plus Broncos and Chargers help their QBs while Raiders gamble big in our AFC West grades

Texans pin hopes to Watson, new Jaguars must focus and Titans help Mariota in our AFC South...