2014 NFL Draft: Jaguars' Gus Bradley on Blake Bortles, 'he intrigues you'
The Jacksonville Jaguars re-signed veteran QB Chad Henne and won't be forced into drafting a quarterback at No. 3 overall, but head coach Gus Bradley is intrigued by the prospects in this year's class.
by Derek Harper
The Sports Xchange/CBSSports.com

• 4 min read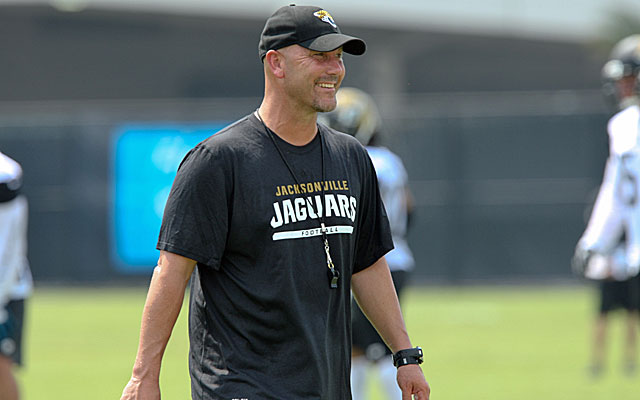 More NFL offseason: Mock Drafts | Prospect Rankings | Pro Days | Top free agents
The Jacksonville Jaguars remain one of the wild cards near the top of the 2014 NFL Draft.
  
Owners of the No. 3 overall pick May 8, the Jaguars can go any number of directions, depending largely on what the Houston Texans and St. Louis Rams to ahead of them. What head coach Gus Bradley is confident of, however, is his team will land a dynamic prospect in what he considers a deep draft at several positions of need.
  
Speaking at the NFL owners meetings Tuesday, Bradley admitted the quarterback class is intriguing. But the Jaguars also re-signed veteran Chad Henne, so Jacksonville isn't likely to force the issue with its first pick unless a quarterback the team covets is available.
  
"You could have 4-5 (quarterbacks) going in the first round or it could be like last year when guys dropped," said Bradley. "Teams are still trying to get a feel for how things will fall into place. But there is a lot of depth and there are a lot of guys who can play really good football for teams around the NFL."
  
The Jaguars' personnel department is busy pouring over game film, combine interviews and pro day tape in an effort to compile as complete a picture as possible on each prospect.
  
The Jaguars met with Central Florida's Blake Bortles and Louisville's Teddy Bridgewater last week, and Bradley anticipates having an opportunity to meet again with several players under consideration with that third pick.
  
Bortles is currently projected to go to the Texans with the top pick by NFLDraftScout.com analysts Rob Rang and Dane Brugler. If he should get past Houston, Bortles is clearly a prospect of interest for the Jaguars.
  
"You watch the tape and he intrigues you, and then you see that he got better during the offseason and that intrigues you," said Bradley. "You feel he is a guy that is moving up the scale. If he comes into our system or if he goes to Houston or Minnesota, each one of those teams will ask him to do different things, and what he's put on tape and what he did on his pro day showed he can take coaching and can get better. That's good. That's a great trait to have."
  
Rang and Brugler currently project the Jaguars to select South Carolina pass rusher Jadeveon Clowney at No. 3, and Bradley certainly sounds comfortable starting Henne for another season while grooming a young quarterback that may come with one of the team's other 10 draft picks. Rang and Brugler both project the Jaguars to select Eastern Illinois quarterback Jimmy Garoppolo in their debut two-round mock drafts this week.
  
"In Seattle, I know Matt Flynn was the quarterback and he was the guy and Russell Wilson was drafted, came in and there weren't any expectations on him coming in to be the starter. That allowed him to put all of his energy into competing and you saw him progress very nicely. That's one example of how it can work. If it takes a year, then it takes a year. That's why we signed Chad Henne."
  
The Jaguars were aggressive in free agency, but still have several areas of need on both sides of the ball, which can be a blessing in the draft rather than pressing to fill one glaring weakness.
  
No one's game tape will be more scrutinized than Clowney's. Considered the likely top pick entering last season, Clowney struggled to make impact plays as he dealt with constant double teams, nagging injuries and a reputation for taking plays off.
  
"We'll get a chance to visit him in the next couple weeks, but I see enough plays where he's playing hard," said Bradley. "I do see him getting a great rush and making great plays and it's our job as a coaching staff to get that consistently.
  
"There have been some players who came out of the draft and you questioned their effort at times and when they made the next step to the NFL, then it wasn't a question. You have to take into account. The number of splash plays he made and the effort plays he does have on tape, that's why he's such a high prospect."
  
Wide receiver is another position the Jaguars are expected to address through the draft. They have 12 on the roster, but only recently-signed Tandon Doss has more than three years of NFL experience. There is precious proven experience beyond Cecil Shorts III, and the Jaguars have a big unknown in the form of suspended Justin Blackmon.
  
"I wish I could have a more extended conversation with him," Bradley said of Blackmon. "My feelings toward him haven't changed - I still care about him. We've reached out to him and been able to text back and forth. To sit down and visit with him, that part I miss."
  
Toby Gerhart was signed during free agency and is expected to be the primary ballcarrier, but Bradley also sounds like a coach who can't have too many dependable backs to spread the ball to.
  
"He has the ability to play all three downs. How many carries he gets - we would like to run the ball over 40 percent of the time," Bradley said of Gerhart. "There might be 28-30 carries in a game,  and there aren't more running backs that carry more than 20 times a game. If he's a guy that is carrying it 15-16 times and with third down reps, 18 times. That's feasible. A strong possibility."
Show Comments
Hide Comments
Get ready to start hearing a lot about Sam Darnold and Josh Rosen

Plus Seahawks eschew needs on the line and Rams seek help for Goff as we hand out NFC West...

Plus Saints and Falcons load up on defense as NFC South gets a massive boost in talent
Lions draft for now, Packers run down their checklist and Vikings find a runner in our NFC...

Plus Giants do a lot with a little and Eagles and Redskins face durability concerns in our...

Plus Broncos and Chargers help their QBs while Raiders gamble big in our AFC West grades