2014 NFL Draft: Jernigan (FSU), Ford (Auburn) star in BCS championship
The pre and post-game hype will focus on Florida State's Heisman Trophy winner Jameis Winston and Auburn's finalist, running back Tre Mason. NFL scouts, however, won't forget the impact made by a pair of "undersized" defenders who early on looked like MVP candidates in this game.
by Rob Rang
The Sports Xchange/CBSSports.com

• 2 min read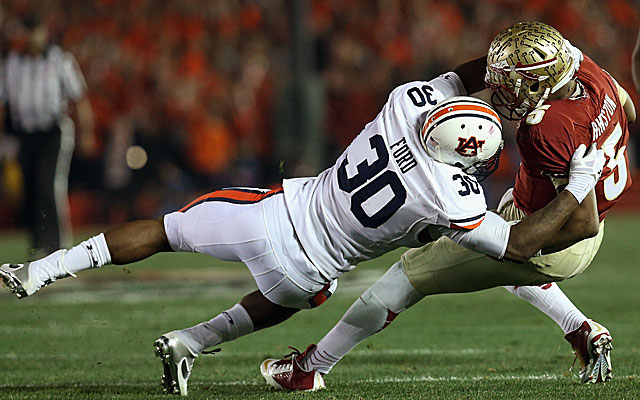 For much of the evening, the old adage that offense wins games but defense wins championships was never more appropriate than in Monday night's BCS Championship game.
While the hype surrounding the final bowl game of the BCS era focused will no doubt dwell on flashy skill position players like Heisman Trophy winner Jameis Winston and fellow finalist Tre Mason, it was eye-popping performances from teammates on the defensive side of the ball that could have NFL scouts adjusting their rankings. 
Florida State defensive tackle Timmy Jernigan was a one-man wrecking crew in the middle for the victorious Seminoles, using his great strength and terrific quickness to make several tackles on his own and creating easy opportunities for his teammates. Jernigan ranks sixth among defensive tackles on NFLDraftScout.com's board. 
Auburn's Dee Ford was every bit Jernigan's match for the Tigers, blowing past Florida State's senior right tackle Bobby Hart with a lethal combination of burst, balance and underrated power to sack Winston twice and hurry the freshman sensation several other times. 
At 6-foot-2, 298 pounds, Jernigan projects best as a three-technique defensive tackle in the 4-3 alignment. His quickness and strength could be utilized at nose guard but too often he is knocked off the line of scrimmage when he tires. He was substituted often against Auburn and appeared to be struggling with cramps as the game wore on. He was all smiles after the game, however, and could have a tough decision ahead of him as the junior could earn a selection in the first round should he elect to leave early for the NFL.
Ford, a senior, has similar size restraints, which make his projection to the NFL a tricky one. Teams who utilize an undersized "LEO" defensive end could keep the 6-foot-2, 246-pound pass rusher on the line in pass-rushing situations but most see his best fit in the NFL as a stand-up pass rusher in the 3-4 alignment. Ford is projected by NFLDraftScout.com as a third round pick and the No. 9 outside linebacker of the 2014 class.
Like Jernigan, Ford uses his "average" height for the position to his advantage. Possessing broad shoulders and a thick trunk, he is stronger at the point of attack than he looks.
Fourth-quarter dynamics from Winston and Mason (among others) stole back the spotlight but for much of the game it was Jernigan and Ford who were early contenders for MVP honors. In the minds of NFL scouts watching, each "undersized" defender showed the ability to match up against physical competition on the big stage. That acknowledgment may not earn them an MVP trophy but it could pay off big in terms of draft position and the rookie NFL contract that goes along with it.   
Show Comments
Hide Comments
Ross looks like the perfect replacement for Brandin Cooks in the Big Easy

The top three-technique prospect in the draft could see his name not called at all

A diluted drug test continues recent alarming off-field concerns for talented Alabama pros...
Here are players from Air Force to Wyoming who might not be drafted but could make an NFL...

Who should the Rams take with their first pick? We break down all their options

Who should the Seahawks take with their first pick? We break down all their options