2014 NFL Draft: Jets have 12 picks -- and 3,500 players to choose from
So you wanna be an NFL scout? GM John Idzik broke down what the New York Jets' staff has produced for the 2014 NFL Draft class -- including more than 3,500 prospect evaluations.
by Derek Harper
The Sports Xchange/CBSSports.com

• 2 min read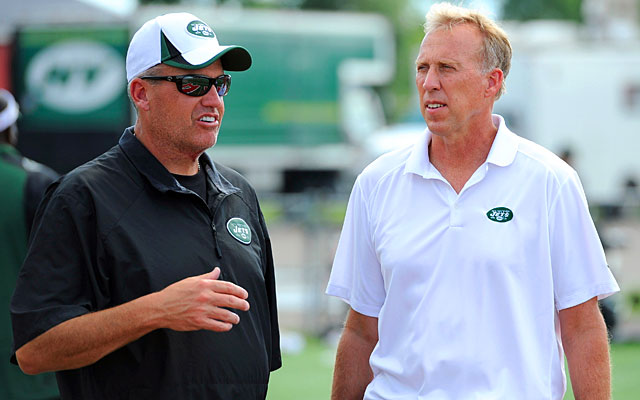 More NFL offseason: Mock Drafts | Prospect Rankings | Pro days | Top free agents
What do you get with one of the deepest talent pools in memory combined with the 2014 NFL Draft being pushed back two weeks to May 8-10?
If you work for the New York Jets, a lot of nights away from home.
In his pre-draft press conference Wednesday, general manager John Idzik outlined the hard numbers that have gone into forming the Jets' draft board:
120 college games
115 pro day visits
575 school visits
263 reports from different schools
1,372 individual prospect write-ups
635 prospect interviews
More than 3,500 player evaluations
As Idzik quipped, "So if you were on a roster at a school, you were probably getting written up."
And that doesn't event account for some of the fall school visits. Still want to be a regional scout?
"So as you can tell, there is quite a lot entailed in this, and we're just touching on it here," said Idzik. "But with that, we feel like we're prepared, and we're confident, and we're excited about next week, with a great opportunity to improve our football team."
The Jets currently have 12 total picks, beginning with the 18th overall pick. They will be able to address a number of areas in such a deep draft, but enter with specific needs at cornerback, wide receiver and safety.
"I think this is a good draft for a lot of positions," said Jets senior director of college scouting Terry Bradway. "I think we probably have more draftable players on our board than we've had in a few years.  With 12 picks, I think that's going to be pretty good.  I would say overall I like the depth at (cornerback) as well as others."
Like many teams, the Jets will group players in their respective positions and look to trade up or down if they see opportunities arising during the draft. One of the primary difficulties, especially on the third day of the draft, is evaluating prospects from different systems and even different levels - how do you break "ties" in evaluations between players from FBS schools and those from Division II?
"There are so many factors," said director of college scouting Jeff Bauer. "I mean, trying to decide if he's a product of the system, and like Terry said, what kind of person he is, the work ethic. And usually you think the guys that work hard and are good character guys, it's going to be easier to translate to how well they pick up football, how smart they are.
"That's all a factor.  But sometimes everything's perfect with a guy and for some reason it doesn't click for him.  You look back, and no one's ever going to be a 100 percent in this business.  We've all made mistakes and aim to get better and better.  But there is not a perfect formula. It's tough.  Sometimes you go, 'Why did this guy not make it?'"
One of the plusses for the Jets this time around is continuity with much of the staff going through the entire draft process together after Idzik was hired to replace Mike Tannenbaum last offseason.
"Simple things like setting up our pre-draft visits, our local day, it was the first time through last year.  Well, this year we had somewhat of a template.  That's going to be massaged to a certain degree, but much less so this year.  So, yeah, there is a higher comfort level this year."
Show Comments
Hide Comments
Not every draft pick can be a winner. Here are the 32 guys who could cause the most regret

Our list of late-round gems includes plenty of lesser-known backs and quality linemen

A running back going No. 2 overall? When you're being compared to Hall of Fame runner, yes
Pass rushers and explosive offensive players highlight the best Day 1 contributors

Here's every draft pick heading to the NFC West, including 21 by the Seahawks and 49ers co...

Here's every draft pick heading to the NFC South, home of the NFC's last two Super Bowl te...