2014 NFL Draft: Kansas City Chiefs Spotlight
This is the 11th of a team-by-team series, analyzing five prospects that each team should consider in the 2013 NFL Draft.
by Rob Rang
The Sports Xchange/CBSSports.com

• 5 min read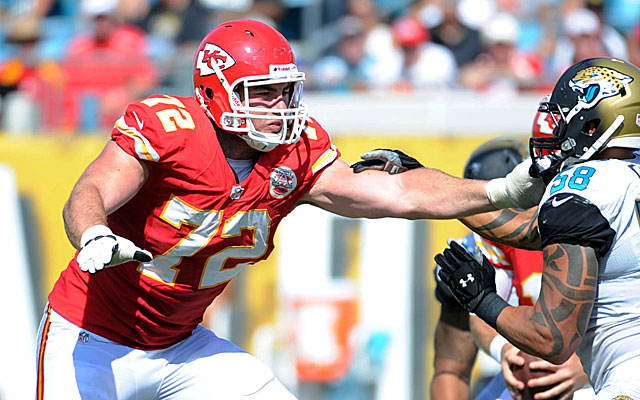 2014 NFL Draft: Kansas City Chiefs Spotlight
This is the 11th of a team-by-team series, analyzing five prospects that each team should consider in the 2013 NFL Draft.
The Kansas City Chiefs' investment in offensive tackle Eric Fisher with the No. 1 overall selection a year ago was hailed as a solution to a troublesome offensive line. And given the success quarterback Alex Smith, superstar Jamaal Charles and an opportunistic defense had in helping head coach Andy Reid whisk the Chiefs back into the playoffs in his first year in town, the move appeared to pay off.
The loss of three starters -- including Pro Bowl left tackle Branden Albert -- to free agency, however, threaten to mitigate whatever gains Kansas City made up front a year ago.
Frankly, Fisher disappointed as a rookie, missing a handful of games to injury and struggling with the jump in power from the MAC to the NFL. A full offseason in an NFL conditioning program should make him better equipped to handle the league's physicality and he'll be moving back to left tackle, where he starred at Central Michigan. Given that guards Jon Asamoah (Falcons) and Geoff Schwartz (Giants) joined Albert (Dolphins) as departures, Reid and general manager John Dorsey may be forced to focus up front rather than on skill positions, as many presume.
Few know the importance of quality blocking better than Reid, a former offensive lineman and offensive line coach. The Chiefs also need a dynamic pass-catcher to aid Smith, whose game is based on timing and accuracy rather than an elite arm. Kansas City toyed with adding former Philadelphia Eagles' standout DeSean Jackson and thought it had agreed to terms with wideout Emmanuel Sanders, only to see the ex-Pittsburgh Steelers speedster instead sign with rival Denver. Though the Chiefs tied with the Cincinnati Bengals to field the AFC's stingiest defense a season ago (allowing 19.1 points per game), adding a playmaking safety to pair with former No. 5 overall pick Eric Berry and more depth along the defensive line could also be priorities.
Reid and general manager John Dorsey deserve a great deal of credit for guiding the Chiefs to the playoffs in their first year together. It will be much more difficult to repeat this feat in 2014, however, given the club's holes and tougher schedule, which includes bouts with each of the highly physical teams of the NFC West. 
Kansas City Chiefs' 2014 draft picks: 23, 87, 124, 163, 193, 200
Primary needs: OG, WR, S, OT, DE
General manager: John Dorsey, second year
Five draft picks that clicked:
• DT Dontari Poe, 11th overall, 2012
• OC Rodney Hudson, 55th overall, 2011
• OLB Justin Houston, 70th overall, 2011
• S Eric Berry, 5th overall, 2010
• RB Jamaal Charles, 73rd overall, 2008
Five players who should be on the Kansas City Chiefs' draft radar:
Player, school (overall rating, position rating)
WR Brandin Cooks, Oregon State (19, 3): By expressing so much interest in veteran receivers during free agency, the Chiefs may have indicated the position they see as the club's top priority. This doesn't necessarily mean that selecting a speedy receiver in the first round to pair with established big-bodied wideout Dwayne Bowe is a given. Reid's offense is quite complicated and typically takes receivers at least a year to acclimate. Cooks earned the Biletnikoff Award as the nation's top receiver in former  Chargers coach Mike Riley's offense, however, making him perhaps better suited than most to handle the jump. Further, Cooks certainly possesses the agility and speed to turn some of Smith's short passes into long gains.
TE Austin Seferian-Jenkins, Washington (51, 3): The Chiefs currently lack a second round selection in the 2014 draft as part of the trade with San Francisco to land Smith but Seferian-Jenkins might be an interesting option should the club trade back to recoup some extra picks. Reliable play at tight end is a critical element to Reid's offense. The team invested a third round selection in Travis Kelce a year ago only to see him get hurt in training camp and ultimately have to undergo microfracture surgery. The Chiefs were expecting big things out of Kelce as a rookie and if they are confident that he's on the way towards a full recovery, they can invest elsewhere. If not, selecting a reliable pass-catcher with size and savvy to exploit marginal safety play from AFC West opponents could be a surprisingly high priority.

OT Jack Mewhort, Ohio State (91, 9): With Fisher sliding over from right to left tackle in 2014 the Chiefs are left with third-year pro Donald Stephenson as their current starting option. The former Oklahoma Sooner has 14 career starts already under his belt but much of this was due to injuries to others forcing him onto the field. Mewhort earned All-American honors at left tackle as a senior but has previous experience at left and right guard, as well as the strength, length and aggression to handle duties at strongside tackle. He could potentially step right in at right guard or offer quality depth behind Fisher and Stephenson at tackle. Mewhort's versatility and grit would make him a favorite for a coaching staff led by Reid and includes former NFL offensive linemen Andy Heck and Eugene Chung.
S Brock Vereen, Minnesota (141, 4): Unfortunately for the Chiefs, the losses in free agency didn't just come on the offensive side of the ball. Kansas City will be looking to replace starting free safety Kendrick Lewis (Houston) and lost depth with veteran Quintin Demps signing with the Giants, as well. Vereen, the younger brother of New England Patriots' running back Shane Vereen, is an intriguing athlete who split time between cornerback and free safety with the Golden Gophers. He's athletic, instinctive and physical and created some buzz for himself with a strong performance at the combine. His lack of ideal size (6-foot, 199 pounds) and ball-skills (four career interceptions) are concerns which could push him outside of the top 100 but at this point in the draft he could prove a steal.
OG Russell Bodine, North Carolina (228, 13): With the hole at right guard (and center Rodney Hudson's entering the final year of his contract, as well), the Chiefs could invest multiple picks on their offensive line. Bodine possesses the short, squatty and powerful frame so conducive to interior offensive line play and led all participants at the combine with 42 reps on the bench. Bodine uses this power and an aggressive mentality to drive defenders off the ball but isn't particularly nimble, making him best suited to right guard rather than the left side where the Chiefs feature solid third-year pro Jeff Allen.
Show Comments
Hide Comments
Our Latest Stories
Michigan, California and BYU held pro days on Friday, with Davis Webb fighting a 'torrential...

Plus, prospects at Utah, Missouri and San Diego State look to make their mark on a busy Th...

Plus, two USC prospects tackle agility drills and two small-schoolers look to make their m...
In a class loaded with defensive studs, no position group is better than the corners and s...

Mitchell Trubisky is 'solid,' Takk McKinley sits and Marlon Mack 'sizzles' during Tuesday pro...

John Lynch is among the 75 NFL scouts at UNC's pro day, while the Browns are noticeably ab...