2014 NFL Draft: Miami (Fla.) Preview
Although Miami isn't quite the powerhouse program it was a decade ago, the Hurricanes always produce talent for the next level, including offensive tackle Seantrel Henderson and quarterback Stephen Morris for the 2014 class.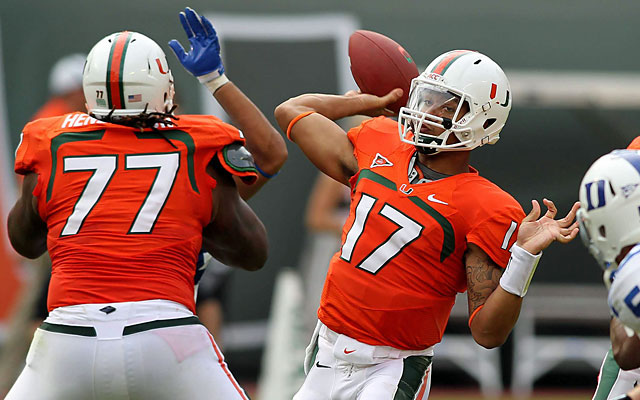 In preparation for the 2014 NFL Draft, NFLDraftScout.com will profile the top draft-eligible prospects from FBS-level programs. This summer series will run until the start of the college football season.

MIAMI (FLA.) HURRICANES
NFL Draft picks the last five years: 21
2013 NFL Draft picks: 2 -- CB Brandon McGee (St. Louis Rams, 5th round), RB Mike James (Tampa Bay Buccaneers, 6th round)

While the Hurricanes aren't the college football powerhouse they were a decade ago, Miami still attracts talent to the "U" and Coral Gables is a frequent stop for NFL scouts. This past April was an "off" year for the Canes with only two draft picks, which was just the second time since 1998 that the Canes produced two or less draft picks. But Miami will be better represented in the 2014 class, led by seniors Seantrel Henderson and Stephen Morris.

Miami managed just seven wins in 2012, but without a clear-cut favorite in the Coastal Division this season, the Hurricanes could surprise with the young talent on the roster. Miami hasn't produced a top-20 selection in the NFL Draft since 2005 (DB Antrel Rolle), but it's not impossible to think that Henderson or Morris could change that in the 2014 NFL Draft.

Top Miami (Fla.) prospects for the 2013 NFL Draft
*Indicates underclassman

1. OT Seantrel Henderson (6-8, 340, 5.26)
Although there has been more hype than on-field consistency, Henderson appeared to get comfortable as a junior last season and showed why he was so highly coveted out of high school. After just two starts as a sophomore in 2011 and starting last season as a part-time player, he settled in and started the final seven games at right tackle in 2012. Henderson is a mountain of a man and there are just so few human beings on the earth that possess his size, length and overall coordination to win with quickness and power. He isn't the most athletic mover on an island, but he covers a large area due to his natural wide base, broad shoulders and overall wingspan. Henderson anchors well and is a tough guy to move from his spot but will also do a nice job at the second level and plays with the motor to eliminate his man once engaged. He does need to improve his eye discipline and hand usage; he grabs too much, which will lead to holding calls. Henderson has off-field baggage that needs to be checked out, but he has several attractive NFL traits and I'd expect several D.J. Fluker comparisons as we get closer to next April.

2. QB Stephen Morris (6-2, 215, 4.59)
After splitting snaps with Jacory Harris his first two seasons in Coral Gables, Morris was the clear-cut No. 1 quarterback on the depth chart in 2012 and started all 12 games. He set career-bests with 3,345 passing yards and 21 touchdowns, but he needs to improve his 58.2% completions from a year ago. Morris has average-at-best height and build but is a quick athlete with elusive moves and excellent feel in the pocket to maneuver around the noise to keep plays alive. He has room to refine his footwork, but he sets up quickly and stays balanced through his delivery, showing precise downfield vision and touch. Morris has improved substantially with his pre-snap recognition skills to find mismatches and understand where he wants to go with the football before the pocket collapses. He has all the arm strength needed for the next level but has almost too much belief in his arm at times, which will get him in trouble. Morris is an intriguing pro prospect who could potentially jump up draft boards with a strong senior season.

3. DE Anthony Chickillo (6-3, 265, 4.79)*
A former five-star high school recruit, Chickillo saw the field early in his Miami career, starting the last 21 straight games for the Hurricanes. He is thickly-put-together and has worked hard to fill out his frame, adding over 40 pounds since high school. While he plays with some natural flexibility, Chickillo isn't a quick-twitch mover, and he struggles to win with his average burst or natural explosion alone. He does stand out with his relentless motor against the run and ability to anchor while keeping his eyes elevated to track the ball, but he isn't quite where he needs to be as a pass rusher just yet. Despite leading the team in sacks last season with four, Chickillo needs to develop his pass-rush moves and learn how to better use his aggressive hands.

4. WR Phillip Dorsett (5-9, 187, 4.42)*
A substantial reason behind Morris' success at quarterback is the help he received from his receivers in 2012, most notably Dorsett who emerged as the team's go-to threat last season. He led the Hurricanes in receiving a year ago with 58 catches for 842 yards and four scores, totals that ranked him among the best in the ACC. Dorsett is the explosive playmaker for the Hurricanes with his natural speed and ability to create after the catch. He ranked among the leaders in the country with 21 plays of 25-plus yards and showed the ability to make an impact at all levels of the field, also helping out on special teams as a return man. Dorsett, who also runs track at Miami, is undersized and will drop too many easy catches, but he has terrific body control and tracks the ball well downfield. He was listed as a back-up on Miami's spring depth chart, but expect Dorsett to be Morris' leading target again in 2013.

Other Miami (FL) prospects worth watching:
WR Allen Hurns (6-1, 195, 4.52)
Despite only average size, speed and career production, Hurns is a fluid athlete with good wiggle after the catch.

TE Clive Walford (6-4, 248, 4.79)
Walford needs to cut down on the drops, but he blossomed late last season and finished third on the team with 451 receiving yards.

OL Malcolm Bunche (6-6, 323, 5.24)*
The starting left tackle a year ago, Bunche needs to refine his technique as he makes the expected move to left guard in 2013.

OG Brandon Linder (6-5, 312, 5.16)
Entering his fourth season as a starter, Linder is one of the team leaders, but he suffered a knee injury this past spring.

OG Jon Feliciano (6-5, 318, 5.22)*
After starting every game at left guard last season, Feliciano will have to beat out Bunche for the starting job in 2013.

DE Shayon Green (6-2, 260, 4.64)
The Canes' leading tackler from 2012, Green has overcome two ACL tears at Miami and has seen time at both end and linebacker.

OLB Denzel Perryman (5-11, 230, 4.65)*
Despite average size for the position, Perryman flashes the athleticism and instincts needed for the next level.

FS A.J. Highsmith (6-0, 208, 4.59)
A former quarterback, Highsmith transitioned to defensive back as a sophomore and has developed into Miami's starting free safety.

P Pat O'Donnell (6-4, 222, 4.68)
A transfer from Cincinnati, O'Donnell has booming leg strength and is one of the top senior punter prospects.
Show Comments
Hide Comments
Not every draft pick can be a winner. Here are the 32 guys who could cause the most regret

Our list of late-round gems includes plenty of lesser-known backs and quality linemen

A running back going No. 2 overall? When you're being compared to Hall of Fame runner, yes
Pass rushers and explosive offensive players highlight the best Day 1 contributors

Here's every draft pick heading to the NFC West, including 21 by the Seahawks and 49ers co...

Here's every draft pick heading to the NFC South, home of the NFC's last two Super Bowl te...