2014 NFL Draft: Nebraska Preview
The Cornhuskers have been represented on draft weekend every year since 1963 and that streak should be extended after the 2014 NFL Draft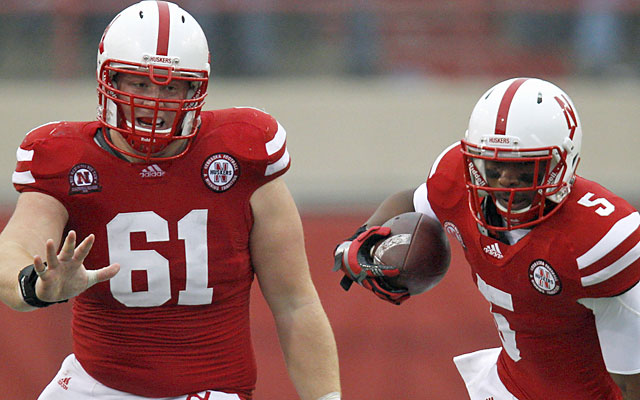 In preparation for the 2014 NFL Draft, NFLDraftScout.com will profile the top draft-eligible prospects from FBS-level programs. This summer series will run until the start of the college football season.

NEBRASKA CORNHUSKERS
NFL Draft picks the last five years: 19
2013 NFL Draft picks: 2 – RB Rex Burkhead (6th round, Cincinnati Bengals), DB Daimion Stafford (7th round, Tennessee Titans)

The Huskers haven't won a conference championship this century (last time was in 1999), but that hasn't stopped Nebraska from producing NFL prospects every single year. In fact since 1963, Nebraska has produced at least one NFL Draft pick every season, an active streak of 51 straight years. The 2013 version of the Cornhuskers on offense has the potential to be one of the best in the nation so it's no surprise that their three top NFL prospects are all on the offensive side of the ball. But the big question is on defense, will they be able to stop anybody? They lose their top five tacklers from a year ago but, then again, that might be a good thing.

Top Nebraska prospects for the 2014 NFL Draft
*Indicates underclassman

1. OG Spencer Long (6-5, 309)
For a team that relies on the run game to be successful on offense, Nebraska needs blockers like Long in the trenches who can move and also play with a chip on their shoulder. After not seeing playing time as a freshman, he started every game as a sophomore and a junior, earning Second Team All-American honors last year in 2012. Long will again be the Huskers starting right guard this fall as a senior, bringing 27 straight starts and several Preseason All-American nods to the field. He is a nasty mauler with aggressive hands and is the type of blocker who fights through the echo of the whistle and grinds on every snap. Long shows good quickness off the snap, can get to the second level and wastes little time attacking, but has stiff hips and lacks ideal flexibility when he gets out in space. Although he's not shy about engaging and getting feisty with his limbs, Long needs to do a better job staying balanced and latching on to control defenders. He isn't a household name, even in Big Ten country, but he might be the best interior blocker in the conference this season.

2. WR Kenny Bell (6-1, 185, 4.55)*
One of the top players at his position in the Big Ten, Bell is the leader of a group of wide receivers that is quietly one of the strongest in the conference. But the lack of consistency from the quarterback spot has held them back. After an impressive redshirt freshman campaign in 2011, he set new career-bests as a sophomore last season, finishing second in the Big Ten with 863 receiving yards. Bell recorded 50 catches, eight scores and averaged 17.3 yards per reception, one of the best receiving averages in the nation. He isn't physically imposing with a rail-thin frame and a narrow torso, but he does a nice job lowering his pads to absorb contact, fight through tackles and display some deceiving power. A balanced athlete, Bell does a nice job in his routes to disguise his intentions and create some room to work, especially along the sidelines. He tracks well and does a nice job catching the ball in stride with a knack for creating and making something happen after the catch. However he does have some durability concerns with his lean body type and tends to hesitate when he hears footsteps or anticipates hits. Bell adds value as a special teams performer and is also one of the better blockers on the perimeter currently at the college level, which will only help his chances in the eyes of NFL scouts.

3. RB Ameer Abdullah (5-9, 185, 4.49)*
With Rex Burkhead off to the NFL, Abdullah takes over as the full-time starting running back for the Huskers in 2013, but being the feature runner isn't a new role for him after starting seven games last season due to Burkhead's injuries. He led the team in rushing in 2012 with his first career 1,000+ yard season, finishing with 1,137 yards on the ground on 226 carries and eight touchdowns. Abdullah doesn't have ideal build to be a consistent inside runner at the next level, but he is able to pick up chunks of yards with his natural speed and active feet to wiggle his way through traffic. He displays the lateral burst to juke his way out of trouble with the vision to quickly find the hole and get north-south in a hurry. Abdullah can be manhandled as a blocker, but he doesn't shy from throwing his body around to slow down defenders in the backfield. He adds value as a return man with two career special teams scores, one on a punt return and another on a kick return. Abdullah does have some durability concerns due to his leaner-than-ideal size and a "tweaked" knee in March that caused him to miss the rest of spring practices. A Reggie Bush type of ballcarrier, Abdullah lacks a power element that could limit his role at the next level, but as long as he shows he can stay healthy, his quickness and ability to help on special teams will earn him a draft pick in either 2014 or 2015.

Other Nebraska prospects worth watching:
ATH Taylor Martinez (6-1, 200, 4.42)
The past three seasons in Lincoln, Martinez has showed little to make scouts believe he can play the quarterback position in the NFL due to inconsistent mechanics, accuracy and decision-making. But his speed and athleticism will give him a chance at the next level, possibly at a different position.

WR Quincy Enunwa (6-2, 215, 4.53)
While Kenny Bell is Nebraska's No. 1 receiving option, Enunwa is usually the second progression for the quarterback. He is coming off a career-year last season with 42 catches for 470 yards and one touchdown and brings a good mix of size and speed to do damage on the inside and out.

OT Jeremiah Sirles (6-6, 312, 5.12)
A swing tackle, Sirles has bounced between the left and right tackle spots over his career and will probably do the same as a senior, spending most of his time on the right side. He isn't the most athletic big man and does his best work in smaller areas, but he gives full effort on every play.

OG Andrew Rodriguez (6-5, 325, 5.37)
An off-and-on starter most of his career, Rodriguez moved from guard to tackle prior to last season and served as the third tackle on the roster, seeing playing time behind starters Jeremiah Sirles and Brent Qvale. He is thickly built with better feet than expected and some NFL scouts believe he's the best offensive line pro prospect on the team.

DE Jason Ankrah (6-4, 265, 4.78)
The lone returning starter on the Huskers' defensive line, Ankrah had only two sacks last season but was also asked to play a lot of snaps inside where his skill-set doesn't fit as well. He isn't the most flexible rusher and tends to play too high, but he's an athlete with quickness off the edge.

CB Ciante Evans (5-11, 185, 4.50)
Nebraska's top returning tackler from a year ago, Evans studied his craft behind Prince Amukamara and Alfonzo Dennard as a freshman before becoming a starter the past two seasons, showing consistent improvement each year. Probably Nebraska's top defensive prospect, he uses his eyes well with excellent awareness.

CB Andrew Green (6-0, 195, 4.49)
The likely starter opposite Evans, Green, who like Evans is a Texas native, emerged as a sophomore but appeared to take a step back in his development based on his junior tape. He has good size and speed, but is too hands-on in coverage and can be a liability vs. the run, struggling to properly break down and take appropriate angles.

CB Stanley Jean-Baptiste (6-2, 215, 4.59)
On paper Jean-Baptiste is the most impressive Nebraska cornerback with his height and length at the position, but so far his on-field ability has yet to catch up to expectations. A former receiver, he switched to corner prior to his sophomore season and shows potential, but still struggles with mental errors and might be fool's gold as a pro prospect.
Show Comments
Hide Comments
Our Latest Stories
Plus, prospects at Utah, Missouri and San Diego State look to make their mark on a busy Th...

Plus, two USC prospects tackle agility drills and two small-schoolers look to make their m...

In a class loaded with defensive studs, no position group is better than the corners and s...
Mitchell Trubisky is 'solid,' Takk McKinley sits and Marlon Mack 'sizzles' during Tuesday pro...

John Lynch is among the 75 NFL scouts at UNC's pro day, while the Browns are noticeably ab...

Watson, the fourth QB picked, lands in a great spot in Andy Reid's offense