2014 NFL Draft: New England Patriots spotlight
This is the fourth of a team-by-team series, analyzing five prospects that each team should consider in the 2013 NFL Draft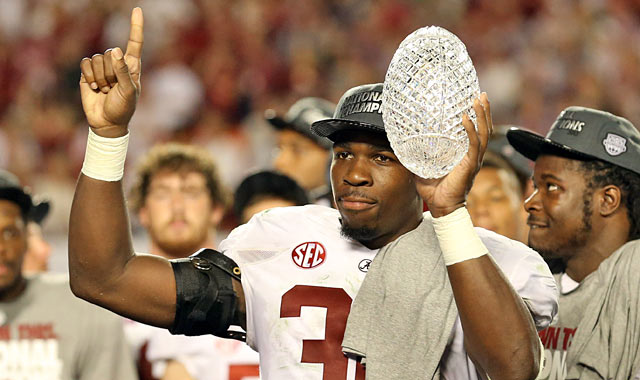 More NFL offseason: Mock Drafts | Prospect Rankings | Pro days | Top free agents
This is the fourth of a team-by-team series, analyzing five prospects each team should consider in the 2013 NFL Draft.

Despite all their success on the field, the Patriots draft classes have certainly had their share of misses over the years. But their consistency as a playoff franchise is a testament to two things: New England hitting on several key positions in the draft (Tom Brady, Vince Wilfork, Nate Solder) and the coaching job by Bill Belichick and his staff.
Belichick, who is not only the head coach, but also the final decision maker when it comes to personnel and the NFL Draft, believes in the process and admits that they will have their share of hits and misses.
"We've been right on players, we've been wrong on players, just like every other team and every other coach and every other personnel person has," Belichick said at the NFL Combine. "We do the best that we can and that's a long process that's involved."
The Patriots answered several of their offseason question marks already by re-signing WR Julian Edelman and landing free agent CB Darrelle Revis, who will replace Aqib Talib outside. But thye still have several areas that will need addressed on draft weekend.
New England Patriots' 2014 draft picks: 29, 62, 93, 130, 140, 198, 206, 244
Primary Needs: TE, DT, RB, LB, G/C
Head coach: Bill Belichick, 15th season
Five draft picks that clicked:
• TE Rob Gronkowski, 42nd overall, 2010
• OT Sebastian Vollmer, 58th overall, 2009
• WR Julian Edelman, 232nd overall, 2009
• DE Chandler Jones, 21st overall, 2012
• OT Nate Solder, 17th overall, 2011

Five players who should be on the Patriots' draft radar:
(overall rating, position rating)
LB C.J. Mosley, Alabama (23, 1): Once thought to be impossible that he could still be on the board in the late first round, Mosley has been dinged throughout the draft process with injuries, something that could make him available with the Patriots' 29th pick. He was an extension of Nick Saban on the football field at Alabama with his unwavering intensity and overall instincts and intelligence to know what the offense wanted to do before the ball was snapped. Mosley is outstanding in pass coverage, which is an area of need right now in New England, and he has the versatile skill set to play inside or outside.
TE Jace Amaro, Texas Tech (38, 2): The combination of Aaron Hernandez and Rob Gronkowski was a dangerous duo the past few years and forced defenses to prepare for two dynamic options at the tight end position. But with Hernandez behind bars and Gronkowski working his way back from a serious knee injury, tight end is high on the Patriots wish list. While Eric Ebron will be long gone before New England selects in the first round, the Patriots will likely have Amaro available for them at pick 29, who could step in as the new "move" TE. The Texas Tech star played mostly in the slot for the Red Raiders, but is a developing talent with the ability to help an offense in a lot of ways.

C Marcus Martin, USC (75, 2): With Logan Mankins not getting any younger and question marks at the other guard spot and center, the interior of the offensive line is definitely an area that could be upgraded in the draft. Martin, who doesn't turn 21 years old until November, has the versatility to play either center or guard, having started 20 games at left guard and 13 at center the past three seasons at USC. He has room to tighten his discipline and technique, but anchors well with the size and foot quickness to make an impact run blocking and protecting the pocket. Martin's best football is ahead of him and would make a lot of sense for the Patriots in Round 2.
RB Storm Johnson, UCF (174, 14): With LeGarrette Blount exiting via free agency and Shane Vereen, Stevan Ridley and Brandon Bolden all in the final years of their contracts, running back is a need area for the Patriots. And this draft class offers several quality mid-round options, like Storm Johnson. He has the pass-catching ability and overall frame to be a quality receiver and blocker with the run instincts to be a sturdy contributor in a NFL backfield. Johnson lacks elite make-you-miss ability and will try and do too much at times, but is at his best as a one-cut-and-go runner.
DB Brock Vereen, Minnesota (205, 7): Belichick and the Patriots haven't had the best luck drafting defensive backs in recent years, but that doesn't mean they should quit trying. While cornerback and safety aren't huge needs, depth is needed at both spots and a versatile player like Vereen, who played at both positions in college, would be a great fit. He is athletic, quick-footed and instinctive, showing a clear understanding of the game and knowledge of how to manipulate the field. Vereen is known as a high character player with a strong work ethic and leadership traits, plus the Patriots had decent luck the last time they drafted a Vereen (Brock is the younger brother of Shane).
Show Comments
Hide Comments
Our Latest Stories
The versatile Stanford star would wear a lot of hats in Green Bay

Michigan, California and BYU held pro days on Friday, with Davis Webb fighting a 'torrential...

Plus, prospects at Utah, Missouri and San Diego State look to make their mark on a busy Th...
Plus, two USC prospects tackle agility drills and two small-schoolers look to make their m...

In a class loaded with defensive studs, no position group is better than the corners and s...

Mitchell Trubisky is 'solid,' Takk McKinley sits and Marlon Mack 'sizzles' during Tuesday pro...