2014 NFL Draft: New York Giants Spotlight
This is the 22nd of a team-by-team series, analyzing five prospects that each team should consider in the 2013 NFL Draft.
by Rob Rang
The Sports Xchange/CBSSports.com

• 4 min read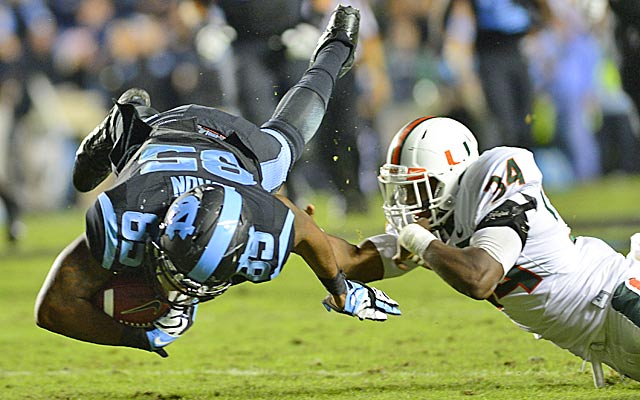 2014 NFL Draft: New York Giants Spotlight
This is the 22nd of a team-by-team series, analyzing five prospects that each team should consider in the 2013 NFL Draft.
Just a year after winning his second Super Bowl, Eli Manning suffered through the worst season of his NFL career. With better protection and a quick adjustment to new offensive coordinator Ben McAdoo's scheme, he could be on the verge of a bounce-back campaign in 2014.
At least that is the thinking of general manager Jerry Reese and head coach Tom Coughlin, who attacked the Giants' disappointing 7-9 finish by sinking millions into free agency. The Giants signed offensive linemen Charles Brown (Saints), John Jerry (Dolphins), Geoff Schwartz (Chiefs) and JD Walton (Redskins), each of whom are potential starters and 28 years-old or younger. The Giants also signed a trio of cornerbacks (including top-rated Dominique Rodgers-Cromartie), versatile edge rusher Robert Ayers and steady veteran running back in Rashad Jennings, among others.
The bounty could leave Reese and Coughlin able to address specific areas of concern early and take their trusted Best-Player-Available route in a deep draft in which plenty of potential contributors can be found.

New York Giants' 2014 draft picks: 12, 43, 74, 113, 152, 174, 187

Primary needs: TE, RB, OT, DT, WR

General manager: Jerry Reese, eighth year

Five draft picks that clicked:
• DE Jason Pierre-Paul, 15th overall, 2010
• WR Hakeem Nicks, 29th overall, 2009
• S Kenny Phillips, 31st overall, 2008
• CB Aaron Ross, 20th overall, 2007
• RB Ahmad Bradshaw, 250th overall, 2007

Five players who should be on the New York Giants' draft radar:
Player, school (overall rating, position rating)

TE Eric Ebron, North Carolina (17, 1): The Giants are looking for better protection and big-play targets for Manning, and could see Ebron as capable of helping in both areas. Before sustaining a serious injury to his back, similarly gifted tight end Jermichael Finley starred during the time he shared with McAdoo in Green Bay. Ebron is a terrific athlete with the size, agility and straight-line speed to be a mismatch nightmare. He will drop the occasional easy pass but shows good hands overall, including the ability to extend and snatch passes outside of his frame. While best known for his ability as a receiver, Ebron is physical and competitive at the point of attack. There is no question that he'd fill a significant need and is worthy of the Giants' pick. There is, however, some concern as to whether Ebron's healthy ego might clash with the old-school Coughlin.
RB Bishop Sankey, Washington (50, 2): Whereas Ebron's personality could be seen as somewhat of a risk, Sankey is mature beyond his years. Better yet from a football perspective, so is his game. Sankey starred in former UW coach Steve Sarkisian's pro-style offense, demonstrating the vision and aggression to handle inside rushing duties, as well as enough burst to beat defenders to the edge. He is a reliable pass catcher, as well, showing the hand-eye coordination to track over his shoulder on wheel routes as well as earning the team's trust as a quick outlet receiver. Stouter than he looks due to a muscle-bound frame, Sankey is also a surprisingly effective pass protector whose ability to impact the game on all three downs has earned him the top spot at running back on some scouts' boards.   
DT Ego Ferguson, LSU (75, 8): The Giants rotate their defensive line as much as anyone in the league and with the loss of Linval Joseph (and Justin Tuck), the club will be looking to add young talent up front. Despite a first name that indicates otherwise, Ferguson was overshadowed a bit by former teammate Anthony "Freak" Johnson while at LSU but was the more productive player last season -- his first as a starter. Ferguson relies on his athleticism to this point, flashing quickness and strength to zip through gaps as well as the hustle to pursue. He is far from a finished product at this point, however, struggling with leverage incorporating limited hand-technique in his play to disengage once opponents latch on. The tools are clearly in place for Ferguson to develop into a starter and the Giants have shown a willingness to draft based on upside (especially along the defensive line) before.  
WR Kevin Norwood, Alabama (135, 20): The loss of Hakeem Nicks won't necessarily force the Giants to invest in a receiver early on but with 2012 second round pick Rueben Randle struggling to live up to his potential to this point, the Giants would be wise to take advantage of this year's extraordinary depth at the position. The 6-foot-2, 198 pound Norwood did not play a featured role in Alabama's run-heavy attack but when he was called upon, he proved very reliable due to his detailed route-running, underrated athleticism and soft, dependable hands.
OT Seantrel Henderson, Miami (157, 14): By his own admission Henderson struggled with failed drug tests while at Miami and it is only because of his character red flags that he might be available deep into day three of the draft because he possesses clear first round talent. The physical prototype from a build-perspective, the 6-foot-7, 331 pound Henderson was a highly sought after prep talent who started nine games at right tackle as a true freshman. Miami may be down in talent but true freshman standing out in Coral Gables doesn't happen often. Henderson uses his long arms, balance and athleticism to ward off pass rushers and he is both powerful at the line of scrimmage and athletic enough to block effectively at the second level. With Henderson, the question clearly isn't talent and a disciplinarian like Coughlin may be able to coax it out of him.


Show Comments
Hide Comments
After a few lean years, the Wolverines are flush with NFL talent

Could McCaffrey overtake Dalvin Cook and Leonard Fournette to be the top back in the 2017...

The NFL cupboard isn't at all bare after the departure of three first-round picks
While running back will prove this year's position du jour, quarterbacks will still garner...

The fifth-year senior was viewed as a possible NFL draft pick

Myles Garrett may be the most talented player in the country