2014 NFL Draft: Philadelphia Eagles Spotlight
This is the 12th of a team-by-team series, analyzing five prospects that each team should consider in the 2014 NFL Draft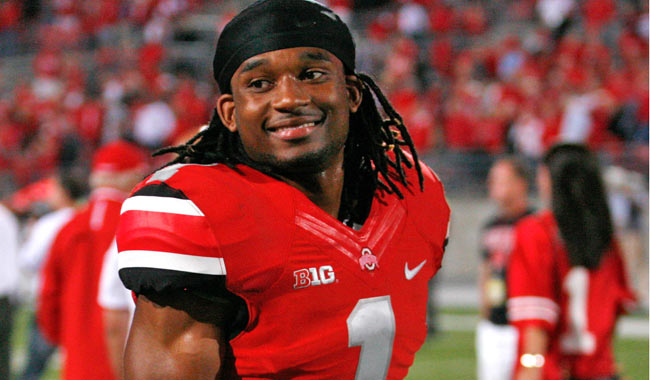 This is the 12th of a team-by-team series, analyzing five prospects that each team should consider in the 2014 NFL Draft.

In year one of the Chip Kelly era in Philadelphia, the on-field results exceeded most expectations. However, the Eagles immediate return on investment from their rookies wasn't as successful, making Kelly's first NFL Draft a question mark (and to be fair, it's too early to judge). In his second draft in a few weeks, will Kelly still go with the best player available approach? According to general manager Howie Roseman, that's exactly the philosophy they'll be following in round one on May 8.

At pick No. 22, the best player available could be a cornerback (Bradley Roby, Kyle Fuller) or pass rusher (Dee Ford, Demarcus Lawrence) or safety (Calvin Pryor, Jimmie Ward) -- all positions that need to be addressed by the Eagles. And all reasons why Philadelphia is one of the tougher teams to project in this year's first round. Could they go offense and try to find DeSean Jackson's replacement, like Brandin Cooks or Odell Beckham? Possibly.

Regardless of the players already on the roster, one thing is clear. The Eagles are interested in finding talented players who upgrade the roster, often transcending "need."

Philadelphia Eagles' 2014 draft picks: 22, 54, 86, 122, 162, 237

Primary Needs: CB, OLB, WR, OG, ILB

General Manager: Howie Roseman, 5th year
Head Coach: Chip Kelly, 2nd year

Five draft picks that clicked:
• DT Fletcher Cox, 12th overall, 2012
• QB Nick Foles, 88th overall, 2012
• C Jason Kelce, 191st overall, 2011
• WR Riley Cooper, 159th overall, 2010
• RB LeSean McCoy, 53rd overall, 2009

Five players who should be on Philadelphia's draft radar:

(overall rating, position rating)

CB Bradley Roby, Ohio State (32, 5): While Cary Williams and Bradley Fletcher are penciled in as the starting cornerbacks for the Eagles in 2014, Kelly won't pass up the chance to upgrade the position and add a player who projects as a future starter. Roby struggled to meet lofty expectations as a junior in 2013, but he has the physical tools that will likely land him in Round 1 on draft weekend. He has above average speed with smooth hips, footwork and the competitive nature to be dependable vs. the run. Roby's fell asleep at the wheel too much on tape and needs to improve his coverage anticipation, but the athletic traits make him a fit for what the Eagles want.

OLB Jeremiah Attaochu, Georgia Tech (48, 5): One could argue that the Eagles biggest need on draft weekend is an impact pass rusher and Attaochu fits the bill. He has experience in both a 3-4 and 4-3, rushing from a two and three point stance in college, and holds the Georgia Tech record for career sacks (31.5). Attaochu is very active and disruptive, using his athleticism, motor and instincts to win off the edge, collapsing inside or whatever way possible. He's still unrefined in several areas, but has some untapped potential, just turning 21 years old and not playing the sport until high school. If Attaochu is still around in the second round, the Eagles shouldn't pass on him.

OG Dakota Dozier, Furman (83, 5): The Eagles are set at guard, but Evan Mathis and Todd Herremans aren't getting any younger and a future replacement could be targeted in this year's loaded guard class. Dozier started the last four years at left tackle, but projects best inside where his athleticism translates well to the Eagles blocking scheme. A former high school wrestler, he shows grit on the field with natural body control and flexibility to square up and hold his own through the finish. Dozier needs to continue and get stronger, but has the foot quickness to block on the move and be a mobile wrecking ball, using his pad level and alert style to be successful.

WR Brandon Coleman, Rutgers (186, 26): As loaded as this class of wide receiver prospects is, it will be tough for the Eagles to find a suitable replacement for DeSean Jackson. And it wouldn't be surprising if they went in a different direction altogether and targeted a bigger target for Kelly's offense like Coleman. He has shown flashes of a Josh Gordon clone with the size and long-striding speed, but he isn't quite the same caliber of athlete and doesn't consistently play up to his size. Coleman was slowed last season due to offseason knee surgery and he's still developing in several areas, but he has the power forward size and promise as a pass-catcher to develop into a NFL starter.

LB Khari Fortt, California (159, 15): Perhaps the biggest need for Philadelphia is finding a versatile linebacker who can rush and drop into pass coverage. Fortt, one of the players who took advantage of the adjusted transfer rules for Penn State players, has the size, strength and speed desired at the position, although his instincts and feel aren't where they need to be right now. His testing numbers will boost his value, but the medicals need to check out and the mental side needs to catch up, two areas that will cause him to slip to the mid-to-late rounds. But nonetheless, he is a good value late with a skill-set to become a Perry Riley type of NFL player.
Show Comments
Hide Comments
Our Latest Stories
Plus, prospects at Utah, Missouri and San Diego State look to make their mark on a busy Th...

Plus, two USC prospects tackle agility drills and two small-schoolers look to make their m...

In a class loaded with defensive studs, no position group is better than the corners and s...
Mitchell Trubisky is 'solid,' Takk McKinley sits and Marlon Mack 'sizzles' during Tuesday pro...

John Lynch is among the 75 NFL scouts at UNC's pro day, while the Browns are noticeably ab...

Watson, the fourth QB picked, lands in a great spot in Andy Reid's offense