2014 NFL Draft: Pitt's Aaron Donald is college's most explosive DT
At 6-0, 285 pounds Donald doesn't look the part of an early-round pick in the NFL Draft but his production is too impressive for talent scouts not to notice.
by Rob Rang
The Sports Xchange/CBSSports.com

• 2 min read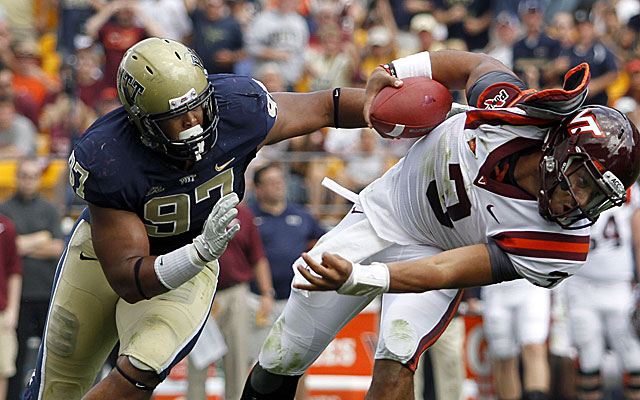 Football has always been a big man's game.
The success of "undersized" players at the skill position positions, however, and the need to disrupt quarterbacks immediately is forcing scouts to re-evaluate pass-rushers. Quickness, rather than size, is becoming a critical trait among front seven defenders, especially against spread offenses in which quarterbacks are being taught to get rid of the ball in three seconds or less.
Pittsburgh senior defensive tackle Aaron Donald could lead a squadron of gifted but size-deficient defensive tackles in the 2014 draft ready to wage war on NFL quarterbacks.
As a finalist for the Bronko Nagurski Award (nation's top defender) and a semifinalist for the Bednarik Award (nation's top defender), Outland Trophy (top interior lineman), Rotary Lombardi Award (top lineman or linebacker) and Lott IMPACT Trophy (nation's top defender), Donald is far from an unknown. 
Leading the nation with an average of 2.3 tackles for loss per game will do that for a guy.
Despite his gaudy production, fellow undersized defensive tackles Will Sutton (Arizona State) and even injured Florida standout Dominique Easley have generated as much or more NFL draft buzz than Donald simply because the Panthers' star measures in at 6-0, 285 pounds.
As Donald demonstrated against the Syracuse Orangemen Saturday, however, burst can be just as dominating as brawn.
Alternating between the two defensive tackle positions in Pittsburgh's traditional 4-3 scheme with 6-foot-2, 285-pound sophomore Darryl Render, Donald routinely split gaps in Syracuse's offensive line, ruining plays before they had any chance at success and helping the Panthers earn their sixth victory of the 2013 season.
Donald is as explosive out of his stance as any defensive tackle in the country. This burst is complemented by a terrific over-arm swim move that allows him to slip past would-be blockers in an instant.
While shorter and lighter than scouts would prefer, Donald appears to have longer arms than typical for a man of his size. These long arms give him room to maneuver as he swims through the offensive line.
It also helps him lock-out when offensive linemen attempt to drive him off the line of scrimmage in the running game, making Donald a surprisingly effective run-stuffing presence, as well as a pass rush specialist. Donald's ability to penetrate the middle even helped him block a PAT in this contest, a critical miss considering that the Panthers won 17-16. 
Blocking a kick is always impressive. Blocking a PAT is exceedingly rare because the kick is so short, giving defenders very little time to get there. Very few defenders possess Donald's quickness, however.
Donald's ability to make impact plays in virtually every situation could result in a very high selection in the draft, though cracking the first round could prove difficult. For all of the big plays Donald makes at the collegiate level, there will be plenty of scouts who simply refuse to consider a defensive tackle of his size in the first round.
As such, don't be surprised if Donald "slips" into the draft's second day.
It will be even less surprising, however, when he out-plays this selection, swimming through NFL offensive linemen to wreak havoc in the opponents' backfield. 
Show Comments
Hide Comments
Our Latest Stories
Lamp's performance continues the momentum he's created for himself throughout his senior s...

The versatile Stanford star would wear a lot of hats in Green Bay

Michigan, California and BYU held pro days on Friday, with Davis Webb fighting a 'torrential...
Plus, prospects at Utah, Missouri and San Diego State look to make their mark on a busy Th...

Plus, two USC prospects tackle agility drills and two small-schoolers look to make their m...

In a class loaded with defensive studs, no position group is better than the corners and s...