2014 NFL Draft: QB class a motley crew
Will Johnny Manziel's skills translate to the NFL? Are Louisville's Teddy Bridgewater and UCF's Blake Bortles worthy of top-10 consideration?
More NFL offseason: Mock Drafts | Prospect Rankings | Pro days | Top free agents
Presenting the 2014 NFL Draft's quarterback quagmire.
Although this draft is considered to have the best pool of talent ever, the quarterbacks offer more mystery than mastery and there is no consensus on who is No. 1. Or 2, 3 and 4 for that matter.
But there is one brilliant and unforgettable star in Texas A&M's Johnny Manziel , whose college feats are already legendary, including a Heisman Trophy as a freshman. In only two seasons he collected almost 10,000 yards of total offense and 93 touchdowns. In his first year as a starter, he introduced Texas A&M to the mighty SEC with an attack that can only be described as shock and awe.
It was a great show, but NFL teams are uncomfortable with the swashbuckling style that gave rise to his nickname Johnny Football (which he has eschewed). Although they admit admiring his act, some feel he might as well be Johnny Depp.
So, even in a league desperate for good quarterbacks, Manziel is being looked upon almost as a curiosity while worrywart coaches and scouts seek something or somebody more familiar or comfortable.
Absent a surefire franchise player, many believe the most acceptable pro prospect is Central Florida Gators 's burly Blake Bortles , who is rated No. 1 by NFLDraftScout.com, just ahead of Manziel and Louisville Cardinals 's impressive, but slight, Teddy Bridgewater .
And there are many lists that begin with Bridgewater and list Fresno State Bulldogs 's prolific and pro-ready Derek Carr ahead of all others.
Those four quarterbacks -- Bortles, Manziel, Bridgewater and Carr in some order -- are projected as first-round draft picks by NFLDraftScout.com.
Although that seems to be the top tier in this year's quarterback class, some scouts insist other names belong up there, too. Maybe they are right. Check back in three years.
NFLDraftScout.com projects six quarterbacks to be selected in the top 100. OK, make that seven in the first 101.
Considering the lack of agreement on whom should be rated where and why, here is a closer look at all 17 quarterbacks rated as draft-worthy by NFLDraftScout.com, but don't be surprised when some team dips into a pool of a dozen priority free agent prospects and spends a draft pick on somebody not listed here:
Rank/Player/School/Height/Weight/40 time/Proj. Round
1/6. *Blake Bortles, Central Florida, 6-5, 232, 4.93, 1
Of NFLDraftScout.com's trio of top 2014 quarterback prospects, Bortles is the only one with no size concerns. He can make every throw necessary, if you allow for that occasional wobbler. Teammates respond to his natural, crunch time, tough-guy, take-charge leadership. Smooth athlete who moves well, scans field, identifies secondary targets and maintains excellent geometric technique to maximize accuracy, velocity. Work ethic is reflected in film study that often pushed curfew boundaries.
Frankly: Think Ben Roethlisberger. OK, your call.
2/7. *Johnny Manziel, Texas A&M, 6-0, 207, 4.68, 1
One of the most dynamic performers in college football history must now prove he can continue his magic in a league even tougher than the SEC. He maintains flamboyant, spontaneous, vociferous style on and off the field, which concerns some who question his focus. But that's the package. After not throwing at the combine, he raised the bar on how to dazzle at a pro day workout, which was attended by former President George H.W. Bush. Otherwise, he has amazing football instincts, and a very good arm with great accuracy. Can he produce in the NFL? The honest answer is, for now, nobody really knows.
Frankly: Most entertaining and befuddling draft prospect I have ever seen. Manziel is a mesmerizing performer who defies the nitpicky scouts and coaches who point out his improprieties -- bails from pocket, doesn't throw to first open receiver, has weird hop step in delivery, carries the ball dangerously, and more. Still, Manziel manages to perform magic that would make David Copperfield proud.
3/14. *Teddy Bridgewater, Louisville, 6-2, 214, 4.79, 1
His impressive production, passing accuracy and leadership abilities helped rate him as top QB prospect by NFLDraftScout.com analysts Rob Rang and Dane Brugler and many others. But his frame seems slight and even if he bulks up, durability might be an issue as he lacks that innate feel and smooth athleticism to move in and out of pocket. But, then, that might describe Tom Brady. A low release point -- from ear height -- may become an issue against taller, athletic defensive linemen.
Frankly: A lot of respected scouts and coaches rate Bridgewater as the best quarterback prospect in this draft, so I am obviously missing something. He is not really a fluid athlete and that, combined with a frail-looking body, is a concern. Although he has excellent geometry in how he leads receivers, Bridgewater's release point is low. For a 6-foot-2 pocket passer, that is another concern.
4/28. Derek Carr, Fresno State, 6-2, 214, 4.69, 1-2
The brother of former No. 1 overall pick David Carr (Houston, 2002), but wears No. 4 in honor of Brett Favre, whose never-quit attitude he admires. Like his brother, Derek has an NFL-caliber arm, although not quite as strong as Favre's. He has better overall athleticism than either of them. In 2013 Carr led the nation in total offensive yards (4,983), total passing yards (4,866), passing yards per game (405.5), passing touchdowns (48), completions per game (35.33), touchdowns responsible for (50), total points responsible for (302) and points responsible for per game (25.2).
Frankly: Perhaps the most NFL-ready quarterback in this draft is underrated because of guilt by familial association. Derek is not David, but together they can help the younger brother avoid the mistakes of the older one. Draft Derek, sign David (now a free agent) and let them work it out.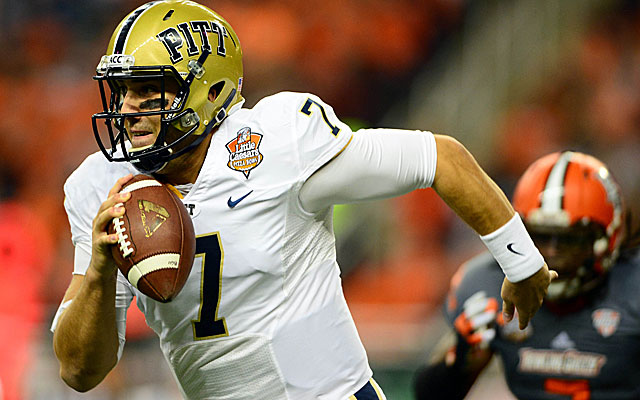 5/42. Tom Savage , Pittsburgh Panthers , 6-4, 228, 4.97, 2
Traveling Tom transferred twice (from Rutgers, Arizona) and sat out two seasons (2011, 2012) in search of optimum situation, then struggled last season on a team that didn't give him a lot of protection. Savage has excellent size and an NFL-caliber arm. It is important to know what date of game is on films because as the 2013 season progressed so did his ability to understand how to accept the check-down instead of the sack. Note this: When Savage was a freshman at Rutgers in 2010, NFLDraftScout.com rated Savage as the No. 5 quarterback in the 2014 draft.
Frankly: Big guy with a big arm who shows a grasp of the pro-style game and if he gets the time and tutoring necessary he might surprise those who lost track of him after two years out of the game. In weathering a rough start last season he showed maturity that was missing earlier career.
6/48. Jimmy Garoppolo , Eastern Illinois, 6-2, 226, 4.97, 2
Garoppolo created a buzz as he broke all of Tony Romo's career school records, as well as all of the Ohio Valley Conference passing records. Won the Walter Payton Award in 2013 after throwing for 5,050 yards and 53 touchdowns. His career totals include 13,156 yards passing, 118 touchdowns in a pass-happy, shotgun offense that has not helped prepare him for the NFL.
Frankly: Garoppolo can find receivers and fire the ball on target faster than you can say his name. Lighting release and frozen rope medium distance sideline passes are reminiscent of Dan Marino's lasers. This despite concerns about his size, short arms and small hands.
Others:
7/101. Zach Mettenberger , LSU Tigers , 6-5, 224, 5.18, 3-4
Strong arm and NFL-style experience under offensive coordinator Cam Cameron. There are concerns about character, conditioning, slow feet and he is coming off ACL injury.
8/124. AJ McCarron , Alabama Crimson Tide , 6-3, 220, 4.94, 4
Proved he is a great team leader who could run an efficient show while surrounded by great talent, but is an average athlete with an average arm.
9/140. Aaron Murray , Georgia Bulldogs , 6-1, 207, 4.84, 4
Murray is physically and mentally tough, commands respect. Nice over-the-top passing motion. Coming back from November ACL surgery. Some scouts compare him to similarly sized Drew Brees.
10/179. Logan Thomas , Virginia Tech, 6-6, 248, 4.61, 5-6
A tease in search of a tutor. Thomas has the best combination of size, speed, athleticism and arm strength among all quarterbacks in this draft. He just can't shoot straight and struggles mightily with accuracy, not a good thing for a quarterback.
11/204. David Fales , San Jose State Spartans , 6-2, 212, 4.99, 6
Well-traveled (Nevada, Monterey Peninsula College, Wyoming Cowboys ), Fales surfaced as great team leader for a new coaching staff and a squad full of newcomers. He is so likeable in every other way that some overlook his lack of arm strength.
12/232. Keith Wenning , Ball State, 6-3, 218, 5.00, 6-7
Toiled in the shadow of MAC star Jordan Lynch , who grabbed attention while leading Northern Illinois to three straight MAC championship games. Otherwise, Wenning would have been noticed for his his accuracy and field savvy as he completed 296-of-454 passes for 3,933 yards, with 34 touchdowns and only six interceptions in regular season.
13/258. * Brett Smith , Wyoming, 6-1, 205, 4.62, 7-FA
Skilled athlete and passer whose career was marred by too many losses. He set school records with 97 touchdowns, 76 passing. Against Hawaii last year he set Mountain West and Wyoming single-game records with 640 yards total offense (498 passing, 142 rushing) and eight total touchdowns (7 passing, 1 rushing).
14/270. Connor Shaw , South Carolina Gamecocks , 6-0, 206, 4.66, 7-FA
Born and raised for football, Shaw is the son of a coach, grew up next to Atlanta Falcons headquarters and loves to watch game tape. Coach Steve Spurrier calls him the best quarterback in the history of South Carolina, where he was 27-5 as a starter and set school record with 6,000 yards passing and 1,000 rushing.
15/281. Garrett Gilbert , Southern Methodist, 6-4, 221, 4.86, 7-FA
Was introduced the national audience when Texas star Colt McCoy was knocked out of BCS championship on the fifth play against Alabama at the end of 2010 season. After falling from grace at Texas, Gilbert -- the son of former Cal and NFL veteran Gale Gilbert -- resurfaced at SMU in 2012 to play for coach June Jones, former run-and-gun advocate who is brandishing a pistol offense these days. Gilbert has the physical ability, but rough college career dinged his confidence.
16/298. Tajh Boyd , Clemson Tigers , 6-1, 222, 4.84, 7-FA
Boyd is an unusual prospect whose production (107 career touchdown passes) is devalued by exclusive use of run-option offense and all that great talent that surrounded him. Well-liked by everyone, although teammates hung nickname "Fat Boy" on him for his constant battle to keep weight down.
17/314. Stephen Morris , Miami (Fla.) Hurricanes , 6-2, 213, 4.63, 7-FA
Morris has the arm strength and athleticism to deserve consideration as an NFL quarterback, but his physical performance was impacted significantly by an Achilles injury last year. Also in question are his decision making skills, especially under pressure, after poor performances and a 1-6 career record against ranked opponents.
Frank Cooney, founder and publisher of The Sports Xchange and NFLDraftScout.com, covered the NFL and the draft since the 1960s and is a selector for the Pro Football Hall of Fame.
Show Comments
Hide Comments
A diluted drug test continues recent alarming off-field concerns for talented Alabama pros...

Here are players from Air Force to Wyoming who might not be drafted but could make an NFL...

Who should the Rams take with their first pick? We break down all their options
Who should the Seahawks take with their first pick? We break down all their options

Who should the Cardinals take with their first pick? We break down all their options

Who should the 49ers take with their first pick? We break down all their options