2014 NFL Draft: Sammy Watkins, Martavis Bryant leaving for NFL
Clemson junior WR Sammy Watkins, the No. 5-rated overall prospect, and teammate Martavis Bryant will enter the 2014 NFL Draft.
by Derek Harper
The Sports Xchange/CBSSports.com

• 1 min read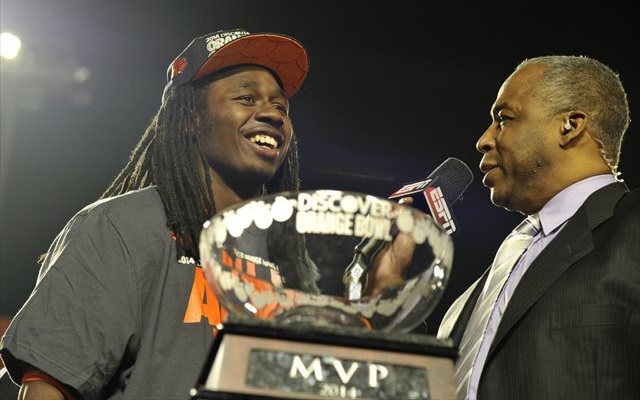 Clemson's Sammy Watkins, the top-rated wide receiver and No. 5 overall prospect according to NFLDraftScout.com ratings, will forego his final year of eligibility and enter the 2014 NFL Draft, according to a Yahoo! report. Fellow junior teammate Martavis Bryant told the Post and Courier on Sunday that he will also forego his final year of eligibility.
NFLDraftScout.com's Rob Rang has Watkins No. 5 on his Big Board, while Rang and fellow analyst Dane Brugler both currently project him to go to the Tampa Bay Buccaneers in their current Mock Drafts.
Watkins is a true junior who has 101 receptions for 1,464 yards and 12 touchdowns over three seasons. After catching 16 passes for 227 yards and two touchdowns in Friday's dramatic Orange Bowl victory over Ohio State, Watkins said the game helped "finish off my legacy here."
In evaluating Watkins, Rang wrote: "Every fan of the sport knows that there is a difference between timed speed and football speed. Football is rarely a game of straight-lines, making fluidity and general athleticism much more critical than just a 40-yard dash time. In much this same way, some receivers possess a natural ability to pluck the ball, tuck it away and accelerate in one smooth motion that makes them even greater than the sum of their parts.
"Sammy Watkins is one such receiver."
Bryant's decision is a much bigger gamble. The No. 39-rated receiver in this year's class by NFLDraftScout.com, Bryant is currently projected as a seventh round pick or priority free agent. However, Brugler expects him to performe well at next month's Scouting Combine and compares Bryant to former Jets first-round pick Stephen Hill - a physically-gifted athlete who has struggled to develop into a legitimate NFL threat.
Bryant, 6-4, 200 pounds, caught 42 passes for 828 yards and seven touchdowns in 2013, averaging 19.7 yards per reception. Two of his three catches against Ohio State went for touchdowns. Bryant averaged 30.5 yardson 10 catches as a sophomore.
Bryant told the Post and Courier in a text message Sunday, "I have decided to enter the draft, it's best for me and my family."
Show Comments
Hide Comments
Reeves-Maybin makes up for his lack of size with terrific instincts and agility

Royce Freeman leads the top draft-eligible Ducks as our countdown of the top programs rolls...

Our countdown of the top programs for NFL prospects continues with the Hurricanes
Can Max Redfield, a former five-star recruit, put it all together for his senior season?

Our countdown of the top programs for NFL prospects continues

The 'little' brother of Panthers' Star is a 6-2, 310-pound run stuffer.