2014 NFL Draft: San Diego Chargers Spotlight
This is the ninth of a team-by-team series, analyzing five prospects that each team should consider in the 2013 NFL Draft.
by Rob Rang
The Sports Xchange/CBSSports.com

• 5 min read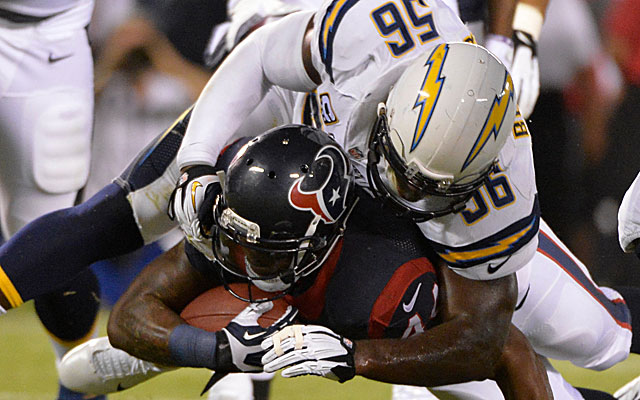 2014 NFL Draft: San Diego Chargers Spotlight
This is the ninth of a team-by-team series, analyzing five prospects that each team should consider in the 2013 NFL Draft.
The sun and surf in San Diego may have been high but after being held out of the playoffs since 2009, expectations were low for Chargers.
A dynamic young braintrust of general manager Tom Telesco and head coach Mike McCoy, however, coaxed a return to form from quarterback Philip Rivers, as well as a breakout campaign from rookie wideout Keenan Allen and the most productive NFL season yet from running back Ryan Mathews. Safety Eric Weddle remains one of the league's best and the Chargers feature two building blocks in defensive ends Corey Liuget and Kendall Reyes.
Building upon the success which helped San Diego return to the playoffs could be tougher in 2014, however, as the Chargers won't be catching anyone by surprise this year and significant holes remain at every level of the defense. San Diego finished 29th in the NFL in pass defense a season ago and considering that the AFC West division still likely runs through Peyton Manning and Denver, improving the pass rush and coverage in the deep patrol is the obvious priority for Telesco, McCoy and defensive coordinator John Pagano.
Cornerback is an obvious area of concern and could even be the team's focus with its first pick, No. 25 overall. There is at least reasonable depth at this position to allow the team to consider filling their biggest need (at least literally) at nose guard or even gambling yet again on a speedy edge rusher.
Of their three obvious needs, the talent is shallowest at nose guard, which could prompt the team to look for a big space-eater first.
San Diego Chargers' 2014 draft picks: 25, 57, 89, 125, 165, 201, 240
Primary needs: CB, DT, OLB, OG/OC, WR
General manager: Tom Telesco, second year
Five draft picks that clicked:
• WR Keenan Allen, 76th overall, 2013
• DL Kendall Reyes, 49th overall, 2012
• DL Corey Liuget, 18th overall, 2011
• ILB Donald Butler, 79th overall, 2010
• S  Eric Weddle, 37th overall, 2007
Five players who should be on the San Diego Chargers' draft radar:
Player, school (overall rating, position rating)
NG Louis Nix, Notre Dame (25, 3): While the secondary may be San Diego's greatest area of concern, the minimal depth at nose guard could make Nix a target in the first round, especially given the familiarity he may feel with former teammate Manti Te'o acclimating well out west. The loss of former starter Can Thomas to the Pittsburgh Steelers makes this literally the biggest hole in San Diego's roster, unless the team is confident in the development of youngsters Sean Lissemore and Kwame Geathers, a former seventh round pick and undrafted free agent, respectively. At 6-foot-2, 331 pounds, Nix is remarkably light on his feet and offers some pass rush ability, which the more gifted of the Chargers' current  nose guards -- the 6-foot-6, 335-pound Geathers -- does not. Nix uses his natural leverage advantage, broad shoulders and leg drive to tie up blockers on the inside and free up teammates to make big plays. It isn't difficult to imagine him as the centerpiece of what could be the stoutest defensive line in the AFC West.
OLB Trevor Reilly, Utah (66, 6): The Chargers have dedicated multiple early rounds picks to exterior pass rushers in recent years with little to show for it, tying for 23rd overall (with Tampa Bay) with 35 sacks last season. High profile free agent additions Jarrett Johnson (33 tackles, three sacks) and Dwight Freeney (two tackles, .5 sacks) provided little off the edge a season ago, which could make a versatile edge rusher like Reilly an intriguing option if still available deep into the second round. Reilly may not have a high profile from a national perspective but the 6-foot-5, 245-pounder is surprisingly nimble and an instinctive and productive defender capable of wreaking havoc off the edge or dropping back into space. The Chargers have gambled (and largely lost) on athletic edge defenders before. Reilly is a good athlete but a better football player who would fit in from a schematic and locker room perspective.     
CB Jaylen Watkins, Florida (95, 13): The Chargers could easily focus on cornerback with either (or even both) of their first picks in the 2014 draft but asking any rookie to battle against Manning and Demaryius Thomas is going to be difficult. Watkins, the half-brother of Clemson's star receiver Sammy Watkins, is a highly competitive and very athletic corner who fought past high profile teammates Loucheiz Purifoy and Marcus Roberson to emerge as Florida's most consistent defender the past two seasons. He followed that up with impressive performances at the Senior Bowl and Combine, where he proved both fast (4.41 seconds in the 40-yard dash) and strong (22 reps of 225 pounds), showing off the well-rounded game which helped him star at corner and safety for the Gators. Watkins (5-foot-11, 194 pounds) isn't a big guy but he plays with tenacity and has a proven dedication to the weight room. An NFL nutritional program could help him add another 10 pounds to his frame.
OG David Yankey, Stanford (119, 7): Given that Rivers isn't exactly fleet of foot, San Diego would be wise to continue fortifying the interior of their offensive line, especially should a blue collar behemoth like Yankey (6-foot-6, 315 pounds) still be on the board in the fourth round. Yankey starred for the Cardinal all over the offensive line, logging action at the four exterior positions. His wide frame and long arms makes it difficult to get past him in pass protection. He allowed just one sack in 42 career starts, in fact. Yankey is also very effective in the running game, showing the power to drive defenders off the ball and enough mobility to pull. Only average lateral agility once on the move limits the schemes in which he'll be most effective but for a franchise that has historically valued mass over mobility along the offensive line, Yankey would be an obvious consideration if the former Morris Trophy Award winner were available on Day Three.
WR John Brown, Pittsburg State (221, 29): Brown may have a forgettable name but his game certainly is not. Brown earned AP Little-America all-purpose player recognition each of the past three seasons, starring at wide receiver and as a returner, scoring an eye-popping 45 touchdowns in 34 starts. Brown's slight build will lead to questions about his ability to hold up in the NFL but he's proven to be tough and dependable to this point and certainly offers the agility and acceleration to provide a big play spark for a Chargers' offense lacking in this department. Brown wowed scouts at the Combine by clocking in at 4.34 seconds in the 40-yard dash and this speed translates onto the field. Given San Diego's need for a dynamic receiver to take the pressure off of Allen and tight end Antonio Gates, as well as help at kick returner, Brown makes a lot of sense as a Day Three gamble. 
Show Comments
Hide Comments
Our Latest Stories
Michigan, California and BYU held pro days on Friday, with Davis Webb fighting a 'torrential...

Plus, prospects at Utah, Missouri and San Diego State look to make their mark on a busy Th...

Plus, two USC prospects tackle agility drills and two small-schoolers look to make their m...
In a class loaded with defensive studs, no position group is better than the corners and s...

Mitchell Trubisky is 'solid,' Takk McKinley sits and Marlon Mack 'sizzles' during Tuesday pro...

John Lynch is among the 75 NFL scouts at UNC's pro day, while the Browns are noticeably ab...