2014 NFL Draft: Scherff latest star on Iowa offensive line
Hawkeyes coach Kirk Ferentz may be the most respected OL guru in college football. In junior LT Brandon Scherff, he's molded yet another high round NFL draft pick.
by Rob Rang
The Sports Xchange/CBSSports.com

• 3 min read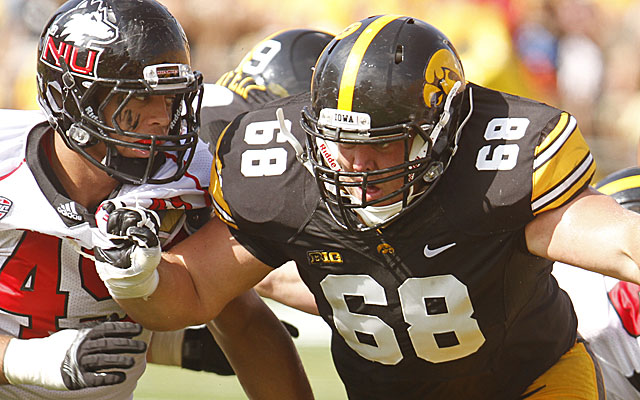 Under former NFL offensive line coach Kirk Ferentz, Iowa has become one of college football's most consistent producers of quality blockers. The school isn't necessarily viewed as a hotbed of NFL talent -- defensive back Micah Hyde was the only Hawkeye drafted last April -- but few programs have generated more top 100 picks among blockers over the past 10 years than Iowa's six.
Considering the blue-chip recruits they annually receive, perhaps it isn't surprising that established football factories like Southern Cal (nine) and Alabama (eight) lead in this category. It is also worth noting that Iowa's opponent Saturday, Wisconsin, has produced seven Top 100 offensive linemen during this time.
And yet, while the Trojans and Crimson Tide often boast terrific athletes among their offensive linemen, NFL scouts value Ferentz's pupils as they generally play with grit and excellent technique and are as reliable in the passing game as they are when run blocking.
The latest standout in Iowa's pipeline to the NFL is left tackle Brandon Scherff, a 6-foot-5, 315-pound redshirt junior whose stellar play Saturday against the Badgers outshined efforts from more highly touted skill-position standouts like teammate C.J. Fiedorowicz and Wisconsin receiver Jared Abbrederis or running backs Melvin Gordon and James White.
Scherff hasn't received the media attention of other Big Ten blockers (like Michigan's Taylor Lewan, for example), but he's earning rave reviews from scouts, who view him as one of the country's most pro-ready offensive linemen due to his size, strength and versatility.
While Scherff stars at left tackle for the Hawkeyes, he may not possess the elite athleticism NFL teams prefer as a blindside pass protector. Like many of the top-rated Hawkeye offensive linemen before him, Scherff's quickness is more functional than flashy. His pass drop from the snap is efficient and controlled rather than explosive. Further, he has strong hands to latch on and control opponents when pass blocking. Scherff's power is impressive, as he'll stop pass-rushers in their tracks, at times. He can also get himself in trouble when relying upon his strength, however, occasionally settling onto his heels rather than playing on the balls of his feet, which makes him susceptible to speed rushes upfield, as well as quick counters back to the inside. This lapse in technique led to a holding call midway through the fourth quarter.
Scherff's occasional missteps in pass protection can be corrected with more experience. He entered Saturday's contest with just 19 career starts, (15 of them at left tackle) after an ugly injury to his right leg caused him to miss the second half of the 2012 season. Scherff underwent surgery shortly after breaking his right leg and dislocating his ankle in the first half of Iowa's 38-14 loss to Penn State October 20, 2012.
Scherff is clearly recovered from the injury and while there are still wrinkles to be ironed out in pass protection, no such problems exist with his ability to run block.
His upper body strength, along with proper hand placement and good knee bend, make Scherff a force in the running game. Iowa ran power plays behind their star left tackle often against the Badgers, including on multiple short-yardage runs. While not every run resulted in a positive gain for the Hawkeyes, Scherff graded out exceptionally well, pancaking defensive linemen and releasing to the second level to dominate a Wisconsin linebacker corps missing senior leader Chris Borland (who was out with a hamstring injury). 
Considering his limited experience, Scherff entered the year ranked relatively cautiously by NFLDraftScout.com and he very well may elect to return to Iowa in 2014.
Given that he has already missed half a season with a significant injury, however, it wouldn't be surprising to see the talented offensive lineman elect continue Iowa's pipeline of offensive linemen to the NFL sooner rather than later. Should he do so, a spot among the draft's top 50 picks is likely.
Show Comments
Hide Comments
Our Latest Stories
Michigan, California and BYU held pro days on Friday, with Davis Webb fighting a 'torrential...

Plus, prospects at Utah, Missouri and San Diego State look to make their mark on a busy Th...

Plus, two USC prospects tackle agility drills and two small-schoolers look to make their m...
In a class loaded with defensive studs, no position group is better than the corners and s...

Mitchell Trubisky is 'solid,' Takk McKinley sits and Marlon Mack 'sizzles' during Tuesday pro...

John Lynch is among the 75 NFL scouts at UNC's pro day, while the Browns are noticeably ab...