2014 NFL Draft: Texas A&M Preview
Johnny Manziel might get all of the headlines but he's far from the only intriguing NFL prospect at College Station. In fact, a handful of Aggies are likely to earn higher grades from scouts, including new left tackle Jake Matthews, NFLDraftScout.com's top-rated senior prospect.
by Rob Rang
The Sports Xchange/CBSSports.com

• 6 min read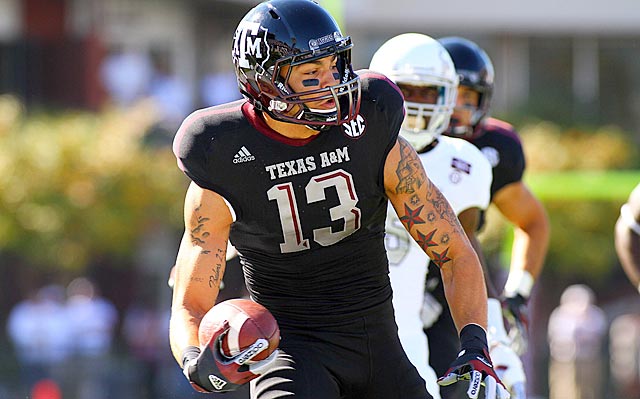 In preparation for the 2014 NFL Draft, NFLDraftScout.com will profile the top draft-eligible prospects from FBS-level programs. This summer series will run until the start of the college football season.

TEXAS A&M AGGIES
A season ago, Texas A&M entered the SEC a curiosity to the long-time members of the conference. With the reigning Heisman Trophy winner Johnny Manziel leading them, the Aggies enter their second season in the SEC as not only a curiosity but as a legitimate contender for the conference crown. 
Johnny Football might be the most well-known of the Aggies' athletes to fans and the media, but scouts see a roster full of future NFL prospects, including several who are likely to earn more interest on draft day than the exciting dual-threat quarterback.
NFL Draft picks the last five years: 13

2013 NFL Draft picks: Five -- OT Luke Joeckel (Jacksonville Jaguars, first round), RB Christine Michael (Seattle Seahawks, second round), DE Damontre Moore (New York Giants, third round), OLB Sean Porter (Cincinnati Bengals, fourth round), WR Ryan Swope (Arizona Cardinals, sixth round)

Top Texas A&M prospects for the 2014 NFL Draft
* Indicates underclassman

1. OT Jake Matthews (6-5, 308, 5.08)*
Some league insiders suggest that the reason why the Kansas City Chiefs ultimately elected to take Eric Fisher over Luke Joeckel with top pick of the 2013 NFL Draft is that the team wasn't convinced that the left tackle was even the best offensive lineman on his own college team.
The son of Hall of Famer Bruce Matthews, Jake signed with A&M as a higher regarded prep prospect than Joeckel in 2010. Each started every game the past three seasons, with Joeckel emerging as the team's left tackle and Matthews lining up on the strongside. Matthews could have joined Joeckel as a high first round choice a year ago but elected to come back to College Station for his senior campaign.
In making the switch to left tackle in 2013, he has a chance to significantly boost his stock.
Matthews is not as smooth in pass protection as his former teammate, which makes his transition to the left side a fascinating one. While perhaps not an elite athlete, he plays with the technique and tenacity to make his father proud, controlling opponents with good initial quickness, excellent knee bend and balance and terrific upper-body strength.
As the blindside protector for the reigning Heisman Trophy winner, the spotlight doesn't get much brighter than the one locked on Matthews this season. Three all-conference campaigns suggest that Matthews will more than hold up to the challenge. He enters the 2013 season as NFLDraftScout.com's top-rated prospect on the offensive side of the ball and second overall only to South Carolina superstar Jadeveon Clowney.
 
2. WR Mike Evans (6-4, 225, 4.58)*
With only one season of play at the collegiate level, Evans established himself as one of the elite receivers in the country. With a second dominant campaign, he might have to consider making the early jump to the NFL, especially if Manziel makes the jump.
So few big receivers actually use their greater size and strength to their advantage but Evans did precisely that against SEC competition as a redshirt freshman in 2013, leading the team with 82 catches for 1,105 yards and five scores. Evans uses his NFL-ready frame to fight through press coverage, box out defenders on jump balls and provide excellent downfield blocking for teammates. He possesses excellent body control and sticky hands to make difficult receptions. Evans challenges cornerbacks to tackle him, initiating the contact and, at times, dragging would-be tacklers for extra yardage. Evans does not possess elite speed but he is a smooth accelerator who can sneak past corners to make big plays down the field.

3. OT Cedric Ogbuehi (6-5, 300, 5.15)*
Whereas Joeckel and Matthews were exceptionally highly regarded prospects dating back to their prep days, Ogbeuhi choice the Aggies over just a handful of other offers and redshirted in 2009. He earned the starting job at right guard a year later but suffered an ankle injury in his first game (Arkansas) and missed the next three contests, ultimately playing in 10 games and starting six. Noticeably stronger, Ogbeuhi (pronounced ah-BOO-hee) took his game to another level in 2012, forming a devastating right side of the offensive line with Matthews.
With Matthews flipping to the left side to take over for Joeckel, the Aggies are moving Ogbeuhi to the outside. While there is risk involved any time a player is asked to change positions, Ogbuehi appears well-suited to playing tackle, possessing long arms, light feet and excellent balance. He'll need to prove the ability to handle speed rushers off the corner, of course, but Ogbeuhi's athleticism in pass protection and while blocking on the move is obvious. In the long run, his time at guard could serve him well, as he'll be more accustomed to the physicality of close quarters -- something that many rookie offensive tackles struggle with in their first year in the NFL.
4. QB Johnny Manziel (6-0, 208, 4.45)*
It might seem hard to believe now, but only a year ago a considerable portion of Texas A&M fans were concerned as to who might replace Ryan Tannehill at quarterback.
With arguably the greatest debut in the history of college football, however, Manziel erased any doubts as to the future of the program, breaking the SEC record with 5,116 total yards and accounting for 43 touchdowns en route to becoming the first freshman to ever win the Heisman Trophy.
History says a fully trophy closet is just as likely to lead to an inflated ego as to success in the NFL, however, which is one of the many reasons that Manziel enters his redshirt sophomore campaign as one of the more polarizing prospects in the country.
Manziel is an extraordinary athlete, which makes him an intriguing prospect for any team cognizant of the way the NFL appears to be shifting towards dual-threat quarterbacks. Shorter and possessing less-than-ideal arm strength, however, he is not the elite prospect than his highlight clips might lead you to believe. And that isn't even taking into account his numerous off-field concerns, including the signature flap that will keep him sidelined for the first half of A&M's opener Saturday against Rice.
NFLDraftScout.com's Dane Brugler and I explore Manziel's potential draft stock more closely here.
 
Other Texas A&M prospects worth watching:
OLB Steven Jenkins (6-2, 224, 4.65)
Jenkins was overshadowed a bit by Damontre Moore and Sean Porter a season ago but the cat-quick linebacker recorded a career-high 79 tackles, including 5.5 for loss and two sacks in his first extended action as a starter with the Aggies. Jenkins signed with the team in 2011 after a successful JUCO stop at Coffeyville Community College in 2010, starting six of the final seven games in his first season at College Station. While undersized, Jenkins shows good instincts and very good athleticism. He's making the switch to No. 8 this season after previously wearing No. 45.
CB Deshazor Everett (6-0, 182, 4.63)*
While Manziel was certainly the new starter that A&M fans will remember most fondly, Everett enjoyed quite the breakthrough performance himself in 2012, splitting starts between cornerback and safety to get the starting nod in 12 games and coming through with 56 tackles, 3.5 tackles for loss and two interceptions, including one late vs. A.J. McCarron and Alabama to help seal the Aggies' win. Scouts like Everett's size and physicality but his straight-line speed is questionable. Furthermore, Everett comes with some off-field baggage. He'll miss the first half of the Aggies' opener against Rice as he was suspended for taking part in a fight during the off-season.
RB Ben Malena (5-08, 198, 4.54)
After serving as the backup to future NFL-picks Cyrus Gray and Christine Michael throughout much of his career, Malena emerged in 2012 as A&M's best all-purpose back, recording 919 yards, including 808 on the ground. Malena's production is tied into the Aggies' offense but scouts can't help but be intrigued by his vision and burst. 
Show Comments
Hide Comments
Not every draft pick can be a winner. Here are the 32 guys who could cause the most regret

Our list of late-round gems includes plenty of lesser-known backs and quality linemen

A running back going No. 2 overall? When you're being compared to Hall of Fame runner, yes
Pass rushers and explosive offensive players highlight the best Day 1 contributors

Here's every draft pick heading to the NFC West, including 21 by the Seahawks and 49ers co...

Here's every draft pick heading to the NFC South, home of the NFC's last two Super Bowl te...