2014 NFL Draft: The rookies most likely to succeed
The offensive rookie likely to have the most significant impact in the NFL next season? Tackle Jake Matthews has the bloodlines, talent and opportunity to make an immediate difference for the Falcons.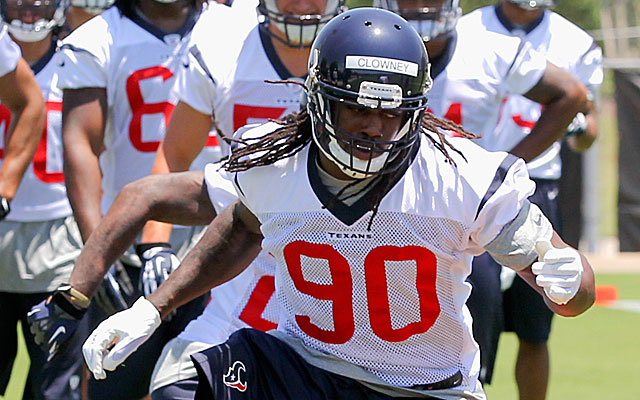 More Draft coverage: 2015 Mock Drafts | 2015 Top 100 | 2014 Draft Grades | News
With the 2014 NFL Draft in the rearview mirror, all the energy that went into projecting prospects and determining team needs is being channeled into the usual "what-now?" scenarios.
Even as they are just signing their first NFL contracts and showing up at rookie camps this week, the draftees maintain media celebrity status as guesstimates are made about who among them will win some of the various Rookie of the Year awards. It is as if this most hyped draft in NFL history has so much momentum it cannot end.
Among the most popular predictions are for offensive and defensive rookie of the year honors. And, as predictions go, they are predictable.
The most oft-named OROY players are wide receivers Mike Evans ( Tampa Bay Buccaneers , No. 7 overall out of Texas A&M), Sammy Watkins ( Buffalo Bills , No. 4, Clemson), Odell Beckham ( New York Giants , No. 12, LSU) and running back Bishop Sankey ( Tennessee Titans , No. 54, Washington), the latter a second-round pick.
Despite attempts at logical explanations for these choices, we're not buying any of it. They overlook the obvious. All those receivers, backs, as well as tight ends and even quarterbacks, rely on somebody else to help them perform. Somebody must pass, catch, block for them.
As long as we are guessing, the obvious preseason pick as rookie most likely to succeed this season is offensive tackle Jake Matthews, taken No. 6 overall by the Atlanta Falcons out of Texas A&M.
Aside from that remarkable gene pool that gave him a good start, including Hall of Fame father Bruce, Jake Matthews doesn't need help to step in as an offensive lineman and do a great job. He is big, strong, technically superior and ready to plug-and-play at one of the most important positions in the NFL.
He gets the nod here over offensive tackle Greg Robinson, taken No. 2 overall by the St. Louis Rams out of Auburn, because Matthews is simply more advanced. Robinson may eventually be better, but in the 2014 season Matthews projects as the most likely to succeed among all offensive rookies.
On defense the names most often offered as potential ROY are Jadeveon Clowney, the freakish pass rusher out of South Carolina taken by the Houston Texans with the No. 1 pick, outside linebacker Khalil Mack ( Oakland Raiders , No. 5, Buffalo) and inside linebacker C.J. Mosley ( Baltimore Ravens , No. 17, Alabama).
On this one we cannot go against the freak or force of nature -- Clowney.  Put him on the same defensive front as former NFL defensive Player of the Year J.J. Watt and offenses are going to have hell to pay.
Now that is settled, maybe that circus that was the 2014 NFL Draft will go away? Nah. Never. According to certain critics, we must track this draft in perpetuity for the sake of historical perspective.
As usual, immediately after the draft, various media assigned grades to teams based on subjective theories of success. It is a decades-old tradition that almost always includes a disclaimer that states that the truth about this draft will not really be known for at least three years.
But despite the prevalence of that widely understood disclaimer, one popular media critic went out of his way to emphasize that such grades are "meaningless" and it is "ludicrous to try to grade draft classes" even before the players have participated in a workout.
Formerly a lawyer, this critic admonishes the public for encouraging such ridiculous post-draft silliness and seems to desire a cease and desist on such valuations until the reality is obviated years in the future.
Get real. First, after months of projecting players and evaluating team needs, nobody needs to offer disclaimers or excuses for attempting give some perspective -- however subjective -- on the resulting draft. In fact, after such a monumental buildup, it would be remiss not to somehow assess the results in the immediate aftermath of the event.
That is no more ludicrous than any of numerous other traditions in sports -- such as predicting champions in the preseason before we know what injuries and other catastrophic events will impact teams in a given season.
Are we to believe that the media should report in the preseason which team won the Super Bowl three years earlier? Imagine how the current Twitter-time audience would clamor for such insight.
Get it here: We predict the past.
Notes, quotes and anecdotes
Sam-I-am: After he was selected in the seventh round by the Rams, outside linebacker Michael Sam, the first openly gay draftee in NFL history, said he just wanted to be judged as a football player.
Of course that ship already sailed when he came out and immediately became the poster child, as it were, for all who desire a politically, socially and intellectually correct world.
But he and the Rams forged forward with all good intentions.
Wednesday it was announced that Sam would star in a reality series on the Oprah Winfrey Network that "spotlights the former University of Missouri football player and historic journey as he prepares to enter the biggest professional sports league in America." But the producers said Friday that project would be postponed.
Probably a good thing. Rams coach Jeff Fisher said that he would offer no special treatment to Sam in regards to making the team. And that should not be a gimme for a player selected with the 249th pick.
"We picked him within the process and we're going to reduce this roster within the process," Fisher said in response to a question asked by The Sports Xchange's Howard Balzer. "So I don't see that being an issue."
But St. Louis reporter Bernie Miklasz is quick to point out that Sam's chances are not as dim as some have suggested. Writes Miklasz:
"Fisher had 16 full seasons as head coach with the Oilers/Titans and had 25 seventh-round picks over that time. ... Eight of the 25 started at least 17 regular-season NFL games. Six had 25 or more starts. ... Six were primary starters at their positions for two or more seasons."
Also SI.com's Peter King pointed out: of the 53 players on the Rams' opening-day roster last season, 18 entered the league undrafted, and another three were seventh-round picks.
San Francisco 49ers ' QB carousel: When the 49ers signed Josh Johnson this week, he not only became the fifth quarterback on the current roster, but the 25th quarterback transaction, involving 13 players, since head coach Jim Harbaugh was hired in 2011.
So, although general manager Trent Baalke has the final word on all other roster spots, Harbaugh takes seriously his ability to make the decision on all things quarterback.
The current depth chart -- or as of Friday -- includes quarterbacks Colin Kaepernick , Blaine Gabbert , McCleod Bethel-Thompson, Kory Faulkner and Johnson.
The San Francisco Chronicle dutifully reports that this is not the first time Harbaugh listed five quarterbacks on the roster. Last summer the 49ers signed Seneca Wallace and had five quarterbacks for 10 days.
Of Harbaugh's 13 quarterbacks with the 49ers, four were waived after spending less than a month. Only three lasted more than a year.
Still after all the changes, Kaepernick and the departed Alex Smith threw all but two of the team's 1,304 passes. Kicker David Akers and quarterback Colt McCoy threw the other two.
Here is The Chronicle's chronology on this QB carousel:
4/29/11: Traded the No. 45, No. 108 and No. 141 picks in exchange for the Denver Broncos ' No. 36 pick.
4/29/2011: Selected Nevada's Colin Kaepernick with the No. 36 overall pick.
7/27/11: Signed Jeremiah Masoli.
7/28/11: Signed McLeod Bethel-Thompson.
7/29/11: Signed free-agent Alex Smith to a one-year contract.
8/22/11: Waived Masoli.
8/17/2011: Signed Josh McCown .
9/3/11: Waived McCown and Bethel-Thompson.
9/4/11: Claimed Scott Tolzien off waivers from San Diego Chargers .
3/22/12: Signed Josh Johnson.
8/31/12: Waived Johnson.
3/12/13: Traded Alex Smith to the Kansas City Chiefs for a 2013 second-round pick and a conditional 2014 second-round pick.
4/2/13: Acquired Colt McCoy and a 2013 sixth-round pick from the Cleveland Browns for a 2013 fifth- and seventh-round picks.
4/27/13: Drafted South Florida's B.J. Daniels in the seventh round.
8/22/13: Signed Seneca Wallace.
8/26/13: Waived Tolzien.
8/31/13: Waived Wallace.
10/1/13: Waived Daniels.
10/2/13: Signed John Skelton .
10/4/12: Daniels was signed by the Seattle Seahawks on Oct. 3.
10/9/13: Waived Skelton.
10/9/13: Claimed Bethel-Thompson off waivers from Minnesota Vikings .
11/16/13: Waived Bethel-Thompson.
11/17/13: Signed Bethel-Thompson to the practice squad.
3/11/14: Acquired Blaine Gabbert from the Jacksonville Jaguars in exchange for a 2014 sixth-round pick.
5/12/14: Signed Kory Faulkner.
5/14/14: Signed Johnson.
Date TBA: Next?
Frank Cooney, founder and publisher of The Sports Xchange and NFLDraftScout.com, has covered the NFL and the draft since the 1960s and is a selector for the Pro Football Hall of Fame.
Show Comments
Hide Comments
Get ready to start hearing a lot about Sam Darnold and Josh Rosen

Plus Seahawks eschew needs on the line and Rams seek help for Goff as we hand out NFC West...

Plus Saints and Falcons load up on defense as NFC South gets a massive boost in talent
Lions draft for now, Packers run down their checklist and Vikings find a runner in our NFC...

Plus Giants do a lot with a little and Eagles and Redskins face durability concerns in our...

Plus Broncos and Chargers help their QBs while Raiders gamble big in our AFC West grades