2014 NFL Draft: Top UDFA talent available
With the dust of 256 picks in the 2014 NFL Draft settled, the frenzy of undrafted rookie free agent signings is in fifth gear. Here are the top-rated players still available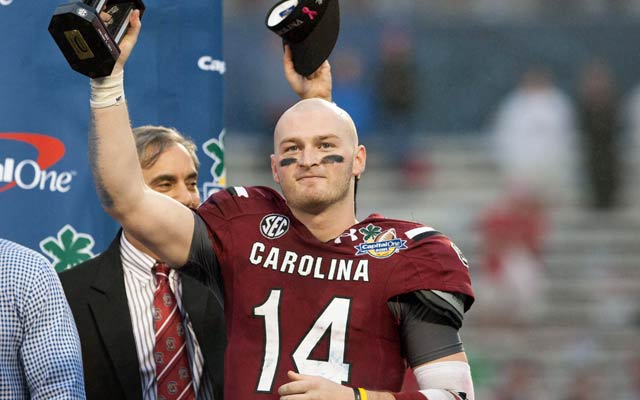 Draft coverage: Draft picks and grades | Prospect Rankings | Mock drafts | News
This post does not reflect post-draft signings.
With the dust of 256 picks in the 2014 NFL Draft settled, the frenzy of undrafted rookie free agent signings is in fifth gear.
For most prospects, not getting drafted is the best outcome because it enables them to pick and choose from several teams that will likely court them as free agents. For example, Kenbrell Thompkins had several free agent offers last year, but chose to sign with the New England Patriots because of the lack of wide receiver depth on the roster and he was a pleasant surprise for the Patriots offense.
Here's a look at the top undrafted free agents in the 2014 class: 
1. OT Antonio Richardson, Tennessee
Due to strong durability concerns, mostly to his knee and hip, Richardson was removed from most draft boards around the league. He needs technique work, but when healthy Richardson has the natural size, length and movement ability to play at a NFL level.
2. CB Marcus Roberson, Florida
Watching him on tape, Roberson mirrors well in coverage with the short-area quickness and natural instincts needed to play the position at a high level. But injuries and a few character concerns have plagued him and with lethargic technique, he was left undrafted.
3. OLB Christian Jones, Florida State
Jones played multiple positions in college, but begs the question, is he versatile or lacking a true position? He played both inside and outside linebacker as an underclassmen before seeing snaps as a hand on the ground defensive end, but injuries hurt his value.
4. DE Jackson Jeffcoat, Texas
The Big 12's Co-Defensive Player of the Year in 2013, Jeffcoat didn't quite have the collegiate career that most thought as a much ballyhooed recruit, but he put together a strong senior year. He has NFL bloodlines, but lacks functional strength or traits that separate himself.
5. DT Kelcy Quarles, South Carolina
A player who was in the news the last few months, Quarles has draftable talent but also several off-field incidents on his resume that certainly affected his draft stock. On the field, he can be a disruptive interior presence, but the "other" things were too much to overlook.
6. CB Rashaad Reynolds, Oregon State
A hair under 5-10 and 190 pounds, Reynolds doesn't look like much, but has the twitchy quickness and footwork to mirror receivers. But his lack of long-speed was a question mark as well as his struggles vs. the run and blockers.
7. ILB Shayne Skov, Stanford
The tone-setter of the Stanford defense, Skov showed gradual improvements the past two seasons after missing the 2011 season due to torn ligaments in his left knee. With his reckless style and violent approach, Skov beat up his body enough that the durability questions left him undrafted. 
8. DE James Gayle, Virginia Tech
Another prospect with medical red flags, Gayle had double-digit tackles for loss each of the last three seasons and has some NFL potential as a nickel rusher. But has the reputation as a little bit of a loose cannon and the durability concerns teams.
9. FS Dion Bailey, Southern Cal
One of the few underclassmen from USC not to hear his name called, Bailey played both strong-side linebacker and strong safety and projected as a tweener type. He missed parts of 2013 with a hip issue and his raw instincts hurt is next level value.
10. DT Anthony Johnson, LSU
A big-time recruit in Louisiana, Johnson had a very nondescript college career and struggled to live up to the massive hype. He could have used another year of seasoning at LSU as he is still very raw with his technique - not yet the sum of his parts.

QUARTERBACK
1. Connor Shaw, South Carolina (6-0, 206)
2. Brett Smith, Wyoming (6-1, 205)
3. Stephen Morris, Miami (6-2, 213)
4. Bryn Renner, North Carolina (6-3, 228)
5. Dustin Vaughan, West Texas A&M (6-5, 235)

RUNNING BACK
1. Isaiah Crowell, Alabama State (5-11, 224)
2. Rajion Neal, Tennessee (5-11, 220)
3. LaDarius Perkins, Mississippi State (5-7, 195)
4. David Fluellen, Toledo (5-11, 224)
5. Senorise Perry, Louisville (6-0, 206)

WIDE RECEIVER
1. Brandon Coleman, Rutgers (6-6, 225)
2. L'Damian Washington, Missouri (6-4, 195)
3. Mike Davis, Texas (6-0, 197)
4. Torrence Allen, West Texas A&M (6-0, 183)
5. Chandler Jones, San Jose State (5-9, 183)

TIGHT END
1. Jake Murphy, Utah (6-4, 249)
2. Blake Annen, Cincinnati (6-4, 247)
3. A.C. Leonard, Tennessee State (6-2, 252)
4. Marcel Jensen, Fresno State (6-6, 259)
5. Colt Lyerla, Oregon (6-4, 242)

OFFENSIVE TACKLE
1. Antonio Richardson, Tennessee (6-6, 336)
2. Matt Patchan, Boston College (6-6, 302)
3. James Hurst, North Carolina (6-5, 296)
4. Cornelius Lucas, Kansas State (6-8, 316)
5. Kevin Graf, USC (6-6, 303)

OFFENSIVE GUARD
1. Anthony Steen, Alabama (6-3, 314)
2. Ryan Groy, Wisconsin (6-5, 316)
3. Josh Walker, Middle Tennessee State (6-6, 320)
4. Andrew Norwell, Ohio State (6-6, 315)
5. Brian Clarke, Bloomsburg (6-2, 299)

CENTER
1. Gabe Ikard, Oklahoma (6-4, 304)
2. Tyler Larsen, Utah State (6-4, 313)
3. Jonotthan Harrison, Florida (6-4, 304)
4. James Stone, Tennessee (6-4, 306)
5. Matt Armstrong, Grand Valley State (6-2, 302)

DEFENSIVE END
1. Jackson Jeffcoat, Texas (6-3, 247)
2. James Gayle, Virginia Tech (6-4, 259)
3. Ethan Westbrooks, West Texas A&M (6-4, 267)
4. Josh Mauro, Stanford (6-6, 271)
5. Kerry Wynn, Richmond (6-5, 266)

DEFENSIVE TACKLE
1. Kelcy Quarles, South Carolina (6-4, 297)
2. Anthony Johnson, LSU (6-3, 308, 5.22)
3. Deandre Coleman, California (6-5, 314)
4. George Uko, USC (6-3, 284)
5. Zack Kerr, Delaware (6-1, 326)

OUTSIDE LINEBACKER
1. Christian Jones, Florida State (6-3, 240)
2. Howard Jones, Shepherd (6-3, 235)
3. Adrian Hubbard, Alabama (6-6, 257)
4. Carlos Fields, Winston-Salem State (6-1, 238)
5. Derrell Johnson, East Carolina (6-2, 257)

INSIDE LINEBACKER
1. Shayne Skov, Stanford (6-2, 245)
2. Brock Coyle, Montana (6-1, 235)
3. Max Bullough, Michigan State (6-4, 249)
4. Glenn Carson, Penn State (6-3, 238)
5. James Morris, Iowa (6-1, 241)

CORNERBACK
1. Marcus Roberson, Florida (6-0, 191)
2. Rashaad Reynolds, Oregon State (5-10, 189)
3. Chris Davis, Auburn (5-10, 202)
4. Loucheiz Purifoy, Florida (6-0, 190)
5. Carrington Byndom, Texas (5-11, 177)

FREE SAFETY
1. Dion Bailey, USC (6-0, 201)
2. Kenny Ladler, Vanderbilt (6-0, 207)
3. Jeremy Deering, Rutgers (6-1, 209)
4. Pierre Warren, Jacksonville State (6-0, 194)
5. Robert Nelson, Arizona State (5-10, 175)

STRONG SAFETY
1. Craig Loston, LSU (6-1, 217)
2. Daniel Sorensen, BYU (6-1, 205)
3. Isaiah Lewis, Michigan State (5-10, 211)
4. Alden Darby, Arizona State (5-10, 194)
5. Jerry Gates, Bowling Green (5-11, 203)
Show Comments
Hide Comments
Our Latest Stories
Mitch Trubisky just misses the cut in a top 10 loaded with eight defensive prospects

There are 95 early entrees for the 2017 NFL Draft

Colorado's long, lean linebacker and a stocky Pitt pass rusher are among the intriguing pr...
A trio of intriguing passers -- including an Ivy Leaguer -- will make their case to NFL te...

After a crushing loss to the Packers, it's on to draft season for Jerry Jones

Despite the Browns going defense, two quarterbacks and two running backs still make the top...