2014 NFL Draft: Underclassmen Tracker
With the season winding down, draft-eligible underclassmen will soon make their intentions known about returning to school or entering the 2014 NFL Draft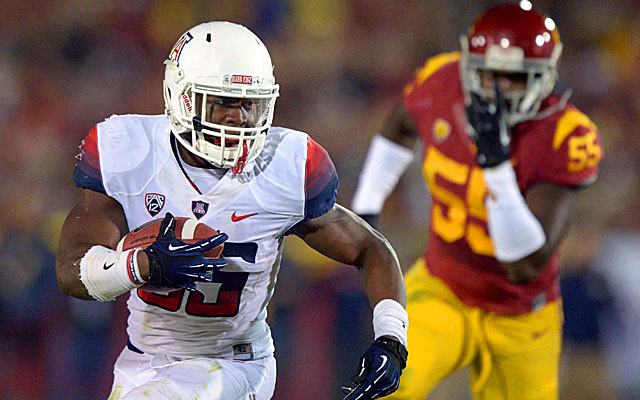 More Draft: NFL Mock Drafts | Prospect Rankings | Latest news | Underclassmen
With the season winding down, draft-eligible underclassmen will soon make their intentions known about returning to school or entering the 2014 NFL Draft. Last season a record 73 underclassmen were granted eligibility, surpassing the previous high (65), which was set the year prior.

In order to declare early for the NFL Draft, a prospect must meet the league's three-year eligibility requirement and submit a written application to renounce his remaining college football eligibility. The deadline for underclassmen to declare is Jan. 15, 2014.

The following underclassmen have announced they will forego their collegiate eligibility and enter the 2014 NFL Draft (by position):

QB Teddy Bridgewater, Louisville (QB #1, Overall #3) Blog
QB Blake Bortles, UCF (QB #2, Overall #6) Blog
QB Johnny Manziel, Texas A&M (QB #3, Overall #9) Blog
QB Brett Smith, Wyoming (QB #5, Overall #57) Blog

RB Ka'Deem Carey, Arizona (RB #1, Overall #41)
RB Tre Mason, Auburn (RB #2, Overall #49) Blog
RB Bishop Sankey, Washington (RB #3, Overall #56) Blog
RB Lache Seastrunk, Baylor (RB #4, Overall #66) Blog
RB Devonta Freeman, Florida State (RB #7, Overall #95)
RB Jeremy Hill, LSU (RB #8, Overall #106)
RB Terrance West, Towson (RB #9, Overall #124) Blog
RB James Wilder, Florida State (RB #12, Overall #152) Blog
RB De'Anthony Thomas, Oregon (RB #18, Overall #203)
RB Storm Johnson, UCF (RB #19, Overall #220)
RB Kapri Bibbs, Colorado State (RB #20, Overall #240)
RB Isaiah Crowell, Alabama State (RB #23, Overall #299) Blog
RB Brendan Bigelow, California
RB Jerome Smith, Syracuse (RB #24, Overall #311)
RB George Atkinson III, Notre Dame (RB #25, Overall #332)
RB Adam Muema, San Diego State (RB #26, Overall #343)
RB Henry Josey, Missouri (RB #37, Overall #495)
RB Darrin Reaves, UAB (RB #42, Overall #552)

WR Sammy Watkins, Clemson (WR #1, Overall #5) Blog
WR Mike Evans, Texas A&M (WR #2, Overall #13) Blog
WR Marqise Lee, USC (WR #3, Overall #17) Blog
WR Kelvin Benjamin, Florida State (WR #4, Overall #24) Blog
WR Allen Robinson, Penn State (WR #5, Overall #31) Blog
WR Odell Beckham, LSU (WR #6, Overall #33) Blog
WR Brandin Cooks, Oregon State (WR #7, Overall #35) Blog
WR Jarvis Landry, LSU (WR #9, Overall #50) Blog
WR Davante Adams, Fresno State (WR #10, Overall #52)
WR Paul Richardson, Colorado (WR #11, Overall #59) Blog
WR Martavis Bryant, Clemson (WR #12, Overall #71) Blog
WR Bruce Ellington, South Carolina (WR #13, Overall #74)
WR Donte Moncrief, Mississippi (WR #16, Overall #103)
WR Brandon Coleman, Rutgers (WR #17, Overall #115)
WR Cody Latimer, Indiana (WR #21, Overall #146)
WR Josh Stewart, Oklahoma State (WR #31, Overall #236)
WR Austin Franklin, New Mexico State (WR #48, #Overall #425)
WR Chris Boyd, Vanderbilt (WR #51, Overall #444) Blog
WR Willie Snead, Ball State (WR #64, Overall #527)

TE Eric Ebron, North Carolina (TE #1, Overall #16) Blog
TE Jace Amaro, Texas Tech (TE #2, Overall #27)
TE Austin Seferian-Jenkins, Washington (TE#3, Overall #42) Blog
TE Troy Niklas, Notre Dame (TE #4, Overall #51)
TE Jake Murphy, Utah (TE #10, Overall #202)
TE Xavier Grimble, USC (TE #13, Overall #227)
TE Richard Rogers, California (TE #14, Overall #251)
TE A.C. Leonard, Tennessee State (TE# 15, Overall #256)
TE Colt Lyerla, Oregon (TE #18, Overall #333) Blog
TE Nic Jacobs, McNeese State
TE Mike Flacco, New Haven

OT Greg Robinson, Auburn (OT #2, Overall #4) Blog
OT Cyrus Kouandjio, Alabama (OT #3, Overall #14) Blog
OT Antonio Richardson, Tennessee (OT #6, Overall #45) Blog
OT Cameron Fleming, Stanford

OG Xavier Su'a-Filo, UCLA (OG #2, Overall #34)
OG David Yankey, Stanford
OG Trai Turner, LSU

C Marcus Martin, USC (C #4, Overall #126)
C Russell Bodine, North Carolina (C #7, Overall #221) Blog

DE Jadeveon Clowney, South Carolina (DE #1, Overall #2) Blog
DE Kony Ealy, Missouri (DE #2, Overall #11) 
DE Stephon Tuitt, Notre Dame (DE #3, Overall #22)
DE Scott Crichton, Oregon State (DE #5, Overall #38)
DE Demarcus Lawrence, Boise State (DE #10, Overall #99) Blog
DE Aaron Lynch, South Florida (DE #13, Overall #133)
DE Jeffrey Pagan, Alabama (DE #19, Overall #204)

DT Louis Nix, Notre Dame (DT #1, Overall #15) Blog
DT Timmy Jernigan, Florida State (DT #3, Overall #39) Blog
DT Ego Ferguson, LSU (DT #6, Overall #67)
DT Kelcy Quarles, South Carolina (DT #8, Overall #78)
DT Anthony Johnson, LSU (DT #10, Overall #110)
DT George Uko, USC (DT #11, Overall #129) Blog
DT Viliami Moala, California (DT #28, Overall #371)

LB Ryan Shazier, Ohio State (OLB #3, Overall #23)
LB Carl Bradford, Arizona State
LB Yawin Smallwood, Connecticut (ILB #5, Overall #113) 
LB Adrian Hubbard, Alabama (OLB #14, Overall #156)
LB Ronald Powell, Florida (OLB #16, Overall #171)
LB Khairi Fortt, California (OLB #31, Overall #353)

CB Bradley Roby, Ohio State (CB #4, Overall #43) Blog
CB Marcus Roberson, Florida (CB #5, Overall #48) Blog
CB Terrence Mitchell, Oregon (CB #8, Overall #82)
CB Loucheiz Purifoy, Florida (CB #9, Overall #84) Blog
CB Victor Hampton, South Carolina (CB #11, Overall #98) Blog
CB Bashaud Breeland, Clemson (CB #15, Overall #128)
CB Kameron Jackson, California (CB #48, Overall #439)

FS Calvin Pryor, Louisville (FS #1, Overall #136)
FS Hasean Clinton-Dix, Alabama (FS #2, Overall #40) Blog
FS Dion Bailey, USC (FS #3, Overall #109) Blog 
FS Ed Reynolds, Stanford
SS Vinnie Sunseri, Alabama (SS #5, Overall #55)
FS Jonathan Dowling, Western Kentucky (FS #12, Overall #273) 
FS Pierre Warren, Jacksonville State
FS Nick Addison, Bethune-Cookman 
Show Comments
Hide Comments
Our Latest Stories
A look at NFL prospects who helped and may have hurt themselves this past weekend

With DeShone Kizer likely to stay in school, pass rushers rule the top of the draft

Jonathan Allen, Cam Robinson, O.J. Howard and Marlon Humphrey answered the bell vs. Texas...
Both Desmond King and Corey Clement made up for unforced errors in this Big Ten battle

Texas A&M and Alabama highlight this weekend's biggest matchup for NFL scouts

Scouts are salivating for Texas A&M vs. Bama, a showcase for the top two prospects in the...