2014 NFL Draft: West Virginia Preview
The Mountaineers will struggle to replace Geno Smith, Tavon Austin and Stedman Bailey in 2013, but they'll be helped by the addition of Houston-transfer Charles Sims, one of the top senior running backs in the nation.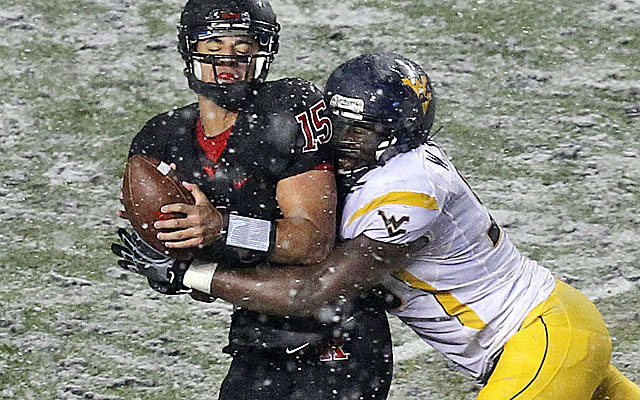 In preparation for the 2014 NFL Draft, NFLDraftScout.com will profile the top draft-eligible prospects from FBS-level programs. This summer series will run until the start of the college football season.
WEST VIRGINIA MOUNTAINEERS
NFL Draft picks the last five years: 14
2013 NFL Draft picks: 3 -- WR Tavon Austin (first round, St. Louis Rams), QB Geno Smith (second round, New York Jets), WR Stedman Bailey (third round, St. Louis Rams)
After a 5-0 start last season averaging 52.0 points per game, West Virginia limped to a 2-6 finish, its first season failing to reach eight wins in more than a dozen years. While the defense was a mess, ranking 114th in the nation in scoring defense, quarterback Geno Smith and wide receivers Tavon Austin and Stedman Bailey kept West Virginia from falling below .500, but Smith and the dynamic duo of Austin and Bailey are now playing on Sundays in the NFL. While they'll have trouble replacing that firepower on offense, the Mountaineers have more than a few NFL prospects worth watching this season, including running back Charles Sims who arrived in Morgantown last month.
Top West Virginia prospects for the 2014 NFL Draft
* Indicates underclassman
1. RB Charles Sims (6-0, 205, 4.52)
Seven months ago, Sims was finishing a productive junior season at Houston and debating whether to forego his senior season and go pro. He decided to bypass the NFL and return to the Cougars for the 2013 season, participating in spring drills. But in May, Sims chose to transfer and, in June, announced he would play his final season at West Virginia, eligible immediately because he had already graduated. He will share carries with Andrew Buie this season. But Sims didn't transfer to Morgantown to be a spectator, so expect him to see a lot of playing time in Dana Holgorsen's offense. Sims knows how to press the hole before making decisive inside cuts with a strong plant foot to burst through the crease. He shows good vision and beautiful acceleration to speed up in a hurry, but he runs with some tightness and lacks natural bend. Sims is tough and physical but doesn't have an ideal body type for the position, running too tall at times with inconsistent pad level and ball security. His best asset might be his hands and receiving instincts to be effective catching the ball out of the backfield (88 receptions the past two seasons at Houston). Sims has only a few months to learn a new offense from new coaches and teammates, but he has an intriguing NFL skill set that ranks him among the top-five senior running back prospects entering the season.
2. DT Will Clarke (6-6, 271)
An impressive physical specimen, Clarke is entering his third season as a starter on the West Virginia defensive line (22 career starts thus far). He arrived in Morgantown as a 6-6, 235-pound high school recruit who was talented but looked lost at times on the field. Fast forward five years, and Clarke is a senior leader and has grown considerably in his on-field development, setting career highs last season with 6.5 tackles for loss and four pass breakups. Clarke has spent a lot of time in the weight room to fill out his frame and add strength since arriving at West Virginia, although his functional power doesn't always show on the field. He is a natural bender with a fluid body type and flexible joints to start/stop quickly and redirect his momentum. Clarke has impressive length but doesn't always use his long arms and big hands effectively and needs to continue to develop his upper body technique. He is a little bit of an enigma right now with more splash plays than consistency, but Clarke has the size/athleticism combo that will intrigue scouts and give him a fighting chance at the next level.
3. SS Darwin Cook (5-11, 202, 4.57)
The Mountaineers almost ranked last in all of college football last season in total defense, and Cook's inconsistent junior season didn't help. If you ask him, Cook has no problem taking most of the blame, saying if he had "just been better, worked harder and had his mind right" then maybe West Virginia wouldn't have snapped its 10-year streak of eight-plus win seasons, finishing 7-6. He became a starter in 2011 as a sophomore (13 starts), was in and out of the starting lineup as a junior last year due to his inconsistencies on the field but is expected to be one of the team leaders in 2013 as a senior. Cook is an aggressive, rangy player with the speed to cover a large area and make plays close to the line of scrimmage and in the deep half of the field. He has a bad habit of biting on fakes and losing sight of the ball, but he also has the speed to recover and has a short memory, never playing with a passive attitude. Cook wasn't the most focused or reliable player on last year's game film, but reports out of Morgantown are that he has turned things around and is ready to be a senior leader.
Other West Virginia prospects worth watching:
QB Clint Trickett (6-2, 182, 4.85)*
A Florida State transfer, Trickett was used mostly in relief during his time in Tallahassee but should be the starter in 2013 after transferring over the winter.
RB Andrew Buie (5-9, 190, 4.51)*
The Mountaineers' leading rusher a year ago, Buie will be forced to share the backfield duties with Sims this season, but he is too talented to be an afterthought in the West Virginia offense.
OL Pat Eger (6-6, 305)
A player who has been up and down throughout his career, Eger started at both right tackle and guard the past two seasons but will move inside to center for his senior year.
CB Brodrick Jenkins (5-10, 185, 4.50)
A part-time starter over his career, Jenkins has marginal size and ordinary speed but plays with the toughness, confidence and effort to get looks by NFL teams.
Show Comments
Hide Comments
Not every draft pick can be a winner. Here are the 32 guys who could cause the most regret

Our list of late-round gems includes plenty of lesser-known backs and quality linemen

A running back going No. 2 overall? When you're being compared to Hall of Fame runner, yes
Pass rushers and explosive offensive players highlight the best Day 1 contributors

Here's every draft pick heading to the NFC West, including 21 by the Seahawks and 49ers co...

Here's every draft pick heading to the NFC South, home of the NFC's last two Super Bowl te...