2014 NFL Draft: Winners, losers, surprises in combine broad jump
In a test designed to measure explosiveness and balance -- traits highly desired in the NFL -- several diamond in the rough prospects proved every bit as gifted as their more well-documented peers.
by Rob Rang
The Sports Xchange/CBSSports.com

• 3 min read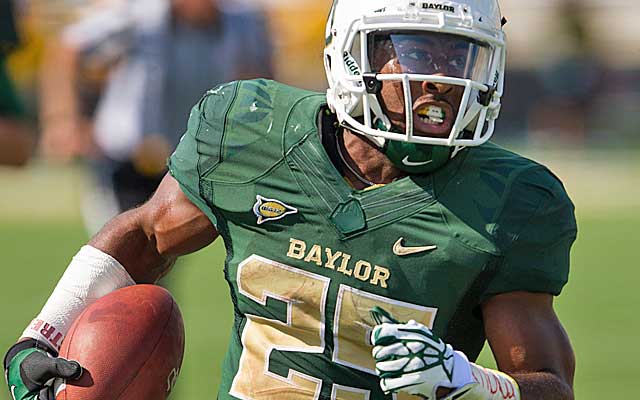 More Draft: NFL Mock Drafts | Big Board | NFL combine news

The beauty of the combine is the apples-to-apples comparison between some of the country's most famous players and relatively unheralded "small school" prospects. In the broad jump, several diamonds in the rough took advantage of the bright lights of the combine to shine, quite literally providing evidence of their ability to make the big "jump" to the pros. This event doesn't get the attention of others tested at the combine but no workout measured in Indianapolis better demonstrates lower-body explosiveness and balance -- traits often critical for success on the football field.
Assessment series
Date
Analysis
March 1
40-yard dash
March 2
Vertical leap
March 3
Broad jump
March 4
Three-cone
March 5
Short shuttle
March 6
Long shuttle
March 7
Positional drills
March 8
Interviews
March 9
Medical
These combine close-ups are meant to identify some players whose athleticism (or lack thereof) demonstrated in a specific drill really will have an impact on where they are selected May 8-10 in the 2014 NFL Draft.
This focus on the broad jump is the latest of a nine-part series from NFLDraftScout.com in which we take a closer look at each event at the Combine, shifting the spotlight to some athletes who might otherwise have slipped through the cracks of coverage from the week in Indianapolis.
The Event: The standing broad jump is a test of explosion and balance. Athletes are asked to simply leap as far (rather than as high) as they can from a crouched position. An impressive performance in this event speaks to a player's lower body strength and coordination, as the only jumps that count are the ones in which the athlete lands without taking another step to steady himself.
The Results: The results can be sorted by name, position, size, school or event here.
The Winners: Baylor running back Lache Seastrunk may not have been as fast as expected, but by leading all athletes tested in Indianapolis with an 11'2" effort in the broad jump, he certainly showed off his explosiveness. This quick-twitch athleticism is evident in Seastrunk's ability to jump-cut and elude defenders in tight spaces, making him one of the more difficult runners in this class to tackle.
Seastrunk's eye-popping effort was just one inch better than Lindenwood cornerback Pierre Desir and two inches more than Georgia Southern's Jerick McKinnon, whose marvelous all-around workout might have been this year's best at the combine.
North Carolina's Kareem Martin flashed explosiveness throughout his career and nowhere was that more evident than during this event, where he soared a full five inches past Jadeveon Clowney and rest of this talented defensive end class.
The Losers: Because of their reliance on lower body strength to drive through would-be tacklers, running backs often test well in this event but that was not the case for Western Kentucky's Antonio Andrews and Colorado State's Kapri Bibbs, who tied with a position-worst 8'10" mark in the event. It is an especially disturbing result for the 5-foot-9, 212-pound Bibbs, who finished a full seven inches short than any other comparably-sized athlete tested in Indianapolis.
Two high profile safeties who also struggled in this event were Baylor's Ahmad Dixon (9'3") and Southern Cal's Dion Bailey (9'5"), each of whom were hoping to ease concerns about their overall athleticism with impressive showings in Indianapolis.
The Surprises: Top-rated quarterback Teddy Bridgewater disappointed many with his decision to opt out of the throwing and running drills at the combine but he showed off his underrated overall athleticism in this event, tying Johnny Manziel with a 9'5" broad jump --and behind only three quarterbacks well known for their athleticism (Logan Thomas, Connor Shaw and Blake Bortles).
On the opposite end of the spectrum was Alabama's AJ McCarron, who was the only skill-position athlete tested in Indianapolis this year unable to break the 100" club, coming in one inch short at 8'3."
A talented offensive line is often credited when explaining why Boston College's Andre Williams went from 599 rushing yards as a junior to leading the country with 2,177 this past season to win the Doak Walker Award but the Heisman finalist showed off his explosiveness in this event, recording an impressive 10'9" that tied him for fifth among all athletes tested.
Show Comments
Hide Comments
Not every draft pick can be a winner. Here are the 32 guys who could cause the most regret

Our list of late-round gems includes plenty of lesser-known backs and quality linemen

A running back going No. 2 overall? When you're being compared to Hall of Fame runner, yes
Pass rushers and explosive offensive players highlight the best Day 1 contributors

Here's every draft pick heading to the NFC West, including 21 by the Seahawks and 49ers co...

Here's every draft pick heading to the NFC South, home of the NFC's last two Super Bowl te...