2014 NFL Mock Draft: Blake Bortles flashes but not flawless in Fiesta
The traits to excite scouts were evident but a few warts were also exposed against Baylor, potentially slowing the momentum that had been building around the Central Florida quarterback's possible early jump into the NFL.
by Rob Rang
The Sports Xchange/CBSSports.com

• 3 min read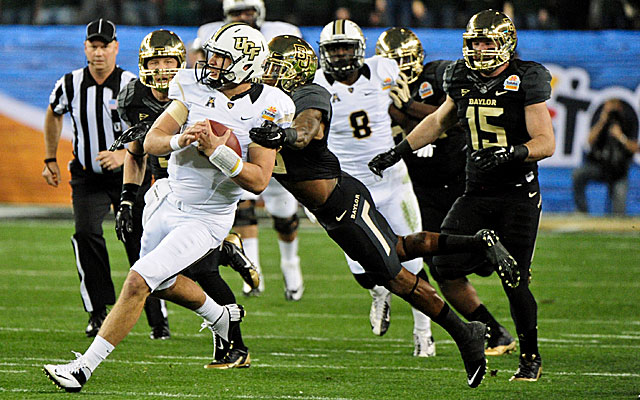 With his strapping frame and success in a pro-style offense, no quarterback had captured the attention of the scouting community over the final month of the college football season like UCF's Blake Bortles.
With Teddy Bridgewater and Johnny Manziel starring in their respective college finales, scouts wanted to see if the bigger, stronger Bortles could match his potential competitors in the race to be the first quarterback selected in the 2014 NFL draft.
What they saw in UCF's marathon victory against Baylor in the Fiesta Bowl was a young quarterback with intriguing traits but whose technique might require a bit more polish before heading to the NFL.
Sometimes statistics can tell the story but in Bortles' case, the Fiesta Bowl stat-book is misleading. Bortles completed 20 of 31 passes for 301 yards and three touchdowns against two interceptions in the Knights' 52-42 victory.
Perhaps most impressive about Bortles' evening was his poise. After throwing interceptions to abruptly end consecutive UCF drives in the second quarter, Bortles led Central Florida to touchdowns on four of their next six drives, out-scoring Baylor's high-octane offense.
Neither of the interceptions, however, will likely earn negative grades from scouts.
On the first, Bortles took the ball from shotgun, identified favorite receiver Rannell Hall streaking deep down the middle against one on one coverage. The pass was thrown with perfect trajectory and good accuracy, giving Hall, the team's leading receiver, an opportunity to make a play. Instead, Baylor senior cornerback Demetri Goodson simply played the ball better than Central Florida's receiver, extending his arms to catch it over his head for an impressive interception.
Bortles' next pass was also intercepted but was even a flukier play.
Though he again took the snap out of the shotgun, Bortles dropped back further and rolled right, hoping to buy room for a developing screen to tight end Kevin Miller. A well-timed blitz from 6-foot-2, 210-pound nickelback Sam Holl, however, caused Bortles to throw the ball prematurely. Holl tipped the pass and linebacker Eddie Lackey dove at Miller's feet to secure the ball just before it hit the ground.  
While Bortles shouldn't receive the blame for his two interceptions, neither should he receive much credit for his two touchdown passes of the first half, each of which were short throws in which Hall broke free for long runs after the catch. His third touchdown pass, on the other hand, was one of Bortles' best throws of the night. It was a beautifully lofted corner route to receiver Breshad Perriman off of a designed rollout to the right for a 10-yard score that recaptured the lead for UCF with 5:38 remaining in the third quarter.
Bortles' best play of the night came late, as he ran through a potential sack to loft a pass to running back William Stanback for a first down to extend a fourth quarter drive and keep the clock running.
Bortles possesses some exciting traits, not the least of which is his broad-shouldered 6-foot-3, 230 pound frame. He also showed toughness and natural running skills in keeping several read-option plays for good yardage against Baylor's hard-hitting defense. Bortles showed off the athleticism that had some recruiters projecting him as a tight end in rushing for a career-high 93 yards, including a 15-yard touchdown to extend UCF's lead to 42-28 early in the fourth quarter.
He is methodical in his set up and delivery of the ball, and didn't place the ball well in this contest, forcing his receivers to make tough grabs rather than hitting them in stride. Several of Bortles passes were close to being completions but instead fell just out of the reach of his intended targets. It was a hot and cold performance similar to several of Bortles' other games this season, including against South Carolina, Louisville and Penn State. 
If he were to bypass his senior season at UCF, Bortles' skill-set is exciting enough to earn a first round selection.  Considering the number of QB-needy teams selecting in the top 10, he could earn a pick that high.
Bortles remains a considerable work in progress, however, and didn't show the improvement as a passer in the Fiesta Bowl to build upon the positive momentum he'd had entering the game. According to Phil Savage, executive director of the Senior Bowl, Bortles received a second-round grade from the NFL Advisory Committee.
As such, Bortles is facing the huge decision of whether or not he wants to return to UCF for one more year.
One way or the other, his choice, like the one facing UCLA quarterback Brett Hundley, will play a critical role in how the first round of the 2014 NFL Draft shapes up.
Show Comments
Hide Comments
Not every draft pick can be a winner. Here are the 32 guys who could cause the most regret

Our list of late-round gems includes plenty of lesser-known backs and quality linemen

A running back going No. 2 overall? When you're being compared to Hall of Fame runner, yes
Pass rushers and explosive offensive players highlight the best Day 1 contributors

Here's every draft pick heading to the NFC West, including 21 by the Seahawks and 49ers co...

Here's every draft pick heading to the NFC South, home of the NFC's last two Super Bowl te...