2014 NFL Mock Draft: Browns may want to target Blake Bortles
In Rob Rang's latest NFL mock draft, Blake Bortles ends up with the Browns despite other chatter surrounding Cleveland's draft-night intentions.
by Rob Rang
The Sports Xchange/CBSSports.com

• 11 min read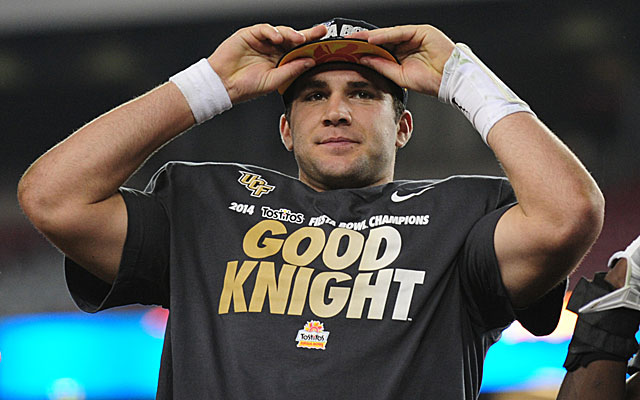 More NFL offseason: Mock Drafts | Prospect Rankings | Pro Days | Top free agents
The Denver Broncos, Tampa Bay Buccaneers and New England Patriots look like the early winners in unrestricted free agency. By filling immediate needs, all three teams should be in an enviable position come May.
The goal of every NFL team is to fill obvious holes through free agency and utilize the "best player available" strategy in the draft. And with a draft class as rich as this one, teams may be able to find immediate impact players in the middle rounds.
The first few days of free agency and Pro Days have already made an impact and much more will change between now and May 8. Here is my latest projection of how the first 32 picks of the 2014 NFL draft will be spent.
NFL Mock Draft - 3/17/2014
Round 1
1. Houston Texans

(2-14)

Jadeveon Clowney

, DE, South Carolina: Quarterback is the logical starting point for the Texans but this class' unique depth at the position could allow head coach Bill O'Brien to wait until the second or even third round to supplement veteran Matt Schaub, who remains on the roster. Clowney - who demonstrated the athleticism at the Combine to easily transition to a pass rushing linebacker in defensive coordinator Romeo Crennel's scheme -- would provide an immediate impact opposite superstar

J.J. Watt

, likely spurring a quick return to the playoffs for a club just one year removed from winning the AFC South with a 12-4 record.
2. St. Louis Rams (from Washington)

(7-9)

Greg Robinson

, OT, Auburn: Owners of this lofty pick due to the

Robert Griffin III

trade, the Rams are in a terrific position to improve their team immediately or the future by trading yet again as a number of QB-needy clubs could offer a bounty to jump ahead of the Jaguars or for the right to select Clowney should the Texans pass up the draft's best player at No. 1 overall. Head coach Jeff Fisher has never selected an offensive lineman in the first round but Robinson isn't just another blocker. His ability to dominate at the point attack would give the Rams the pair of bookend tackles (with veteran Jake Long) to protect

Sam Bradford

and improve the consistency of their rushing attack.
3. Jacksonville Jaguars

(4-12)

Teddy Bridgewater

, QB, Louisville: The Jaguars may have the least talented roster in the NFL but the team played hard under head coach Gus Bradley and were a respectable 3-5 on the road. Improving at the game's most important position is critical to their continued success. As the most polished and pro-ready passer in the draft, Bridgewater gives the Jaguars their best chance at doing that immediately.
4. Cleveland Browns

(4-12)
Blake Bortles, QB, UCF: There has been plenty of speculation that it is Manziel or Bust for the Browns. Given the gusts and grass of FirstEnergy Field, a more logical pick might be Bortles, whose prototypical size and instincts would seem like the perfect fit. The former UCF star may currently lack Teddy Bridgewater's polish or Manziel's improvisational skill but possesses a higher upside than either and is a legitimate No. 1 overall candidate.
5. Oakland Raiders

(4-12)

Johnny Manziel

, QB, Texas A&M: Like the Jaguars and Browns before them, the Raiders are desperate for help at quarterback and Manziel's improvisational skills make him a fascinating fit for an offense largely bereft of playmakers. Manziel's dual-threat capabilities could make him an intriguing fit in new offensive coordinator Greg Olson's offense and his larger-than-life-persona fits in well with the Silver and Black. If Manziel isn't drafted by the always unpredictable Raiders here, he could be in for quite a slide.
6. Atlanta Falcons

(4-12)

Khalil Mack

, OLB, Buffalo: Investing in a surefire offensive tackle like

Jake Matthews

here makes sense but given the re-build of the defensive line via free agency with veterans

Paul Soliai

and

Tyson Jackson

, don't be surprised if a pass-rushing OLB to fit the new 3-4 alignment is the target here. Mack, the all-time leader in FBS history with 16 forced fumbles and tied for the all-time lead with 75 career tackles for loss over his career. Among the cleaner prospects in the draft, Mack is a chic dark horse candidate for No. 1 overall with the Texans and would offer great value here.
7. Tampa Bay Buccaneers

(4-12)

Sammy Watkins

, WR, Clemson: By investing millions in defenders

Alterraun Verner

,

Michael Johnson

and

Clinton McDonald

, the Bucs are sending a strong message about their renewed focus on defense. Adding a playmaker like Watkins with their first pick of the 2014 draft would go a long way toward assuring that Smith's offense in Tampa Bay is more explosive than the unit he coached in Chicago.
8. Minnesota Vikings

(5-10-1)

Derek Carr

, QB, Fresno State: Mike Zimmer's choice of Norv Turner as his offensive coordinator may signal the end of

Christian Ponder

's run as the Vikings' quarterback. While neither Ponder (nor Manziel) possesses the strong arm Turner has preferred in his vertical passing attack, Carr certainly does. Carr won't get past the Vikings and may not make it to them.
9. Buffalo Bills

(6-10)
Jake Matthews, OT, Texas A&M: In head coach Doug Marrone's first season at the helm, he showed off his preference for a ball-control attack, making controlling the line of scrimmage paramount to success. With three of his four seasons as a starter coming at right tackle, Matthews could step into a position of concern for the Bills and provide an immediate impact. Powerful, technically sound and capable of starring at virtually any position along the offensive line, he's as pro-ready as it gets and a steal if available at this point.
10. Detroit Lions

(7-9)

Justin Gilbert

, CB, Oklahoma State: New defensive coordinator Teryl Austin inherits a unit that was terrible a year ago in creating turnovers. Safety

Louis Delmas

led the team with three interceptions and he's no longer on the roster. Veteran

Chris Houston

was the only cornerback on the team to intercept a pass. Gilbert is a proven playmaker who led the Big 12 with seven interceptions in 2013 and returned six kickoffs for scores over his collegiate career.
11. Tennessee Titans

(7-9)

Anthony Barr

, OLB, UCLA: The Titans tied for 21st in the NFL with 36 sacks recorded in 2013 with defensive tackle Jurell Casey chipping in a disproportionate 10.5 of them. With the Titans expected to transition to a 3-4 defense under Ray Horton, Casey's numbers are likely to fall, creating a need for more pass rushers. Only two years removed from playing on offense, Barr lacks the polish to rank as a top 10 pick for everyone but his tremendous blend of size (6-5, 255), speed (4.44) and flexibility made him a star rush linebacker in UCLA's 3-4 scheme.
12. NY Giants

(7-9)

Taylor Lewan

, OT, Michigan: Protecting Eli Manning should be priority No. 1 in New York and given the way the Giants' offensive line has played this season it wouldn't be surprising if general manager Jerry Reese invested multiple picks in reinforcements. A four-year starter with good length, strength and nastiness in his play, Lewan would be a good start.
13. St. Louis Rams

(7-9)

Mike Evans

, WR, Texas A&M: The Rams have invested heavily in receivers in recent drafts and therefore may elect to give their current group more time. Given the size and physicality of the cornerbacks in the NFC West, however, the 6-5, 233-pounder Evans has to be intriguing. The long-strider has often been compared to Tampa's star

Vincent Jackson

but Evans is much more aggressive, a characteristic head coach Jeff Fisher has always prized in his players.
14. Chicago Bears

(8-8)

Darqueze Dennard

, CB, Michigan State: The aggressive signing of defensive linemen

Lamarr Houston

and

Willie Young

won't help much if the Bears don't supplement the move with improvements in the deep patrol. Dennard's length, physicality and fluidity could help an overmatched secondary against the NFC North's explosive passing attacks.
15. Pittsburgh Steelers

(8-8)

Hasean Clinton-Dix

, FS, Alabama: With age and bloated contracts catching up to the Steelers, there could be sweeping changes in Pittsburgh, especially in the secondary. Fluid and instinctive, Clinton-Dix could provide an eraser in the deep middle to patch up holes quickly.
16. Dallas Cowboys

(8-8)

Aaron Donald

, DT, Pittsburgh: Tony Romo's fourth-quarter struggles pale in comparison to the full game bludgeoning experienced weekly by the Cowboys' defense. Expect there to be significant turnover in personnel over the offseason, an overhaul that could bring five or six new starters to the 4-3 alignment. More decorated than a wedding cake, Donald offers the buzz Jerry Jones always appreciates as well as the burst to wreak havoc on opposing quarterbacks from the middle.
17. Baltimore Ravens

(8-8)

Eric Ebron

, TE, North Carolina: In re-signing veteran

Dennis Pitta

it might appear that the Ravens are set at tight end. That doesn't mean that they won't be intrigued by Ebron's athleticism, especially given how often new offensive coordinator Gary Kubiak liked to use two tight ends while with the Houston Texans.
18. NY Jets

(8-8)

Brandin Cooks

, WR, Oregon State: Rookie

Geno Smith

certainly took his lumps as a rookie but considering the weapons surrounding him, his struggles aren't surprising and he appears likely to return as the Jets' starter in 2014. Cooks is an extraordinary athlete with the agility and speed to complement newly signed possession receiver

Eric Decker

.
19. Miami Dolphins

(8-8)

Zack Martin

, OT, Notre Dame: With Branden Albert signed to take over at left tackle, the Dolphins can instead shift their draft-day focus towards boosting the play inside at guard. Zack Martin, unrelated to

Jonathan Martin

by genetics or style of play, is a coach's dream. While perhaps lacking the body type scouts prefer at tackle (where he started 50 of his 52 career games for the Irish), Martin slides well laterally and controls opponents with fierce hand usage.
20. Arizona Cardinals

(10-6)

Kony Ealy

, DE, Missouri: John Abraham led the Cardinals with 11.5 sacks in 2014 but next season will be his 15th in the NFL. Ealy starred at defensive end for the Tigers and certainly will be viewed as a quality defensive end from teams operating out of a 4-3 but he's a fluid athlete also capable of making the transition as a standup outside linebacker in the 3-4, making him an intriguing fit for the Cardinals.
21. Green Bay Packers

(8-7-1)

Ryan Shazier

, OLB, Ohio State: For the second consecutive season the Packers were knocked out of the playoffs by

Colin Kaepernick

and the San Francisco 49ers and therefore improvements in handling dual-threat quarterbacks will likely be a priority. Adding a pass rusher like Julius Peppers should help, but reinforcements in the back end is also necessary. Shazier may lack the length and pass rush skills traditionally associated with the 3-4 scheme but he is an aggressive, explosive defender well-suited to shadowing athletic quarterbacks.
22. Philadelphia Eagles

(10-6)

C.J. Mosley

, ILB, Alabama: The Eagles took a significant step in improving upon their 30th-ranked pass defense by landing former New Orleans Saints' safety

Malcolm Jenkins

but reinforcements are needed. Every team in the league is looking defenders with Mosley's degree of toughness, versatility and leadership.
23. Kansas City Chiefs

(11-5)

Odell Beckham Jr.

, WR, LSU: In guiding the Chiefs to an 11-5 record and a return to the playoffs, quarterback

Alex Smith

proved worthy of the trade to acquire him from the 49ers. He's a classic game-manager, however, who needs complementary playmakers around him to be at his best. Beckham is a dynamic athlete capable of providing the big plays necessary for the Chiefs to take the next step.
24. Cincinnati Bengals

(11-5)

Calvin Pryor

, FS, Louisville: Re-signing veteran

Taylor Mays

means that safety isn't an obvious concern for the Bengals but Pryor likely would prove an upgrade. Boasting the explosive closing ability in run support that makes Mays intriguing, Pryor is also fluid and instinctive in coverage. His leadership could help pull together a secondary blessed with talent but not consistency.
25. San Diego Chargers

(9-7)

Kyle Fuller

, CB, Virginia Tech: The Chargers run to the playoffs was all the more impressive when one considers that the team ranked last in the AFC (and 29th overall) in pass defense. Fuller isn't a flashy athlete but he's technically sound, tough and equally effective against the pass and run, a combination that makes him one of the more pro-ready corners of the draft and a solid late first round candidate.
26. Cleveland Browns (from Indianapolis)

(4-12)
Xavier Su'a-Filo, OG, UCLA: Su'a-Filo earned the Morris Trophy as the Pac-12's most dominant offensive lineman despite playing much of the year out of position at left tackle due to injuries to teammates. This versatility and toughness could be especially valued by the Browns who could view him as an ideal candidate to solidify the right side of the line.
27. New Orleans Saints

(11-5)

Dee Ford

, DE, Auburn: Few know better than Saints' defensive coordinator Rob Ryan the value of pass rushers after a dominant Senior Bowl, creative defensive minds across the league are imagining how the 6-foot-2, 243 pounder could wreak havoc off the edge. A back injury from 2011 was red-flagged at the Combine but if Ford is medically cleared, it isn't a question if he'll make the first round but how high he'll go.
28. Carolina Panthers

(12-4)

Jason Verrett

, CB, TCU: While the Panthers' front seven is fearsome, depth is a concern in Carolina's secondary. What the 5-9, 189-pound Verrett lacks in size, he more than makes up for with grit and athleticism. Shortly after an impressive Pro Day workout, Verrett met privately with the Panthers.
29. New England Patriots

(12-4)

Louis Nix

, DT, Notre Dame: The season-ending Achilles tear to nose guard Vince Wilfork made the middle of the Patriots' defense a sieve and with an $11.6 million cap hit next year, reinforcements up the middle are needed. If available here, Nix would be an ideal match.
30. San Francisco 49ers

(12-4)

Marqise Lee

, WR, Southern California: Considered by some to be a top-10 lock after a breathtaking sophomore season that earned him the Biletnikoff Award, Lee instead struggled with injury and inconsistency in 2013. For a club with two dependable possession receivers in

Michael Crabtree

and Anquan Boldin but lacking a traditional playmaker at the position, Lee could prove a steal.
31. Denver Broncos

(13-3)

Stephon Tuitt

, DT, Notre Dame: Since John Fox took over with the Broncos, Denver has built their defensive line with the selections of

Von Miller

,

Derek Wolfe

and

Sylvester Williams

as well as the addition of defensive tackle

Terrance Knighton

in free agency but don't expect that to keep the team from gambling on a player with Tuitt's length and upside should the gifted defender fall into their lap at this point.
32. Seattle Seahawks

(13-3)

Timmy Jernigan

, DT, Florida State: The Seahawks looked unstoppable in Super Bowl XLVIII but the defensive line that played a key role in their run has already suffered significant turnover. As part of a salary cap purge, the Seahawks released former starters

Red Bryant

and

Chris Clemons

and allowed valuable role defender Clinton McDonald to leave via free agency, as well. The team appears confident in youngsters

Greg Scruggs

,

Jordan Hill

and

Jesse Williams

to contribute much more in 2014 but may have a tough time passing on Jernigan.
Show Comments
Hide Comments
Plus Seahawks eschew needs on the line and Rams seek help for Goff as we hand out NFC West...

Plus Saints and Falcons load up on defense as NFC South gets a massive boost in talent

Lions draft for now, Packers run down their checklist and Vikings find a runner in our NFC...
Plus Giants do a lot with a little and Eagles and Redskins face durability concerns in our...

Plus Broncos and Chargers help their QBs while Raiders gamble big in our AFC West grades

Texans pin hopes to Watson, new Jaguars must focus and Titans help Mariota in our AFC South...