2014 NFL Mock Draft: Teddy Bridgewater's tools rate as No. 1 pick
Bridgewater projects as a top-10 pick in the 2014 NFL Draft, possibly as early as No. 1 to the Houston Texans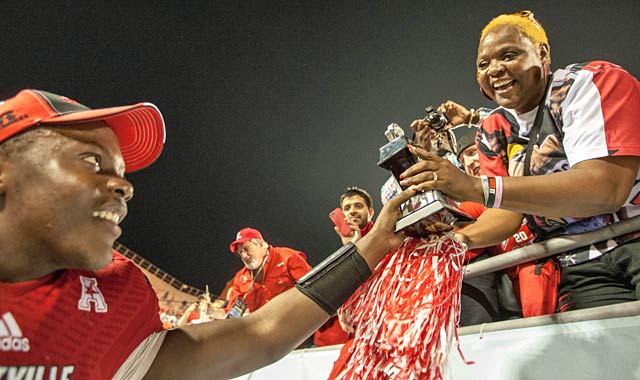 Louisville junior quarterback Teddy Bridgewater will skip his senior season and enter the 2014 NFL Draft.
Bridgewater is currently ranked as the No. 1 quarterback for May's NFL Draft and the No. 4 prospect overall by NFLDraftScout.com. He is currently projected by NDS to be drafted No. 1 overall by the Houston Texans.
A true junior, Bridgewater is a pro-style quarterback with an appealing mental and physical skill set for NFL teams. He has very good arm strength and accuracy with quick movements, efficient mechanics and excellent weight distribution through his delivery. Bridgewater has good height, but lacks an ideal build for the next level, something that has created concerns for NFL scouts. However, he is tough as nails and routinely steps into the face of pressure and executes throws. Bridgewater also has smooth mobility to extend and move the pocket and is an accurate thrower on the run. He does need to improve his downfield accuracy and touch, an area that tends to run hot-and-cold for him on throws of 15-plus yards.
Bridgewater's talent above the neck is even more impressive. He makes it look easy because of his ability to process everything going on around him with a high football IQ. Bridgewater is a mature, grounded and focused individual on and off the field and is passionate about his sport. He is reminiscent of a taller, much more slender version of Russell Wilson because of his football smarts, professional demeanor and overall coachable attitude.
A three year starter, Bridgewater has career 35 starts, although many came against mediocre competition because of the conference(s) he played in (Big East, American Athletic). He finished his final season at Louisville completing 71 percent (303 of 427) for 3,970 yards and a TD-to-INT ratio of 31-to-4. In what was his final collegiate performance, Bridgewater had a terrific game against his hometown team of Miami, putting an exclamation point on an excellent college career.
There are more than four months until the 2014 NFL Draft on May 8, but Bridgewater is the current favorite to be the first quarterback drafted, possibly No. 1 overall to the Texans. Regardless if Houston and new coach Bill O'Brien prefer the Louisville product, he projects as a solid top-10 talent and won't have to wait long to hear his name called on draft day.
Show Comments
Hide Comments
Our Latest Stories
Bill Belichick would certainly find creative ways to use the versatile air back

The NFL's underwear Olympics is entertaining, but it's just once piece of a long evaluatio...

An average Baltimore run game gets a serious upgrade while Peppers could be the next Troy...
Meanwhile, if you're looking for a safe bet in this class, start with a deep crop of DBs

Will Brinson's first mock draft has the Browns taking Mitch Trubisky No. 1 overall

A new rule in 2017 prevents players with past criminal issues to attend the combine