2014 Pro Days: Gilbert, Lowe turn heads at Oklahoma State workout
All 32 NFL teams were represented at the workout, which included some disconcerting results from likely first round cornerback Justin Gilbert and a surprising effort from safety Daytawion Lowe that could push him into Day Three of the draft.
by Rob Rang
The Sports Xchange/CBSSports.com

• 2 min read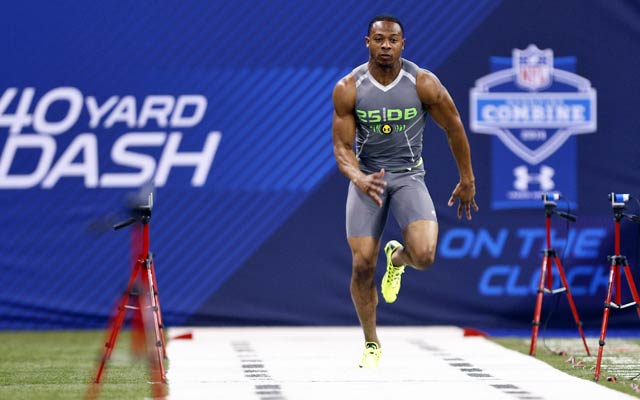 More NFL offseason: Mock Drafts | Prospect Rankings | Pro Days | Top free agents
After running a faster 40-yard dash time than any other defender tested at the 2014 Combine, Oklahoma State cornerback Justin Gilbert still had to be talked out of competing in the event during Thursday's Pro Day workout in Stillwater.
"I wanted to [run] but my agent said my time was pretty good at the Combine and I didn't need to run," Gilbert told OkState.com, the Cowboys' official athletics website. "I talked with Coach Glass a couple days ago when I was still trying to decide whether or not to run the 40 and he said I had one of the fastest times there so I didn't really need to run. I relaxed a little bit today and just kind of took it easy."
While standing on the 4.37 second 40-yard dash time he recorded in Indianapolis, Gilbert did participate in the short shuttle and 3-cone drill. Unfortunately, according to a report from NFL.com, Gilbert recorded surprisingly slow times in these events (4.43 and 6.91 seconds, respectively), numbers that would have ranked among the slowest of defensive backs tested at the Combine.
These numbers could be seen as red-flags by scouts who view Gilbert as much faster in a straight-line than he is fluid when changing directions -- obviously a critical skill when covering NFL receivers.
While Gilbert's timed workout may have raised some eyebrows, his tape is enough to raise the blood pressure of opposing quarterbacks. Gilbert led the Big 12 with seven interceptions in 2013 and is dynamic with the ball in his hands. He returned six kickoffs for touchdowns over his career and two interceptions for scores as a senior. He also has shown a knack for making big plays against top competition. During his breakout 2011 campaign, Gilbert recorded interceptions against Andrew Luck, Robert Griffin III and Ryan Tannehill.
While Gilbert was certainly the star attraction, another member of Oklahoma State's secondary helped his cause with a stellar performance.
Safety Daytawion Lowe was the most explosive athlete tested Thursday, recording an impressive 4.45 second time in the 40-yard dash and a broad jump of 37.5 inches -- marks that would have ranked among the top numbers of any safety measured in Indianapolis. The three-year starter led the Cowboys in total tackles in 2011 (97) and 2012 (75) and finished tops in solo stops (73) this past season, earning Second Team all-conference honors.
Lowe, who was not among the safeties invited to the Combine, may have pushed himself into Day Three consideration with the workout.
The workout was viewed by all 32 teams. The Pittsburgh Steelers certainly look like a team strongly considering adding to their secondary with their first pick. General manager Kevin Colbert and head coach Mike Tomlin were present, just as they were a few days ago in East Lansing to watch NFLDraftScout.com's top-rated cornerback Darqueze Dennard.
Show Comments
Hide Comments
Not every draft pick can be a winner. Here are the 32 guys who could cause the most regret

Our list of late-round gems includes plenty of lesser-known backs and quality linemen

A running back going No. 2 overall? When you're being compared to Hall of Fame runner, yes
Pass rushers and explosive offensive players highlight the best Day 1 contributors

Here's every draft pick heading to the NFC West, including 21 by the Seahawks and 49ers co...

Here's every draft pick heading to the NFC South, home of the NFC's last two Super Bowl te...