2014 Senior Bowl: OLBs Attaochu, Van Noy step up to pressure
Most scouts leave after Wednesday's Senior Bowl practices, making them as important as any single day in a player's evaluation. Some players showed improvement (like Georgia Tech's Jeremiah Attaochu and San Jose State's David Fales), whereas others (like BYU's Kyle Van Noy) showed their polish.
by Rob Rang
The Sports Xchange/CBSSports.com

• 4 min read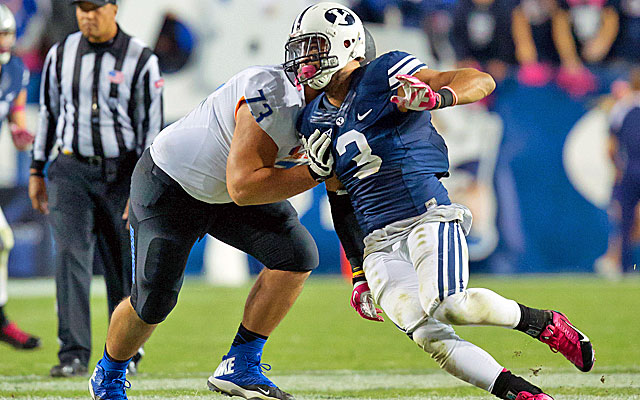 More Draft: NFL Mock Drafts | Prospect Rankings | Latest news | Senior Bowl

MOBILE, Ala. -- The Senior Bowl, like most all-star games in any sport, is catered to the fans with popular players earning more playing time and little attention given to the final score.
It is the week of practice leading up to Saturday's game that annually draws hundreds of NFL personnel to Mobile. Wednesday's scrimmages and one-on-one matchups rank as the most important day of evaluation as the final two days of practice are typically just glorified walk-throughs. The vast majority of scouts, in fact, leave town after Wednesday's afternoon practice or early Thursday. 
Smart talent evaluators enter the process with a strong baseline for the prospects playing in the game. They are looking for prospects who play even better than expected or show improvement in new techniques taught by the NFL coaching staffs selected to participate in the game -- in this case the Jacksonville Jaguars (North Team) and Atlanta Falcons (South Team). 
A handful of under-the-radar defenders helped their cause during this morning's practice. It was a pair of well-known linebackers -- Georgia Tech's Jeremiah Attaochu and BYU's Kyle Van Noy -- who stood out this afternoon.
Attaochu starred as a pass rusher with the Yellow Jackets, lining up as a stand-up outside linebacker and occasionally attacking the edge as a defensive end. In Mobile, however, the Jaguars' coaches have asked him to play virtually all over the field, including at inside linebacker, outside linebacker and rush from a three-point stance. Not surprisingly, Attaochu showed his greatest comfort when rushing the quarterback, demonstrating burst, agility and a powerful slap-and-sidestep to get past would-be blockers.
Asked to play off the line of scrimmage as a traditional strongside linebacker in the Jaguars' 4-3 alignment, however, Attaochu also has shown improved recognition and gap integrity against the run, as well as patience when dropping back into coverage. On Monday, Attaochu looked like a fish out of water dropping back. Today, when running backs came into his zone, Attaochu ran with them, closing as the ball arrived and showing quick hands to rip at the ball as it arrived. Scouts knew the 6-foot-3, 253-pound Attoachu was athletic; this week he's also shown football intelligence and work ethic.
Van Noy is a much more polished defender than Attaochu. He could have entered last year's draft and earned a top-64 selection. Some questioned his decision to return. In doing so, however, he's proven that his playmaking ways are a reflection of his terrific instincts and efficient athleticism rather than a reflection on the Cougars' level of competition.
The 6-foot-3, 244-pound Van Noy doesn't wow you with his frame or his straight-line speed but he ranks among the country's most pro-ready defenders because he does the little things so well. Van Noy shows excellent play recognition, takes on blockers with the correct shoulder (allowing him to slide off would-be blockers and into ball-carriers easily) and is equally effective slipping into coverage or sliding past offensive linemen on his way towards a tackle behind the line of scrimmage. He's subtle rather than physical, which draws complaints from some scouts but is deadly effective.
Here are a handful of other observations from the North Team's all-important Wednesday practice:
While Fresno State's Derek Carr and Eastern Illinois' Jimmy Garoppolo starred the first two days in Mobile, San Jose State's David Fales enjoyed his strongest performance of the week. Carr and Garoppolo seemed to play it safe Wednesday, frequently taking check-downs and rarely risking dangerous throws. Garoppolo, for example, elected to throw an intermediate sideline route out of bounds rather than attack deep down the middle to an open receiver on a surprise flea-flicker midway through practice. Adding to his reputation as a "gamer," Fales kept his eyes downfield, rifling a few well-thrown intermediate and deep passes, including one particularly well-thrown pass to Colorado State tight end Crockett Gillmore after escaping the rush and rolling to his right.
Entering the week of practice, Vanderbilt's Jordan Matthews was receiving plenty of praise for his polish but Texas'

Mike Davis

has proven just as reliable as a route-runner and hand-catcher throughout the week. The 6-foot (and 3/8), 193-pound Davis' value is increased because of his sure hands and burst as a returner.
On the offensive line, North Dakota State's Billy Turner enjoyed a nice bounce-back effort on Wednesday after struggling a bit with speed yesterday. Playing predominately inside at right guard (though also seeing some time at right tackle), the athletic small-schooler showed renewed aggression and strong hands to latch on and control defenders. Florida's Jon Halapio has also impressed with his physicality. Finally, Nevada's Joel Bitonio has quietly done a nice job rotating throughout the offensive line all week, as well.
Some flashy plays were turned in members of the secondary -- especially Liberty cornerback Walt Aikens and Vanderbilt safety Kenny Ladler -- but the news wasn't so good for Utah cornerback Keith McGill, who appeared to be battling cramps throughout the practice. McGill is a talented player whose terrific size (6-foot-3, 213 pounds) and ball-skills is sure to draw plenty of interest of teams as either a cornerback or potential safety conversion. Unfortunately, McGill appeared to feel the greatest pain on pass plays in which he was clearly already beaten. Some will credit McGill with fighting through the pain to return to the action (trainers worked on him yesterday too) but there were some in the stands who wondered aloud about his toughness. Seattle Seahawks general manager John Schneider, who, of course, has shown a fondness for lanky cornerbacks, had as good a view as anyone of McGill and their trainers working with him by observing the action from the sideline.  
Show Comments
Hide Comments
A report Thursday afternoon indicates that Myles Garrett will be the first overall pick in...

Four defensive backs are picked in the final five spots of the first round in Rob Rang's final...

Character has become such a concern for draft prospects that scouts spend a majority of their...
Also, expect Haason Reddick to go higher than expected and Reuben Foster to be taken on Th...

Plus the Cowboys and Steelers find new cornerbacks late in the first round in Dane Brugler's...

Late breaking news has caused several players to slide down the Top 100 just before the 2017...