2015 NFL Draft: Alabama Preview
Since Nick Saban took over as head coach, Alabama has become one of the most consistent producers of NFL talent. This year, a trio of underclassmen -- safety Landon Collins, wide receiver Amari Cooper and running back T.J. Yeldon -- look poised to carry on the Tide's proud tradition. Who else is catching the attention of scouts?
by Rob Rang
The Sports Xchange/CBSSports.com

• 7 min read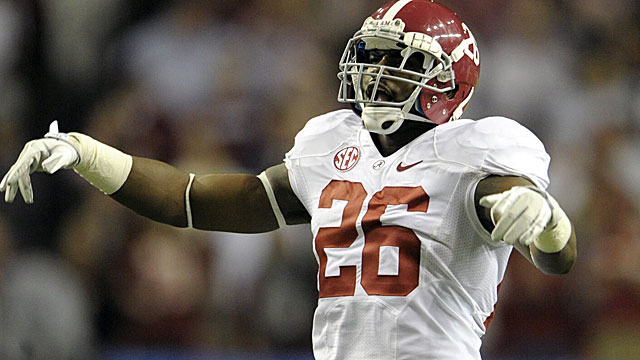 NFL Draft: More prospect previews |   Prospect rankings |  Rang: 2015 mock draft 
Losses to Auburn and Oklahoma ended Alabama's 2013 season on a down note and another stellar class left for the NFL. Fortunately, since Nick Saban took control of the program, the Crimson Tide don't waste time rebuilding, they simply reload.
That isn't to say that replacing AJ McCarron and CJ Mosley (among others) will be easy.  Due in large part to early declarations, Alabama's senior class lacks the surefire draft picks the NFL has grown accustomed to finding on the Tuscaloosa campus. Three juniors -- safety Landon Collins, wide receiver Amari Cooper and running back T.J. Yeldon -- highlight Alabama's returning NFL prospects. Several other developing talents (like sophomores Derrick Henry and OJ Howard) have already shown pro-caliber talent but fortunately for Saban and the Alabama faithful, these young stars won't be NFL eligible until 2016, at the earliest.
Alabama's top NFL Draft-eligible prospects to watch in 2014:
1. S Landon Collins, Junior (6-0 | 215 | 4.53 | #26)
Like many of the prospects on this list, Collins signed with Saban amid great fanfare, earning consensus five-star grades and the top spot among all prep safeties for most recruiting sites. Collins didn't earn a start as a freshman but made an impact nonetheless, tying for the team lead with 10 special teams tackles and operating as a key reserve in the deep patrol.
Collins was pressed into duty last year with returning starter Vinnie Sunseri suffering a torn ACL and responded by finishing second to only star CJ Mosley in tackles, recording 70 stops, including four for a loss. Collins also showed off his playmaking ability, forcing two fumbles, recovering two others and intercepting two passes, one of which he returned for a score.
Collins' inexperience (and inconsistency at cornerback) led to some uncharacteristic lapses in coverage for the Tide last season. The team missed Sunseri's instincts but Collins' athleticism and big hitting make him a better NFL prospect. Collins is a well built athlete with light feet and fluid hips to change direction quickly. He's a forceful and reliable open-field tackler, who often rips at the ball aggressively as he's taking opponents to the ground. He has seen action at both strong and free safety and projects as a first-round pick in large part because he should be able to handle either role at the next level.
2. WR Amari Cooper, Junior (6-1 | 202 | 4.56 | #9)
By breaking Julio Jones' freshman records for catches (59) and receiving yards (1,000) and Alabama's all-time record for touchdown receptions in a single season (11), Cooper exploded onto the scene in 2012. His production tailed off as a sophomore as nagging injuries limited his availability. Despite playing in 12 games, Cooper only started seven of them and he caught "just" 45 passes for 736 yards (which led the team) and four touchdowns.
Since his breakout freshman campaign, Cooper has been compared to everyone from Jones to Roddy White. There are plenty of similarities to another former No. 9, Marqise Lee, however -- and not all of them complimentary to either of the 2012 All-Americans.
Like Lee, Cooper has excellent quickness and balance to get a clean release against press coverage and to make defenders miss in space. Each accelerates in a flash, generating the burst to gain separation from top cornerbacks. Both can make the spectacular reception look easy and are competitive blockers.
Also like Lee, however, Cooper will freelance on his routes a bit and simply drops too many footballs. Cooper dropped at least one catchable pass in each of the three games I viewed (Virginia Tech, Auburn, Oklahoma), including a potential go-ahead touchdown late in the third quarter in the Iron Bowl. In all fairness to Cooper, he demonstrated his game-breaking ability against Auburn moments later with a record 99-yard score to give Alabama a 28-21 fourth quarter lead.
Cooper is noticeably thicker in his chest and thighs than Lee (6-foot, 192 pounds), which may make him more likely to remain durable. He'll need to be to earn the first-round pick that Jones and White received. With the only quarterback Cooper has ever known at Alabama now playing for the Cincinnati Bengals, Cooper could discover (as Lee did last year) maintaining stardom is more difficult without an experienced passer.
3. RB T.J. Yeldon, Junior (6-2 | 218 | 4.46 | #4)
The first back in school history to eclipse the 1,000 yard mark in each of his first two seasons on campus, Yeldon offers better lateral agility and straight-line speed than predecessors Mark Ingram and Trent Richardson and if he can cure his fumbling problems (and hold off the other talented backs on this roster), he could be the latest 'Bama back to join the first round party.
Yeldon has a taller, leaner build than most backs and his size may play a role in the deceptive speed and agility which makes him so successful. He's quick to the hole but shows good vision for cutback lanes, showing the ability to plant his foot into the ground and explode to ruin pursuit angles. Yeldon accelerates quickly and has good top-end speed for breakaways.
While Yeldon clearly possesses natural running ability there are some areas in which the junior must improve to warrant a potential early jump to the NFL. Yeldon runs high, exposing the ball to contact (five fumbles in 2013) and remains a work in progress as a pass blocker. He's the most polished of Alabama's stable of backs but not necessarily the most gifted and must enjoy a strong 2014 campaign to earn the high draft selection most fans assume is assured.
4. OG Arie Kouandjio, Redshirt Senior (6-5 | 318 | 5.43 | #77)    
The older brother of Buffalo Bills' second round pick (No. 44 overall) Cyrus Kouandjio, Arie is likely a year away from joining his sibling in the NFL. The two formed the left side of Alabama's offensive line a year ago, with the older Kouandjio capably manning the left guard role. Like his younger brother, Arie certainly looks the part of an early round NFL draft pick, boasting broad shoulders, long arms and tree trunks for legs. He flashes impressive initial quickness and the power to simply shove defenders off the line of scrimmage. Kouandjio can simply maul opponents in the running game.
Also like his brother, however, Arie comes with technical flaws and some medical questions. He is just as likely to be the last off the ball as the first, despite his athleticism. Kouandjio is overly reliant on his initial punch to knock defenders off balance, too often failing to latch on and keep his feet shuffling to truly mirror opponents. Further, he missed virtually all of the 2011 season with a knee injury. Though he played in 10 games in a reserve capacity in 2012, last season was Kouandjio's first as a starter.
Other Alabama prospects worth watching:
OT Austin Shepherd, RS Senior (6-5 | 316 | 5.38 |#79)
Shephard hasn't generated a great deal of national attention but he performed quite well taking over for D.J. Fluker at right tackle last season and possesses a combination of size, power and surprisingly light feet. Shepherd carries too much weight around his middle and occasionally struggles with leverage to drive opponents off the ball in the running game but he shuffles well laterally and can anchor against bull rushers in pass protection.
ILB Trey DePriest, Senior (6-1 | 245 | 4.82 | #33)
DePriest will be looked upon to take over as the leader of Alabama's linebacker corps with Mosley now in Baltimore. The two-year starter is coming off a career-high 65 tackle (including 7.5 for loss) junior season and could see a significant uptick in numbers this season. DePriest is a classic 3-4 inside linebacker at his best attacking the line of scrimmage, shedding blockers in the hole and knocking down backs with forceful collisions. He possesses just average agility and speed for coverage responsibilities and therefore projects as a Day Three selection.
FB Jalston Fowler, RS Senior (6-0 | 250 | 4.84 | #45)
Fowler signed with Alabama as a running back and has also seen time at H-back. New offensive coordinator Lane Kiffin is expected to use Fowler as a more traditional fullback in 2014 and it is a role that suits the bruiser well. Fowler showed no loss of quickness and power a season ago after missing much of 2012 with a torn ACL. Five of Fowler's seven receptions a year ago went for touchdowns.
OC Ryan Kelly, RS Junior (6-4 | 290 | 5.08 | #70)
Kelly took over for Barrett Jones, the 2012 winner of the Rimington Trophy as the nation's best center, and performed well, showing the combination of quickness, power and balance necessary to one day join his former teammate in the NFL. Kelly missed four games last season due to recurring knee pain and has two more years of eligibility remaining.
RB Kenyan Drake, Junior (6-0 | 201 | 4.52 | #17)
Like Yeldon, Drake doesn't look the part of a traditional running back, sporting a relatively lean and high-cut frame. He's a naturally elusive runner with good stop-start quickness, agility and a spin move to complement impressive acceleration. Drake served as Yeldon's primary backup last season, rushing for 694 yards and eight touchdowns but he's been plagued by off-field issues (including an arrest July 5) that require further investigation from the NFL.  
DT Brandon Ivory, RS Senior (6-3 | 312 | 5.38 | #99)
Ivory earned Honorable Mention All-SEC honors last season with 24 tackles, including 1.5 tackles for loss while primarily playing nose guard, his first campaign as a full-time starter. Ivory possesses the typical squatty, powerful frame of an interior defensive lineman and can surprise opponents with his initial surge upfield. He possesses only average lateral agility, balance and speed to the flanks, making him a bit of a one-trick pony as a block-eater.
Show Comments
Hide Comments
The top three-technique prospect in the draft could see his name not called at all

A diluted drug test continues recent alarming off-field concerns for talented Alabama pros...

Here are players from Air Force to Wyoming who might not be drafted but could make an NFL...
Who should the Rams take with their first pick? We break down all their options

Who should the Seahawks take with their first pick? We break down all their options

Who should the Cardinals take with their first pick? We break down all their options