2015 NFL Draft: American Athletic Conference Preview
Formerly known as the Big East, the American Athletic Conference has undergone radical changes in recent years, but despite the facelift, the league still produces NFL quality talent.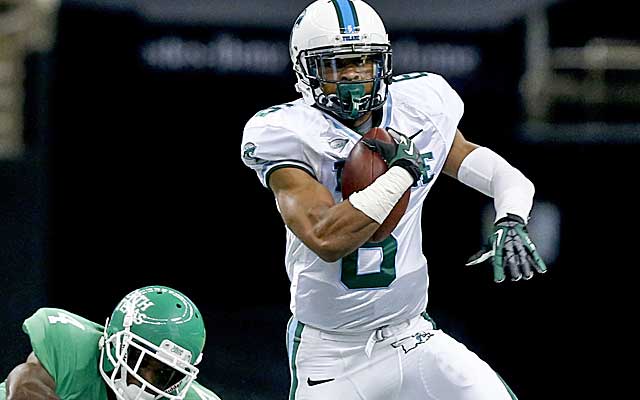 Formerly known as the Big East, the American Athletic Conference has undergone radical changes in recent years, but despite the facelift, the league still produces NFL quality talent. The AAC had a dozen players drafted in the 2014 class, led by UCF QB Blake Bortles No. 3 overall. However with Louisville moving to the ACC, the conference loses one of its cash cows that produced three first rounders last season.
Looking towards the 2015 draft class, the conference likely won't have four first round picks like last year, but there is definitely draftable talent in the AAC.
NFL Draft-Eligible prospects from the American Athletic Conference to watch in 2014:
CB Lorenzo Doss, Tulane, Junior (5-11 | 168 | 4.52 | #6)
Despite only playing two years at the college level, Lorenzo Doss has put together a productive resume that rivals any in the country. As a true freshman, he worked his way onto the field and started nine games, recording five interceptions. Doss followed that up with seven interceptions last season as a sophomore, giving him 12 for his career as he enters his junior season in 2014. He also led the country in interception return yardage last season (185), adding a pair of defensive touchdowns. Doss is more than just stats and ballskills though, displaying natural instincts and read/react quickness to bait throws and break on the ball to make a play. He lacks 4.3 speed and needs to continue and fill out his frame, but Doss, who just turned 20-years old in April, has put his name on the NFL radar, setting a high bar in 2014.

OT Eric Lefeld, Cincinnati, RS Senior (6-5 | 309 | 5.06 | #71)
After starting his career at right tackle, Eric Lefeld has been a mainstay for the Bearcats at left tackle the past few years, earning First Team All-AAC honors last season. He enters his senior season with 32 starts under his belt and NFL eyes will be watching him closely in 2014. Lefeld has the size to play the position at the next level with a quick, effortless kickslide off the snap. He shows the vision of a veteran on tape, seeing the field well with proper awareness and the effort to finish each block. While those are the positives, Lefeld also has his share of negatives and areas needing improvement. He bends well at the knees, but is often caught lunging and lacks an overpowering demeanor with suspect anchor and upper body strength. Lefeld's hand technique is often sloppy, passive and late and his punch can be frustrating to watch when matched up against fierce pass rushers (see Lefeld vs. North Carolina DE Kareem Martin last season). He has a lot of tools for the NFL, but he needs to improve his functional strength and aggressive nature to maximize his potential as a draft pick and player at the next level.
WR Deontay Greenberry, Houston, Junior (6-2 | 198 | 4.54 | #3)
It's not often that blue chip high school recruits choose to bypass big-time programs like USC and Notre Dame in favor for an AAC program, but that's exactly what Deontay Greenberry did when the Fresno, Calif. native picked Houston. Originally committed to the Irish, Greenberry took a visit to the Houston campus and "fell in love" right before signing day. He led the team in receiving last season as a sophomore with 82 catches for 1,202 yards and 11 touchdowns with a freshman quarterback so those numbers are expected to improve in 2014. Greenberry lined up almost primarily as an inside receiver in 2013 for the Cougars' offense and was effective after the catch, using his sturdy frame and physical nature to break tackles. But he needs to show that same aggressive demeanor in his routes, too often allowing defenders to dictate his path and struggling to explode out of his breaks. Scouts I've talked to believe the technique will come with experience and reps, but where they were disappointed is his intensity, especially with several below average blocking performances. Greenberry is clearly talented, but he also obviously lacks polish at this stage in his career and scouts are hoping for a big jump in his on-field maturity this season.
WR Justin Hardy, East Carolina, Senior (5-11 | 186 | 4.49 | #2)
Another wideout who does most of his damage from the slot, Justin Hardy is one of four FBS receivers who return to college football in 2014 after 100+ catch seasons a year ago. He uses good quickness off the line of scrimmage and subtle movements in his breaks to shake free and create some room to work as an underneath target. Hardy is unimpressive in contested situations, but he plays with urgency, improvises well and is always working to get open for his quarterback. Although his size, strength and speed are very average, Hardy accelerates quickly and benefits in the Pirates offense with a lot of catch-and-go designed plays that allows him to show his vision and creativity as a ballcarrier. With impressive chemistry with his quarterback Shane Carden, Hardy is poised for another productive season that will only help his chances of being a top-100 draft pick next spring.
OG Torrian Wilson, UCF, RS Senior (6-3 | 308 | 5.28 | #72)
After starting the past two seasons at left tackle for Blake Bortles and the UCF offense, Wilson transitions inside to left guard for the 2014 season, a move that has received a stamp of approval from NFL scouts. Several around the league thought it was just a matter of time before he moved to guard from tackle and doing so as a senior allows for scouts to evaluate him as an interior blocker at the college level instead of projecting the move in the NFL. Wilson has good body thickness and the strength potential to hold his own inside and with his lumbering movements, tighter quarters are better suited for his skill-set. He plays flexible with good initial set-up quickness, but his lateral movements are more forced than smooth and he needs to show better overall body control off the snap. If he can show improved hand placement as a senior and better overall consistency at guard, Wilson has the potential to be mentioned among the top-five senior guards for the 2015 NFL Draft.
QB Shane Carden, East Carolina, Senior (6-2 | 218 | 4.98 | #5)
Like several senior quarterback prospects this year, Shane Carden doesn't have the prototypical physical tools that will land him in the first round, but it's easy to appreciate what he does well on the football field. Carden operates very well in ECU's shotgun, spread attack, seeing the field extremely well with a strong understanding of match-ups to identify where defenses are most vulnerable. He has decent arm strength and velocity, but the ball placement will run streaky and more often than not he goes to his initial read within seven yards of the line of scrimmage. Carden is very comfortable and productive in the offense with strong FBI (football intelligence), staying tough and poised in the pocket and knowing when to speed up his process. He is tough and fearless, hanging stout in the pocket with good movements to evade, reset and improvise while showing a feel for what is going on around him. Similar to past NFL prospects like Connor Shaw or Colt McCoy, Carden is a winner at the college level who will have opportunities at the next level, likely as a mid-to-late round draft pick or priority free agent.
Other AAC prospects worth watching:
QB Gunner Kiel, Cincinnati, RS Sophomore (6-4 | 208 | 4.85 | #8)
A former top high school recruit who originally committed to LSU before switching to Notre Dame, only to transfer out, Kiel has yet to prove he can be a productive college quarterback, but he was a five-star recruit for a reason. He sat out last season at Cincinnati as a transfer student and is the projected starter with an offense that returns seven starters around him.
RB Ralph David Abernathy, Cincinnati, Senior (5-7 | 161 | 4.45 | #1)
While Kiel is expected to take snaps under center, he will benefit from Abernathy with him in the backfield or in the slot. With a smallish frame that won't be able to take a consistent beating at the NFL level, Abernathy won't receive much attention as a prospect, but his versatility as an offensive weapon makes him a player worth keeping an eye on.
WR Breshad Perriman, UCF, RS Junior (6-2 | 209 | 4.58 | #11)
One of Blake Bortles' favorite targets a year ago, Perriman finished fourth on the team in catches (38), but was second in receiving yards (811) and was among the leaders in all of college football with a 20.8 yards per catch average. He needs to be more reliable as a hands-catcher and eliminate the drops, but he uses his size and athleticism well.

WR Geremy Davis, Connecticut, RS Senior (6-2 | 215 | 4.65 | #85)
The Connecticut offense ranked near the bottom in the conference in most offensive categories last season, but one of the few bright spots was Davis who became the Huskies first receiver to eclipse 1,000 receiving yards in a season since 1998. He isn't the fastest and lacks suddenness in his breaks, but goes up strong and is a physical finisher in contested situations.
DE Martin Ifedi, Memphis, RS Senior (6-3 | 265 | 4.87 | #97)
With Memphis running a hybrid 3-4 base on defense, Ifedi has seen action all over the front-seven for the Tigers. Mostly lined up in the "B-gap" as a three technique on tape, he displays good fight through the whistle with his average size and strength, but lacks dynamic movements and doesn't show much that separates him from others.
LB Terrance Plummer, UCF, Senior (6-1 | 234 | 4.84 | #41)
The Knights' defense returns nine starters in 2014, led by Plummer who lit up the stat sheet in 2013 with 110 total tackles. He shows good backfield vision with a strong grip to finish tackles once he makes contact, but he needs to pack more ammo into his hands at the point of attack to better work through the trash in the middle of the field.
CB Byron Jones, Connecticut, RS Senior (6-1 | 191 | 4.52 | #16)
After starting his career at safety to get on the field, Jones moved back to his more natural position at cornerback last season, leading the team with three interceptions. He has good size and length for the position and tackles like a safety with smooth pedal in reverse, but his read/react ability is only average with suspect transitional quickness and recovery speed.
S Clayton Geathers, UCF, RS Senior (6-2 | 207 | 4.62 | #26)
Although Plummer led the team in tackles last season, Geathers wasn't too far behind, posting 100 tackles and double-digit passes defended (12). A physical player downhill, he also has the athleticism to play in reverse and the requisite NFL bloodlines with several members of his family playing in the NFL, including his uncles Robert Sr. and Jumpy and cousins Kwame, Clifton and Robert Jr.
Show Comments
Hide Comments
Here are the 50 best prospects still on the board as the 2017 NFL Draft heads into Day 2

A report Thursday afternoon indicates that Myles Garrett will be the first overall pick in...

Four defensive backs are picked in the final five spots of the first round in Rob Rang's final...
Character has become such a concern for draft prospects that scouts spend a majority of their...

Also, expect Haason Reddick to go higher than expected and Reuben Foster to be taken on Th...

Plus the Cowboys and Steelers find new cornerbacks late in the first round in Dane Brugler's...