2015 NFL Draft: Arizona Preview
If not for a torn ACL from star wideout Austin Hill, the Arizona Wildcats may have sent more prospects into the NFL draft than at any point since 2000. Hill ranks as Rich Rodriguez's best returning pro prospect, as NFLDraftScout.com shifts its attention to the Pac-12.
by Rob Rang
The Sports Xchange/CBSSports.com

• 4 min read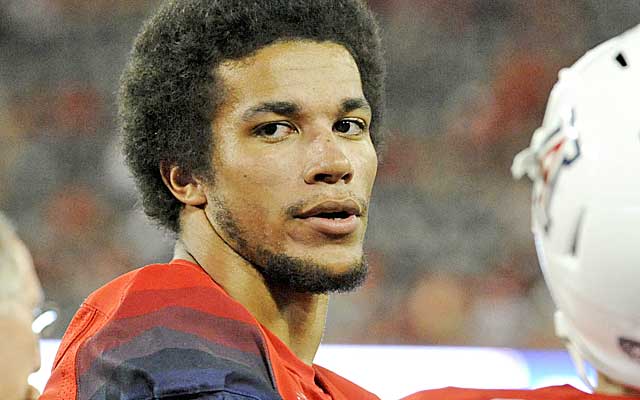 In his two seasons as head coach at Arizona, Rich Rodriguez has led the Wildcats to identical 8-5 records and bowl victories based largely on his innovative spread offense.
The success of Rodriguez's scheme is undeniable. It has generated gaudy statistics against Pac-12, Big Ten and Big East defenses over the past decade, including back to back All-American seasons from running back Ka'Deem Carey, the first of three former Wildcats drafted into the NFL in May - the most from Arizona since 2008.
If not for a torn ACL from star wideout Austin Hill, the Wildcats could have matched their highest total of drafted Wildcats since the turn of the century.  As it stands, Hill, a semifinalist for the Biletnikoff Award in 2012, projects as Arizona's top returning prospect. Strong senior campaigns from spur safety Tra'Mayne Bondurant and left tackle Mickey Baucus could push each of them into the 2015 draft, as well.
Arizona's top NFL Draft-eligible prospects to watch in 2014:

1. WR Austin Hill, RS Senior (6-2 | 210 | 4.54 | #29)
Possessing a similar frame as former Wildcat star (and current Oakland Raider) Juron Criner, Hill exploded onto the scene in 2012, hauling in a team-leading 81 passes for 1,364 yards and 11 touchdowns to earn All-Pac-12 Second Team honors. The Wildcats were counting on Hill to pull defenders away from the line of scrimmage to free up Carey in 2013 but a torn ACL suffered during spring practice ended those thoughts abruptly. Rather than stew about the injury, Hill committed himself to the weight room, earning public acknowledgement from the coaching staff for his dedication.
Hill possesses broad shoulders and a well-built frame, overall. He shows above-average initial burst off the snap to quickly get into his route but tops out quickly. He is a savvy route-runner who shows good lateral burst and balance to generate separation with his cuts. The majority of his production, however, came out of the slot where Hill was able to physically dominate smaller cornerbacks and rarely saw press coverage. He plays with the physicality to handle it, however, and is effective as a run-blocker and after the catch due to his strength and aggression. Hill's best attribute may be his hands and body control. He can contort his frame to adjust to poorly thrown passes and secures the ball quickly.
Hill wasn't a nifty athlete prior to the ACL tear so it remains to be seen how explosive he'll be upon his return. If he picks up where he left off, however, Hill could push for a spot among the top 100 next spring.
2. S Tra'Mayne Bondurant, RS Senior (5-10 | 198 | 4.54 | #21)
Bondurant has starred the past two seasons in Arizona's hybrid "Spur" role, a rover-safety/outside linebacker role in a 3-3-5 scheme that asks him to wear multiple hats. This versatility makes Bondurant intriguing but also a projection to the NFL as it minimizes some of the 'tweener traits that scouts may find troubling when determining whether his future at the next level lies.
Bondurant possesses a lean, athletic frame and natural athleticism, including loose hips to quickly swivel and change directions. He's alert and fluid enough to drop down and cover receivers as a nickel cornerback, as he frequently did a year ago in Arizona's stunning 42-16 shellacking of Oregon. Bondurant complements his athleticism with good awareness. He's aggressive and isn't afraid to break on the ball in the hopes of creating a big play, picking off seven passes over the past three seasons and returning three of them for touchdowns, including two for scores last year. He doesn't possess an intimidating build but closes quickly and can deliver a pop, forcing three fumbles over the past two seasons.
3. OT Mickey Baucus, RS Senior (6-7 | 305 | 5.33 | #68)
After redshirting in 2010, Baucus has started 38 games at the all-important left tackle position, helping protect the likes of future NFL players Nick Foles, Matt Scott and Carey. The former prep basketball player is one of four returning starters up front for Arizona, a unit which has ranked among the conference's best in recent years.
Aiding Baucus and the rest of the Wildcats' offensive line is Rodriguez's scheme, which spreads out defenses and generally gets the ball out quickly. Baucus boasts an intriguing build with great height and long arms. He possesses enough initial quickness to handle most of the conference's speed rushers due to a smooth kick-slide and his length allows him to catch defenders that his feet can't keep up with. Where Baucus struggles is with leverage and balance. Baucus' top-heavy high-cut frame makes him susceptible to counter moves and too often he's forced to lunge at defenders, as a result. Scouts will appreciate Baucus' size and durability but if he's going to be the first Arizona offensive lineman drafted since Eben Britton in 2009, Baucus may want to explore playing right tackle or even moving inside to guard at a senior all-star game, as this is where he projects best against NFL speed. Baucus currently checks in as NFLDraftScout.com's No. 24 tackle in the 2015 class.
Other Arizona prospects worth watching:
S Jared Tevis, RS Senior (5-10 | 195 | 4.58 | #38)
Tevis lacks ideal size but the homegrown product (and former walk-on) has developed into one of the better all-around safeties in the Pac-12. He's an instinctive, physical player but lacks ideal flexibility and speed for coverage.
OT Fabbians Ebbele, RS Senior (6-8 | 312 | 5.29 | #73)
Like Baucus, Ebbele offers intriguing length and durability as a four-year starter. He lacks ideal balance and flexibility in pass protection and doesn't drive defenders off the ball in the running game due to struggles with leverage.
WR Trey Griffey, RS Sophomore (6-2 | 191 | 4.53| #5)
The son of former MLB All-Star Ken Griffey, Jr., this redshirt sophomore has the size and athleticism worthy of keeping an eye on. He enjoyed a breakout performance in Arizona's bowl game victory over Boston College, hauling in the first two scores of his career.
Check out all of NFLDraftScout.com's Summer College Football Previews here.
Show Comments
Hide Comments
The top three-technique prospect in the draft could see his name not called at all

A diluted drug test continues recent alarming off-field concerns for talented Alabama pros...

Here are players from Air Force to Wyoming who might not be drafted but could make an NFL...
Who should the Rams take with their first pick? We break down all their options

Who should the Seahawks take with their first pick? We break down all their options

Who should the Cardinals take with their first pick? We break down all their options