2015 NFL Draft: Florida Preview
A pair of juniors -- pass rusher Dante Fowler. Jr. and left tackle D.J. Humphries -- headline the Gators' top NFL prospects in 2014 but there are also a number of intriguing seniors worthy of scouts' attention.
by Rob Rang
The Sports Xchange/CBSSports.com

• 7 min read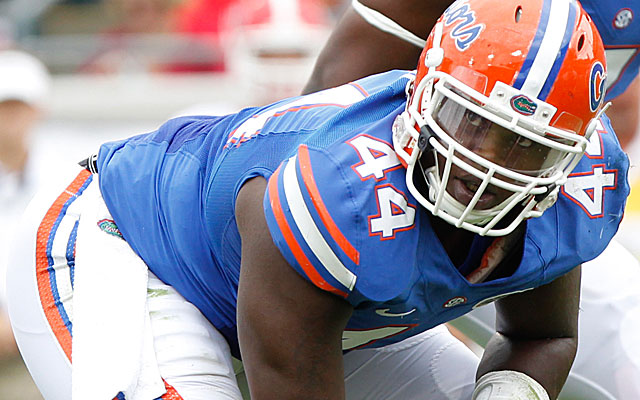 NFL Draft: More prospect previews |   Prospect rankings |  Rang: 2015 mock draft 
For Floridacoach Will Muschamp, 2013 was a year to forget.
It started with a then-surprising loss to Teddy Bridgewater and Louisville in the Sugar Bowl to end the 2012 season and continued into last year when a predictable offense and injuries to star defensive lineman Dominique Easley, quarterback Jeff Driskel and several key offensive linemen left the Gators toothless with a 4-8 record that had many calling for Muschamp's job.
A return to health and invigorated offense should have the Gator chomp and NFL scouts returning to Gainesville in 2014.
    
Florida's top NFL Draft-eligible prospects to watch in 2014:
1. DE Dante Fowler, Jr., Junior (6-2 | 261 | 4.84 | #6)
Last season -- Fowler's first as a starter -- he was recognized with the SEC Defensive Player of the Week against the most gifted offensive line he faced (Tennessee) and earned second-team all-conference honors by the league media for his play, recording 50 tackles, 10.5 tackles for loss, 3.5 sacks and three forced fumbles. Of course, he accomplished this with opponents often focusing more attention on future first round pick Domonique Easley, which means that Fowler has plenty to prove in 2014.
The value Fowler provides lies with his versatility. Depending on the situation the Gators line him up at RDE, LDE, DT, and OLB, ask him to rush from the two-point and three-point stance and occasionally drop him into coverage -- including after he has started the play with his hand in the dirt. Fowler's light feet and fluid athleticism belie his powerful, compact frame and make him a tough matchup.
While Fowler certainly possesses intriguing tools, his success a year ago was undeniably enhanced by the attention opponents had to pay to Easley, including during Fowler's eye-popping performance against Tennessee (three tackles for loss, sack, two forced fumbles, one fumble recovery). To take the next step, Fowler must continue to get stronger at the point of attack and show improved recognition, as too often he'd charge into the backfield only to allow the ball-carrier to slip past him.  
2. OT D.J. Humphries, Junior (6-5 | 290 | 4.97 | #70)
Though he has only played in 19 collegiate games (and started just nine of those), Humphries is already generating buzz in the scouting community as a blindside tackle with exciting upside.

Humphries, who did not allow a sack during his final three years of prep ball and was rated a consensus top 20 recruit in 2012, immediately earned playing time as a freshman and started three games (South Carolina, Missouri and Louisiana-Lafayette) before taking over full-time last season. Unfortunately, Humphries was plagued by MCL sprains in both knees throughout the year and he was shut down for the season after starting the first six games.
Obviously, Humphries will have to show greater durability in 2014, but his talent is obvious. Highly athletic, Humphries is quick off the snap and shows impressive balance and lateral agility in pass protection. He plays with his knees bent and on the balls of his feet, easily shuffling to mirror rushers as well as anchoring well against the bull rush. Humphries boasts long arms and good overall upper body strength to knock defenders off the ball and is quick to the second level. He can get a little lazy with his fundamentals on occasion, getting a bit off-balance when too aggressive with his initial punch and leaving himself vulnerable to counters. He didn't appear comfortable with a tight end flanking him or when a back came in to "help" with a chip, which was the case on the hit by Tennessee defensive end Marlon Walls that led to Driskel's season-ending broken leg.  With the expected weight and strength gain of another year in Florida's conditioning program, Humphries should develop into an all-conference tackle and quite possibly a high NFL draft pick.
3. DT Leon Orr, Redshirt Senior (6-4 | 305 | 5.14 | #8)
Like many Gators, Orr signed on as a highly regarded prep prospect. He has shown flashes of the form that led to his hype but has struggled with various ailments throughout his career and hasn't yet put it all together. Perhaps as a form of recognition that he needs a big senior campaign, Orr has changed his jersey number to No. 8 for this fall after previously donning No. 44.
Orr stepped into a starting role at defensive tackle when Easley was lost early last season with a torn ACL. He played in all 12 games and started a career-high eight contests, recording 21 tackles, including 4.5 for loss and 2.5 sacks. He missed four games with a severe bout of the flu in 2012 and has previously missed opportunities due to a broken leg (2010) and most recently to a fractured wrist, which kept him out of spring ball this year.
Orr looks the part of an NFL defensive tackle, sporting a broad-shouldered frame, long arms and good overall musculature. Orr isn't nearly as explosive off the snap as his lighter, quicker linemates but complements their burst with his size and strength, serving as a block-eater in this scheme. He has a tendency to raise his pads to high and allow opponents to drive him off the ball but can hold the point when he stays low.
Other Florida prospects worth watching:

TE Jake McGee, RS Senior (6-5 | 265 | 4.79 | #83)
McGee, a graduate student, played the past three seasons at Virginia and because he had one year of eligibility remaining and had achieved his academic obligations took advantage of NCAA transfer rules to join the Gators for his final campaign. McGee was originally recruited by Virginia head coach Mike London to play quarterback at Richmond but followed London to the Cavaliers before making the switch to tight end. McGee emerged as Virginia's most reliable receiver over the past two seasons, hauling in a combined 71 grabs for 769 yards and seven scores. McGee possesses a long, athletic frame and enough speed to challenge down the seam. He has good hand-eye coordination and can make the tough, contested grab but needs to add strength and experience as a blocker after much of his success at Virginia came while split out in the slot.
QB Jeff Driskel, RS Junior (6-3 | 230 | 4.67 | #6)
It may seem as though Driskel has been playing at Florida since the days of Steve Spurrier but in reality he's only started 15 games and has completed 62.9 percent of his passes for 2,271 yards and 14 touchdowns (against 10 interceptions) during that time. He only finished two games a year prior before a broken ankle suffered against in the SEC-opener against Tennessee wiped out the remainder of his season. Though he's struggled with consistency and durability to this point, Driskel possess many of the attributes that fit in with the NFL -- including courage in the pocket, a snappy release, good velocity and the athleticism to avoid pressure. Further, with a little better protection up front and more reliable hands from his receivers, Driskel could be on the verge of a breakout campaign in 2014, as the up-tempo spread offense being implemented by new offensive coordinator Kurt Roper should force him to throw from the pocket -- where he's proven to be much more accurate than when on the run. Driskel has been hit a lot at Florida and has developed happy feet as a result. He needs to show better spatial awareness and anticipation of defenders closing in but with two more years of eligibility remaining, Driskel still has time to develop his undeniable tools.
OT Chaz Green, RS Senior (6-5 | 300 | 5.17 | #75)
Green, an 18-game starter for the Gators over the past three years, was the first of Florida's offensive linemen to suffer a major injury in 2013, tearing a labrum in August that caused him to miss the entire season. Green also missed games due to injury in 2012 and 2011. While scouts will want to investigate Green's troubling struggles with durability, he sports an athletic frame with long arms and light feet and could re-emerge as a legitimate draftable commodity with a return to health.
OL Max Garcia, Senior (6-4 | 295 | 5.24 | #76)
Garcia began his career at Maryland but transferred to Florida to be closer to home. After redshirting in 2011, he started all 12 games at left tackle for the Terps and split time between the blindside position at Florida (five games) and left guard (seven games) last season. Garcia was moved to center during the spring and was named to the Rimington Award's Preseason Watch List. Florida may be implementing an up-tempo offense but that won't limit the size of their linemen. Garcia's broad, powerful frame gives him the appearance of a traditional guard than center but he plays with proper knee bend, has long arms and is almost small in comparison to fellow senior Trenton Brown (6-8, 350), who is expected to emerge at guard after starting the final five games last year at right tackle. Neither Garcia nor Brown are light enough on their feet to handle outside duties, but each shows above-average balance for their size.
Show Comments
Hide Comments
Plus Nick Saban sends a ton of talent to the NFL, the Browns find a QB and more from Rounds...

Here are the 25 best prospects still available after three rounds of the 2017 draft have w...

Here are the 50 best prospects still on the board as the 2017 NFL Draft heads into Day 2
Florida State RB Dalvin Cook will kick off Day 2 of the draft

After an unpredictable Round 1, here are some predictions you can bank on for Rounds 2 and...

Receivers surprise in the top 10, Alabama goes MIA in the top 15 and more 2017 NFL Draft t...