2015 NFL Draft: Florida State Preview
Florida State loaded with enough NFL draft prospects for make another run at the national championship.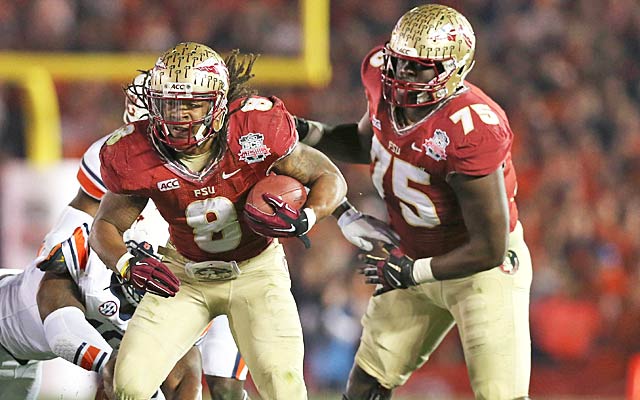 Fifth-year head coach Jimbo Fisher and his national champion Seminoles look to hit the ground running in 2014 after a perfect 14-0 season that featured the nation's fourth leading offense (total offense), it's top scoring defense (12.1 ppg) and perhaps it's best player in Heisman winning quarterback Jameis Winston.
As any school that is loaded with blue-chip talent does after each season, Florida State watched several of the nation's top players in 2013 depart for the NFL, including key defensive starters in DT Timmy Jernigan, SS Terrence Brooks, DB Lamarcus Joyner and OLB Telvin Smith, and studs on offense in WR Kelvin Benjamin, RB Devonte Freeman and C Bryan Stork -- all seven of whom went before the fifth pick of the fifth round.
The champs appear poised for another national title run in '14 and another mass exodus after the season, with at least ten players entering 2014 as top preseason prospects at their positions including three of the top senior O-linemen in the nation in OT Cameron Erving, and OGs Tre' Jackson and Josue Matias, and standout underclassmen Winston, CB P.J. Williams and DE Mario Edwards Jr.
Florida State's top NFL Draft-eligible prospects to watch in 2014:
QB Jameis Winston (6-4 | 235 | 4.83 | #5)*
Winston comes off a redshirt freshman season that saw him earn ACC Player of the Year, ACC Rookie of the Year and consensus All-American honors, as well as set national freshman records for passing yards (4,057) and passing TDs (40). And oh … he also won the Heisman Trophy. No biggie.
Aside from the unprecedented statistical accomplishments, what may have been most impressive about Winston in his first year as the Seminoles signal-caller was his rare display of poise, confidence and ability to finish games through moments of extreme adversity in big-game settings against some of the nations best teams, despite his lack of experience coming into the season. Never was this more apparent than when he led the Seminoles to a comeback victory in an edge-of-your-seat back-and-forth BCS Championship Game against Auburn, earning offensive MVP honors and a national championship trophy.
Winston possesses all the natural physical tools you look for in today's NFL. He's big, athletic, has a strong arm and moves well inside the pocket. As for the intangibles, the most important ones are already showing -- poise, anticipation, toughness, vision, leadership and a competitive fire. He's the total package. Where he's causing some scouts to question his pro-readiness is off the field where a series of questionable incidents have raised concerns his maturity and character, including a couple of shoplifting/theft accusations. Some scouts also believe he needs to quicken and shorten his delivery in order to be consistently successful at the next level, as he tends to wind up when he throws, lacking the quick release NFL teams desire.
There's no doubt Winston would be the top overall prospect for the 2015 draft if these two areas of question weren't so magnified. Thus, 2014 presents an opportunity for him to quell both concerns and establish position as the unquestionable front-runner to be selected first overall, should he choose to turn pro next spring.
CB P.J. Williams (6-0 | 196 | 4.48 | #26)*
The nation championship game defensive MVP as a sophomore, Williams established himself as one of the conference's most consistent defensive backs in 2013, deflecting seven passes, hauling in three interceptions (one TD), and leading the team in passes defended (10). Not too shabby for a first-year starter who shared a defensive backfield with LaMarcus Joyner and Terrence Brooks, both of whom occupy NFL rosters now.
Williams demonstrates an impressive combination of speed, fluidity and physicality that make him an ideal outside corner prospect for the next level, and another year of experience with continued consistency could put him in contention to be among the first cornerbacks off the board in 2015 should he elect to enter the draft after his junior season.
OT Cameron Erving (6-5 | 304 | 5.16 | #75)
A converted defensive tackle who has been the 'Noles' starting left tackle since the beginning of the 2012 season after appearing in 13 games on defense the previous year, Erving earned All-ACC First-Team and All-American First-Team (Sporting News, USA Today, SI.com) honors as a junior, among a slew of other accolades. He also established himself as one of the nation's top offensive linemen, even contemplating a post-junior year exit for the NFL before deciding to return for the 2014 season.
As a run-blocker, Erving displays the toughness and aggression that made him an impact performer on the other side of the football as he works to finish opponents with strong hands and impressive natural power in his lower half. However, he also possesses the light feet and fluidity to thwart some of the nations best edge rushers as was evident in his shutout performance against fellow top 2015 draft prospect Vic Beasley (DE, Clemson) last season.
As for areas of improvement, Erving simply needs to become a more consistent technician. His footwork gets a bit sloppy in pass protection at times and he'll bend at the waist to catch the rush rather than absorbing with his lower half. He also has a tendency to rely too heavily on his upper body when battling, often stopping his feet when engaged. All that said, there are very few athletes who can make the type of transition that Erving has made -- moving to the offensive side of the ball and becoming an immediate starter the same year, at the most difficult position on the line, then being named to several All-American teams and being tabbed a top NFL prospect all within a two year period.
If his ability to learn and improve thus far has been any indication of what's to come in 2014, Erving could very well put himself in position to be a top-five selection in next year's draft.
DE Mario Edwards Jr. (6-3 | 294 | 4.88 | #15)*
An All-ACC third-team honoree as a sophomore, and starting right end on the nations top scoring defense (12.1 ppg) in 2013, Edwards vies for position as one of the top NFL prospects in the nation heading into his junior year after compiling 28 tackles including 9.5 tackles for loss and 3.5 sacks, as well as a forced fumble, two fumble recoveries and an interception.
Since his first start in the 2012 ACC championship game when he replaced an injured Tank Carradine at right end, Edwards has demonstrated an impressive combination of athleticism, strength and instincts that have enabled him to be a force both as an edge-setter against the run, and a power rusher who can threaten the pocket inside or out against the pass.
He utilizes long arms and strong hands to keep blockers out of his frame, and does a good job of maintaining vision, awareness and patience when engaged with taller opponents. When given space off the line, Edwards exhibits good acceleration that transitions nicely to power on contact, as he's routinely able to force tackles to retreat, and eat up any space to the quarterback's left. He's flexible and loose-hipped when asked to establish position underneath his opponent or change direction, and he has the balance to recover and stay on course when tossed or knocked aside by blockers.
Where Edwards will need to improve is in his snap count anticipation; he's frequently the last lineman off the ball, making it tough for him to have any impact rounding the edge. He's also easily stood up at times as he lets the pads rise early in the play and struggles to take ground as a result, and he could take better angles to the outside against the run.
Though still raw with substantial room to continue to get better, Edwards has the makeup of the ideal 3-4 end or 4-3 tackle who can disrupt the backfield in a number of ways, from multiple spots, and should draw a premium pick come draft day next year if he's able to continue developing at his current trajectory.
WR Rashad Greene (6-0 | 178 | 4.47 | #80)
Florida State's leader in receptions for three years running now, Rashad Greene earned All-ACC honors in 2013 with 76 receptions (second most in a season in school history) for 1,128 yards and nine TDs. His 22 career touchdown receptions make him the active leader in the ACC, and his 171 career receptions are the fourth highest in school history. And some think he's only scratched the surface.
At only 178 pounds, there are merited concerns about Greene's durability at the next level, but he's fast, extremely quick, fluid in and out of cuts and can make big plays with the ball in his hands, prompting some to mention DeSean Jackson as an NFL comparison. Though explosive and possessing a knack for getting open, Greene relies too heavily on his chest and body to catch the football and has dropped a few easy ones as a result.
Another year with Winston at QB could lead to even better chemistry than we saw last year between these two and should make for quite a showcase for NFL scouts leading up to draft, where Greene could find himself in first-day conversation.
Other Florida State prospects to watch in 2014:
OG Tre' Jackson (6-4 | 339 | 5.38 | #54)
A 28-game starter who earned All-ACC first-team accolades in 2013 while anchoring a line that helped produce the best offensive season in school history, Jackson opted to return for his senior year, and does so as perhaps the top preseason NFL guard prospect in the country. In addition to possesses road-grader size and power, Jackson will surprise with his athleticism and quickness when asked to mirror rushers or get to the second level as a run blocker, and plays with solid instincts and awareness in both facets of the offense.
TE Nick O'Leary (6-3 | 244 | 4.76 | #35)
The grandson of golf legend Jack Nicklaus and a 2013 All-ACC second-team honoree, O'Leary finally showed why he was the top TE recruit in the nation out of high school after two ho-hum seasons in Tallahassee, compiling 33 receptions for 557 yards and seven touchdowns as a junior. O'Leary's sure hands, quickness and solid route-running had many considering him one of the top preseason TE prospects for the 2015 draft, but a second motorcycle accident that resulted in a severe ankle injury has rendered him inactive for the spring and could threaten to set him back, both on the team's depth chart and in the eyes of NFL scouts entering the 2014 season.
OG Josue Matias (6-6 | 331 | 5.32 | #70)
Two-year starter at left guard and All-ACC second-team selection for the 'Noles, who also has some experience at tackle and demonstrates both power and agility to offer position versatility at the next level. Technically he's still inconsistent in some areas, but he'll certainly be another one to watch as a potential early round prospect leading up to the 2015 draft.
RB Karlos Williams (6-1 | 219 | 4.42 | #9)
Versatile and extremely athletic running back and special teams starter who converted from safety to garner 730 rushing yards and 11 TDs in 2013, while posting an 8.0 yards-per-carry average. Williams possesses speed, cutback ability and power, and demonstrated improved vision over the course of his lone season at tailback. Has the talent to be an elite running back at the next level if he can continue to improve.
SS Tyler Hunter (5-11 | 205 | 4.67 | #1)
After tying Xavier Rhodes for the team lead in interceptions as a nickel back during the 2012 season, Hunter started the first three games of last year at strong safety before missing the final 11 due to a neck injury. All indications are that he has recovered well from surgery, and will again be the team's frontrunner for the strong safety spot. An explosive, quick athlete with the versatility to line up at multiple spots in the defensive backfield, Hunter is also a big-play threat as a punt returner and if able to stay healthy in 2014, could draw high-round interest come draft day.
Show Comments
Hide Comments
Plus Seahawks eschew needs on the line and Rams seek help for Goff as we hand out NFC West...

Plus Saints and Falcons load up on defense as NFC South gets a massive boost in talent

Lions draft for now, Packers run down their checklist and Vikings find a runner in our NFC...
Plus Giants do a lot with a little and Eagles and Redskins face durability concerns in our...

Plus Broncos and Chargers help their QBs while Raiders gamble big in our AFC West grades

Texans pin hopes to Watson, new Jaguars must focus and Titans help Mariota in our AFC South...