2015 NFL Draft: Kansas Preview
Kansas hasn't produced a NFL Draft pick since 2010 and while they don't have any sure picks for the 2015 class, the Jayhawks have a few intriguing prospects worth watching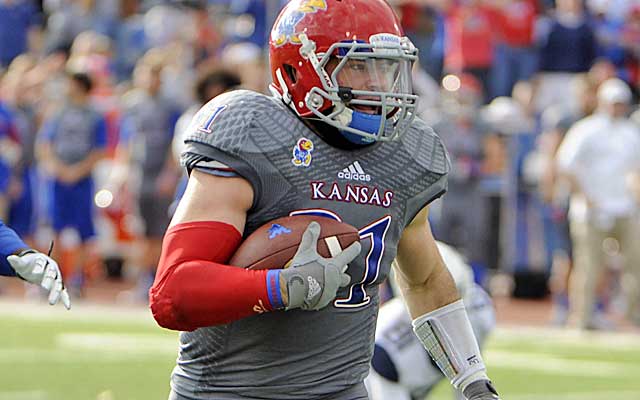 The Kansas football program has seen better days with only nine combined wins and one NFL Draft pick the last four years. The Jayhawks have only produced one top-100 draft choice since 1997 (CB Aqib Talib, 2008) and that streak will likely extend another season with only a few possible late round draft picks for the 2015 draft class. Kansas hasn't finished a season above .500 since 2008, but there is some optimism for the 2014 season. Entering year three of his tenure, head coach Charlie Weis has arguably his most talented roster, including a few players who will draw some interest from NFL teams.
Kansas' top NFL Draft-Eligible prospects to watch in 2014:
1. ILB Ben Heeney, Senior (5-11 | 230 | 4.83 | #31)
The Jayhawks' leading tackler the past two seasons, Heeney has been the heart and soul of the Kansas' defense since he became the full-time starter in 2012 and will again be one of the team leaders in 2014. The Jayhawks' defense ranked near dead last in college football last season, allowing 31.4 points per game, but Heeney was one of the lone bright spots, earning Second Team All-Big 12 honors the past two years. He has average straight-line speed and appears tight in space, but plays with a try-hard motor and leaves everything he has on the field. Heeney is a physical wrap tackler and aggressive in pursuit, taking decisive angles and breaking down well on the move – locks onto his target and won't make many mistakes. He performs better than expected in man coverage with his read/react skills to float while reading the eyes of the quarterback, breaking well to make plays on the ball. Although his average athleticism tends to show up too much, Heeney has the mental make-up and competitive nature needed for the position and he will make it tough for a NFL team to cut him next year.
2. S Isaiah Johnson, RS Junior (6-1 | 210 | 4.65 | #5)
The team leader in interceptions a year ago, Johnson transferred to Kansas from the JUCO level and made an immediate impact in 2013, finishing second on the team in tackles (73) and second in the conference in interceptions (5). He earned Big 12 Defensive Newcomer of the Year honors and is one of the top returning safeties in the conference for the 2014 season. Johnson shows a versatile array of skills on tape, playing in the box as an impact run defender and also lining up as a single high safety and covering both sidelines. He also covers the slot receiver in man coverage, showing good quickness in his breaks and the route anticipation to click and close and make plays on the ball in front of him. Johnson's pedal and transitional work still need to develop and he isn't as natural finding the ball once his back is turned to the line of scrimmage. But if he takes the next step in his development as a junior in 2014, the NFL will take notice.
3. WR Nick Harwell, RS Senior (6-1 | 193 | 4.59 | #88)
With 229 catches in three seasons at Miami (Ohio), Harwell has been one of the most productive pass catchers in college football the last few years. But due to off-field issues, he was dismissed from the program last year, transferred to Kansas and was forced to redshirt in 2013. Harwell returns to the field in 2014 for his final year of college football and first official season in a Kansas uniform after serving on the scout team all of last season. He has ordinary size and speed and doesn't have the most natural hands, but works well out of the slot, using the middle of the field with a veteran field sense. Harwell displays quickness in his breaks and smooth redirection skills, creating a cushion in coverage with his short-area route quickness. While the measureables aren't ideal for the NFL level, he is proven and if he can be productive in Kansas' suspect passing attack, Harwell will attract attention as a possible NFL Draft pick.
4. WR Justin McCay, RS Senior (6-2 | 210 | 4.54 | #19)
A five-star recruit out of high school, McCay signed with Oklahoma as a high profile blue chipper and redshirted in 2010. He played in just three games with the Sooners in 2011 with no catches, but decided things weren't working out in Norman and transferred closer to home, sitting out the 2012 season because of the move despite several appeals. McCay started seven games in 2013 for the Jayhawks, but finished with only nine catches as Kansas ranked 117th in passing offense, including just nine touchdown passes as a team. Kansas' quarterback situation is again unsettled entering the 2014 season with Jake Heaps transferring and sophomore Montell Cozart and his zero career passing scores presumably taking over the starting job. But McCay was a highly-regarded recruit a few years back due to his frame, athleticism and natural ability and 2014 might be the year he emerges as an impact talent.

Other Kansas players to watch:
CB Ja'Corey Shepherd, Senior (5-11 | 190 | 4.53 | #24)
S Cassius Sendish, RS Senior (6-0 | 195 | 4.53 | #33)
WR Tony Pierson, Senior (5-10 | 175 | 4.46 | #3)
Show Comments
Hide Comments
Ross looks like the perfect replacement for Brandin Cooks in the Big Easy

The top three-technique prospect in the draft could see his name not called at all

A diluted drug test continues recent alarming off-field concerns for talented Alabama pros...
Here are players from Air Force to Wyoming who might not be drafted but could make an NFL...

Who should the Rams take with their first pick? We break down all their options

Who should the Seahawks take with their first pick? We break down all their options