2015 NFL Draft: Louisville Preview
The Cardinals head into their first season as members of the ACC with first-round talents Devante Parker (WR) and Lorenzo Mauldin (OLB/DE) headlining another impressive class of NFL prospects, after Louisville saw three of it's own selected in the first round of this year's draft.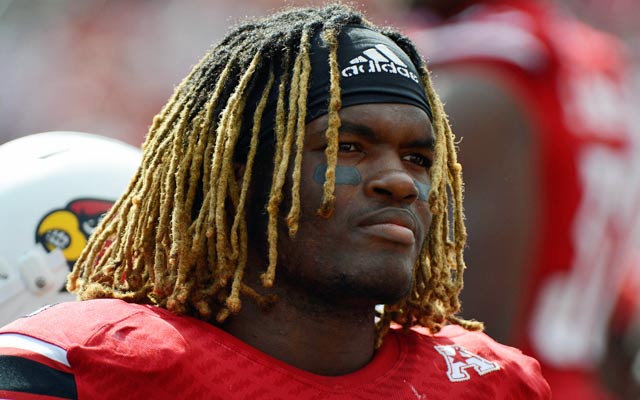 After a 12-1 finish in their lone season as members of the American Athletic Conference, the Louisville Cardinals have their work cut out for them in 2014 as they join the competitive ACC, and do so without last year's leader and one of the nation's best quarterbacks in Teddy Bridgwater. And despite the return of All-AAC second-teamer and top edge-rush prospect Lorenzo Mauldin, new head coach Bobby Petrino will also be without the services of several key members of what ended up being the nation's top run defense in 2013, as DE Marcus Smith, LB Preston Brown and starting safeties Calvin Pryor and Hakeem Smith all find themselves on NFL rosters now.
Things aren't quite as bleak on the offensive side of the football. While the loss of Bridgewater at quarterback certainly hurts, the Cardinals return several key members in 2014, many of whom have NFL talent, including a trio of top offensive linemen in All-AAC first-teamers Jake Smith (C) and Jamon Brown (LT), and second-team honoree and 34-game starter John Miller (LG). Their return should only improve a running attack that gets another year out of last season's leading rusher Dominique Brown and former Auburn standout Michael Dyer, both of whom averaged over five yards per carry in 2013. Two of the team's top four receivers from last year also return, in two-time conference first-team wideout DeVante Parker and former Florida tight end Gerald Christian.
Top Louisville prospects for the 2015 NFL Draft:
WR DeVante Parker (6'3 | 209 | 4.53 | #9)
A two-time first-team all-conference honoree in the BIG EAST/AAC with 28 career TD receptions, including a school record-tying 12 last season, Parker has developed into one of the most reliable and consistent pass-catchers in the country while steadily progressing from a raw athlete to a skilled wideout over his three years at Louisville.
At 6'3 with long arms, soft hands and superb leaping ability, Parker is as tough of a receiver to defend as there is anywhere in the country as he utilizes great body control and timing to win any ball thrown in his vicinity regardless of how well-covered he is. After the catch, Parker demonstrates impressive shiftiness despite being a long-strider and has a nice second gear to create distance once he's in the open field.
Parker's initial burst and quickness off the line is only marginal, so he'll need to continue improving with his hands to routinely beat press coverage, and he lacks elite straight-line speed to separate vertically. He's also still developing as a route-runner as he lacks sharpness on cuts, and doesn't always work his way back to the ball, but he has shown steady improvement in this area.
Parker has first-round talent, and will certainly be a consideration there with another season like the last two.
DE Lorenzo Mauldin (6'4 | 243 | 4.73 | #94)
An All-AAC second-team honoree (Coaches) in 2013 who compiled 12 tackles for loss and 9.5 sacks at defensive end, Mauldin now brings his talents to the ACC and makes the switch to linebacker in the process with the insertion of Todd Grantham's 3-4 scheme. Mauldin combined with 2014 first-round pick Marcus Smith to form one of the better pass-rushing tandems in the nation last season as an end, but coaches feel that his athleticism could be better utilized in more of a hybrid role where he has more space to work with, and can be more of a factor in coverage with his fluidity and burst.
At just over 240 pounds, Mauldin looks the part of the prototypical speed rusher, possessing a lean, wirey but muscular frame with long arms and a flexible lower half enabling him to flatten at the edge and turn the corner. At the point of attack, he demonstrates active, quick hands to keep much larger opponents out of his chest and when given some space to get up to speed, exhibits surprising pop and drive to move blockers. His quick feet and impressive body control enable him to stop, start and change direction rapidly with spins, counters and hump moves and he's able to make himself thin when need be, to fire gaps.
As physically-gifted as Mauldin is, he's not consistently explosive off the snap and will win more with his hands and footwork than by beating opponents to the edge on get-off or pure speed alone. Thus, if he can combine his improving rush savvy with better initial burst and timing off the snap as a senior, as well as demonstrate a quick pick-up of the coverage game at linebacker, he has the chance to be in the high-first-round conversation next spring.
C Jake Smith (6'3 | 312 | 5.32 | #53)
With 25 career starts at guard, and thirteen more recent starts at center, the All-AAC first-teamer, Smith, enters his redshirt senior year on several watch lists including both the Outland Trophy (best interior lineman) and the Rimington Award (best center).
What makes Smith so reliable is his consistent technique. Though not an elite athlete by any means, he's light on his feet, is a natural bender, and utilizes good hand placement to establish leverage enabling him to anchor and hold ground against much larger opponents. He keeps his feet moving and does a good job of resetting without panicking when initially knocked back, and as a run blocker is quick enough in a short area to take on sequential blockers and stay ahead of the play.
At this point, Smith's game is more technique than physicality as he's not a guy you'll see blowing defenders up frequently, and in rare cases where he does lose leverage, he can be easy to thwart.
All in all, Smith's durability, strong fundamentals, instincts, and versatility to play any of the interior positions outweigh the few drawbacks and should be enough to merit at least mid-round consideration next spring if he puts together another strong year.
OG John Miller (6'2 | 321 | 5.33 | #70)
A 34-game starter in his Louisville career, Miller earned second-team All-AAC honors starting all thirteen games at left guard last year as the Cardinals offense put up 35.2 points, and 460.8 yards per contest. While he may lack elite athleticism, Miller demonstrates intelligence, sound technique and toughness in the trenches with enough quickness in a short area to be a reliable pass-protector when asked to slide and mirror interior rushers, and his initial burst off the snap enables him to get to the 2nd level and target efficiently. From a technical standpoint, Miller exhibits good bend in his lower half and is rarely overwhelmed as he keeps his feet moving, resets without wasted motion, and establishes good extension to keep defenders out of his frame. Another mid-round type of prospect who's durability and consistency could make him a terrific pro.
Other Louisville prospects to watch in 2014:
RB Dominique Brown (6'2 | 216 | 4.62 | #10)
Big, physical runner with patience, vision and impressive shift for his size, who led the Cardinals with 825 yards rushing and 8 TDs last season, averaging 5.1 yards-per-carry. Has demonstrated workhorse capacity at times, including a 27-carry, 137-yard performance against Houston, and offers versatility as a receiver out of the backfield as he hauled in 24 catches for 228 yards and a touchdown. Brown isn't a burner, but has the size, burst and physicality to be that cut-and-go zone scheme runner at the next level.
RB Michael Dyer (5'9 | 215 | 4.50 | #5)
Quick, powerful runner and former Auburn Tiger who ranked 20th in the nation as a sophomore with 1,242 rushing yards and 10 TDs in 2011, but has been hampered by injuries since coming to Louisville, including a sports hernia that resulted in season-ending surgery last December. Prior to surgery, Dyer had 44 carries for 223 yards (5.1 avg) and two TDs, and if he can rebound from the injury, could once again be a nice change-up to Brown and potentially draw NFL interest with his undeniable natural talent.
OT Jamon Brown (6'5 | 350 | 5.44 | #79)
Earned All-AAC first-team honors after moving from right tackle to start on the left side in 2013. Brown is a mammoth physical specimen with tremendous length and girth, whose extremely wide frame alone makes for an incredibly difficult barrier for speed rushers to get around. He flashes dominant capability as a run-blocker as well, with powerful hands and impressive lower-half power to dictate opponents with ease when he's able to latch on. Brown is certainly a prospect worth keeping an eye on leading up to next year's draft, but heavy feet and limited movement skills probably make him better suited to play guard at the next level.
TE Gerald Christian (6-3 | 242 | 4.76 | #18)
Former Florida Gator who transferred and sat out 2012, then caught 28 passes for 467 yards and four TDs in his first season at Louisville. 2014 Mackey Award watch list member and Athletic WR/TE hybrid type with good burst off the snap, who is still raw as a route-runner but has the athleticism to improve. Good hands, and a surprisingly good in-line blocker considering his size.
Show Comments
Hide Comments
Four defensive backs are picked in the final five spots of the first round in Rob Rang's final...

Character has become such a concern for draft prospects that scouts spend a majority of their...

Also, expect Haason Reddick to go higher than expected and Reuben Foster to be taken on Th...
Plus the Cowboys and Steelers find new cornerbacks late in the first round in Dane Brugler's...

Late breaking news has caused several players to slide down the Top 100 just before the 2017...

Drama is always a certainty when it comes to the unpredictability of the draft