2015 NFL Draft: Oklahoma Preview
One of the top football factories in college football, Oklahoma has a new group of NFL talent for next year's class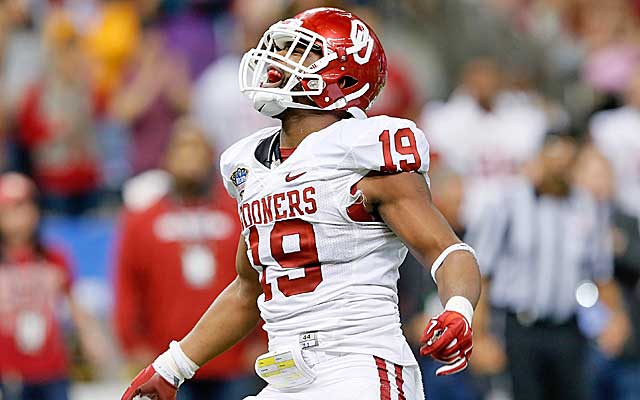 Only two college football programs have produced at least four draft picks each of the last seven years and the Oklahoma Sooners are one of them. Since Bob Stoops took over as head coach in 1999, Oklahoma has produced 73 NFL Draft picks, including 13 first round picks.
Although the Sooners' 2015 crop of senior prospects isn't as impressive as past years, Oklahoma has a trio of offensive linemen who might earn draftable grades along with a few notable underclassmen. One of the more intriguing potential prospects might be former quarterback Blake Bell who is making the transition to tight end.
Oklahoma's top NFL Draft-Eligible prospects to watch in 2014:
1. OLB Eric Striker, Junior (6-0 | 219 | 4.73 | #19)
The only Sooner who registered double digit tackles for loss last season, Striker is an exciting player who jumps off the screen. He plays a variety of roles in Oklahoma's base 3-4 scheme, standing up on the edges where he can rush the passer, drop in space or hold up in coverage. Striker, who has drawn comparisons to Ryan Shazier by some NFL scouts, has outstanding play speed, but needs to find the weight room and commit himself to getting stronger and maxing out his frame as he is too easily overwhelmed and locked up once engaged by blockers. He has excellent initial get-off quickness and edge speed as a pass rusher to win the corner, dip his shoulder and flatten to the pocket. Striker is energetic and covers a lot of ground, using his eyes well to track and anticipate with his improved ball awareness. He isn't quite the first round prospect that Shazier was, but he's not too far off with the athleticism and position versatility that will impress NFL teams.
2. OG Adam Shead, RS Senior (6-3 | 316 | 5.34 | #74)
Oklahoma returns three starters on the offensive line and while the tackles receive most of the attention, Shead is a noteworthy NFL prospect in his own right. With 28 career starts at left guard, he is battled tested and plays like a veteran with the base strength to rarely play on his heels. Shead extends well with good arm length to keep rushers from his body, delivering pop at contact with good quickness in his movements from snap to finish. He needs to improve his feel at the second level with a tendency to get sloppy on the move, but he displays the balance and flexibility to pick up extra rushers and bury his man. Shead needs to tweak some areas of his game, but brings favorable traits to the field that should translate well to the NFL level.
3. OT Daryl Williams, RS Senior (6-5 | 321 | 4.97 | #79)
In 2012 Lane Johnson turned heads at left tackle for the Sooners, but Williams earned the starting right tackle job that year and has progressed well the past two seasons, earning All-Big 12 honors by league coaches both years. The projected starter at right tackle in 2014, he has assumed a leadership role on the Oklahoma offense, a year after helping the Sooners average 223.9 rushing yards per game – the most by an Oklahoma team since Bob Stoops became head coach. Williams looks the part with excellent body thickness throughout and an anchor to hold his ground. He displays an understanding of angles, but has a bad habit of lunging and doesn't properly use his length, lacking the aggressive hands to punch and initiate contact. Williams doesn't burst off the snap and plays heavy and he has admitted that he's "not even close" to being as athletically gifted as former teammate Lane Johnson or current teammate Tyrus Thompson. Williams sees the field well mentally but doesn't always show the physical gifts needed to react consistently, which could ultimately hurt his NFL value.
4. OT Tyrus Thompson, RS Senior (6-5 | 320 | 5.08 | #71)
After serving as a part-time player his first few seasons in Norman, Thompson started 11 games at left tackle last season, missing a pair of starts due to injury. He is the more athletic of the Oklahoma offensive tackles, but not as polished or reliable as Williams at this point in their development. Thompson lacks overwhelming strength and is too easily bullied on his heels, not effectively extending and utilizing his reach. He will get grabby with late hands and reactions and needs to eliminate the mental mistakes and immaturity as a senior to prove he can be a consistent edge blocker. Thompson does some things well with his natural balance in space, staying patient and not overextending himself. But in order for him to have a NFL future, he needs to show considerable improvement in 2014, currently penciled in as the Sooners' starting left tackle.
5. DE Charles Tapper, Junior (6-4 | 261 | 4.83 | #91)
With Oklahoma transitioning to a 3-4 scheme last season, Tapper developed at a five-technique defensive end role in his first year as a starter, showing steady improvement as the season advanced. He uses his length well at the point of attack to get push off the snap with his upper body strength. Tapper has ordinary athleticism and coordination with limited rush moves and pass rush arsenal, playing mostly contain and locking down the edges of the pocket. He doesn't have much closing burst and needs to be a more consistent finisher, but he has the motor and effort you want with the play speed to find the ballcarrier. In his first year as a starter last season, Tapper finished second on the team in tackles for loss (9.0) and sacks (5.5) and his development as a junior in 2014 will be something scouts watch closely.
Other players to watch:
K Michael Hunnicutt, RS Senior (6-0 | 176 | 4.89 | #18)
ILB Frank Shannon, RS Junior (6-1 | 229 | 4.69 | #20)
CB Julian Wilson, RS Senior (6-1 | 199 | 4.49 | #2)
TE Blake Bell, RS Senior (6-5 | 252 | 4.86 | #10)
DT Chuka Ndulue, RS Senior (6-2 | 274 | 4.76 | #98)
DE Geneo Grissom, RS Senior (6-4 | 263 | 4.69 | #85)
Show Comments
Hide Comments
A diluted drug test continues recent alarming off-field concerns for talented Alabama pros...

Here are players from Air Force to Wyoming who might not be drafted but could make an NFL...

Who should the Rams take with their first pick? We break down all their options
Who should the Seahawks take with their first pick? We break down all their options

Who should the Cardinals take with their first pick? We break down all their options

Who should the 49ers take with their first pick? We break down all their options