2015 NFL Draft: Oregon Preview
Few college teams would call an 11-2 season a disappointment but with superstar Marcus Mariota and a host of other highly regarded NFL prospects returning to Eugene, these Ducks could be on the verge of something special in 2014. NFLDraftScout.com spotlights Oregon's top prospects potentially eligible for the 2015 draft.
by Rob Rang
The Sports Xchange/CBSSports.com

• 8 min read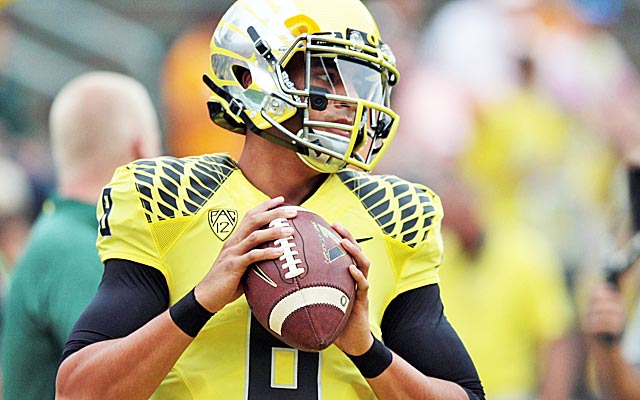 More NFL offseason: League minicamp dates | Latest news, notes
Mark Helfrich guided the Oregon Ducks to an 11-2 record and 30-7 whipping of Texas in the Alamo Bowl in his first season taking over for Chip Kelly.

For most teams, that would count as an extraordinary accomplishment. For Oregon -- a team that had qualified for four consecutive BCS bowls -- it was a disappointment. That led to a number of highly regarded underclassmen ignoring the promise of an NFL contract and instead returning to Eugene.
    
Oregon's top NFL Draft-eligible prospects to watch in 2014:

1. QB Marcus Mariota, RS Junior (6-4 | 215 | 4.52 | #8)

Boasting a combination of size, speed and passing ability that has often earned comparisons to San Francisco's star quarterback Colin Kaepernick, Mariota enters his fourth season in Eugene as a Heisman Trophy favorite and arguably the elite NFL prospect in the country. He is my personal top-rated prospect entering the 2014 season.

Perhaps surprisingly, Mariota turned down the chance to be a top five pick a year ago. Few prospects are willing to put off the glamor and riches of an NFL deal but Mariota will likely be better off with this decision as another season at the collegiate level gives him time to polish his game. He is blessed with extraordinary tools and his production thus far has been outstanding (63 touchdowns/10 interceptions at a 65.8 percent completion rate and another 1,467 yards on the ground with 14 scores over the past two years), but after only emerging as a starter as a senior in high school, Mariota remains very much a work in progress.

The Ducks' innovative offense simplifies QB decisions and this is roughly the same scheme Mariota played in high school. As such, some of the basics like taking the ball from under center and scanning downfield while dropping back are skills Mariota hasn't been asked to master yet. He's overly reliant (at this point) on his first read, occasionally commits the cardinal sin of throwing late across his body and wasn't a year ago when injury sapped him off his maneuverability and he was forced to throw from the pocket.

These are coachable skills and given that Mariota is often lauded for his intelligence, humility and work ethic, scouts expect growth in these areas in 2014. Mariota has a quick release and flashes deadly accuracy, including when on the move. He has a very strong arm and isn't afraid to make challenging throws through tight windows. He also shows good touch to loft passes over defenders down the seam or to backs and receivers on quick swing passes. He has good balance and agility to avoid pressure and keeps his eyes downfield rather than looking for an excuse to run. Like Kaepernick, Mariota puts extreme pressure on the defense because of his scrambling ability. He offers rare straight-line speed, making him a legitimate threat for a big play via his arms or legs on every snap.

2. OT Tyler Johnstone, RS Junior (6-6 | 283 | 5.08 | #64)

Johnstone hasn't yet generated the attention of some of Oregon's other top prospects but expect that to change soon.

Johnstone's frame and athleticism is befitting more of a tight end rather than a traditional offensive tackle but don't think for a moment that it keeps him from being successful. Johnstone, in fact, may be the most underrated element of Oregon's success the past two seasons, as he's emerged as one of the country's most reliable blockers on the perimeter.

Johnstone offers a rare blend of length, agility and initial quickness which makes him a formidable blindside pass protector. He springs out of his stance and latches on to corral speed rushers and is surprisingly effective against bull rushers due to good core strength, balance and technique to maintain leverage. Johnstone's athleticism makes him very effective blocking on the move in Oregon's zone attack, frequently beating opponents at the line of scrimmage or the second level with quickness to turn and seal them from the play. Unlike many athletic blockers, Johnstone seems to revel in the opportunity to drive block opponents, as well, offering a physical jolt to greet defenders and a tenacious play-to-the-whistle style that is sure to endear him to NFL offensive line coaches.

There is no question that Johnstone is aided by all of the athletes surrounding him in Oregon's scheme and that to continue his success at the next level he'll need to get bigger and stronger, but like former teammate Kyle Long, Johnstone's upside is such that a first round selection is attainable.

3. CB Ifo Ekpre-Olomu, Senior (5-09 | 195 | 4.46 | #14)

With opponents forced to try and keep up with the Ducks' high-octane offense, Oregon's defenders are often in position to make big plays - something that Ekpre-Olomu has proven quite adept at doing in earning consecutive First-Team All-Pac-12 honors the past two seasons. Athletic, physical and instinctive, Ekpre-Olomu (full name is pronounced ee-fo eck-pray-olo-moo) is a turnover machine, registering 15 takeaways (seven interceptions, seven forced fumbles and one fumble recovery) during this time.

While competitive and alert, Ekpre-Olomu isn't necessarily the shoo-in first round prospect that his hype may lead one to believe. He lacks prototype size and relies on vision, timing and hand-eye coordination rather than extraordinary speed or fluidity to shut down opponents. He possesses broad shoulders and a well-built frame, overall and is sound in run-support, traits that could make him one of the country's best all-around cornerbacks but one perhaps best suited to playing the nickel in the NFL.
4. OC Hroniss Grasu, RS Senior (6-3 | 297 | 4.52 | #55)
 
Grasu enters his senior campaign with 40 career starts, a two-time first-team all-conference pick and atop NFLDraftScoutcom's center rankings.
Grasu sports a pro-ready NFL frame with good weight distribution. He generally plays with very good initial quickness, though he can be caught flat-footed, on occasion. He can be guilty of trying to do too much when he senses a blitz up the middle, trying (sometimes in vane) to slow two defenders, rather than stoning one of them and relying on teammates.  Grasu has a bad habit of dropping his head on contact (which provides defenders an easy swim move over the top), though he shows impressive lateral agility and balance to recover. He plays low to the ground and locks out well, showing good functional strength absorb the bull rush. He's an ideal match in Oregon's zone-blocking offense due to his agility when blocking on the move. Grasu is quick to get to the second level and can adjust to hit and sustain against a moving target.

5. DE/OLB Tony Washington, RS Senior (6-3 | 250 | 4.73 | #91)

Washington emerged as Oregon's leading pass rusher in 2013, his first season as a full-time starter. He was awarded honorable mention all-conference accolades with 60 tackles, as well as 12 tackles for loss, 7.5 sacks and four forced fumbles, each of which led the Ducks.

A versatile defender asked to rush the quarterback from the two-point and three-point stance, well as drop back into coverage, Washington offers an intriguing skill-set certain to draw the attention of scouts throughout the NFL. He possesses broad shoulders and with additional weight added in his lower body could bulk up to play defensive end in the NFL. He is surprisingly balanced and fluid in his transition when in coverage, as well.

Washington can boost his stock by gaining strength as a pass rusher, as too often he's controlled by opponents if they're able to latch on. He has good agility to avoid and the burst to close but his inexperience also shows up on tape, as Washington can be a bit hesitant. As he learns to trust his eyes and flow quicker to the ball, Washington should be even more productive, potentially making him a top 100 candidate in the 2015 draft.

Other Oregon prospects worth watching:

DE Arik Armstead, Junior (6-7 | 296 | 4.97 | #9)
Armstead's production is far from staggering but he boasts such an incredible combination of size and athleticism that he could wind up as Oregon's hottest NFL prospect on the defensive side of the ball. Armstead signed with the Ducks as a highly regarded prep and immediately impressed, recording 26 tackles in 13 games (including one start) in 2012. He didn't progress as hoped a season ago (15 tackles in 13 games, including five starts) but could be on the verge of a breakout campaign after quitting Oregon's basketball team to focus on football. A monstrous man with natural power and light feet, Armstead's upside is undeniable.

OT Jake Fisher, Senior (6-6 | 299 | 5.22 | #75)
A reliable blocker with good size, athleticism and strength, Fisher would earn more of a spotlight on many Pac-12 teams. He's a legitimate NFL prospect set to start at right tackle for the third consecutive year. Fisher is a very effective double-team blocker, releasing from one target to hit another. Fisher has broad shoulders, long arms and quick, strong hands to latch onto opponents and good lateral agility to shuffle. He can get himself in trouble when his feet stop moving and when he tires and loses the leverage battle.

OLB Derrick Malone, RS Senior (6-3 | 220 | 4.68 | #22)
Malone took over for Kiko Alonso at inside linebacker in 2013 and earned Most Improved honors following the year in a vote by his teammates. He led the Ducks with 105 tackles but projects best outside at the next level due to his slim frame and reliance on his athleticism to make plays.

RB Byron Marshall, Junior (5-9 | 201 | 4.47 | #9)
Despite being overshadowed by De'Anthony Thomas and true freshman Thomas Tyner, Marshall continued Oregon's sterling reputation for running backs by leading the team with 1,038 yards and 14 scores as a true sophomore. Marshall has a nice stutter-step and burst to avoid defenders and enough speed to break free for long gains. He struggled a bit with ball security a year ago and like many of the Oregon backs before him, Marshall lacks the size to be a full-time contributor in the NFL.

WR Bralon Addison, Junior (5-10 | 190 | 4.49 | #11)
A talented wideout and punt returner due to his quickness and acceleration, Addison was being counted on to emerge as the Ducks' primary receiver in 2014 but his junior campaign is in doubt after he suffered a torn ACL during spring practices. Addison had 61 receptions for 890 yards with seven touchdowns last season. He also returned two punts for scores.

TE Pharaoh Brown, Junior (6-5 | 241 | 4.74 | #85)
With Addison's injury robbing Oregon of their primary pass-catcher, Brown could be in position to leap forward in 2014. He's a talented athlete with good size and big, soft hands. Brown's sophomore season (10 receptions for 123 yards and two touchdowns) was tainted by injury and a suspension for his participation in a snowball fight but he has the talent to be Oregon's next star tight end.  


Show Comments
Hide Comments
Here are the 50 best prospects still on the board as the 2017 NFL Draft heads into Day 2

Florida State RB Dalvin Cook will kick off Day 2 of the draft

After an unpredictable Round 1, here are some predictions you can bank on for Rounds 2 and...
Receivers surprise in the top 10, Alabama goes MIA in the top 15 and more 2017 NFL Draft t...

A report Thursday afternoon indicates that Myles Garrett will be the first overall pick in...

Four defensive backs are picked in the final five spots of the first round in Rob Rang's final...