2015 NFL Draft: Purdue Preview
Purdue isn't the first school that comes to mind when discussing the top football factories in college football. But the Boilermakers' program has produced at least one draft pick each year since 1998, an active streak of 17 straight years, which is longer than Ohio State*s current streak (16 straight years)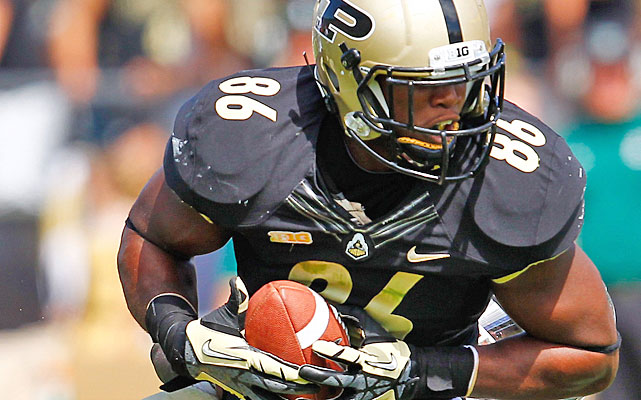 Purdue isn't the first school that comes to mind when discussing the top football factories in college football. But the Boilermakers' program has produced at least one draft pick each year since 1998, an active streak of 17 straight years, which is longer than Ohio State's current streak (16 straight years).
Not much went right in Darrell Hazell's first season last year in West Lafayette with the team's lone win coming against an FCS opponent (Indiana State). But despite the poor win-loss record, the Boilermakers have NFL talent returning in 2014 and their active streak of years with at least one draft pick should extend to 18 straight in the 2015 NFL Draft.
Purdue's NFL Draft-Eligible prospects to watch in 2014:
TE Gabe Holmes, RS Senior (6-5 | 243 | 4.84 | #86)
Although the career production is mediocre, Holmes looks like he was built with a NFL starter kit, boasting the size, athleticism and natural tools that belong at the pro level. He missed all of the 2013 season due to a dislocated left wrist last September and sat out this past spring to get his grades in order to make sure he would be eligible for one final season in 2014. Holmes, who spurned offers from Miami and Florida State out of high school, is the son of an Olympic long jumper and was more of a basketball star growing up, not playing football until his sophomore year in high school. He has an athletic body type with the speed and quickness to match, playing like a small forward on the football field. Holmes is still unpolished in several areas, including his routes and blocking technique, but needs the most work with his reliability catching and securing the ball before he turns upfield. He has only nine career starts and hasn't received much help from the quarterback position at Purdue, but he needs to improve upon his 37 career catches for 305 yards and three scores. He has never had more than four catches or 50 receiving yards in a single game, but if he can stay healthy and consistent, Holmes will continue to ascend up draft boards.
DE Ryan Russell, RS Senior (6-4 | 275 | 4.92 | #99)
Similar to Holmes, Russell has the look of a NFL player with intriguing next level potential, but up to this point, the consistency hasn't been there. The switch to the 3-4 base defense last year didn't do him any favors as he finished his junior season with only two sacks, giving him seven sacks in his career over 35 starts. Russell passes the eye test at 6-4 and 275 pounds with an intriguing blend of power and burst to win at the point of attack and be effective vs. both the run and pass. He has shown clear improvement in his football awareness, but still has a lot of room to develop with his shed technique and rush sequence before NFL scouts will give their stamp of approval. Russell's rudimentary pass rush understanding shows when he doesn't win with his first step, but he understands how to hold contain and leverage gaps vs. the run. The Boilermakers are well represented in the NFL at the pass rush position (Cliff Avril, Ryan Kerrigan, Anthony Spencer, Mike Neal, Rob Ninkovich and Shaun Phillips to name a few) and Russell will be the next Purdue alum to get a chance to star at the next level, especially if he takes the next step in his development as a senior.
RB Raheem Mostert, Senior (5-11 | 190 | 4.34 | #8)
Although he enters his senior season with only 230 career rushing yards, Mostert is a player to watch because if you take your eye off him, he's gone. Arguably the fastest player in all of college football, Mostert won gold in the 60-meter (6.63) and 200-meter (20.73) at the 2014 Big Ten Indoor Track & Field Championships this past spring, both school records. He enters his senior season third in Purdue history with 1,558 career kickoff return yards and has been a special teams standout, although his development on the offensive side of the ball hasn't been as effective with only one career start. Switching between wide receiver and running back the last three years, Mostert has seen minimal time on offense, but is expected to see extensive playing time as a senior in 2014. He eats up grass in a hurry with beautiful acceleration and the raw speed to be a home run threat whenever he touches the ball. Mostert's run instincts and vision have been streaky, but his speed makes Purdue's offense worth watching.
Other Purdue prospects worth watching:
RB Akeem Hunt, Senior (5-9 | 184 | 4.52 | #1)
Although not as fast or flashy as Mostert, Hunt is the more proven option in the backfield after leading the team in rushing a year ago. He also stood out on special teams as a return man with a better kick return average (26.1) than Mostert (23.5) and has the run awareness and patience to pick through a crowd with his compact frame.
Show Comments
Hide Comments
The top three-technique prospect in the draft could see his name not called at all

A diluted drug test continues recent alarming off-field concerns for talented Alabama pros...

Here are players from Air Force to Wyoming who might not be drafted but could make an NFL...
Who should the Rams take with their first pick? We break down all their options

Who should the Seahawks take with their first pick? We break down all their options

Who should the Cardinals take with their first pick? We break down all their options