2015 NFL Draft: Texas Preview
Texas' football begins a new chapter in 2014 as the Longhorns will try to not repeat history after being shutout of the NFL Draft for the first time since 1938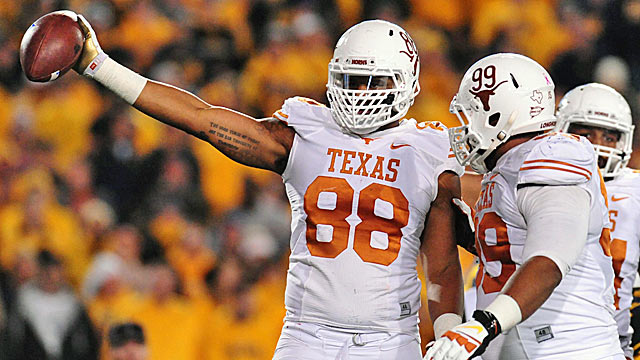 The Longhorns' football program hasn't been the well-known powerhouse in recent years, a fact reflected in both the team's records and NFL Draft picks. Not one prospect from the University of Texas was selected in the 2014 NFL Draft, marking the first time burnt orange was shutout of draft since 1938.
With Mack Brown's prosperous yet tumultuous tenure coming to an end, Texas moves forward with Charlie Strong as head coach of a roster that isn't void of talent. While Texas doesn't have no brainer first round players for the 2015 class, no one expects the school to go back-to-back years without a draft pick.
Texas' top NFL Draft-Eligible prospects to watch in 2014:
1. DE Cedric Reed, Senior (6-5 | 258 | 4.80 | #88)
Texas' top returning pass rusher, Reed tallied 10 sacks and 19 tackles for loss last season, taking home Second Team All-Big 12 honors. He passes the eye test and is well-built from head to toe, but he doesn't play as powerful or physical as he looks and needs to play up to his size. Reed is too easily slowed and controlled by single blockers and lacks the upper body functional strength and nasty attitude to create much separation between him and offensive linemen. He is at his best when he keeps his pads low and uses his length to attack the chest of blockers, but he isn't overly fluid, showing some clear hip and joint tightness. Reed has the size, motor and football character that have landed him in some way too early first round mock drafts, but he needs to improve his bland pass rush arsenal and continue to get stronger to come anywhere close to a first round grade next spring.
2. RB Malcolm Brown, Senior (5-11 | 225 | 4.59 | #28)
Considered the Nation's top running back out of high school four years ago, Brown led the Longhorns in rushing yards last season (904), but he hasn't exactly lived up to the monumental hype. Nonetheless, his talent is obvious and was on display late last season when he finished the 2013 season strong with three straight 100-yard performances (128, 131, 130). Brown looks the part with NFL build, running square to the line of scrimmage with the body strength to shake off single defenders and play with lower pad level than most on the field. He doesn't have dynamic elusiveness, but shows effective plant-and-go quickness with excellent play speed, always looking to get north-south in a hurry. Brown follows his blocks well with good feel and vision to find openings and get to the second level. Although he doesn't have ideal power and explosive traits, Brown runs physical, low to the ground and always seems to be picking up positive yardage.
3. DT Malcom Brown, Junior (6-3 | 315 | 5.24 #90)
After serving as a true freshman reserve in 2012, Brown started all 13 games a year ago, lining up mostly at nose tackle for the Longhorns' multiple defensive front. He definitely passes the eye test with a tall, wide frame and carries his 315-325 pound frame very well, showing easy movement skills. Brown looks natural on his feet with the range and redirection skills to make plays away from the line of scrimmage. He needs to improve his functional strength and won't generate much movement off the snap with an average punch and undeveloped understanding of leverage and pass rush. However Brown has shown the ability to take on multiple blocks while keeping his eyes elevated to track the ball and his development as a junior in 2014 will be interesting to track for both fans and NFL scouts.
4. RB Joe Bergeron, Senior (6-1 | 230 | 4.60 | #24)
Texas has a three-man backfield, led by Malcolm Brown and Johnathan Gray, but Bergeron shouldn't be overlooked. He finished third on the team in rushing last season with 386 yards, but had the best yards per carry average (5.0) of the trio. Bergeron runs low to the ground with good pad level and is at his best running downhill, not slowing down and keeping his legs pumping. However he shows some backfield hesitation reading the line of scrimmage and is a slow starter with little explosive qualities. Bergeron can be easily caught from behind, but he's also quick-footed for a 230+ pounder and stays balanced with body power to work through arm tackles and absorb contact well. His blend of quickness and strength for his body type makes him an intriguing change of pace option in the NFL, especially at the goal line and short-yardage situations.
5. CB Quandre Diggs, Senior (5-10 | 200 | 4.48 | #6)
Over the last decade or so, Texas has garnered a reputation for routinely producing NFL-quality defensive backs, most recently Kenny Vaccaro, Earl Thomas and several others. The Longhorns didn't have a DB drafted last season, but with a strong senior season, Diggs should hear his name called next spring. A four-year starter, he has 36 career starts under his belt with excellent experience playing both inside and outside, often moving inside as the nickel corner on tape. Diggs has good, not great, size and speed for the position and shows natural field and ball awareness, keeping his head on a swivel and his anticipating route combinations. At times he doesn't have the lower body burst to break on the ball in time and clearly lacks quick-twitch movements, but he plays the game with a veteran sense, leading the team last season in passes defended (10) despite no interceptions. He isn't the first round caliber player like Vaccarro or Thomas, but he has NFL skills to work with and is arguably the top defensive back in the conference.
6. WR Jaxson Shipley, Senior (6-0 | 195 | 4.58 | #8)
The Longhorns' leader in receptions the past two seasons, Shipley, who is the younger brother of Jordan Shipley, has a similar skill-set as his brother, who was a third round pick in the 2010 NFL Draft. The younger Shipley won't match his older brother's receiving marks at Texas, but that's largely due to the fact that Jordan played with Colt McCoy and Jaxson has had to catch passes from wildly inconsistent Case McCoy and David Ash. Shipley doesn't have elite physical traits with only ordinary size, speed and strength, but he has some shake in his routes and knows how to hold defenders, displaying a strong competitive nature at the catch point. Shipley likely won't be drafted as high as his brother (84th overall), but like his brother, he knows how to operate out of the slot and be an effective and reliable underneath target.
Other Texas prospects worth watching:
QB David Ash, RS Junior (6-3 | 220 | 4.68 | #14)
The projected 2014 starter at quarterback, Ash missed 10 games last season (concussion) and recently broke his left foot.
RB Johnathan Gray, Junior (5-11 | 207 | 4.49 | #32)
Arguably the most talented skill player on the roster, Gray has exciting and explosive qualities, but his return from an Achilles injury is a question mark.
WR Daje Johnson, Junior (5-10 | 180 | 4.44 | #4)
One of the fastest players are on the team, Johnson has been a jack-of-all-trades type with his versatile skill-set on offense.
WR Kendall Sanders, Junior (6-0 | 187 | 4.54 | #2)
The Longhorns No. 2 receiver opposite Shipley, Sanders emerged last season as a worthy target with 37 receptions.
TE Geoff Swaim, Senior (6-4 | 252 | 4.92 | #82)
A JUCO transfer last season, Swaim recorded only three catches in nine starts, but look for his role to expand in 2014.
OT Josh Cochran, Senior (6-6 | 301 | 5.07 | #78)
After starting 18 games his first two seasons, Cochran missed most of 2013 with a shoulder injury and needs to prove he is fully healthy.
OG Sedrick Flowers, RS Junior (6-3 | 312 | 5.04 | #66)
Flowers has been a back-up most of his career, but moved into the starting line-up for last year's bowl game and played well.
C Dominic Espinosa, RS Senior (6-3 | 305 | 5.06 | #55)
A battle-tested blocker, Espinosa has started 39 straight games at center and is the senior leader of the Longhorns' offense.
LB Steve Edmond, Senior (6-3 | 245 |4.76 | #33)
One of the top returning tacklers, Edmond is a punishing hitter who switched between MIKE and WILL linebacker spots last year.
LB Jordan Hicks, RS Senior (6-2 | 238 | 4.72 | #3)
A top prep player out of Ohio, Hicks simply hasn't stayed healthy with only 15 starts in his career after season-ending injuries the past two years.
Show Comments
Hide Comments
Our Latest Stories
Plus, two USC prospects tackle agility drills and two small-schoolers look to make their m...

In a class loaded with defensive studs, no position group is better than the corners and s...

Mitchell Trubisky is 'solid,' Takk McKinley sits and Marlon Mack 'sizzles' during Tuesday pro...
John Lynch is among the 75 NFL scouts at UNC's pro day, while the Browns are noticeably ab...

Watson, the fourth QB picked, lands in a great spot in Andy Reid's offense

The Rockets' Kareem Hunt looks like the top senior RB prospect in the draft