2015 NFL Draft: Texas Tech Preview
Despite a program that appears on the upswing, Texas Tech doesn't have a ton of NFL talent and the Red Raiders could be shut out of the NFL Draft next year for the third time in four years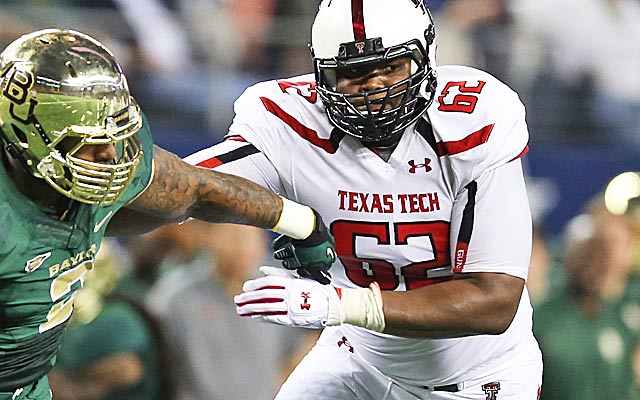 After producing four draft picks in the 2009 NFL Draft, including three picks in the top-100, Texas Tech has had only four selections total over the last five years. And two of those four selections came in the 2014 class with TE Jace Amaro and OLB Will Smith.
Texas Tech was shut out of the NFL Draft in 2012 and 2013 and there is a strong chance the 2015 NFL Draft will come and go without any Red Raiders being represented. Starting left tackle Le'Raven Clark is the team's top draft-eligible prospect, but he's only a junior and starting quarterback Davis Webb has a bright future ahead of him, but he won't be eligible for the NFL until the 2016 class.
Texas Tech's top NFL Draft-Eligible prospects to watch in 2014:
1. OT Le'Raven Clark, RS Junior (6-5 | 320 | 5.06 | #62)
After starting all 13 games at right guard as a freshman in 2012, Clark moved outside and manned the left tackle duties last year as a sophomore, starting all 13 games and earning Second Team All-Big 12 honors. He looks more like a guard with his body type, but he has the light feet to play on the edges and cover a large area. Clark is more of a catch blocker with his high cut stance and tendency to play upright, lacking ideal base strength. He flashes a nasty punch in the run game with the ability to drive defenders out of the play, but doesn't show the same strength as a pass blocker. In Texas Tech's offense, the left tackle is almost always retreating in pass protection, making it easy to criticize Clark's technique and footwork, but it's just a product of what he's asked to do. Clark has started every game the past two seasons and has several NFL tools that can be groomed at the next level.
2. RB/LB Kenny Williams, Senior (5-9 | 225 | 4.58 | #34)
The Red Raiders' leading rusher from a year ago, Williams saw snaps at both running back and linebacker during recent spring practices and on the official post-spring depth chart, he was listed as the starting "RAID" linebacker – and nowhere to be found on the offensive side. With his toughness and pop at contact, it's not a surprise that the Texas Tech coaches are trying Williams on defense, but with his 5-9 height, it's probably more likely that he's viewed at running back by NFL scouts. Time will tell the type of workload on offense he receives in 2014 (if any), but he has the quick feet and physical run style that turned some heads the last few seasons. Williams has the work ethic and competitive drive that will make him stand out, regardless if he's playing linebacker, running back…or kicker.
3. WR Bradley Marquez, Senior (5-10 | 200 | 4.54 | #4)
On most football depth charts, the offense lists two starting wide receivers, sometimes three. The Texas Tech depth chart lists four receivers for an offense that averages about 720 pass attempts each year. With that type of pass happy attack, it highlights the pass-catchers like Marquez who was an All-Big 12 Honorable Mention honoree as a first-year starter in 2013 and could emerge as the Red Raiders' top target in 2014. He recorded 49 catches for 633 yards and six scores last year and led the team with a 12.9 yards per reception average. Marquez is average in the size, strength and speed categories, but he shows natural route acceleration to change gears well with toughness to work over the middle and do damage in contested situations. He is always looking to turn the catch upfield and is much more than just a possession target. With Jace Amaro (106 catches) and Eric Ward (83) off to the NFL, that's 189 receptions not returning to Lubbock this season so look for Marquez's role and production to grow this fall.
Other Texas Tech prospects worth watching:
RB DeAndre Washington, RS Junior (5-7 | 190 | 4.58 | #21)
With Kenny Williams moving mostly to linebacker, Washington will likely assume the starting running back duties in 2014.

WR Jakeem Grant, RS Junior (5-6 | 160 | 4.45 | #11)
The top returning receiver from a year ago, Grant is a speedy underneath target, but the size will scare off several NFL teams.

OG Alfredo Morales, RS Junior (6-3 | 315 | 5.34 | #56)
The projected starter at left guard, Morales is a physical player in the run game and played well in eight starts last season.

MLB Sam Eguavoen, Senior (6-1 | 220 | 4.74 | #13)
Texas Tech lost their top defender from last year (Will Smith), but Eguavoen will try and replace that production as a defensive leader.
Show Comments
Hide Comments
The top three-technique prospect in the draft could see his name not called at all

A diluted drug test continues recent alarming off-field concerns for talented Alabama pros...

Here are players from Air Force to Wyoming who might not be drafted but could make an NFL...
Who should the Rams take with their first pick? We break down all their options

Who should the Seahawks take with their first pick? We break down all their options

Who should the Cardinals take with their first pick? We break down all their options