2015 NFL Draft: Top 100 prospects
Sure, Johnny Manziel split scouting opinion, but in our super-early look at the 2015 draft, publisher Frank Cooney of NFLDraftScout.com envisions a QB debate involving another Heisman Trophy winner and another Manziel-ian prospect in Oregon's Marcus Mariota -- who tops the 100-prospect watch list for next year.
Draft coverage: Picks and grades | Prospect Rankings | Sam goes No. 249 | News
Even as the last names still echo from the NFL's 2014 Draft, fans who are disappointed, anxious or curious already are looking forward to which players will get those warm hugs from commissioner Roger Goodell upon being selected next year.
And, thanks to NFLDraftScout.com's constant vigil watching prospects as soon as they enter college, there is the ability to at least pretend we know next year's top 100 candidates -- right here, right now.
Of course it is almost as preposterous to really know such things as it is to do mock drafts, but due to an overwhelming appetite for all things draft, the beat goes on 24/7/365.
Peering into the NFLDrafScout.com crystal ball with analysts Rob Rang and Dane Brugler, it appears that the 2015 draft will be even more exciting than the recently completed 2014 version. Or, at least, we figure it will seem more exciting by the time we get there.
From this distant view on the calendar, nobody really knows (among other things), what underclassmen will join the draft. So that becomes part of the guessing game.
If Heisman Trophy winning Florida State quarterback Jameis Winston goes back on his word to stay in college two more years, and also manages to stay out of trouble, he will be at the center of what could be a vibrant quarterback controversy.
Now there's something new. 
Winston certainly has the ability to be a great NFL passer, but Oregon's Marcus Mariota is being touted as the second, larger, coming of Johnny Manziel.
Early rankings by NFLDraftScout.com, which includes 42 underclassmen, shows the usual favorite positions among the top 100 -- 15 wide receivers, 13 cornerbacks, 12 defensive ends and nine offensive tackles.
If this list truly is a harbinger of the next draft, there may be a return to popularity of running backs, that once-important position that has not produced one player in the first round for the past two drafts.
There are nine listed among this top 100, led Georgia's Todd Gurley. He is one of four running back prospects who appear to be possible first-round candidates.
But first there is that one detail -- the 2014 season.
Below are the 100 players to watch (note: 'r' in front of a class reflects a redshirt year; i.e., rJr = redshirt junior):
Overall/Position Rank, Player, Position, Height, Weight, Class, College
1/1, Marcus Mariota, QB, 6-foot-4, 212 pounds, rJr, Oregon: For college football fans who want their Johnny Manziel fix next season, tune in on Mariota, a full-sized version of J. Football. The most exciting dual-threat quarterback in the country must become more consistent. But don't we all?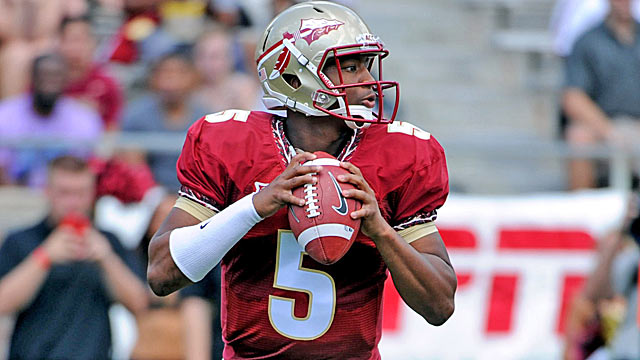 2/2, Jameis Winston, QB, 6-3, 228, rSo, Florida State: Talented with issues. Some would put the Heisman-winner first. Although he stated he plans to play two more seasons, he should consider himself fortunate to get through another great college year without getting into more trouble off the field. If he can do both, NFL teams will clamor for Winston.
3/1, Leonard Williams, DE, 6-4, 290, Jr, Southern Cal: As subtle as punch in the mouth. The top candidate for the most dominant defensive lineman in the Pac-12, if not the country.
4/1, Cedric Ogbuehi, OT, 6-5, 300, rSr, Texas A&M: Could be better than former first round teammates Luke Joeckel or Jake Matthews, which is saying a lot. He is expected to become A&M's third top-10 lineman in the draft in three years.
5/2, Brandon Scherff, OT, 6-5, 315, rSr, Iowa: Never confused with Mr. Nice Guy, Scherf is a heavyweight fighter who will make Hawkeye fans forget their last unanimous All-American tackle, Robert Gallery. Who? Well, see, you forgot.
6/1, Shilique Calhoun, DE, 6-4, 250, rJr, Michigan State: He is fast-rising prospect in a class full of outstanding defensive ends. Has a way of tackling behind the line of scrimmage, with 14.5 tackles for losses, including 7.5 sacks, and he added 18 quarterback hurries last season.
7/3, Cameron Erving, OT, 6-5, 320, rSr, Florida State: Moved from defensive tackle to become key a blocker keeping Winston upright. How high he goes depends on how much he improves technique.
8/2, Devonte Fields, DE, 6-4, 240, rSo, TCU: There is no doubting his ability, but Fields must show maturity and consistency to become a true top-10 candidate.
9/3, Randy Gregory, DE, 6-5, 255, Sr, Nebraska: Here is a junior college transfer who demanded attention last season by recording 10.5 sacks in only 10 games. Scouts are excited to see if he improves on that.
10/1, Vic Beasley, OLB, 6-2, 235, rSr, Clemson: NFLDraftScout.com's Rob Rang likens Beasley to hyperactive Dee Ford, a first-rounder out of Auburn this year. Beasley managed a Ford-like 23 tackles for a loss in 2013.
Others to watch:
Overall/Position Rank, Player, Position, Height, Weight, Class, College

11/4, Mario Edwards Jr., DE, 6-3, 277, Jr, Florida State
12/1, Ifo Ekpre-Olomu, CB, 5-10, 185, Sr, Oregon
13/2, Jordan Jenkins, OLB, 6-2, 246, Jr, Georgia
14/1, Tre Jackson, OG, 6-4, 330, Sr, Florida State
15/1, Amari Cooper, WR, 6-1, 205, Jr, Alabama
16/2, P.J. Williams, CB, 6-0, 190, Jr, Florida State
17/1, Todd Gurley, RB, 6-1, 232, Jr, Georgia
18/1, Ramik Wilson, ILB, 6-2, 232, Sr, Georgia
19/2, T.J. Yeldon, RB, 6-1, 218, Jr, Alabama
20/2, Michael Bennett, DT, 6-3, 285, Sr, Ohio State
21/2, Nelson Agholor, WR, 6-0, 185, Jr, Southern Cal
22/3, Melvin Gordon, RB, 6-1, 207, rJr, Wisconsin
23/3, Rashad Greene, WR, 6-0, 180, Sr, Florida State
24/4, Mike Davis, RB, 5-09, 215, Jr, South Carolina
25/3, Kyler Fackrell, OLB, 6-4, 245, rJr, Utah State
26/4, Andrus Peat, OT, 6-6, 312, Jr, Stanford
27/3, Trae Waynes, CB, 6-1, 185, rJr, Michigan State
28/4, Ty Montgomery, WR, 6-2, 215, Sr, Stanford
29/3, Carl Davis, DT, 6-4, 315, rSr, Iowa
30/5, Lael Collins, OT, 6-5, 315, Sr, LSU
31/5, Dante Fowler Jr., DE, 6-3, 266, Jr, Florida
32/3, Bryce Petty, QB, 6-2, 230, rSr, Baylor
33/1, Derron Smith, FS, 5-11, 200, rSr, Fresno State
34/2, Isaac Seumalo, OG, 6-3, 305, Jr, Oregon State
35/5, Dorial Green-Beckham, WR, 6-5, 225, Jr, Missouri
36/1, Hroniss Grasu, C, 6-3, 298, rSr, Oregon
37/4, Brett Hundley, QB, 6-3, 222, rJr, UCLA
38/1, Anthony Harris, SS, 6-1, 190, Sr, Virginia
39/4, Danny Shelton, DT, 6-1, 327, Sr, Washington
40/1, Nick O'Leary, TE, 6-3, 248, Sr, Florida State
41/2, Kurtis Drummond, FS, 6-1, 200, rSr, Michigan State
42/6, Jaelen Strong, WR, 6-4, 205, rJr, Arizona State
43/4, Jalen Collins, CB, 6-1, 195, rJr, LSU
44/2, Denzel Perryman, ILB, 6-0, 240, Sr, Miami
45/5, Karlos Williams, RB, 6-1, 223, Sr, Florida State
46/6, Spencer Drango, OT, 6-5, 315, rJr, Baylor
47/2, Devin Funchess, TE, 6-5, 235, Jr, Michigan
48/5, Christian Covington, DT, 6-2, 295, rJr, Rice
49/6, Duke Johnson, RB, 5-09, 196, Jr, Miami
50/6, Noah Spence, DE, 6-3, 252, Jr, Ohio State
51/5, Josh Shaw, CB, 6-1, 195, rSr, Southern Cal
52/4, Derrick Malone, OLB, 6-2, 216, rSr, Oregon
53/3, Ben Koyack, TE, 6-5, 261, Sr, Notre Dame
54/6, Arik Armstead, DT, 6-7, 292, Jr, Oregon
55/7, Antwan Goodley, WR, 5-10, 225, rSr, Baylor
56/2, Jordan Richards, SS, 5-11, 208, Sr, Stanford
57/6, Marcus Peters, CB, 5-11, 193, rJr, Washington
58/5, Ishaq Williams, OLB, 6-5, 261, Sr, Notre Dame
59/3, Kris Frost, ILB, 6-2, 238, rJr, Auburn
60/3, Laken Tomlinson, OG, 6-3, 320, rSr, Duke
61/5, Sean Mannion, QB, 6-4, 220, rSr, Oregon State
62/7, Ellis McCarthy, DT, 6-3, 330, Jr, UCLA
63/2, Reese Dismukes, C, 6-2, 298, Sr, Auburn
64/3, Cody Prewitt, FS, 6-2, 220, Sr, Mississippi
65/4, Eric Kendricks, ILB, 6-0, 228, rSr, UCLA
66/8, Deontay Greenberry, WR, 6-2, 198, Jr, Houston
67/7, Wayne Lyons, CB, 6-1, 196, Sr, Stanford
68/4, Josue Matias, OG, 6-5, 322, Sr, Florida State
69/8, Steven Nelson, CB, 5-10, 192, Sr, Oregon State
70/9, Christion Jones, WR, 5-11, 185, Sr, Alabama
71/7, Trey Flowers, DE, 6-3, 262, Sr, Arkansas
72/3, Landon Collins, SS, 6-0, 215, Jr, Alabama
73/10, DaVaris Daniels, WR, 6-2, 203, rJr, Notre Dame
74/7, Eric Lefeld, OT, 6-5, 309, rSr, Cincinnati
75/11, Bralon Addison, WR, 5-10, 182, Jr, Oregon
76/9, Charles Gaines, CB, 5-11, 176, rJr, Louisville
77/6, Tyler Matakevich, OLB, 6-1, 230, Jr, Temple
78/8, Daryl Williams, OT, 6-5, 321, rSr, Oklahoma
88/7, Corey Grant, RB, 5-10, 205, rSr, Auburn
79/8, Cedric Reed, DE, 6-5, 258, Sr, Texas
80/10, Lorenzo Doss, CB, 5-11, 168, Jr, Tulane
81/8, Ameer Abdullah, RB, 5-09, 190, Sr, Nebraska
82/8, Brandon Ivory, DT, 6-3, 310, rSr, Alabama
83/9, Jeremy Langford, RB, 5-11, 206, rSr, Michigan State
84/12, Tyler Lockett, WR, 5-11, 175, Sr, Kansas State
85/12, Damian Swann, CB, 5-11, 178, Sr, Georgia
86/9, Grady Jarrett, DT, 6-1, 295, Sr, Clemson
87/7, Shaq Thompson, OLB, 6-2, 225, Jr, Washington
89/11, Blake Countess, CB, 5-10, 182, rJr, Michigan
90/9, Markus Golden, DE, 6-3, 260, rSr, Missouri
91/13, Kasen Williams, WR, 6-2, 212, Sr, Washington
92/6, Andrew Manley, QB, 6-3, 225, rSr, Eastern Illinois
93/11, Lynden Trail, DE, 6-6, 260, rSr, Norfolk State
94/5, A.J. Cann, OG, 6-3, 314, rSr, South Carolina
95/14, Sammie Coates, WR, 6-1, 201, rJr, Auburn
96/9, Sean Hickey, OT, 6-5, 291, rSr, Syracuse
97/10, Alvin Dupree, DE, 6-3, 252, rSr, Kentucky
98/15, Levi Norwood, WR, 6-1, 195, rSr, Baylor
99/4, Ronald Martin, FS, 6-1, 218, Sr, LSU
100/3, B.J. Finney, C, 6-3, 303, rSr, Kansas State

Frank Cooney, founder and publisher of The Sports Xchange and NFLDraftScout.com, has covered the NFL and its draft since the 1960s and is a selector for the Pro Football Hall of Fame.
Show Comments
Hide Comments
Not every draft pick can be a winner. Here are the 32 guys who could cause the most regret

Our list of late-round gems includes plenty of lesser-known backs and quality linemen

A running back going No. 2 overall? When you're being compared to Hall of Fame runner, yes
Pass rushers and explosive offensive players highlight the best Day 1 contributors

Here's every draft pick heading to the NFC West, including 21 by the Seahawks and 49ers co...

Here's every draft pick heading to the NFC South, home of the NFC's last two Super Bowl te...